Thousands of Mining-Affected Families in Jharkhand's Jharia Await Resettlement
The Jharia Master Plan completed its 12-year tenure in August 2021, during which roughly 2,700 families were relocated from vulnerable areas.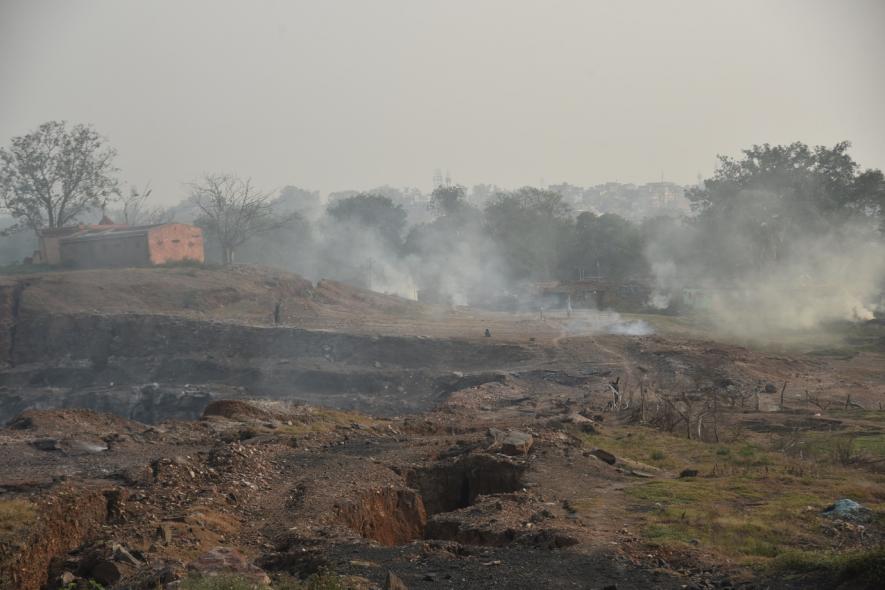 Areas in Jharia coalfields have been rendered vulnerable by underground fires and subsidence. Image: Ayaskant Das.
New Delhi: The Narendra Modi government is yet to decide the fate of thousands of mining-affected families of Jharkhand's Jharia coalfields more than a year after a masterplan conceived to resettle them came to a close in August 2021.
A committee constituted under the coal ministry last year to review and assess the progress made under the first masterplan period and recommend alternative measures for the resettlement of families in areas rendered vulnerable by underground fires and subsidence is yet to finalise its report.
Consequently, the Jharia Resettlement Development Authority (JRDA), the nodal agency constituted to execute the masterplan, has no new plan for the welfare of the families.
There have been several incidents of subsidence in Dhanbad's Rajput Basti area in the past.
"There could be massive subsidence any moment that would result in a lot of casualties. There have been several incidents of subsidence in the past. A portion of our ancestral house was partially damaged in one such incident," Badal Singh, a resident of Rajput Basti, under the Kendua Dih Police Station, Dhanbad, told the Newsclick.
"Due to the lack of a resettlement plan, we continue living in the dilapidated structure in a very vulnerable terrain," Singh added.
Three years ago, the entire Rajput Basti area had been declared unsafe by Bharat Coking Coal Limited (BCCL), a subsidiary of Coal India Limited (CIL), which is engaged in operating coking coal mines in Jharia and Raniganj. The BCCL had also issued notices to around 2,000 families living in Rajput Basti to vacate the area but little has changed since then.
Notably, Rajput Basti is just one among hundreds of settlements in areas rendered hollow and vulnerable following years of underground fires in the Jharia coalfields. The JRDA—constituted under the masterplan in 2004—has identified more than 53,000 families that need to be resettled.
This figure includes 29,444 families that are legal titleholders of plots on which they built their houses. The remaining 23,847 families allegedly do not have legal rights over the plots. They are considered encroachers by government agencies and referred as "non-legal title holders".
Approximately 2,700 families have been resettled to date in three phases to a housing colony developed by the JRDA in Belgaria, in the Sadar subdivision of Dhanbad district, which is not a coal-bearing area. The JRDA has utilised around Rs 1,069 crore for the construction of the colony and for resettlement and rehabilitation.
Officials said that a process is also under way to shift additional families to housing units that have already been completed in Belgaria.
According to the administration, a huge hurdle in the resettlement process is convincing the mining-affected families into moving out because not only are they reluctant to abandon their old habitations but are also allegedly misled by local politicians who consider them as their vote bank. There are certain socioeconomic problems as well, a fact which the administrators had failed to foresee while formulating the masterplan.
A mining-affected Kshatriya family in Rajput Basti told Newsclick that it is not keen to relocate to Belgaria because housing units in the immediate neighbourhood are also being allotted to Dalit families.
"Dalit families live in a separate settlement away from ours. There is a clear social hierarchy wherein we live in larger and much more spacious houses compared to them. How can we ever imagine cohabitating with Dalit families as equals?" a member of the Kshatriya family requesting anonymity said.
The 12-year Jharia Master Plan, approved in August 2009, was completed in August 2021. A comprehensive proposal prepared jointly by various agencies, including the BCCL, the JRDA and another CIL subsidiary Central Mine Planning and Design Institute, was sent to the coal ministry for approval.
However, a Central committee was constituted under coal ministry secretary Anil Kumar Jain with the mandate to "review and make a comprehensive assessment of the fire and unstable area in Jharia Coalfields and formulate strategies for fire and safety management plans, formulate alternative proposal for rehabilitation and to suggest suitable mechanism for better implementation and monitoring". The committee is yet to finalise its report.
Last October, coal minister Pralhad Joshi chaired a meeting of the Parliamentary Consultative Committee of the ministry to decide the future course of action regarding rehabilitation but nothing came out of it.
Newsclick emailed a questionnaire to the ministry asking to provide a tentative date, if any, on which a decision on the proposed extension of the masterplan or an alternative plan for resettlement and rehabilitation is likely to be finalised. Copies of this questionnaire were also emailed to Joshi and Jain. No response was received at the time of filing this report.
A senior JRDA official told Newsclick that "consultations are under way to decide if the term of the masterplan required further extension or if any alternative measure needs to be taken for resettlement and rehabilitation. The schemes and programmes that had already been finalised are being executed with funds that are with the JRDA".
"But no new plan has been finalised for the affected families in the past one year. These proposals include, for example, the construction of new housing units, and the laying of water and sewer pipelines or electricity supply networks. These can be finalised only after the proposal pending with higher authorities is finally cleared," the official added.
During Joshi's meeting with stakeholders in October 2021, BCCL informed that it had undertaken the construction of 15,852 houses. At that point in time, nearly 3,852 families were to be shifted to the new houses. The Central government undertaking had also proposed to the JRDA to utilise 8,000 of its housing units for families whose members were not employed by BCCL.
As per experts, the only to deal with the threat posed by underground fires and subsidence is to move out the entire population from there. Former CIL chairman Partha Sarathi Bhattacharya, during whose tenure the masterplan was approved in 2009, told Newsclick that nearly 1.5 billion tonnes of metallurgical coal are directly under fire in Jharia, which, if extracted properly, can have a huge positive economic implication for the country.
"The only way forward is to douse the underground fires and recover the coal. These areas can be backfilled and reclaimed thereafter. This exercise is possible only if the population in the vulnerable areas is relocated. But there needs to be a great deal of effort and coordination among various government agencies as well as civil society to convince the local population to move out," Bhattacharya said.
"An exercise of this nature can be successful as has been proved by several projects undertaken by BCCL in the past. The masterplan was well conceived but its implementation was always a challenge. Nearly 400,000 people were relocated to an altogether new settlement, an exercise that has no parallels in history," Bhattacharya added.
Despite the impending disaster in Jharia coalfields, the Central government has been aggressively permitting the opening up of new coal blocks by diverting forest land.
As per a recent report by the San Francisco-based non-governmental organisation Global Energy Monitor, nearly 36% of capacity at operating coal mines in India is unutilised. The government's plan to develop 99 new coal projects with a projected production capacity of 427 million tonnes per annum (MTPA) is actually less than the underutilised capacity of 433 MTPA in existing mines, the report states.
Get the latest reports & analysis with people's perspective on Protests, movements & deep analytical videos, discussions of the current affairs in your Telegram app. Subscribe to NewsClick's Telegram channel & get Real-Time updates on stories, as they get published on our website.
Subscribe Newsclick On Telegram