Time to Face the Truth in Thailand: King Bhumibol's Reign is Over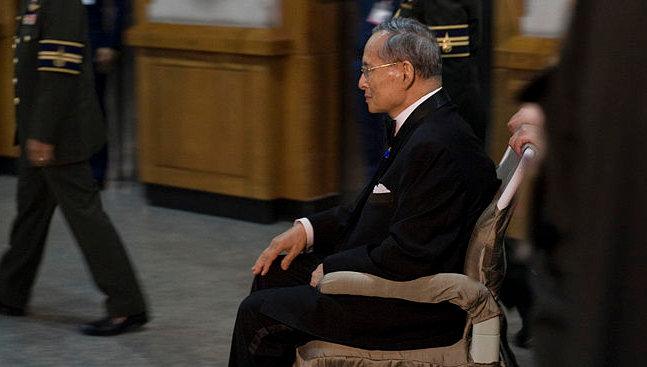 King Bhumibol Adulyatej, Image Courtesy: commons.wikimedia.org
For decades, most Thais have dreaded the day when the reign of King Bhumibol Adulyadej comes to an end.
Now they are waking up to a fearful truth: that day has already dawned.
The decrepit 88-year-old monarch is still clinging to life, but only because he hasn't been allowed to die. For years he has been sinking deeper into senility and senescence, and by now he is barely ever even conscious at all. He has no idea of what is going on in Thailand beyond the walls of his hospital room. He is unable to communicate. Not only is he totally unable to perform his duties as king, he is no longer even functional in the most basic sense as a human being. He is kept alive in this miserable state by incessant medical treatment, and machines that keep him breathing and drain toxins from his body.
It's unlikely he will hang on for much longer. The most recent medical report issued by the Royal Household Bureau was the most pessimistic ever published. Medical announcements from the palace tend to be mostly fictional, routinely downplaying or concealing the seriousness of Bhumibol's health problems, and always ending on an upbeat note — the king is getting much better. Not this time. The latest bulletin gravely informed Thais that Bhumibol's lungs were choked with fluid, and his blood pressure was failing. There was even an unusually frank account of His Majesty's problems producing urine. The symptoms suggest end-stage renal disease, the final stage of kidney failure.
And yet, mysteriously, royal edicts and decrees bearing Bhumibol's signature continue to be issued by the palace, even though the king is barely alive and certainly unable to hold a pen or read and understand a document. Just a few days ago, for example, it was announced that Bhumibol had approved amendments to the junta's constitution. How is this possible?
The answer is that Crown Prince Vajiralongkorn and the military junta led by Prawit Wongsuwan and Prayuth Chan-ocha have conspired to hijack the powers of the Thai monarchy by faking the king's signature and claiming his assent whenever they require it. This is, of course, totally illegal. But they believe they are above the law.
Not long after the junta seized power in May 2014, it started to become apparent that the prince and the generals were colluding, and acting with total impunity. In October that year, Vajiralongkorn decided he'd had enough of his third wife Srirasmi, and began a vicious purge of her family. Her parents, three brothers, a sister, an uncle, and several more distant relatives were charged with lèse majesté and jailed. Srirasmi herself was banished to her family home in Rachaburi, and has been denied any further contact with her young son Dipangkorn. Credible information has emerged that even now she is still being tormented and humiliated on the orders of the prince. Throughout the saga, the junta has acquiesced in Vajiralongkorn's campaign of senseless cruelty towards Srirasmi and her family.
During 2015, enemies of the crown prince among the Thai elite leaked details of corruption in projects involving Vajiralongkorn's allies and senior military officers. The prince responded by launching another savage purge, which included the murder of three members of his inner circle. Police Major Prakrom Warunprapa was killed in October 2015 while being held in military detention at the army barracks in Nakorn Chaisri Road, Bangkok. The official explanation for his death was that he hanged himself with his shirt in his cell. Then, in November, famous fortune teller Saurian Sucharitpolwon aka Mor Yong also died in military custody. This time the official explanation was a deadly "blood infection". Vajiralongkorn's chief bodyguard, Major General Pisitsak Saniwong na Ayutthaya was murdered too, an atrocity that caused particular shock among members of the crown prince's entourage. Pisitsak, nicknamed Jack, had been considered close to the prince — they regularly worked out and sparred together to keep fit, and Jack had even briefly dated Vajiralongkorn's daughter Princess Bajrakitiyabha when they attended the royal Chitralada School together years ago. Pisitsak was fired from the military in October 2015, via a government order accusing him of "gravely evil behaviour", published in the Royal Gazette and apparently signed by King Bhumibol and Prayuth Chan-ocha. His death was never officially announced, but his family was told that he had committed suicide.
All three men were murdered in military custody, either by the crown prince himself or by others acting on his orders. Prawit Wongsuwan and Prayuth Chan-ocha assented to the killings, and the Thai police and military covered up what had happened. The pervasive climate of fear has been given a surreal twist with the publication of bizarre photographs showing that Vajiralongkorn apparently enjoys wearing skimpy crop tops and fake tattoos. All of this is widely known in Thailand, yet nobody dares to speak about it openly.
In an analysis of the Thai monarchy published by the Institute of Southeast Asian Studies earlier this year, historian Thongchai Winichakul warned that "many signs in recent years suggest that the heir might be more terrifying than previously thought".
"As the purges and their wakes took place in the public eye, people did not fail to recognize that all of them had committed crimes of such scale under the Prince's jurisdiction," Thongchai wrote. "Despite the inability to speak out, the public also noticed barbaric medieval justice."
For many years, most of the Thai royalist elite have hated Vajiralongkorn, and some have tried to sabotage his succession prospects. A secret U.S. cable from 2010, obtained by WikiLeaks, included disparaging comments about the crown prince from three of Thailand's most senior figures — Prem Tinsulanonda, Anand Panyarachun, and Siddhi Savetsila. Vajiralongkorn knows he is hated by most of the elite, and he hates them back. He is known to be a vengeful man, and the greatest fear of elder statesmen like Prem and Anand is that the crown prince becomes King Rama X and then wreaks his revenge on those who he believes have disrespected him and plotted against him over the years.
Over the past week, we have seen that this has already begun.
One of the most prominent families of palace officials is the Vajarodaya clan (the surname is sometimes transliterated as Watcharothai). The octogenarian family patriarch Kaeokhwan Vajarodaya was a childhood friend of King Bhumibol, and has been Lord Chamberlain of the Royal Household Bureau since 1987. This means that — officially, at least — he is in charge of the sprawling palace bureaucracy of several thousand officials that manages royal affairs, but in fact, as a leaked U.S. cable noted in 2009, Kaeokhwan is senile, and for many years the Royal Household Bureau has been run by his sons Ratthanwut and Watcharakitti. Meanwhile, over the past two decades, Kaeokhwan's nephew Disthorn Vajarodaya has become particularly close to Bhumibol. The same leaked U.S. cable named him in 2009 as one of the very few people in the king's innermost circle of confidantes, and another cable describes him as a "well-known associate of the King". Disthorn was chairman of the king's Rajanukhrao Foundation and a Grand Chamberlain in the Royal Household Bureau. Over recent years he has usually been at Bhumibol's side when the king makes his rare public appearances. He has become a familiar face to most Thais who have often seen him on royal news broadcasts, accompanying the king.
Last week, the Facebook page กูต้องได้ 100 ล้าน จากทักษิณแน่ๆ, which regularly shares leaked information from within the junta, published a copy of an extraordinary order from the crown prince. It stated that Disthorn Vajarodaya was instructed to attend a special training course so he could learn to perform his duties properly, and thereafter he would serve as a private page of Crown Prince Vajiralongkorn. He would be banned from ever again running any of the agencies in the Royal Household Bureau. A couple of days ago, a photograph was published on กูต้องได้ 100 ล้าน จากทักษิณแน่ๆ showing Disthorn and his cousins Ratthanwut and Watcharakitti apparently undergoing their special training — the three elderly men appear to be doing some kind of drill in military uniform, looking distinctly uncomfortable.
Vajiralongkorn clearly intends to publicly shame the three palace officials, and then continue to torment them indefinitely afterwards. Disthorn, for years one of the closest friends of King Bhumibol, suddenly finds himself forced to obey the whims of Vajiralongkorn, first in a humiliating training course and then as the crown prince's personal page. It is a dizzying fall from grace, and will be an ongoing nightmare for him.
It remains unknown exactly why Vajiralongkorn is persecuting Disthorn and his relatives, or whether they had objected to the prince faking Bhumibol's signature.
We can draw three conclusions from this extraordinary episode.
First, the junta is acquiescing to the crown prince operating totally above the law. His order regarding Disthorn had no legal authority — personnel moves in the Royal Household Bureau and related agencies are supposed to be decided by the government and ordered by the prime minister. Yet Vajiralongkorn is clearly confident enough that the junta will acquiesce in his actions that he simply circumvented the correct procedure and gave the order himself. His confidence is well founded: there has been no sign that Prayuth or Prawit object to Vajiralongkorn's persecution of Disthorn or intend to do anything about it. It is clear that the junta is colluding with the crown prince and allowing him to kill or torture people whenever he feels like it.
Secondly, this is a taste of things to come for Thailand, and particularly the royalist Thai elite. Their nightmare has become reality. The crown prince really is turning out to be as cruel and deranged as Thais feared he would be. This will be a reign in which Vajiralongkorn can — and will — murder and torment people with impunity. So far, the junta appears unwilling or unable to control him.
Thirdly, there is no longer any doubt: Bhumibol is totally incapacitated, and he is not coming back. If he was even barely functional, it is inconceivable that the king would allow the purge of the Vajarodaya family and the torment of Disthorn. The fact that Vajiralongkorn feels confident enough now to humiliate some of the closest associates of his father shows that he knows Bhumibol is permanently broken and helpless and unable to do anything to influence events any more.
King Bhumibol's death could be announced at any time. But even if he hangs on for a few more weeks, months or even years, it makes little difference. The most important changes have already happened. Vajiralongkorn is already the king, in all but name. His reign of terror has already begun. After 70 years on the throne, the era of Bhumibol Adulyadej, King Rama IX of Siam, is over forever.
Get the latest reports & analysis with people's perspective on Protests, movements & deep analytical videos, discussions of the current affairs in your Telegram app. Subscribe to NewsClick's Telegram channel & get Real-Time updates on stories, as they get published on our website.
Subscribe Newsclick On Telegram