TN: Agriculture Workers Gherao Panchayat Offices, Say 'Stop Deviating MGNREGA Funds'
Agri-workers' union alleges that Central government has severely cut funding for MGNREGA; demands the Centre release arrear funds immediately.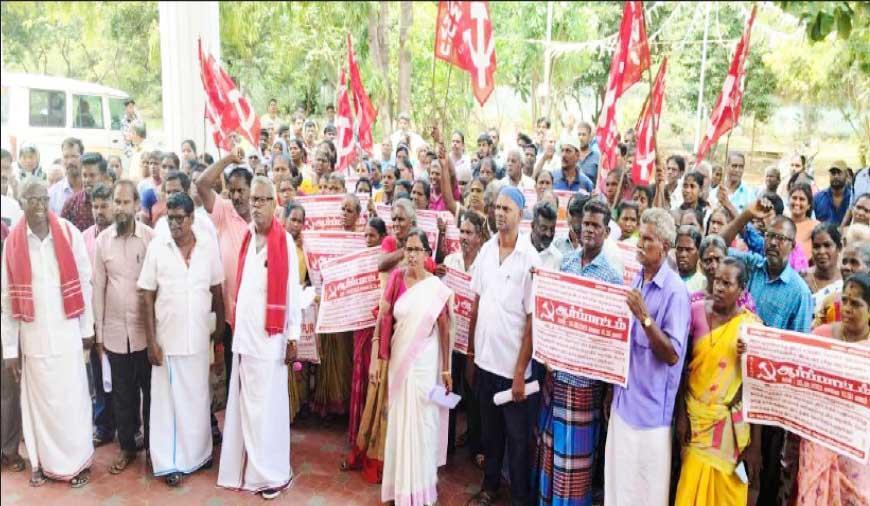 Sholavaram panchayat in Thiruvallur refused house tax from those without pattas. Image credit: Theekkathir
Under the All India Agriculture Workers Union (AIAWU) leadership, agriculture labourers held protest demonstrations outside panchayat offices across Tamil Nadu on August 22. They demanded that funds allocated for the Mahatma Gandhi National Rural Employment Guarantees Act (MGNREGA) scheme should not be deviated for any other purpose.
More than 20,000 people participated in the protest held in more than 100 panchayat unions across Tamil Nadu. Following the demonstrations, they met the respective panchayat chairmans and submitted their memorandum of demands. 
The agriculture workers' union said the Central government had severely cut funding for MGNREGA, and only 40 to 50 days of work was available in a year for those registered under the scheme in Tamil Nadu. 
The workers' union demanded the Central government release the arrear funds immediately. It also insisted the state government implement the scheme in such a way that all the 93 lakh beneficiaries get full employment and that all applicants are issued the job card without delay.
Through the protest, AIAWU reiterated its demand for 200 days of work per year and Rs 600 per day for rural labourers.
'DON'T DEVIATE FUNDS'
AIAWU claimed that any panchayats do not provide the Rs 294 daily wages. In the Tamil Nadu budget session held in March 2023, the state rural development minister, I Periyasamy, said that wages for MGNREGA would be increased to Rs 294 per day from April 1, apart from increasing the number of work days and clusters.
During the previous regime, the MGNREGA funds were diverted and used for constructing government buildings. In the process, contractors and ruling party officials looted the government funds and accused the agriculture workers union. This situation allegedly continues even now, whereby vast sums of money that should be available as wages are used for construction work.
In April 2022, Tamil Nadu Vivasaya Thozhilalar Sangam (AIAWU) opposed the state government's decision to use Rs 17 crore from the MGNREGA fund to create godown facilities at 50 places across the state to store paddy procured from farmers.
BUILD HOMES FOR THE HOMELESS
The AIAWU protest demanded the Tamil Nadu government withdraw the decision to refuse house tax from people without house-site pattas. Tens of thousands of poor people who live in huts erected on common land and temple land should be allowed to pay tax to the respective panchayats, urged the union.
Online payment of house tax will be accepted only if house-site pattas are available; without it, the application is rejected. This news has shocked the poor people who have been waging struggles to attain house-site pattas. With the house-tax receipt, these people were hoping they would be eligible for government housing schemes.
Besides paying house taxes, these people have acquired documents like Aadhaar and family cards in the hope they would be eligible for government housing schemes.
Additionally, AIAWU insisted that, like the Kerala government, houses should be built for all homeless people at Rs 10 lakh per house.
During its election campaign in 2014, the Bharatiya Janata Party (BJP) promised to build houses for all the homeless people, but that was not fulfilled, observed the union. Lakhs of people are living in unsafe places and rented houses. The union demanded the state government formulate a unique scheme for building a large number of houses for homeless beneficiaries.
Get the latest reports & analysis with people's perspective on Protests, movements & deep analytical videos, discussions of the current affairs in your Telegram app. Subscribe to NewsClick's Telegram channel & get Real-Time updates on stories, as they get published on our website.
Subscribe Newsclick On Telegram