TN: Below 25% Finished Class X Among Nomadic Tribes, Shows Study
Almost all the children who dropped out of school mentioned discrimination as one of the major factors.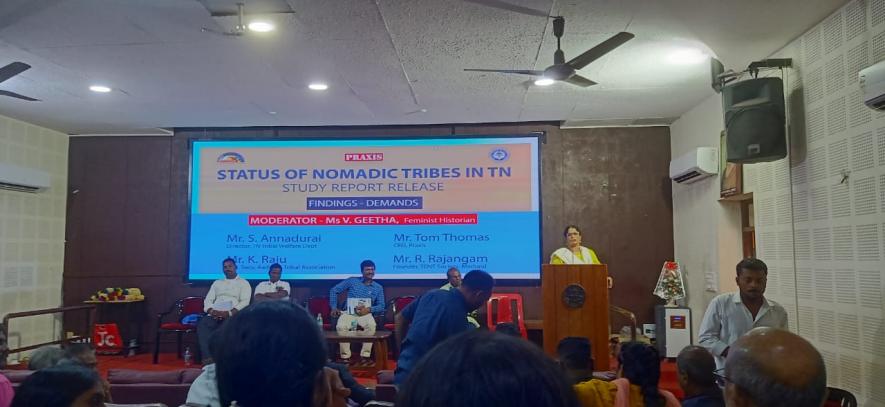 Revathi said through Vanavil support 120 nomadic students entered higher education.
Chennai: A preliminary survey shows that nobody completed school in 1,118 out of 1,485 nomadic community households in Tamil Nadu.
Vanavil Trust, a grassroot NGO, carried out the participatory research among four tribes, namely Narikuravar, Aadiyan, Lambadas, and Kaatunayakar. It showed that those who finished Secondary School Leaving Certificate (SSLC) are 24.73%, High School Certificate (HSC) is 14.15%, and college graduates are 7.21%.
The study was conducted across 15 villages in eight districts: Cuddalore, Krishnagiri, Mayiladudurai, Madurai, Nagapattinam, Tiruvarur, Tanjore, and Tiruvannamalai.
Almost all the children who dropped out of school mentioned discrimination as one of the major factors, reads the report. The students are discriminated against for their caste status, occupation, food habits, language and academic performance. The stigma attached to nomadic tribes (NT) and denotified tribes (DNT) as criminals in society also plays out in school, notes Vanavil. This leads to a lack of friendship with children from other communities and isolation.
Other reasons for high dropout rates include schools being far from tribal settlements, children accompanying parents to their work (child labour to support family), girls staying at home to look after younger siblings, and child marriage.
The report was released by Dravida Munnetra Kazhagam (DMK) leader and MP from Thoothukudi K Kanimozhi on August 9 at the Madras School of Social Work (MSS) in Chennai. She assured to "be a messenger for the voice of nomadic people and take their issues to the chief minister and speak about it in the Indian Parliament."
Tamil Nadu has identified 37 NT, DNT and semi-nomadic tribes (SNT) in the state.
DENIED CERTIFICATE, DENIED EDUCATION
The report mentioned that birth and community certificates are systematically denied to nomadic people. These are necessary to access education, reservation benefits and reach higher education to break the vicious cycle of poverty and discrimination.
"When people seek community certificates, the respective department officials feel the nomadic people are trying to cheat the government. It is a difficult battle," said Revathi Radhakrishnan, founder and director of Vanavil.
Dheeraiyan of Aadiyan Tribal Association said, "Officials are consciously discriminating against us. Two children born to the same parents are given different community certificates."
He further said, "I got Aadiyan ST certificate in 1987, but my son still has not got a certificate. The government states that if the father has a certificate, the children should be given. But, my applications are repeatedly dismissed saying 'not enough proof'."
K Raju, general secretary of Aadiyan Tribal Association, said, "I am both ST and MBC. My entire family is ST, but my wife and I are MBC. This is because we are living in a different district."
Kanimozhi added, "Even when the district Collectors are proactive in ensuring certificates for the nomadic tribes, it is a difficult battle to convince other officials. If individuals are trying it, it becomes a lifetime struggle."
Madesh, belonging to Boom Boom Maatukarar or Aadiyan community was present at the event, was rejected admission in 2021 at the Krishnagiri Govt college due to the absence of a community certificate. He received training to join the Army, but the lack of certificate threatens his prospects.
STIGMA AND INVISIBILITY
The stigma of being labelled criminals has stuck with nomadic people, and Vanavil observed that it posed many difficulties for them in claiming their rights as citizens.
"They were branded as 'born criminals' by the British. There is a stigma around people from these communities. Even today only one department is aware about the existence of this community, the police department," said Dakxin Bajrange, an award-wining filmmaker who participated in the event in Chennai.
Stating that these communities are made invisible, Bajrange said, "We are unaware of their participation and contribution in the 1857 sepoy mutiny, they transported ammunition to soldiers through forests and mountains."
Tom Thomas, CEO of Praxis, who helped frame the study, said, "These communities have little or no entitlements, and that is where government schemes are flawed, because they do not reach these people due to lack of awareness. This report has revealed this."
"This is a historical error, historical injustice. We are not alone – this is similar to the apartheid in Africa, the tribes in America and Jews in WW II. Starting with an open apology and then setting up institutional mechanism to make those corrections is the way forward. They are put through such humiliation for no fault of theirs, and this report gives some recommendations to overcome them," he said.
The report noted NT and DNT communities are also stigmatised as snake-eaters and cat-eaters, while they do not eat such meat for real, and these are stigmas the mainstream society attached to humiliate them.
'FULL-FLEDGED STUDY NEEDED'
The participants and speakers urged for proactive state intervention. The report identified that these communities must be rendered visible by generating credible information about their needs and by ensuring rights due to them reaches them.
Dr Christodas Gandhi, a tribal activist, said, "Micro-level studies and micro-level approaches are required. The issue of each community and each settlement is different; they need to be brought to light and dealt with."
"So much funds are released from the state and centre through the Tribal-sub plan. But there is no heart for the officials to implement the policies and empower the nomadic people using these funds. But we will have to unitedly take the struggle forward," said R Rajangam of the Empowerment Centre of Nomads & Tribes (TENT), citing structural discrimination.
The study report also showed poor access to infrastructure such as electricity, water and sanitation in nomadic settlements. It said that besides education, nomadic people are denied access to government facilities such as health and financial inclusion. Moreover, they are not provided with house-site pattas and housing. They also do not have access to ration cards, so food security is an issue, and malnutrition is common.
From the report findings, the Vanavil demanded the state to constitute an NT/DTN Welfare Board to look into issues of discrimination, stigma and unwarranted violence faces by these people.
Vanavil and other organisations urged MP Kanimozhi to make the Tamil Nadu government mark August 31 as Vimukta Day (Liberation Day) of NT/DNT people. On August 31, 1952, the tribes notified as criminals under the Criminal Tribes Act were denotified; it is noted as their day of freedom.
Get the latest reports & analysis with people's perspective on Protests, movements & deep analytical videos, discussions of the current affairs in your Telegram app. Subscribe to NewsClick's Telegram channel & get Real-Time updates on stories, as they get published on our website.
Subscribe Newsclick On Telegram