TN: Implement UGC Norms, Ensure Inclusion in IITs, Other Institutions: Thorat
The former UGC head was addressing a special convention to discuss issues of students of oppressed sections. In the past five years, 61 suicides of SC/ST IIT students were reported.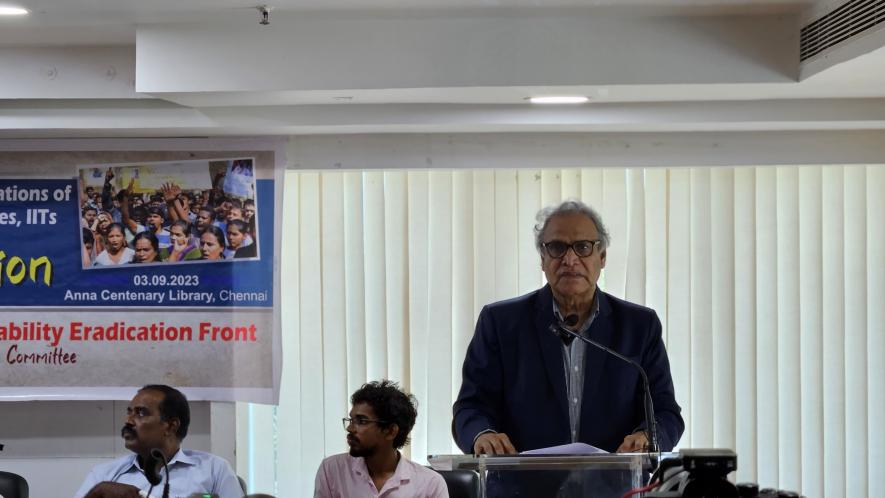 Prof SukhadeoThorat said UGC guidelines should be implemented to eradicate caste discrimination.
Chennai: Former University Grants Commission (UGC) chairman Prof Sukhadeo Thorat said the guidelines of the UGC should be implemented to eradicate untouchability in higher education institutions. He ws addressing a special convention to discuss issues of students of the oppressed sections at the Indian Institute of Technology (IIT) and other central universities, organised by the Tamil Nadu Untouchability Eradication Front (TNUEF) in Chennai on Sunday.
Around 150 students from IIT-Madras (IIT-M), Pondicherry University and Central University of Tamil Nadu participated in the convesntion and discussed campus caste-based discrimination, how reservation norms are scuttled, and the growing anti-science propaganda. They resolved to ensure a "caste-less campus" in all Central educational institutions.
The students belonged to the Students Federation of India (SFI) - Tamil Nadu and Puducherry, Ambedkar Students' Association (ASA) of CUTN, and Ambedkar Periyar Students' Circle (APSC) and ChineaBar from IIT-M.
DISTURBING REPORTS
The convention noted the disturbing reports of caste discrimination and violations of reservation norms in Central Educational Institutions (CEI). The institutes include central universities, IITs, IIMs, IISc, IISERs, AIIMSs, NITs, SPAs, IIITs, NIPERs, NIDs, ISIs and others.
Over the past five years, 61 suicides of students from the Scheduled Caste (SC) and Scheduled Tribe (ST) communities were reported in these institutes: 33 in IITs, 24 in NITs and four in IIMs. The convention observed that students of oppressed sections face undue pressure and stress due to caste discrimination on the campuses. 
A total of 25,593 students from the SC, ST, Other Backward Classes OBC, and minority groups have dropped out of central universities and the Indian Institutes of Technology (IITs) over the last five years.
'ENSURE CASTE-LESS CAMPUS'
The convention said the Ministry of Education had to evolve a policy to ensure representation of members from oppressed sections in all committees on campus.
The students resolved to ensure reservation norms are fulfilled, and the mandate is met. They noted that reservation in CEIs (Reservation in Admissions) 2006 Act and Reservations in CEIs (Reservation in Teacher's Cadre) 2019 Act are violated. This curtails the representation of SC/STs in admissions of students and recruitment of faculty members. As per 2021 reports, PhD student intake from SC and ST communities was less than 10% and 3%, respectively. In contrast, the mandated levels are 15% and 7.5%, respectively.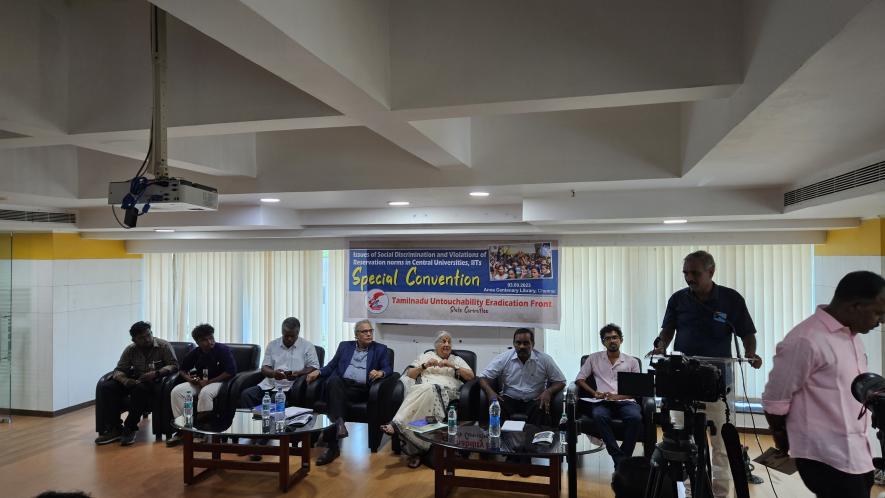 TNUEF secretary K Swaminathan presided over the convention.
Aswin Chadayan, a ChintaBar member, spoke about discrimination in faculty recruitment. He said, "Some of the institutes have a flexible cadre system. They do not have a fixed number of assistant and associate professors. This system, although in practice, is not present in the legislation. This should be abandoned, and the CEI Act should be followed."
The students noted that the functioning of SC/ST Cells is far from satisfactory, and 21 Central educational institutions do not have SC/ST cells. These committees are necessary to monitor reservations. Similarly, they said Equal Opportunity Cells are not formed or functional.
Moreover, the representation of SC/ST students in various committees such as the Internal Complaints Committee/CASH (Committee Against Sexual Harassment), governing bodies of the institutes, Anti-Ragging Cell, Grievance Redressal Cell, Wellness centres, etc., is very dismal, the students observed.
'STRENGTHEN THE FIGHT'
 Thorat said the UGC (Equity) regulations 2012 must be implemented to contain rampant social exclusion.
He said, "The achievement of the ingenious brahminical scholarship ensures the victims of the ideology support the same ideology. This is how brahminisation works". 
"Why do people oppose reservations? They should ask for more institutes and opportunities for all students. But if education is given to all, then the reserved category students join the job market. The upper castes feel others are encroaching on their field," he said.
Thorat called upon the students to fight inequality. "The only solution is to be on your toes and fight. You should watch the administration, watch their policies, and timely oppose them," he said,
Samuel Raj, TNUEF president, said, "100% of those who practice caste discrimination in institutions are educated. Dominant society adheres to caste in order to retain employment opportunities. Education is helping them strengthen caste."
Subhashini Ali, a Communist Party of India (Marxist) (CPI(M) politburo member, noted that social and economic exploitation existed for thousands of years. "However, after 2014, there has been a change for the worse. A party that had no role to play in the freedom movement came to power, so it does not have any commitment to the Constitution. It goes by the exploitative Manuvad," Ali said.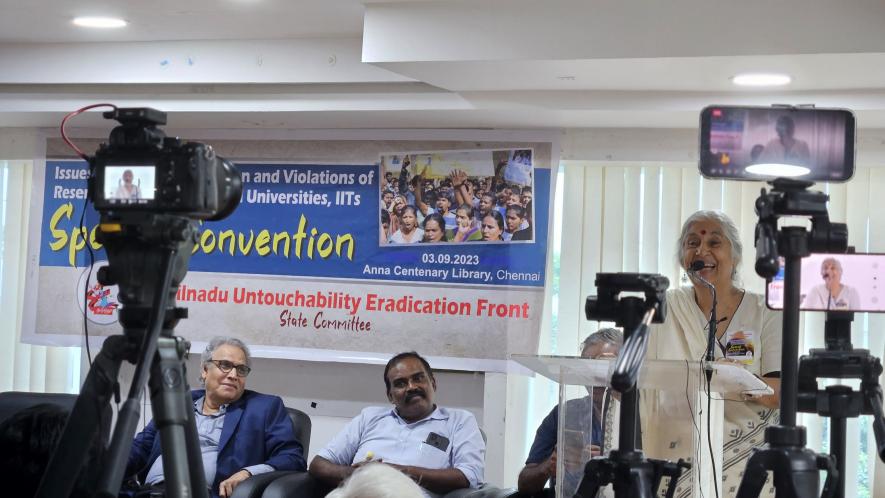 CPI-M's Subhashini Ali said the fight has to be inside and outside the campuses. Image courtesy: ChintaBar
Ali added, "We can only save these institutions of excellence for everybody if we save the society as a whole. The two are very much interlinked; we cannot separate one from the other." She appealed to Left student groups to be at the forefront of the fight against social exclusion in HEIs.
The special convention appealed to all democratic sections of the society to raise their voice in support of "Casteless Campus" and urge the Union government to ensure social justice for students and teachers belonging to the oppressed sections of society. Considering all the issues, they demanded the enactment of the "Rohith Act" (named on dalit student Rohith Vemula)
Get the latest reports & analysis with people's perspective on Protests, movements & deep analytical videos, discussions of the current affairs in your Telegram app. Subscribe to NewsClick's Telegram channel & get Real-Time updates on stories, as they get published on our website.
Subscribe Newsclick On Telegram