TN: Women Say 'Strengthen Rural Employment,' 'Guarantee Urban Employment'
AIDWA calls for statewide protest demanding law be passed to extend the 100-day employment guarantee to urban areas.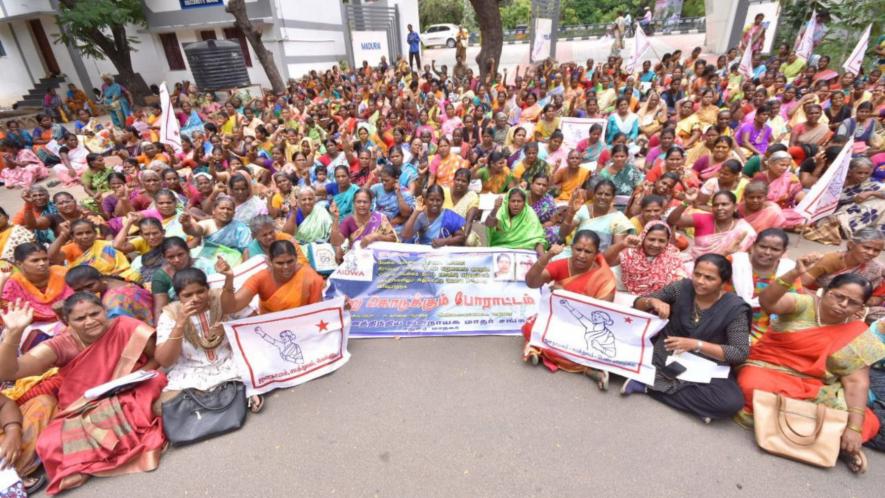 AIDWA protest at the corporation office and submitted a petition to the Mayor of Madurai.
The All India Democratic Women's Association (AIDWA-TN) gave a call for a state-wide protest on September 12, on the memorial day of "late Comrade Kasthuri, a leader and office bearer of AIDWA-TN for many years". The association demanded that In severe inflation, the Mahatma Gandhi National Rural Employment Guarantee Act (MGNREGA) scheme should be strengthened and extended to urban areas. Thousands of women participated in the protests at district headquarters.
They also demanded that a separate department should be erected for agricultural workers to ensure these two demands were met. "A special law should be passed to extend the 100-day employment guarantee to urban areas," urged AIDWA-TN.
Other demands included immediately providing work to all MGNREGA applicants, giving relief for periods of unemployment, extending the scheme to 200 days of work, increasing daily wages to Rs 600 and giving landless agricultural labourers house plots.
The Ayyankali Urban Employment Guarantee Scheme in Kerala created 42 lakh days of employment, benefitting 98,000 families. AIDWA-TN said it is "a first of its kind in India" and "a model for the nation".
ATTACK ON MGNREGA
AIDWA-TN pointed out the attacks on MGNREGA while placing their demands.
"The MGNREGA was passed in 2005 through the strong voice of the left and progressive forces to eradicate poverty in rural areas. For the first time in the history of India, this law was created with the principle of the right to work," read the AIDWA-TN statement.
MGNREGA was a poverty alleviation scheme for agricultural labourers who lose several months of agricultural work every year.
However, since the Modi government came to power, the funding for MGNREGA has decreased yearly, observed AIDWA-TN. Rs 98,000 crore was allocated for MGNREGA in 2021-22. It was reduced to Rs 73,000 crore in the 2022-23 budget. It was further reduced to Rs 60,000 crore in the 2023-24 budget. AIDWA noted, "If the scheme should reach all the deprived agricultural workers, Rs 2.72 lakh crore should have been allocated this year."
Due to fund-cutting, the number of days of work has been reduced. A study conducted by Azim Premji University in 2021 showed that 37% of MGNREGA applicants did not get work even for one day. Around 36% of them did not find work for even 15 days.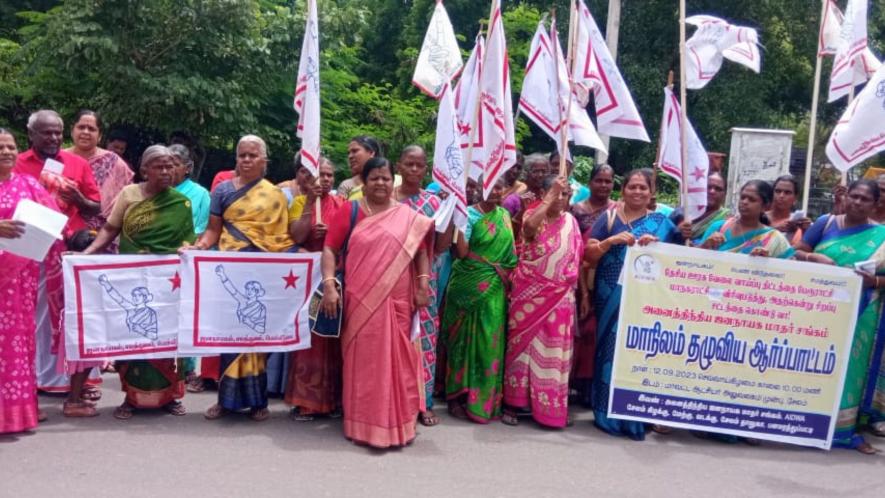 AIDWA TN Submitting a petition to the BDO of Periyapalayam, Salem
Moreover, last year, the average days of work were only 35 days under the scheme. In Tamil Nadu, the average days of work was 42. Moreover, the government-assigned amount of Rs. 292 wages was not provided.
"Also, the Union Government has made it mandatory for the government to pay salaries on the basis of Aadhar. As a result, workers are not paid on time, and many have become ineligible," noted AIDWA-TN. Out % of 26 crore job-card holders, 41% have become ineligible under the scheme.
Online registration for MGNREGA attendance is also a hassle, and many workers are losing work, observed AIDWA-TN. "In the last six months, countless complaints regarding attendance through online registration have occurred. Internet connectivity is poor in rural areas, especially in tribal areas," read the statement.
Moreover, the Union Ministry of Rural Development announced that it would use drones to monitor MGNREGA worksites and allocate 10% of funds for it.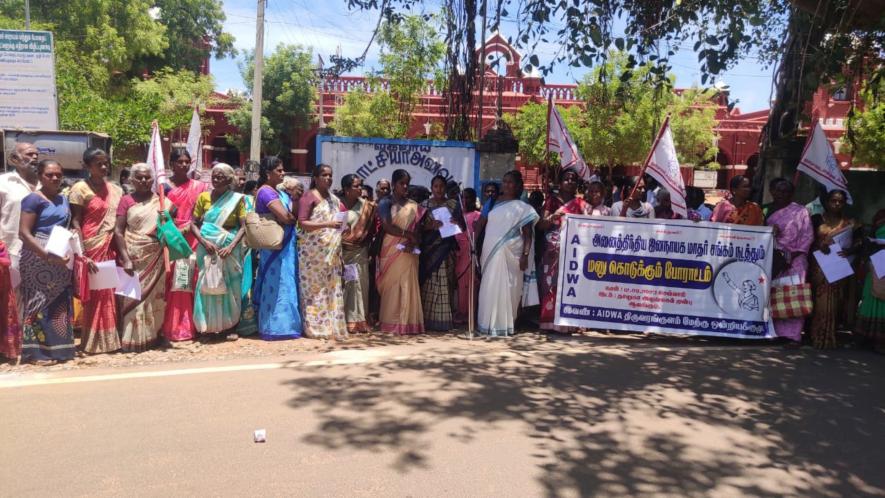 They submitted petitions at the Taluka office in Alangudi, Pudukottai
"Years of calls to install CCTV cameras in public places and increase funding to prevent violence against women and children and anti-social activities have gone unfulfilled. But the government wants to monitor MGNREGA work with drone cameras," read the AIDWA-TN statement. It further read, "This appears to be a move to further derail the scheme."
'PRO-CORPORATE, ANTI-POOR
AIDWA-TN observed the central government is lenient with big corporations, and the poor have become victims of such policies. 
"The Modi government has waived off Rs 10.50 lakh crore of bank loans to big businessmen this year alone and has also shown a concession of Rs 35,000 crore in tax arrears. The central government's pro-corporate policies have made the living conditions of farmers and farm labourers worse." read the AIDWA statement. 
"Agricultural labourers are moving away from the rural areas and towards the urban areas in search of livelihood. Unemployment is rampant in the urban areas as well," it further read.
AIDWA-TN gave a call to strengthen the protests against the Modi-led central government, stating that it enriches big business and deprives the poor. It reiterated that the MGNREGA saved the lives of several people during the COVID-19 lockdown, so it should be strengthened and extended. 
Get the latest reports & analysis with people's perspective on Protests, movements & deep analytical videos, discussions of the current affairs in your Telegram app. Subscribe to NewsClick's Telegram channel & get Real-Time updates on stories, as they get published on our website.
Subscribe Newsclick On Telegram