UP: Tourist Guides of Banaras Still Waiting for Post-COVID Normalcy
Many ancillary businesses around the city, such as hotels and restaurants, depend on the flux of both Indian and foreign tourists, which saw a complete dip after the first lockdown was announced in March 2020.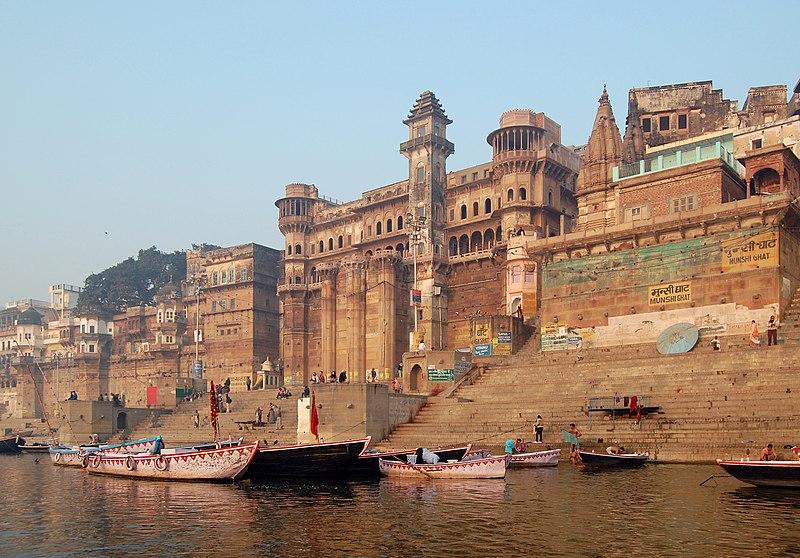 In the spiritual city of Banaras, famed for its long stretch of ghats and temples in every nook and corner of many mohallas, tourism plays a significant role. It is undoubtedly the basis of livelihood for many communities across the city. 
Many ancillary businesses around the city, such as hotels and restaurants, depend on the flux of both Indian and foreign tourists. This had seen a complete dip when the first lockdown in 2020 was imposed with the advent of COVID-19. For two years, the recovery in the city of many businesses and occupations has been slow. 
One such occupation involves the tour guides, who escorts and helps tourists around the city's most famous attractions. This line of work seems not to have recovered much from the repercussions of the subsequent lockdowns, even after two years. A major reason for dismal recovery is the restrictions on international movement in the country, and hence the city. There are around 500 state-approved tourist guides in Banaras. 
Arun Mishra, a tour guide at the ghats, says, "When the first lockdown was imposed, we thought we would get back to our business in a few months. We were hopeful. Now it has been two years, and we are frustrated as foreigners visiting the city are still less." 
Mishra further observes that the tourism sector is one of the most vulnerable sectors in any city. 
"I have worked as a tourist guide for the past 10 years. But income is very uncertain, hence I have also worked as a LIC agent," Mishra said. Thus, post-lockdown, the income from tourism became absolutely zero. 
Mishra earned meagre wages from his other job and is currently waiting for stability. "I am now 45 years old and at a crossroads. Should I change my profession? It is challenging to do so. All my other colleagues who are in the same line of business face the same dilemma because we have to run our families," Mishra said.  
Aman Pratap, a Delhi-based guide who escorts packs of tourists to Banaras regularly, says that the situation has been dire for many guides since the beginning of the pandemic. 
"Many people, my friends, who work as guides have been in debt. They had to repay loans, but now, in the past two years, many have been on the verge of being bankrupt," Pratap said, adding, "Not many have other sources of income, and banks have been sending notices clearing the debt. It is terrifying and a tough time for them these days."
The stalling of the tourism sector prompted every other tourist guide to start job-hunting. It was a 'do-or-die' situation, as one tourist guide pointed out. Many opted to start teaching languages in some institutions as they have a command of a few foreign languages such as French, Spanish, Thai, etc. Others started private home tuitions in the dire situation of the COVID-19 lockdowns. 
Some took up cameras to click pictures of local tourists after the second wave at the ghats. The challenge for them is that in the world of smartphones, a photographer may not be in the plans of many tourists.
Anil Singh, another tourist guide, points out that the main months of tourism in Banaras go from October to March. 
"So it has always been the case that you cannot completely depend on tourism to have a steady income," Singh said. He questions the policies of the Indian government in catering to the tourism sector. He laments, "Even though we are so rich and diverse on many fronts, be it culture, the suitable climate in many places and we have ecotourism as an industry as well, we still haven't reaped the benefits of such a gifted country. Not many countries have such diversity and favourable conditions." 
On an infrastructural level, Singh questions the government's initiatives and claims they are lacking. 
"Many tourist spots and general public places in cities, such as in our city of Banaras as well, lack proper sanitation and washrooms. The local government should pay attention to such aspects of a city as well to help visitors and tourists, but I don't see much improvement in these aspects, and I think they are not serious about this sector," Singh said. 
The second wave of COVID-19 wreaked havoc across the country. The mismanagement of the central and state governments was up for the show to the world. Singh believes this has contributed to a blemish in India's image as a safe destination for tourists. 
"The image of India to be known as a safe place is important for tourism to thrive. But since we haven't achieved normalcy and COVID-scare and deaths are still a factor, recovery has been delayed. I think it will take at least till 2024 or 2025 till we may have a full recovery," Singh said.
Meghnad Sinha, another Banaras-based tourist guide, laments that it is not only the pandemic that has created the worst of phases for tourist guides. 
"Yes, the pandemic is responsible for our plight, but it's not only that. Take the example of the Buddhist circuit in India, in which I have been working for the past many years; there are so many Buddhist sites in UP and Bihar, Sarnath being one in Banaras. Bodh Gaya is the birthplace of Buddhism itself. But there is generally a downward movement of Buddhist tourists in India. Why is that?" Singh said. 
He said that the promotion of such unique sites is lacking, and the government has not been able to tap the Buddhist culture. As per reports, India receives only 0.05% of the total population of Buddhists in the world as tourists. Recently, Prime Minister Narendra Modi inaugurated an International airport at Kushinagar, another major Buddhist site in UP. It remains to be seen if this can have a tangible effect on Buddhist tourism. 
"If the government can attract Buddhist tourists, it will be better for us and generate more employment for tour guides," Sinha said.
The newcomers to the profession have been waiting to start their careers since the pandemic has set in. Many who opt for courses related to tourism and learn foreign languages by spending much time and money in good colleges, now stand confused about how to begin work. 
Singh says that he might dissuade them from joining this profession. 
"It is very confusing for people like us who have worked for years. The new aspirants might as well drop the idea and look for something else. Or they may wait a few years for a full-fledged recovery and normalcy of international tourism in the city," Singh said. 
The writers are freelance journalists.
Get the latest reports & analysis with people's perspective on Protests, movements & deep analytical videos, discussions of the current affairs in your Telegram app. Subscribe to NewsClick's Telegram channel & get Real-Time updates on stories, as they get published on our website.
Subscribe Newsclick On Telegram