Traders Across India Protest Against Walmart-Flipkart Deal, Impending Doom For Indian Retailers
The Confederation of All India Traders — traditionally sympathetic to the BJP — has given an ultimatum to the Modi government.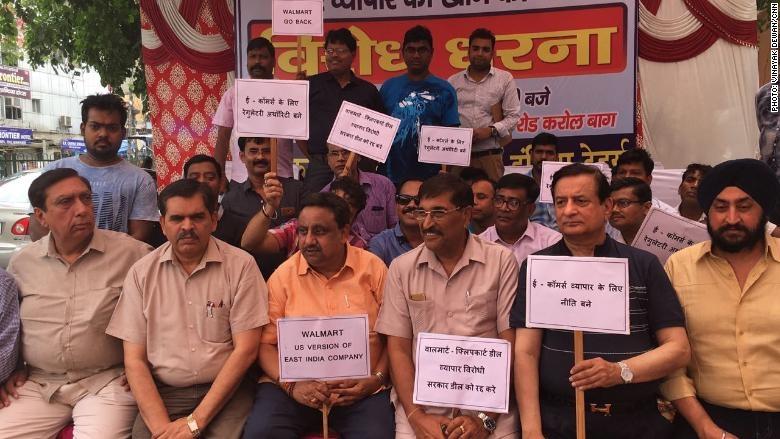 Lakhs of traders across the country staged sit-in protests (dharna) in various cities on 2 July, opposing the American retail behemoth Walmart's impending takeover of Flipkart, India's biggest e-commerce company.
Around 10 lakh shopkeepers and traders under the umbrella of the Confederation of All India Traders (CAIT) held the dharna at around 1,000 places across 500 cities demanding that the Modi government scrap the $16-billion Walmart-Flipkart deal as it would wipe out India's domestic retailers.
Protests were held at Delhi (at the prominent commercial centre of Karol Bagh), Mumbai, Nagpur, Pune, Surat, Ahemadabad, Bhopal, Chennai, Hyderabad, Banglore, Pondicherry, Raipur, Rourkela, Ranchi, Kolkata, Lucknow, Kanpur, Allahabad and Jhansi, among several other cities.
Read More: The So-called "Consumers' Interest"
Besides the scrapping of the deal, Indian traders are demanding that the BJP-led NDA government immediately formulate a policy on e-commerce as well as constitute a regulatory authority to regulate and monitor the e-commerce market in the country.
On 9 May this year, US-based multinational corporation Walmart — the world's biggest brick-and-mortar (offline) retailer — announced its acquisition of 77% stake in Flipkart.
Traders in India rightly regard this deal as a back-door entry for Walmart into multi-brand retail in India, where Foreign Direct Investment (FDI) into multi-brand retail is capped at 51%. Walmart had earlier attempted to enter multi-brand retail in India back in 2007.
So the acquisition of India's biggest online retailer is a way for Walmart to circumvent these restrictions because FDI is allowed in e-commerce under the 'marketplace' model — which means a company acting as a facilitator between buyer and seller by providing an online platform, which is how Amazon entered the country.
As per guidelines issued by the Department of Industrial Policy & Promotion for via Press Note 3 (2016), 100% FDI under automatic route is permitted in the 'marketplace' model of e-commerce while FDI is not permitted at all in the inventory-based model of e-commerce.
Read More: Prabhat Patnaik: Walmart Deal Would be a Colonial Style Deindustrialisation of the Economy
However, given that Walmart is the world's largest offline retailer, the American MNC would source globally the cheapest material and sell its own inventory on the platform of Flipkart, which would presumably be cheaper than the products by Indian retailers, and thus wipe out competition — leading to a monopoly. In fact, together Walmart and its rival Amazon — the world's largest e-commerce company — will create a duopoly over the entire economy.
Indeed, as an earlier public statement of protest against the Walmart-Flipkart deal, endorsed by now by more than 100 unions, organisations and activists, said, "India's domestic digital retail industry will of course suffer by the domination of these two US MNCs. But worst affected will be small brick-and-mortar retail stores accounting for over 90% of the Indian retail sector, SME manufacturers, small delivery companies and suppliers of goods including farmers whose margins will be ruthlessly squeezed, with their behaviour digitally-controlled. Walmart is well-known for its global supply chain, especially of cheap goods from China, which means local manufacturers and suppliers will suffer deep hits."
In fact, it could even lead to a colonial-style deindustrialisation of the Indian economy.
The CAIT said in a press statement issued after the 2 July protest, "Flipkart is a combination of predation, exclusive tie-ups and of preferential sellers where even online vendors face discriminatory conditions and Walmart being the owner by virtue of 77% share is bound to give preference to its inventory. There will be denial of market access to non-preferred sellers coupled with complete annihilation of small time traders on offline platform,".
"Walmart...would sell its inventory on the platform of flipkart.com either directly or through a web of associated preferred sellers with the result that their market share would rise exponentially and pure offline retailers / wholesalers would have two options either exit the market or sell their goods on flipkart.com and face discriminatory terms and conditions from flipkart.com in comparison to its preferred sellers," the statement added.
Read More: Walmart's Acquisition of Flipkart and What it Means for India
Speaking to Newsclick, CAIT general secretary Praveen Khandelwal said that not only was this a violation of the FDI policy (as even in e-commerce, FDI in inventory-based model is disallowed), but that there is currently no law in the country to deal with and put restrictions on such practices of a company.
"This is nothing but an attempt by Walmart to enter multi-brand retail trade of India through e-commerce. Walmart is an offline retailer, and it is entering into an area that is not its core competency. So it is clear that Walmart is exploiting this passage to come into the Indian market with its products sourced globally and creating a monopoly in Indian market for its products," Khandelwal said.
"This will damage Indian retail trade and, especially, destroy the small manufacturers and traders. It will create an uneven playing field, which is not allowed under the FDI policy of India."
He said Walmart would indulge in predatory pricing, deep discounting and thus eliminate competition.
Referring to how the BJP had earlier opposed Walmart's entry into multi-brand retail, the CAIT general secretary told Newsclick, "We want to remind the government to stick to its promise and the electoral manifesto."
He said the Confederation was awaiting a response from the government. If the Modi government does not heed the demands of the traders — an important support base for the BJP and especially Modi — then the traders will decide the future course of action during an upcoming national convention of CAIT at Delhi from 23 July to 25 July.
Get the latest reports & analysis with people's perspective on Protests, movements & deep analytical videos, discussions of the current affairs in your Telegram app. Subscribe to NewsClick's Telegram channel & get Real-Time updates on stories, as they get published on our website.
Subscribe Newsclick On Telegram