Transgender Activists Say UP Cop Beat Them up for Sheltering Trans Son in Gurugram
Two persons were allegedly assaulted by the cop who has been identified as Krishna Kant Singh from the Haidergarh police station in Barabanki, Uttar Pradesh.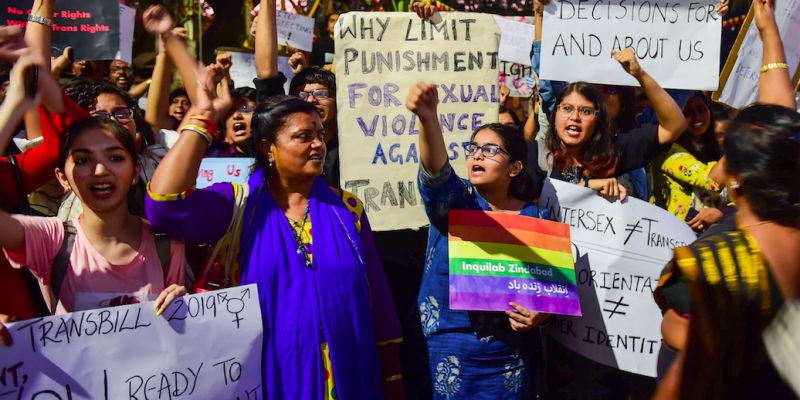 Image for representational purpose. Credit: The Wire
The Transgender Welfare Equity and Empowerment Trust (TWEET) Foundation has alleged that a cop from the Uttar Pradesh Police has assaulted two of its board members after barging into one of the NGO's shelter homes in Gurgaon, Delhi NCR. The police officer has allegedly done so to get the victims to reveal the location of his son, a transman, who had been residing at TWEET's shelter home.
The two persons were allegedly assaulted by the cop who has been identified as Krishna Kant Singh from the Haidergarh police station in Barabanki, Uttar Pradesh.
The duo lodged separate complaints with the police at the DLF Phase 3 police station in Gurugram on Saturday and marked them to the Ministry of Social Justice. They have accused Singh of beating them up and the police officers at the DLF Phase 3 police station of abetting Singh's actions. They also said they had suffered soft tissue injuries after the beating according to a medical examination done on the same day of the incident. Gurgaon Police PRO Subhash Boken, while speaking to NewsClick, claimed that nobody was beaten up inside the DLF Phase 3 police station in September 1. He said the UP Police inspector Krishna Kant Singh had accused the NGO members of kidnapping his trans son, which was allegedly mitigated by calling both sides to the police station. Commenting on the two complaints filed by Gupta and Ramachandra, he said, "The police will investigate the allegations and if there is any strength to the accusations, an FIR will be lodged."
'Beaten and Wrongfully Confined'
According to a statement by the TWEET Foundation, Singh was uniformed when he arrived at the shelter home 'Aasra' in Gurugram Sector 24, DLF Phase 3, along with his wife, one son, two unidentified men, on September 1, at around 12.15 pm. After barging in, the four men allegedly beat up Shaman Gupta (33), co-chairperson at TWEET Foundation, and Gautam Ramachandra (24), board member at TWEET. Both victims of the alleged assault identify as transmen.
Gupta alleged that he and Ramachandra were dragged out from the shelter and forcefully put into a jeep by the four accused; their phones were taken away. As a result, they could not contact anyone from the organisation or their lawyers.
"They (the four men) dragged us out and put us into the jeep. I was not even wearing my slippers. The neighbours did not intervene because Singh was in uniform and they thought we must have done something wrong," Gupta told NewsClick. He further claimed that they were taken to a small room on the first floor of the DLF Phase 3 police station in Gurugram where they were pressured to divulge the location of the cop's son, a transman henceforth referred to as Deep (name changed).
Gupta alleged he and Ramachandra were repeatedly slapped every time they tried to say anything and they were forcefully kept in that room at the station for more than half an hour. "Singh kept beating us and saying how dare we kept him (Deep) and he will put us in jail for kidnapping," Gupta alleged. He also said that no one from the police station intervened during the incident.
After some time, the duo said, they would bring Deep to the police station by calling Abhina Aher, founder and board member of the TWEET foundation. They contacted Aher on the pretext of locating Deep and she arrived at the police station with other activists, including Aryan Pasha, who is also a member of the National Council for Transgender Persons (NCTP), a statutory body of the Indian government.
After Aher arrived with others, Gupta and Ramachandra were freed, but not without more hassle, they said.
Pasha, speaking to NewsClick, recalled that upon reaching the police station he saw Gupta and Ramachandra sitting there, their hair dishevelled, their clothes dusty, and the former not wearing any shoes or slippers. He alleged that the policemen at the station disregarded him even when he showed his ID and mocked Gupta for trying to say it was illegal to hold them. "When Shaman started saying there was a law protecting transgender persons and so on, the police began laughing and mocked him. I strongly believe the government should reform the police first," Pasha said. He added that he has held training sessions for gender sensitisation with the Madhya Pradesh police as part of the NCTP, but that needed to be done on a larger scale in the country so that transgender persons are not abused.
Pasha said that from the police station, he called R Giri Raj, the Director of the National Institute of Social Defence, which falls under the Ministry of Social Justice. The NISD Director then purportedly called the DCP, following which Gupta and Ramachandra were finally let go.
Cop's Transman Son Alleges Abuse
The TWEET Foundation, run by transgender persons, works with private and government institutions, such as the Union Ministry of Social Justice and Empowerment, for the welfare of transgender persons. The foundation says its Gurgaon shelter home was established in line with the objectives of the Transgender Persons (Protection of Rights) Rules, 2020, which directs the creation of institutional and infrastructural facilities such as temporary shelters and accommodations for transgender persons, who are often persecuted by their families and communities for their marginal gender identity.
The foundation shared a letter from the 24-year-old transman Deep, son of Singh, who urged the Aasra shelter to provide him with a safe place to stay, from where he could take legal action against his family. In the said letter sent over email, Deep said that he was residing in Gurgaon and hailed from Lucknow, and claimed that if he went back to his family, they would either kill him or get him married. Deep added that he needed some assistance in taking legal action and finding a lawyer.
On August 6, in the presence of his parents and members of the TWEET foundation including Gautam, Deep submitted a statement to the Govindpuri police station saying he does not feel safe at home. He said that he faced physical, verbal, and emotional abuse from his father and brother. In the statement, shared by the foundation, Deep said, "I believe they (his family) will lock me in the house and there is a threat to my life."
Activists Say They are Traumatised
Both Gupta and Ramachandra say they were more mentally traumatised than physically hurt. "It will take some time to recover from this. I am not feeling well emotionally. I feel scared to step out thinking that they might come again. Aasra is supposed to be a safe space for trans persons who do not have supportive families, friends or financial stability. Now, it does not feel so safe anymore," Ramachandra told NewsClick.
Ramachandra added that in his line of work, where they rescue and shelter transgender persons, parents often come to threaten them and verbally abuse them; however, he has never been subjected to a physical assault before.
The activist further said, "We recently moved our shelter from Delhi to Gurgaon. Previously, we had sensitised the local police station in Govindpuri so that transgenders who go there are not harassed. But here, we are yet to do that. That is why Krishna Kant Singh could not do much when he came to the Govindpuri station. However, he threatened us saying he will come back and see it to the end."
Deep was not at the shelter home and had gone to his office when his father came looking for him. "It's a relief that he was not there when Singh barged in. Even though it was a terrible incident, it was not the worst situation. I can't imagine what would have happened to him had Singh actually found him," Ramachandra said.
Ramachandra said they wanted to take the case to the court and urge the government to provide security to shelter homes, or otherwise, trans people will lose the handful of safe spaces they have. He recalled another incident in July where transgender persons were allegedly assaulted by the police in Delhi after one of them was picked up from a government-supported shelter home called Garima Greh.
Gupta, in this regard, mentioned the lack of implementation of the rules formed under the Transgender Persons (Protection of Rights) Act. "There is no Transgender Protection Cell in any of these states as per the law. The provisions have to be implemented for the law to have any real impact on transgender lives," he said. The guidelines under the Act direct the formation of a Transgender Protection Cell under the Director General of Police in the states to monitor cases of offences against Transgender persons.
Get the latest reports & analysis with people's perspective on Protests, movements & deep analytical videos, discussions of the current affairs in your Telegram app. Subscribe to NewsClick's Telegram channel & get Real-Time updates on stories, as they get published on our website.
Subscribe Newsclick On Telegram