'Tribal Killings a Recurring Phenomenon in Bastar,' Say Protestors Marking 9 Years of Sakerguda Massacre
This year, tribals gathered to remember the 17 people including three children who were gunned down by the security forces in Sarkeguda village on the intervening night of June 27-28, 2012.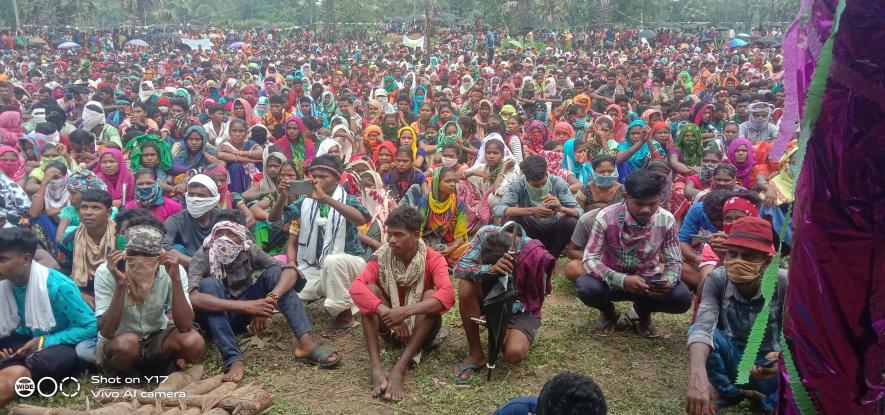 Thousands of tribals gathered from various parts of Bastar with their own examples of police oppression.
Bijapur: "My husband Dinesh was one of the 17 people who were killed on that night. He was only there for the 'Beej Pandum', a local festival, when they murdered him. I have four children and now, I do all the work both outside and inside the home. I have to keep my children alive and help them get educated and live happily," said Janki, wife of late Dinesh.
Over 5,000 tribals assembled in Sarkeguda, Bijapur, the first time after the judicial commission found the security forces guilty of killing 17 tribal people on June 28, 2012. Bastar is filled with such heart-wrenching stories of people falling prey to abuses by the police in the name of countering Naxalism.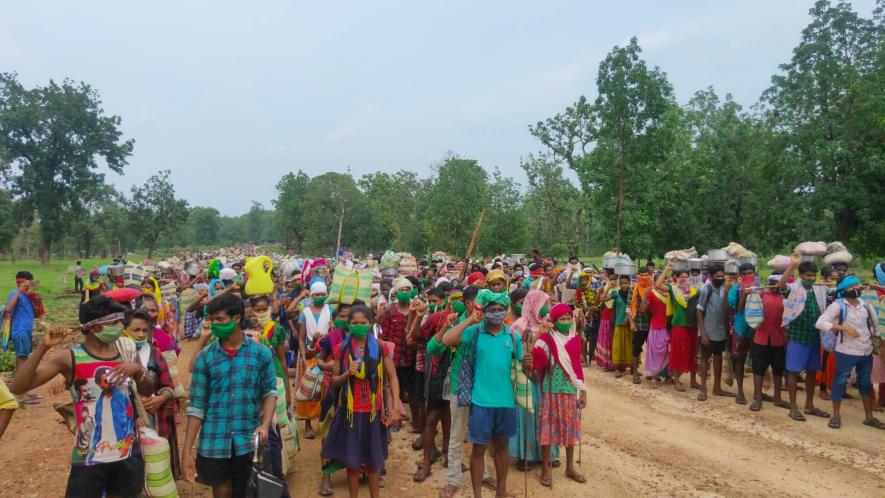 Many walked for over a week to reach Sarkeguda and attend the public meeting. Tribals of Chhattisgarh are stuck between the rock and a hard place.
"Of course I get angry, I miss him, his children miss him and I cannot get them their father back. My youngest daughter up until a few years ago used to ask about her father. I think now she understands that she is different. She does not have anyone to call her father because the police have killed her father. The government has destroyed our lives. There is nothing really in our hands. We think this was his fate and try to live our lives," she said wiping tears from her eyes.
In another incident that happened two years later in 2014, Kope Mandavi's son Sunil Mandavi was allegedly gunned down while he was out to shoo away cattle from his field.
"My son Sunil Mandavi was eating when there was some noise from our farm. He left the plate and rushed to the field fearing cattle might destroy our crop. He never came back, not on his legs anyway. He was picked up on the way and shot dead by the security forces," claimed Kope Mandavi, mother of Sunil Mandavi.
"I don't know what wrong he did. He was a simple human and I can't even remember his frowning face. The police said he was a Naxalite, but I am his mother, I know my son, and he was not a Naxalite," she said.
For Kope, life has not been fair and she has lamented the loss of her son every day since 2014. Her younger son Ganesh is in jail since 2015 and she lives alone, toiling all day to get two square meals. Many like Kope walked for days to reach Sarkeguda yesterday and remember their fellow tribals who fell to the bullets of security forces over the last 15 years.
Scores of tribals started gathering at Sarkeguda from various parts of Bastar on June 27 itself. The occasion was the anniversary of the Sarkeguda massacre, but people came from all over Bastar carrying their own experience of police brutality over the years.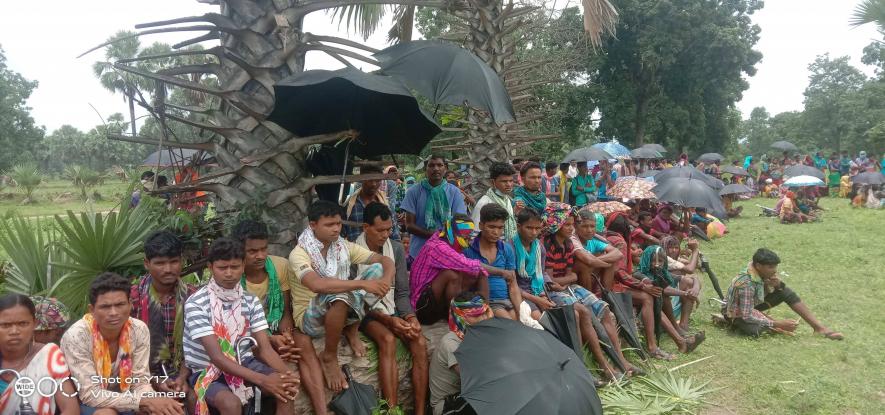 Bearing all challenges tribals in Sarkeguda attending the first public meeting after the Judicial Commission's report found security forces guilty of killing 17 people in Sarkeguda.
As many as 17 people including three children were gunned down by the security forces in Sarkeguda village of Bijapur district while celebrating 'Beej Pandum', a local festival held on the intervening nights of 27-28 June in 2012. 
Seven years after the incident, the judicial commission in its report refuted police claims of ' those killed were Maoists and died in the encounter'.
The one-man commission's report authored by Justice V.K. Agarwal, former judge of Madhya Pradesh High Court, was submitted to the government in October 2019 and was tabled in the Chhattisgarh Assembly in December 2019. The report further mentioned that there was a "clear manipulation of investigation". However, nearly 18 months have passed and any action from the state to bring the culprits to justice is yet to be seen.
"The government is dealing with the legal procedures and we are working with full efficiency. Appropriate action would be taken once the state has finalised all details in the Sarkeguda case," said P Sundarraj, Inspector General of Police Bastar range.
"These protests are being mobilised by the Maoists and we have strong evidence to support our claims. We are here to serve the people of Bastar and we are doing all in our power to eradicate the Maoist problem from Chhattisgarh," the IGP added.
"We have got only promises, nothing has happened on the ground. These wide roads are being built for whom? The police opened fire on protestors under whose orders? Why are they not ready to listen to us?" asked a young protestor at Sarkeguda.
"They want to develop Bastar but they would not even ask us what kind of development we want. This is unfair and simply wrong. This is not how a democracy should work," added another protestor studying class 10.
There is a lot of anger and resentment among the tribals over this delay and so, they decided to host a public meeting to mark the same. Thousands of tribals poured in from various corners of Bastar first time since the report became public knowledge to mark and pay tribute to the dead.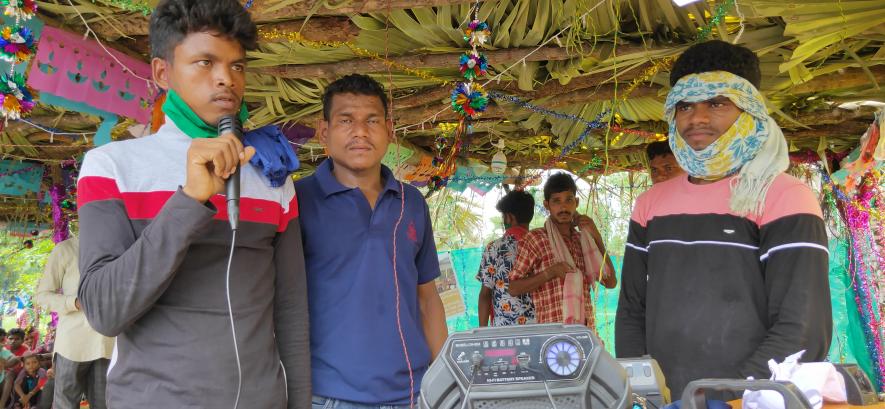 Members of Mool Niwasi Bachao Manch. This young collective born out of Silger protest is leading the way for tribal struggle against state brutality.
The Young Adivasi protestors and their collective known as Moolniwasi Bachao Manch that emerged out of Silger Protest organised an Aam Sabha (People's Meeting) to meet, remember and discuss the killings they say are being conducted by security forces in Bastar under the garb of countering Left-Wing extremism.
Raghu Midiyami, Unga Mochaki, Soni Punem along with others, held a public meeting to remember and talk about the oppression and abuses of security forces on tribals. The meeting was organised under the leadership of the young and educated tribal youth of Bastar.
The stage was set, people were up and about and there was a lot of buzz. Faces recognising other faces, eyes comprehending the pain and sorrow behind the 'Johar' (a wishing term used among tribals of Chhattisgarh) gathered around the stage and the young leadership talked about all the abuses and marks of police brutality. Chanting slogans and using tribal art forms to highlight their words, the young group marked a change in the scope of tribal protest in Bastar.
Speaking to Newsclick, Unga Mochaki a young tribal protestor was filled with anger and sadness as he looked at the families of those allegedly killed by the police in various parts of Bastar. "We have had enough of it. We are educated and we have learned that we have rights that no one can take away from us. This fight has just started, we would fight until justice is served to each family victim of police abuse," said Unga.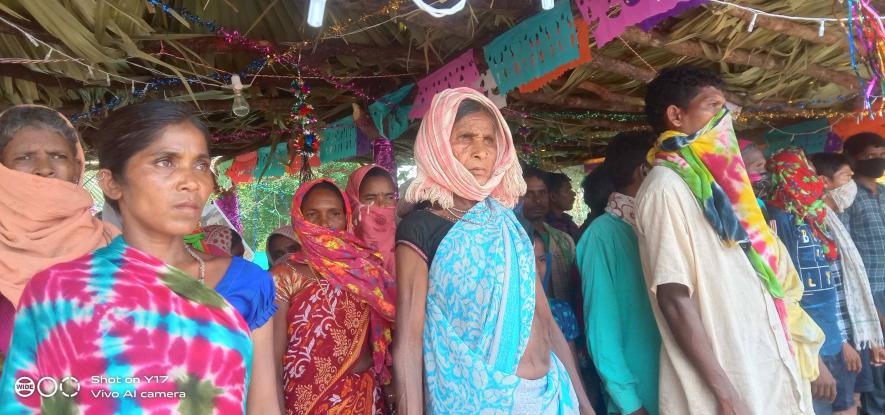 Family members of people killed over the years in Bastar by the police under the garb of Moaists.
"The government thinks they can continue murdering innocent Adivasis and no one would dare ask the question. Not anymore, the situation has changed. There are many like me who have been going to schools, attending colleges and we all have come together here at Sarkeguda to let our people, representatives, and everybody know that we can fight and we can fight hard because our constitution has given us the right to live," he added.
Various social activists and politicians including Congress leader Arvind Netam took part in the Aam Sabha organised to discuss the police oppression against the tribals over the years.
Talking to the media at Sarkeguda, congress leader Arvind Netam said, "The governments are nothing but a dog's tail. There is no change in the strategy to counter Maoists, and they are fixated on the armed solution."
"There is a trend of demolishing memorials, smaraks, and other tribal cultures that bear importance to us. They promise one thing and then turn around and do the exact opposite. They do not know our culture, our society and they continue to disrespect us and our beliefs. This is wrong," he added.
Young boys and girls who had no option but to return to their villages after the COVID-19 lockdown was imposed in the country last year bore witness to the police oppression firsthand in the last two years.
"My friends, my brothers, even my mother was once beaten by the security forces last year. They said we help Maoists and Maoists say vice versa. There is no place for us tribals to breathe and live life like we want to," averred an 8th class student who was present in the protest.
"Earlier I was young, my parents also kept me away from all these things, but in the last year at home, I have seen it with my own eyes. That is why I and my friends were present at the Silger protest and that is why we are here at Sarkeguda. There would be no more beatings and killings. We are educated we know that nobody can harm us. It is not permitted," he added. "We will fight, because we have learned in schools that we have the right to fight peacefully and that we will do," he continued.
The protestors put forward 12 demands including the removal of security camps, inquiry into the alleged Silger shootout, action on the culprits of the Sarkeguda massacre and freeing the tribals who have been wrongfully held up in the Jails. The young protestors also demanded that schools, hospitals, and colleges be made functional in the villages throughout Bastar so that others can also get education and a job.
"The governments are trying to bulldoze the rights of tribals and snatch their resources. In the last 20 years, this mistrust and doubt have skyrocketed. People are not happy. If the government is saying that it is for the tribals then it needs to act accordingly. Take swift action on the Sarkeguda report, uphold the rights of tribals inscribed to them in the constitution of India else this unrest will only grow and tribal lives would be destroyed," said Alok Shukla, Convener of Chhattisgarh Bachao Andolan, a pressure group.
Talking to The Quint, Bela Bhatiya, lawyer and rights activist, said, "People of Bastar especially the youth are now furious over these killings. Tribals are being shot at will in the name of Maoists. There has been no action taken on Sarkeguda Judicial Commission's report. Security forces fired upon the peaceful protestors at Silger and killed four people. Some fifteen days ago a young girl about to get married was picked up from her home in the middle of the night and killed. Police later branded her a Maoist. So there seems to be no end to this brutality. That is why the youth, the educated youth is angry over the system.
"There are thousands of people who have come from long distances to remember their lost ones. Bastar has seen a lot of bloodsheds and it should end now. The governments must try to initiate a peace talk with the Maoists and stop destroying tribal families," she added.
Get the latest reports & analysis with people's perspective on Protests, movements & deep analytical videos, discussions of the current affairs in your Telegram app. Subscribe to NewsClick's Telegram channel & get Real-Time updates on stories, as they get published on our website.
Subscribe Newsclick On Telegram