Tribals in Rajasthan, MP and Chhattisgarh May Abandon BJP
In the upcoming Assembly elections, anger with BJP over neglect is turning tribal communities away from the saffron party.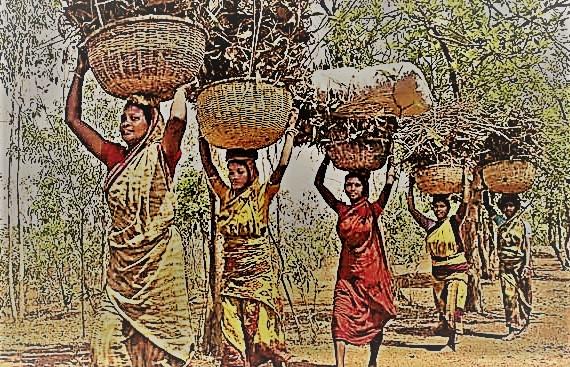 Image for representational use only. Image Courtesy: Business Standard
Growing disillusionment among tribal communities in the 1,500 km long tribal belt that stretches from southern Rajasthan and eastern Gujarat to Chhattisgarh and beyond appears to have left the ruling BJP scrambling in poll-bound Rajasthan, Madhya Pradesh and Chhattisgarh. The Bharatiya Janata Party's (BJP) stance on the SC/ST Prevention of Atrocities Act (POA), the neglect in implementation of the Forest Rights Act (FRA), inability to address rampant unemployment and failure to provide remunerative prices for forest and agricultural produce are some of the key issues that have pushed tribal communities into increasing alienation from the party.
Tribals make up about 31% of the population in Chhattisgarh, 21% in MP and 14% in Rajasthan, which are going to polls in November-December this year. Assembly seats reserved for tribals are as many as 29 out of 90 in Chhattisgarh, 47 out of 230 in MP and 25 out of 200 in Rajasthan. Besides these, there are many more seats with notable tribal voters.
A series of surveys carried out by CSDS-Lokniti, show that tribal support for BJP, which had developed in the run up to the 2014 Lok Sabha elections, has flipped in recent months. Support for BJP among tribals has waned from a staggering 49% in May 2017 to just 36% in May 2018.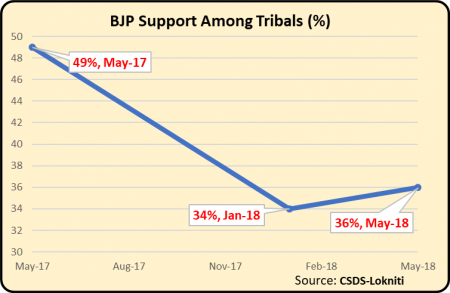 The survey also found that 43% of tribal respondents felt that the Narendra Modi government should not get another chance while 36% felt that it should. Rest were uncommitted. Interestingly, among Dalit communities, too, an even more magnified disenchantment was visible with 55% Dailts saying that Modi should not get another chance and 31% willing to go along a second time.
These are, admittedly, straws in the wind. The survey was done six months before the polls and a whole lot of campaigning and strategising will pour into the poll-bound states, including sops by the government. But, note that the disillusionment is with both Modi and BJP in general. This is not some localised anger in one state or another. So, BJP's main vote-getter, Modi himself, is under a cloud of uncertainty.
Among the key factors that have contributed to this precipitous decline in the saffron party's fortunes in tribal areas, the biggest seems to be the BJP's covert support to the changes in POA and the delay by the Modi government in responding to the Supreme Court judgement diluting the law last year. This will explain the rapid decline in support in the past one year. In MP, Rajasthan and Chhattisgarh, there were protests against the dilution and this drew a violent response from upper castes, especially in MP. It seems that the tribal communities have been equally, if not more, troubled by the tinkering with the law and the BJP's doublespeak.
Another factor that has simmered for many years and seems to be firming up into resentment is the lackadaisical and ineffective implementation of the Forest Rights Act that was to give land rights to tribals. The most recent status of land title distribution under FRA (for August 2018, as released by the Tribal Affairs Ministry) shows that in these three states, the proportion of titles distributed to applications received is very poor ranging between just 41% in MP to about 50% in Rajasthan.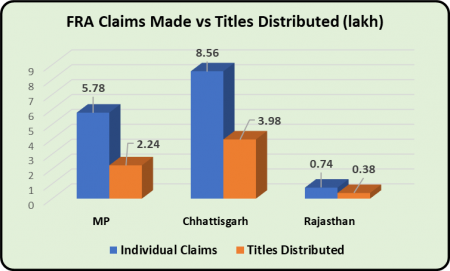 This ties in with the biggest issue haunting tribal communities in these three and other states too – poverty and unemployment. On both counts, the BJP governments (in states as well as at the Centre) have failed miserably. Tribal funds are sub-par, welfare schemes are riven with corruption and inefficiencies, and there is no serious attempt to generate job opportunities, despite promises of achche din (good days) and one crore jobs every year.
All this put together means that tribal communities no longer look at the BJP as the saviour they thought it was in 2014. They are looking for alternatives – and that's what is shaking the ground beneath the ruling party's feet in these three states.
Get the latest reports & analysis with people's perspective on Protests, movements & deep analytical videos, discussions of the current affairs in your Telegram app. Subscribe to NewsClick's Telegram channel & get Real-Time updates on stories, as they get published on our website.
Subscribe Newsclick On Telegram