Tribute to a Brilliant Artist And An Engaged Citizen
Vivan Sundaram, a founding trustee of SAHMAT, passed away in Delhi on the 29th of March, 2023.
Vivan Sundaram was born in 1943, in Simla, Himachal Pradesh. He studied painting at the Faculty of Fine Arts, M.S. University of Baroda (1961–65) and at the Slade School of Art, London (1966–68) where he also studied History of Cinema. Active in the students' movement of May 1968, he helped set up a commune in London where he lived till 1970. On his return to India in 1971, he worked with artists' and students' groups to organize events and protests, especially during the Emergency years.
In 1981, Sundaram participated in the seminal group exhibition, 'Place for People'. Since 1990 he has made installations that include sculpture, photographs and video: Memorial (1993, 2014), an elaborate work made in response to communal violence in Bombay; a monumental site-specific installation at the Victoria Memorial, Calcutta, now referred to as History Project (1998); continuing work on his family, which includes the installation, The Sher-Gil Archive (1995), and digital photomontages, Re-take of 'Amrita' (2001–06), based on photographs taken by Umrao Singh Sher-Gil. A series of exhibitions using found objects include Trash (2008), an installed urbanscape of garbage, digital photomontages and three videos: Tracking (2003–04), The Brief Ascent of Marian Hussain (2005) and Turning (2008). Garbage and found materials were used to make garments, and the work crossed over into fashion and performance in GAGAWAKA: Making Strange (2011) and Postmortem (2013). In 2012, Black Gold, an installation of potsherds from the excavation of Pattanam/Muziris in Kerala, was made into a three-channel video.
A project on the artist Ramkinkar Baij, 409 Ramkinkars, was co-authored with theatre directors Anuradha Kapur and Santanu Bose in 2015. In 2017, a public art project on the uprising of the Royal Indian Navy and Bombay's working class, titled Meanings of Failed Action: Insurrection 1946, was co-authored with cultural theorist Ashish Rajadhyaksha and sound artist David Chapman. A 50-year retrospective exhibition, 'Step inside and you are no longer a stranger', invited by the Kiran Nadar Museum of Art, New Delhi, showed from February to June 2018. A solo survey exhibition titled 'Disjunctures', invited by Okwui Enwezor and curated by Deepak Ananth, showed at Haus der Kunst, Munich, from June 2018 to January 2019.
Most recently, Vivan Sundaram was one of 30 artists specially commissioned to make new work to mark the Sharjah Biennial's 30th anniversary edition. The ongoing Sharjah Biennial 15: Thinking Historically in the Present (February to June 2023), conceived by the late Okwui Enwezor and curated by Hoor Al Qasimi, includes Sundaram's photography-based project, Six Stations of a Life Pursued (2022), signifying a journey with periodic halts that release pain, regain trust, behold beauty, recall horror, and discard memory.
Sundaram has had solo shows in many cities of India, as well as in London, Paris, Toronto, Montreal, Vancouver, Amsterdam, Budapest, Copenhagen, New York, Chicago, Dallas, and at the Fowler Museum, Los Angeles. He has exhibited in the Biennales of Havana, Johannesburg, Kwangju, Taipei, Sharjah, Shanghai, Sydney, Seville, Berlin, and in the Asia-Pacific Triennial, Brisbane.
Vivan Sundaram has been an initiator and organizer of varied and inventive projects as an extension of his artistic practice. He has had a long-standing identity as an artist-activist engaged with artist groups and collectives, and has used different artistic strategies for collaboration and activism – some of it straightforwardly political/ left oriented. As founding member of the Kasauli Art Centre, he organized artists' workshops and seminars at the Centre from 1976 to 1991. He contributed variously to the Journal of Arts & Ideas (1981–99) as a member of its editorial collective from its very inception. As a trustee of the Safdar Hashmi Memorial Trust (SAHMAT), he initiated and conceived art projects and curated exhibitions. In his own words, "… my politicization in the May 1968 student movement took on a specific ideological orientation by association with comrades from the CPI(M), though I have never been a member of the Party. On the art front, there was the setting up of the Kasauli Art Centre in 1976 – its informality and hospitality as well as active exchange and organized discourse. As a founding trustee of SAHMAT from 1989, I have been part of some head-on politics in the period especially from 1990 to 2003. I have curated on behalf of SAHMAT, many small and big exhibitions – installed and roving shows – that were exhibited across the country and that engaged with the public domain through innovative formats." 
Vivan Sundaram is the editor of a two-volume book, Amrita Sher-Gil: a self-portrait in letters & writings, published in 2010; and managing trustee, with his sister Navina Sundaram, of the Sher-Gil Sundaram Arts Foundation (SSAF), set up in 2016.
From ICF and Guftugu:
Artist Vivan Sundaram has died at age 79. Born in Shimla, Himachal Pradesh, in 1943, Sundaram was an artist par excellence who used many media. A friend of Guftugu and the Indian Cultural Forum, he contributed to both sites. Sundaram was politically vocal, raising his voice against the current political climate and the injustices being meted out in the country. Sundaram was also a vocal supporter of the Palestinian cause, often lending his name against Israeli apartheid.
Today we pay tribute to the rich legacy that Sundaram has left behind. We look back at some of the contributions he made to ICF and Guftugu.
The starting point of the show "409 Ramkinkars" (2015) is the work of one of the pioneers of modern Indian art, Ramkinkar Baij. The challenge of paying homage to the critically inspired and restless Baij, and the equally challenging "retake" of his work and idiom for the present called for an innovative artistic strategy. Vivan Sundaram calls the creative response "a show of paintings and sculptures in spatial and theatrical terms".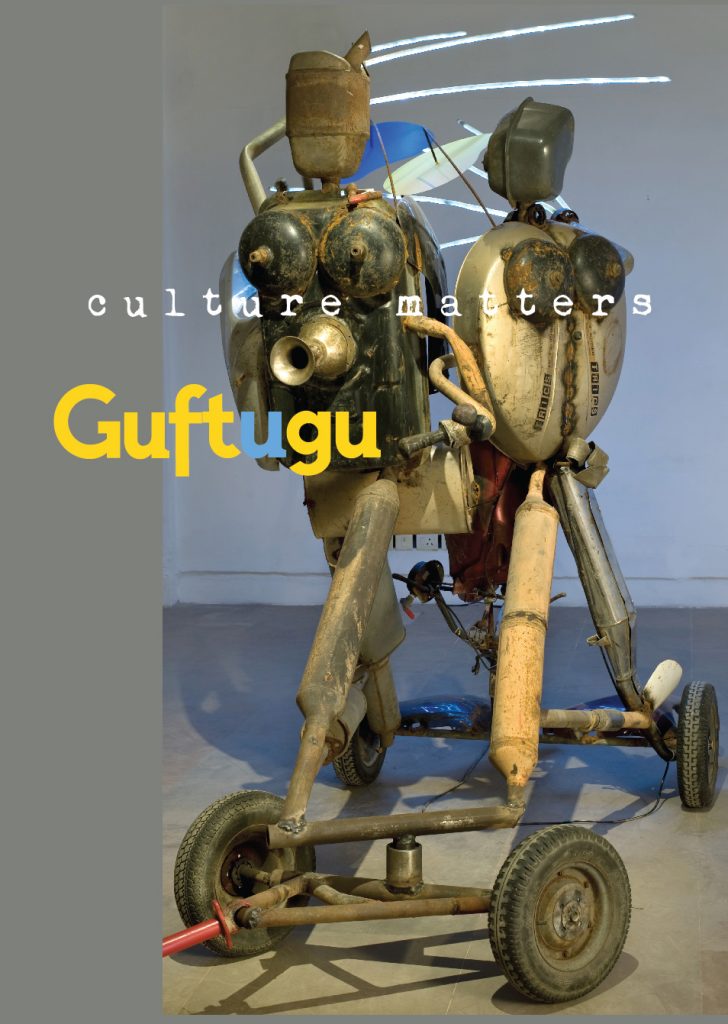 Cover: Vivan Sundaram, "Mill-Recall", sculpture with motor car parts used as a moving prop in the production "409 Ramkinkars". © Vivan Sundaram; © Photo Gireesh G.V. ,
Courtesy: Guftugu.in
Since it was formed in 1989, Sahmat has brought together diverse artists, performers, and writers on a common programme of resistance against attacks on freedom of artistic expression and dissent. Today, as the idea of India is being revamped into a singular, homogenised nation, severed from its composite and diverse heritage, ICF celebrates plurality and building of political solidarity of cultural expression.
While symposia, seminars, conventions, press conferences, protests, and book releases have been a routine part of Sahmat's work, "performance" has had a special place. As an open and inclusive "platform", Sahmat has helped to create and maintain space for plurality of performative traditions which are under severe assault from the right-wing from within, as well as the globalised economic and mono-cultural interests coming from the outside.
Madan Gopal Singh, Vivan Sundaram, Sohail Hashmi and Shubha Mudgal speak about the diversity of performances fostered by Sahmat.
Making of Central Vista: Loss of Indian heritage?
In a video with Tikendra Panwar, Shimla's ex-mayor, Vivan Sundaram, a contemporary Indian artist, speaks about the loss of heritage and historical archives due to the construction of the 'Central Vista'.
Get the latest reports & analysis with people's perspective on Protests, movements & deep analytical videos, discussions of the current affairs in your Telegram app. Subscribe to NewsClick's Telegram channel & get Real-Time updates on stories, as they get published on our website.
Subscribe Newsclick On Telegram