Tripura Elections: Opposition Upbeat Despite Fear of BJP's 'Violent Ways'
Tea workers, rubber plantations employees, and tribals say they are ready to battle it with BJP if the latter tries to rig the polls.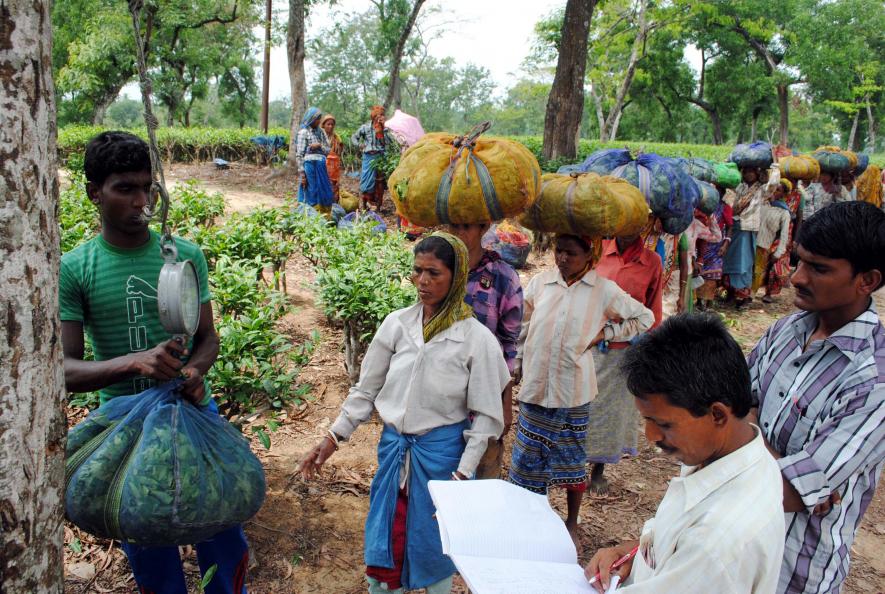 Tea Workers of Tripura. Photo by Abhishek Debbarma
Agartala: "I don't know what is in store for me. When I return to my area, I can be beaten and tortured again, said Anil Orang (42), a tea garden worker and father of two children. 
Orang participated in a door-to-door campaign of the local CPI(M) candidate Pabitra Kar on February 11, leading to his house being vandalised. Allegedly, local Bharatiya Janata Party (BJP) activists also attacked his wife after she protested the vandalisation. Moreover, the hooligans took their colleague hostage, he alleged. Local BJP leader Bimal Taanti was allegedly leading the vandals. 
On February 12, Orang and other workers of Mekhlipara tea garden joined a mass meeting at Khayerpur, addressed by CPI(M) polit bureau member Prakash Karat.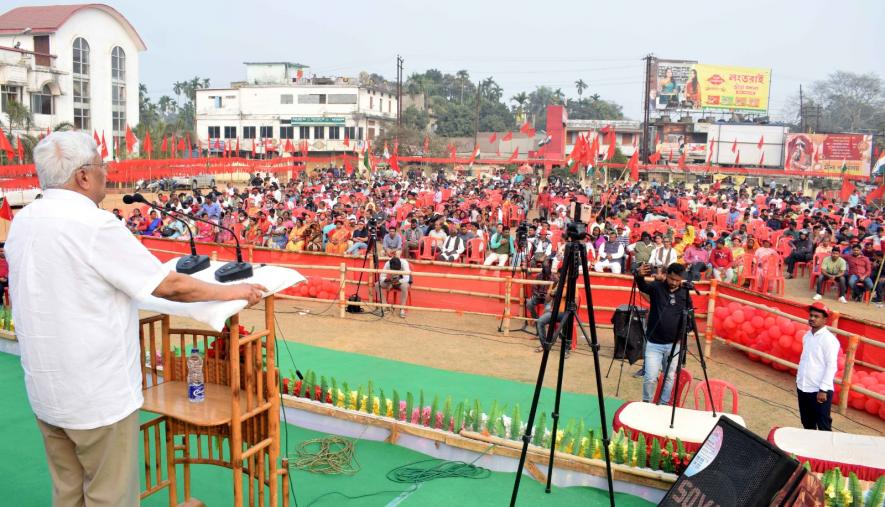 prakash karat at khayerpur rally
"I want to hear what our leaders say," Orang said; he was also enthused when Kar mentioned that the Assembly elections would end BJP's rule in Tripura. 
Mintu Munda, a 34-year-old tea worker, said he was confident the Left would emerge victorious. He explained how politics was prohibited in Narendrapur tea estate in the last five years; he lives at the estate with his wife and brother. 
"During the last panchayat elections, we were not allowed to file nominations at gunpoint. In these five years, we were not allowed to vote. During the Lok Sabha elections, hooligans entered our village and threatened us with dire consequences if we voted. Our complaints to the police went unheeded. This time, we are determined to vote, whatever the consequences," Munda said. 
Naresh Taanti, a sub-staff at a tea garden, narrated a different story. He told NewsClick about how his pond, which had fish worth Rs 65,000, was looted in 2018. Furthermore, the soil of a hillock worth Rs 12,000 was decimated and sold in the market. The looters also took his TV and dish antenna. Taanti alleged that it happened as he was the branch secretary of a union in the tea estate. He mentioned how he was forced to take pre-mature retirement three times; however, each time, the garden authorities relented after he showed valid age proof. 
Taanti, Gopal Taanti and Orang liked it when Karat referred to the BJP-led state government as  a "double-engine government of looters". 
Kishore Bhumji, a 34-year-old widower living in Narendrapur tea estate, is unemployed. Earlier, he depended on MGNREGA work, but that has stopped completely. Occasionally, he works as a landless labourer, receiving Rs 100/day as daily wage. However, the work is inconsistent, and the wage amount keeps changing. 
A few years ago, when the Left Front was in power, Tripura, on average, had 92 days of annual MGNREGA work, the highest in the country. This has been reduced to 72 during the government of BJP and IPFT.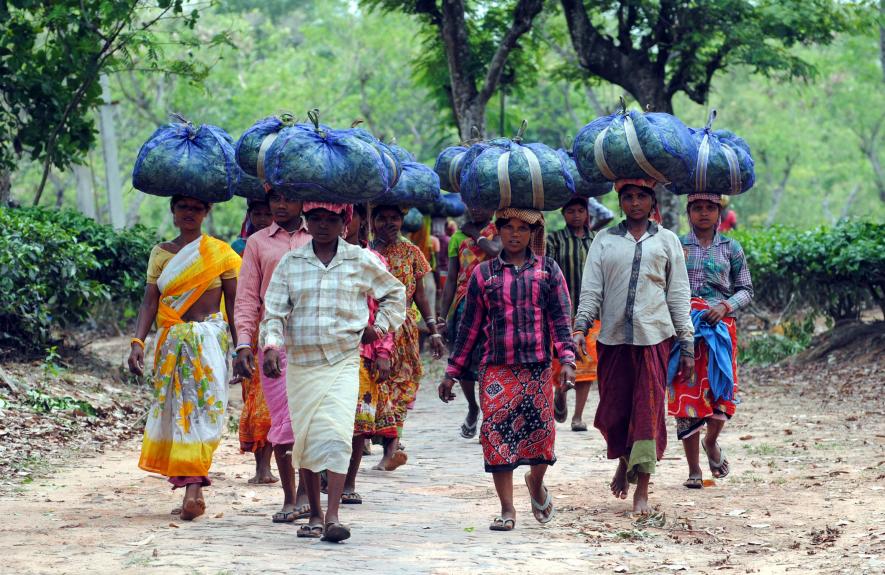 Tea Workers of Tripura. photo by Abhishek debbarma
NewsClick witnessed an upbeat mood among Left Front workers in Amarpur, Karbuk, Birchandra Manu, and Santirbazar areas of the state. 
Multiple constituencies are witnessing a triangular fight between Tipra Motha, Left-Congress, and BJP-IPFT, which has been relegated to the third place. However, the money power of BJP was visible in how it had painted the state in saffron flags. 
Ajay Saotal,  an unemployed tribal youth with a Master's in literature, told NewsClick about how an entire tea estate, earlier run by a workers' cooperative, was choked to death by the government and handed over to a local minister. The minister is allegedly yet to pay provident fund dues to the workers. Saotal alleged that when the workers protested the delay, they were beaten by BJP 'goons' and the state police. 
Similar stories could be heard in other tea estates in the Simna area, around 50 km from the state capital, Agartala. It was alleged that rubber plantations in the area, which belong to medium-level farmers, were often looted. The state government hardly took any action on farmers' complaints. Moreover, the Central government's rubber policy led to a decrease in rubber prices, leading to huge losses for rubber plantations in the state. Tripura is the second largest producer of rubber in the country after Kerala.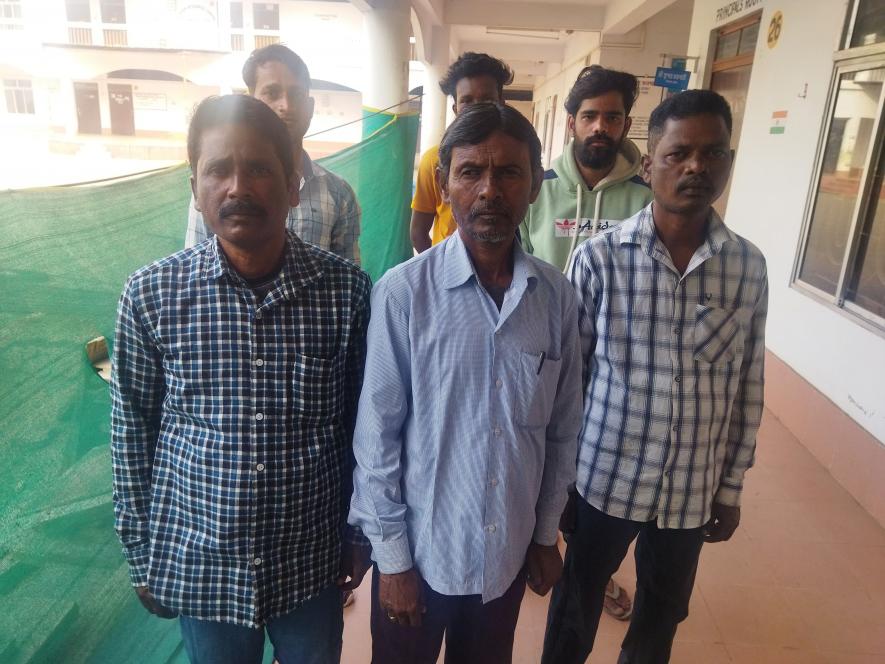 Tortured tea garden workers 
"They spend a lumpsum toward decorations in the area. However, we don't believe in Test matches, but in T20s and ODIs," a BJP worker said on the condition of anonymity. He hinted that BJP workers would be "ferocious" on polling day. 
The state chief election officer and the Election Commission (EC), meanwhile, announced the Zero Violence Vote campaign, which is unlikely to hold on February 16. Tea workers, rubber plantations employees, and tribals are ready to battle it with BJP if the latter tries to rig the polls. 
Get the latest reports & analysis with people's perspective on Protests, movements & deep analytical videos, discussions of the current affairs in your Telegram app. Subscribe to NewsClick's Telegram channel & get Real-Time updates on stories, as they get published on our website.
Subscribe Newsclick On Telegram