Trump Threatens North Korea Again, Makes False Claims of 'Billions' In US Aid
Threats aside, the former reality television host's latest claims of 25 years of diplomacy and "billions" in aid failed to jibe with the facts.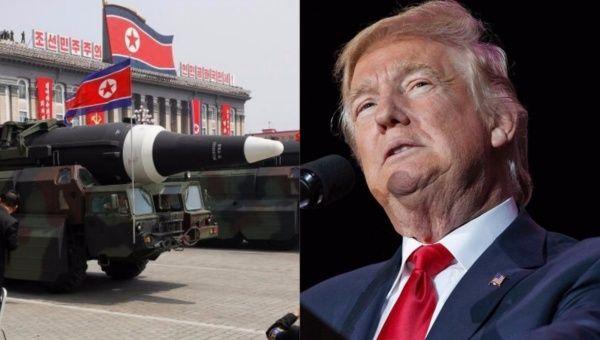 Image credits: Reuters/Xinhua/teleSUR
President Donald Trump said Monday that United States policy toward North Korea has been a failure for a quarter of a century, falsely asserting that Washington has been paying "extortion money" to Pyongyang as it developed atomic weapons.
"Our country has been unsuccessfully dealing with North Korea for 25 years, giving billions of dollars & getting nothing. Policy didn't work!" Trump said in a Twitter post.
Trump did not say whether he was preparing to take military action against North Korea, a possibility he has raised several times.
"I think what the president is clearly telegraphing, and this should not be news to anybody, is that military options are on the table with North Korea ... They absolutely are," said White House Office of Management and Budget director Mick Mulvaney in an interview on NBC.
However, the former reality television host's latest claims of 25 years of diplomacy and "billions" in aid failed to jibe with the facts.
In 1994, Pyongyang signed an agreement with U.S. President Bill Clinton to freeze its nuclear weapons program as a condition for moving toward the full normalization of bilateral political and economic ties. The North also agreed to mothball its graphite nuclear reactors and buy new light-water reactors while submitting to full inspections under the NPT.
"Although criticized by some for not resolving every issue on the Korean Peninsula, the Agreed Framework ended the immediate crisis and prevented the North from realizing its potential to develop dozens of nuclear bombs," then-Secretary of State Madeleine Albright later recalled in her memoir, Madam Secretary.
From the mid-'90s onward, people in North Korea were suffering from malnutrition, and China, South Korea and the United States agreed to provide food aid to the country as talks began to warm following the Agreed Framework.
The aid continued even after 2002, when the administration of former U.S. President George W. Bush named North Korea a member of the "axis of evil" alongside Iran and Iraq, alleging that Pyongyang had been "seeking weapons of mass destruction" and secretly developing nuclear weapons in violation of the 1994 agreement.
In early 2003, North Korea withdrew from the NPT before declaring it had nuclear weapons.
In a 2005 agreement signed by North Korea, four neighbors and the United States, Pyongyang pledged to scrap its nuclear program in exchange for economic and energy aid. That deal unraveled in 2008, which is when the food aid dried up.
According to a 2014 report by the U.S. Congressional Research Service: "Between 1995 and 2008, the United States provided North Korea with over US$1.3 billion in assistance: slightly more than 50 percent for food aid and about 40 percent for energy assistance. Since early 2009, the United States has provided virtually no aid to North Korea, though episodically there have been discussions about resuming large-scale food aid."
Diplomatic ties have also largely been restricted to informal back-channel talks held between the U.S. and North Korea's respective delegates to the United Nations.
Since taking office, Trump has taken a hardline position against Pyongyang, while North Korea has continued to develop its nuclear weapons and missile programs, firing intercontinental ballistic missiles that can reach U.S.-held colonies like Guam and Micronesia, and states like Alaska and Hawaii.
North Korean leader Kim Jong-un said Sunday that his country's nuclear weapons program provided the best option for defending sovereignty and countering threats from the United States.
The president has previously said the United States would "totally destroy" North Korea if necessary to protect itself and its allies from Pyongyang's nuclear threats. He has also pontificated about sparking a nuclear conflict in several bombastic ways, saying the U.S. military is "locked and loaded," ready to unleash "fire and fury" on the North, and said at the time that the time for "patience is over."
Trump repeatedly has made clear his distaste for dialogue with North Korea. On Sunday he dismissed the idea of talks as a waste of time, a day after Secretary of State Rex Tillerson said Washington was maintaining open lines of communication with North Korean leader Kim Jong-Un's government.
Disclaimer: The views expressed here are the author's personal views, and do not necessarily represent the views of Newsclick.
Get the latest reports & analysis with people's perspective on Protests, movements & deep analytical videos, discussions of the current affairs in your Telegram app. Subscribe to NewsClick's Telegram channel & get Real-Time updates on stories, as they get published on our website.
Subscribe Newsclick On Telegram