The Truth Behind Crackdown on Human Rights Activists
It is an attempt to divert attention from the mounting evidence of terrorist activities by Hindutva supporting Sanathan Sanstha and its associates, and also shielding those behind the Bhima Koregaon violence.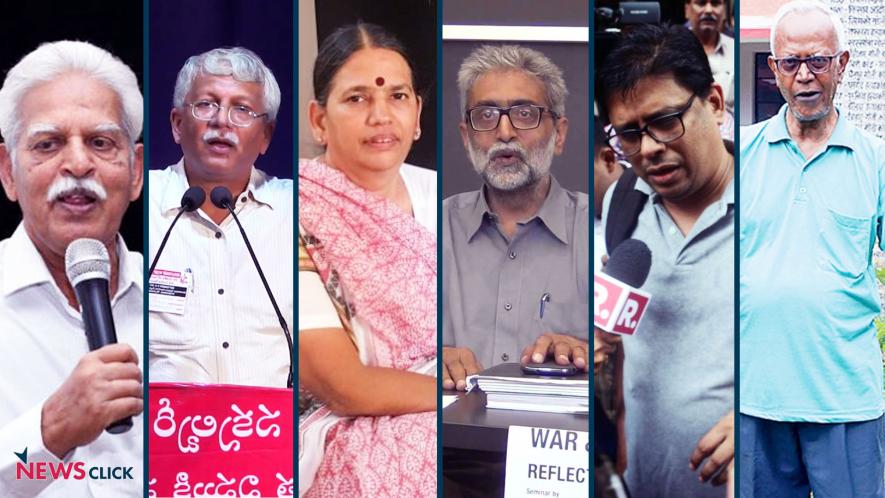 The arrest of five human rights activists seems to be a misconceived attempt by the Pune police – with the sanction of the State Govt. – to divert the attention of people and media from its failure to diligently investigate and pin down the unfolding Hindu terror plot.
Recall that rationalist Narendra Dabholkar was shot dead on August 20 2013 and Left leader Govind Pansare on February 16, 2015 – both in Maharashtra. It was only recently that under pressure from the revelations that came out of investigation into Gauri Lankesh's murder in 2017 that the 5-6 state shadowy network of Hindu fundamentalist organisations responsible for these (and Kalburgi's murder in 2015) and the Supreme Court's intervention that investigations picked up in Maharashtra. Even then, the Pune police was dragging its feet with Karnataka police asking them to take the whole thing more seriously.
But it is not just about the police in one place trying to cover its flanks by dangling a red herring. It reeks of a larger conspiracy sanctioned by political higher ups to divert attention of the country which has been watching the saga of Sanathan Sansthan and its affiliates, with more and more evidence piling up of its violent and terrorist activities. 
What has come out in the investigations of the murders of four anti-communal progressive thinkers is nothing short of a full-blown Hindutva organised and funded terror network complete with hit lists, arms and ammunitions of all kinds, bombs, poison packets, etc. spread over several hideouts and safe houses. There were training camps (like a farmhouse in Jalna) where recruits were trained in use of arms for assassination. There were plans and diagrams for planting bombs in public places including cinema halls, music festivals etc. There are even reports now that these outfits were trying to instigate communal riots by planting bombs in colonies/areas where one community resided to provoke a violent reaction. Several members of the Sanathan Sanstha and its affiliates have been accused in the past of bombings and other criminal activities. Recent reports in fact have indicated that RSS and BJP members were also involved in meetings and conferences of these Hindutva groups. It is quite possible that future investigations may unveil this nexus more sharply.
"It is a clear attempt to divert the attention of people and the media from the Sanathan Sanstha plot that is now revealed," said Nikhil Wagle, eminent journalist, speaking to Newsclick.
Wagle pointed out that Pune police is also under pressure on the Bhima Koregaon case because the earlier arrests of five activists in June and the theory that they were involved in instigating the violence that occurred on 1 January this year on the 200thAnniversary of Bhima Koregaon has not been substantiated by any concrete evidence.
"Pune police have to submit a charge sheet against the (earlier) five accused within 90 days of arrest. That time limit expires on 6 September. I have reviewed all the case papers and there is nothing against them. So, in desperation, the police have made these fresh arrests to try and bolster the case somehow," Wagle added.
Meanwhile, here is another piece of the jigsaw puzzle that squarely links the Bhima Koregaon violence to the arrest of five activists: the Hindu fanatic Tushar Damgude, whose FIR at Vishrambagh police station is the flimsy basis on which the activists were arrested is an outspoken supporter of Sambhaji Bhide, one of the two accused of inciting violence in Bhima Koregaon. Bhide is still at large and Pune police are getting increasing flack, including a scolding from the Supreme Court, for not being able to arrest him. Damgude is hostile to communists and regularly rants against them on social media. He has been photographed with Devendra Fadnavis chief minister of Maharashtra.
So, the Pune police, and the state govt. seem to be appeasing the Hindutva lobby in arresting the leftist activists (now and the earlier ones) on the basis of wild allegations, while neglecting to apprehend one of the two accused in Bhima Koregaon, Bhide. The other accused Milind Ekbote was arrested but is now on bail.
Megha Pansare, daughter in law of murdered Left leader Govind Pansare too felt that these arrests could be a red herring. She told Newsclick that it is possible that through these arrests, political attention is sought to be diverted from the ongoing revelations against the Sanathan Sanstha and its affliates.
Prakash Ambedkar, Dalit leader from Maharashtra believes that there is incontrovertible evidence that Sanathan Sanstha was even planning to explode bombs in Hindu localities – presumably to provoke attacks on Muslims. This is putting the BJP's Fadnavis govt. of Maharashtra in a very tricky situation. Hence, the current crackdown on left-liberal activists to draw attention away from this.
"The Karnataka government has been exerting pressure for some time now on the Maharahstra government to take action on the basis of the evidence they have collected on the Sanstha and its activities during the course of the investigation. They found that the Sanstha was preparing bombs for use in several places in Mumbai itself, and of these many were Hindu and not minority occupied areas. Admission of this for the Fadnavis government would amount to declaring the Sanstha as an anti-Hindu party that the BJP is clealry not willing to do. So they rounded up all the ultra-Left intellectuals to divert attention from the Sanstha and support their own conspiracy theory that there is threat to the country from the extreme Left intellectuals who have been supporting violence as per their claims," Ambedkar told The Citizen.
Avinash Patil of the Maharashtra Andhshraddha Nirmoolan Samiti (MANS), the organisation founded by rationalist Dabholkar also told Newsclick that arresting these activists was quite possibly an attempt to divert attention from the Sanathan Sanstha revelations, although there is no proof of this as yet. He said that MANS has been warning against the activities of Sanathan Sanstha and its offshoots since 2000 and successive govts. had ignored it. Now, the reality is exposed.
Since the evidence against those arrested is non-existent, the cases are ultimately going to fail. But meanwhile, the BJP/RSS and its offshoots are trying to put in place alternative 'truths' helped along by a credulous media.
Get the latest reports & analysis with people's perspective on Protests, movements & deep analytical videos, discussions of the current affairs in your Telegram app. Subscribe to NewsClick's Telegram channel & get Real-Time updates on stories, as they get published on our website.
Subscribe Newsclick On Telegram