Undeterred by Arrests of Leaders, Farmers and Workers Charge Ahead With Their Protest Plans
They say the "repression" by the Haryana government will "only embolden" their agitation.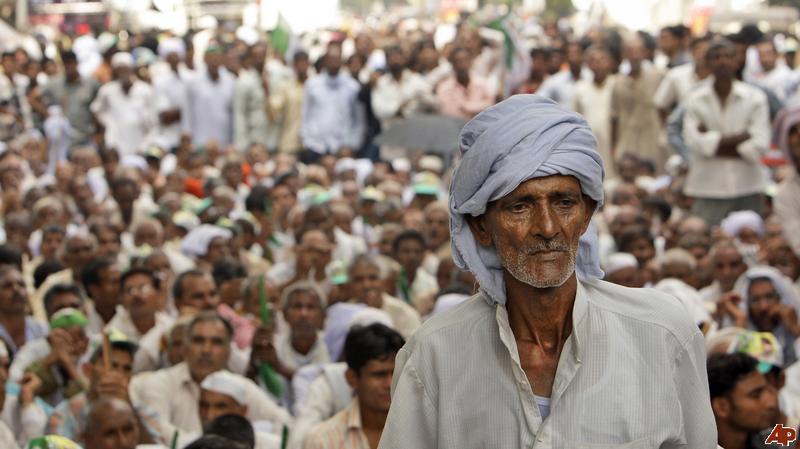 Representational Image. Image Courtesy: India Kisan Sabha
New Delhi: The alleged arrests of farmers' leaders by the Haryana government on Tuesday, November 24, two days ahead of the planned march of farmers groups to the national capital and a nationwide general strike, has drawn strong condemnation from multiple organisations.
Three press conferences held on the day to discuss the preparations being made by the farmers' and workers' outfits across the country towards their respective programmes, noted the arrests as a "repression" by the Haryana state government - where Bharatiya Janata Party (BJP) is in coalition with Jannayak Janata Party (JJP) - which will "only embolden" the agitation.
On Tuesday afternoon, the national working group of AIKSCC claimed that so far 31 leaders - belonging both to farmers groups and trade unions - have been detained or arrested in Haryana. The umbrella body of over 250 farmers' groups "condemned governments' attempts to use the excuse of COVID-19 to thwart the democratic right of citizens to protest against anti-people moves".
While addressing the media at the Press Club of India at the national capital, national leaders of the Central Trade Unions also attacked the Manohar Lal Khattar - led government, saying that such arrests however, won't stop the farmers and workers - who are in an "upbeat" mood - from going ahead with their planned programmes.
Almost 500 farmers' organisations, led by All India Kisan Sangharsh Coordination Committee (AIKSCC) have called for a 'Delhi Chalo' programme on November 26 and 27 to intensify their struggle against the controversial agriculture reforms.
The ten Central Trade Unions have given a call to observe a general strike on November 26, to press for their charter of demands, including a cash transfer of Rs. 7,500 to all non-income tax payee families among others.
Tens of thousands of farmers from Punjab, Haryana, Uttar Pradesh, Uttarakhand, Rajasthan, Madhya Pradesh and other states are expected to converge in Delhi in vehicle convoys, an AIKSCC press statement said on Tuesday.
"In locations distant from Delhi, from where mobilisation of farmers to Delhi is difficult at this point of time given the lack of railway services, simultaneous protests will happen locally, at taluka, district and state levels," the AIKSCC said.
Also read: Bengal Workers, Farmers Ready for Nov 26 General Strike; Artists' Outfit Extends Support
Accordingly, the 16 newly elected Member of Legislative Assembly (MLAs) in Bihar are to protest outside the Assembly building, while in Jharkhand, there is a plan to march to the Raj Bhavan in the state capital. Tamil Nadu is expected to witness rasta roko and rail roko agitation in more than 500 places on November 26, according to the AIKSCC.
In addition, more than 25 crore workers, belonging to different sectors, will be striking work as part of the general strike on the same day, the Central Trade Unions have said.
Amarjeet Kaur, general secretary, All India Trade Union Congress (AITUC) told the media that strike notices have already been served by employees in banking, insurance, and steel sectors, along with coal miners and telecom workers. Railways and Defence employees have decided to go for large mobilisations on the day to express their solidarity with the strike action.
These employees, belonging to the public sector enterprises, will be joined by scheme workers, domestic workers, construction workers, beedi workers, hawkers, vendors, and agriculture workers, among others, who have "decided to come on streets for chakka jam," Kaur added.
There was also an announcement of a "workers' congregation" to be organised at the Jantar Mantar on the occasion of general strike, along with rallies in the industrial areas.
Interestingly however, no permission has yet been given to the Central Trade Unions by the Delhi Police, which reports directly to the Union Home Ministry, for conducting the programme, that is potentially going to draw in participation in huge numbers. Likewise, permission to hold demonstrations at Ramlila Maidan have been denied to farmers.
Tapan Sen, general secretary, Centre of Indian Trade Unions (CITU) told the media that "permission or no permission," the workers' bodies will go ahead with the strike programme. "We will not let the [Narendra] Modi government to sell the national assets to private corporate houses," he said.
Also read: Protests Sweep Kerala ahead of November 26 General Strike against New Labour and Farm Laws
Swaraj India's president, Yogendra Yadav, who is also a working committee member of AIKSCC, told the media on Tuesday that the farmers will enter the national capital through "five border points."
In a press address from Gurugram, he maintained that the farmers will launch a "sit-in dharna" on the border areas itself, if the police attempts to barricade them. "We shall continue with our struggle in a peaceful manner," he reiterated.
Earlier in the morning, Yadav had alleged that in a major crackdown by the Haryana state administration, several farmers' leaders from numerous districts in the state are being arrested, "with no charges being levelled against them."
In a Facebook live from his page, he had readout the names of the leaders whose arrest information he has received, adding that they are from Jhajjar, Hisar, Bhiwani, Sirsa, among others.
Get the latest reports & analysis with people's perspective on Protests, movements & deep analytical videos, discussions of the current affairs in your Telegram app. Subscribe to NewsClick's Telegram channel & get Real-Time updates on stories, as they get published on our website.
Subscribe Newsclick On Telegram