Undocumented Citizens, Impoverished Lives: Story of a Denotified Tribe in Rajasthan
The Bawaris migrated from Gujarat to Rajasthan's Sawai Madhopur and have lived there for over 50 years, still many do not have a government ID or ration card.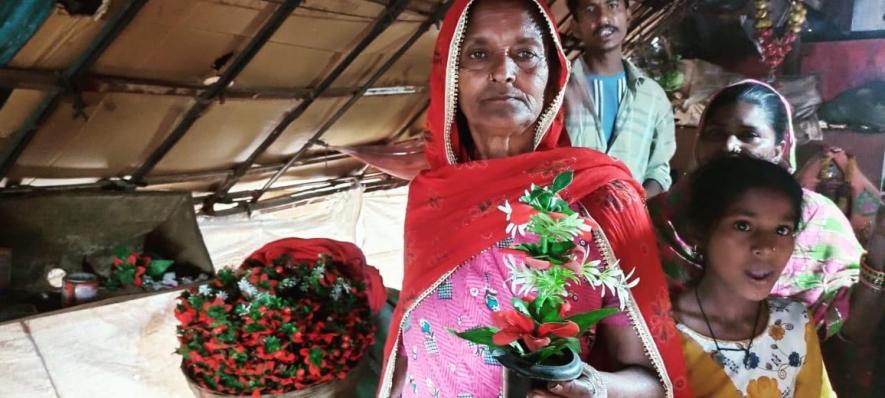 A Bawari woman with artificial flower pots that she sells for a living.
Sawai Madhopur, a city located in south-eastern Rajasthan, is visited by many tourists, celebrities and politicos and is famous for the Ranthambore National Park. But, just next to the busy Sawai Madhopur railway station, resides the impoverished Bawari community, which comes under one of the Denotified Tribes called the Mogias.
The Bawaris migrated from Gujarat to Sawai Madhopur and have lived here for more than 50 years. However, poverty, lack of basic facilities and absence of identity documentation have pushed the community to the edge of the margins in society.
Talking to NewsClick, Anaro Devi, Mukhiya of the community in Bawri Basti, said: "Bawaris have been living in the 'Bawri Basti' for more than 50 years and have migrated from Gujarat in search of opportunities." She said due to the lack of education and knowledge, she was unaware of the ration card and its use. In the beginning, only a few people could make ration cards with the help of the then Mukhiya (head of the community). Even now, several people from the community do not have any ID proof.
"When we started working with the Bawaris, only 20% had Aadhaar cards and 30% had ration cards. After three years of working with them, 80% have Aadhaar cards and 70% have ration cards. Even now, there are people who have no documents whatsoever as the administration wants at least one document to make another one," Radheyshyam Sain, community leader of the Gramin Shiksha Kendra (a local non-profit organisation), told NewsClick.
Most of the community members sell artificial flowers and plastic plant pots, which they bring from Delhi. "When the lockdown happened, our livelihood got destroyed because we weren't allowed to leave the Basti. During the lockdown, we didn't have food, and no one came to help us because people assume Bawaris to be criminals; they think if someone comes here, we might beat them. We didn't have ration cards and other government proof like Aadhaar, so we were unable to get food under the NFSA (National Food Security Act) or PDS (Public Distribution System)," Ananro Devi said. However, after the Gramin Shiksha Kendra's intervention, they got food, ration cards and other documentation.
Shanti and Mahender, two members of Bawari community, sell artificial flower pots. Talking to NewsClick, Mahender said: "During the lockdown, I was unable to feed my family. To feed them, I had to sell the four-five goats I had." He said he could not recover from the loss he faced during the lockdown. He said items such as plastic flowers in pots are bought by people only in the festive season, but they have become outdated now with the emergence of new fancy items in the market. Hence, he is not earning as much as before and sometimes has to do other work like rag-picking. There are other people in the community who are also involved in rag picking.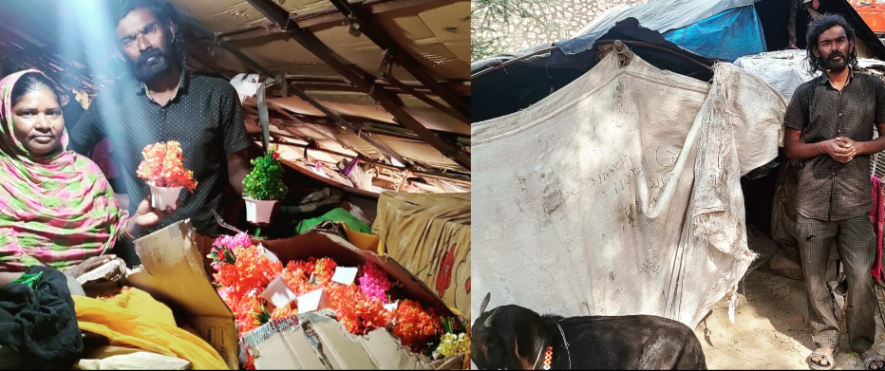 Mahendar says plastic flower pots are no longer attracting customers these days, affecting earnings.
Aside from welfare schemes, the community also faces trouble accessing healthcare. Soni, another community member, said that her brother-in-law has been suffering from tuberculosis and has been on medication for the past two months. "We took him to the government hospital in Jaipur but the hospital refused to admit him because he does not have any identification proof like the voter ID, Aadhaar or PAN," she said.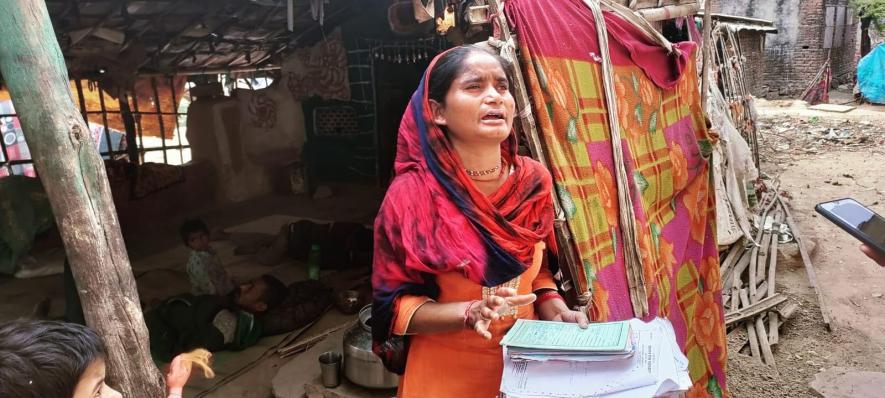 Soni said accessing medical aid is impossible due to lack of documents.
 The Pradhan Mantri Ujjwala Yojana rings hollow for the Bawari families as despite having LPG cylinders, they have no money to fill those. Hence, they have returned to the traditional clay chulha (stove) or open wood fire.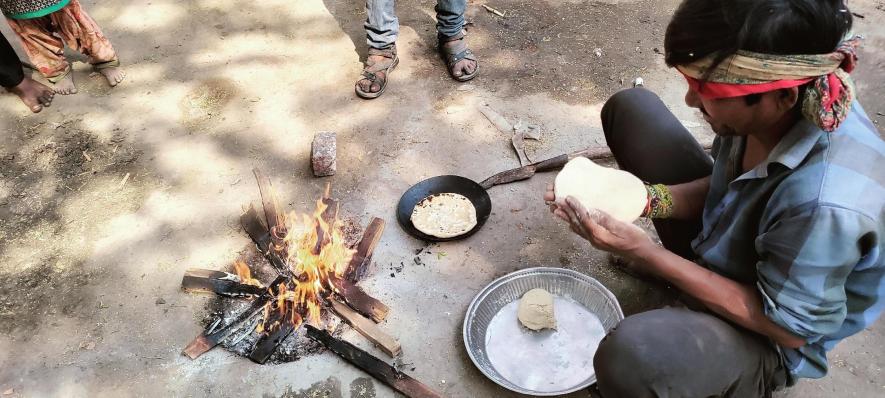 The community has gone back to using firewood for cooking as they cannot afford to refill LPG cylinders.
 Dayali told NewsClick that the lack of proper sanitation has been causing water logging and contamination in Bawri Basti, which leads to the deaths of children and major health issues like malaria, dengue, and diarrhoea in adults. In the name of public toilets, the administration has just erected four walls, and they do not have water access or a sewage system; these are shut now as people are unable to use them. This means that women have to resort to open defecation, which comes with safety issues and a lack of privacy.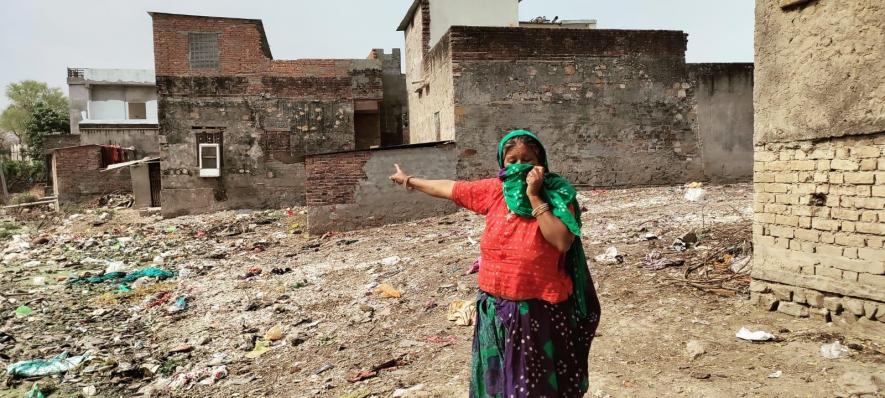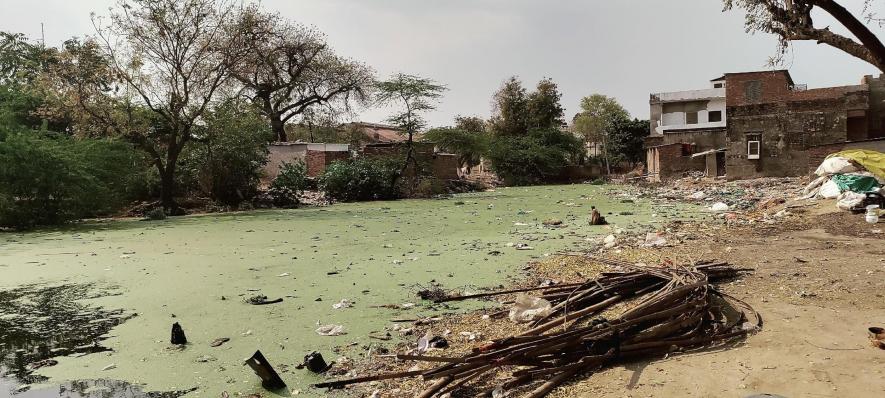 The pathetic condition of sanitation in the Basti.
The local administration and the state have both neglected the 175 families residing at Bawari Basti, as they named it, in the periphery of the railway station. During the Covid-19 pandemic, when a major section of the working class lost livelihoods, the Bawaris were no exception. The major difference was that they did not receive any help from the administration. During this time, the NGO Gramin Shiksha Kendra entered the Bawri Basti and started distributing rations. They identified the Bawaris' lack of documents as a major hindrance to accessing government schemes and educational institutions, and focused on resolving that.
State of Denotified, Nomadic, and Semi-Nomadic Tribes
Historically listed as 'criminal' tribes by the British under the Criminal Tribes Act,1871, these tribes were granted denotified status in 1952 after India's independence.
These communities are the most vulnerable and deprived in the country. In Rajasthan, 15 communities come under denotified tribes. These are Baori/Badri, Kanjar, Sansi, Bagri/Bawaria, Mogia, Nut, Naik, Multains, Bhat, Lodha, Lodhi, Banjara, Bhil, Bijoria, and Nayak.
Today, even after decades of independence, the apathy of state institutions and the prejudice in North India toward the denotified tribes continue. Despite the fact that these clans were denotified in 1952, they were made to give attendance at the police headquarters, their mobility was curbed, and advance authorisation was needed for any long travel. Punishments meted out to them for any offence were serious, and the police consistently held individuals from these tribes upon simple suspicion.
Since the greater part of the tribes is nomadic and semi-nomadic, they don't have any residential proof. Due to this, they are not in official records and don't receive benefits from any government development and welfare schemes.
Such issues do not only persist in Rajasthan, are not just faced by the Bawaris. People who come from denotified tribes, semi-nomadic and nomadic tribes from other states face similar problems. As per a report published in Scroll, 28 communities of the Denotified Nomadic Tribes (DNT), Nomadic Tribes and Semi Nomadic Tribes in Uttar Pradesh are not listed under any of the Scheduled Castes, Scheduled Tribes or Socially and Educationally Backward Classes categories, as per to the 2018 National Commission for Denotified Nomadic and Semi Nomadic Tribes report.
As much as 64% of the communities of Denotified Nomadic Tribes and 35% of Nomadic Tribes are not included in any of the three categories that facilitate reservation in education, political representation and government jobs in India.
To gauge the constitutional situation of these communities, a National Commission for Denotified, Nomadic and Semi-Nomadic Tribes (NCDNT) was constituted in 2006 by the then government, The Indian Express reported. It was headed by Balkrishna Sidram Renke and submitted its report in June 2008, in which it said, "It is an irony that these tribes somehow escaped the attention of our Constitution makers and thus got deprived of the Constitutional support unlike Scheduled Castes and Scheduled Tribes." The standing committee report in Parliament has cited a statement by the Secretary, Department of Social Justice and Empowerment, that 269 DNT communities are not covered under any reserved categories.
In an earlier report in the NewsClick, Balkrishna Renake was quoted as saying: "Though there is confusion about CAA (Citizenship Amendment Act) and NRC (national Register of Citizens), the government has begun the process of NPR (National Population Register), for which the DNTs have to provide addresses and other information orally. But DNTs don't have permanent addresses, houses or villages. How can they share this information? How can they give information of birth dates? They don't have burial places as well,"
Their status as citizens is still under question as they do not have any proof of citizenship and they are still perceived to be offenders whenever any crime is reported. According to a report published in the Scroll, a 2012 study by the Tata Institute of Social Sciences on Pardhis in Mumbai city found that "Pardhis are routinely picked up by the police on account of suspicion and without preliminary investigation that is otherwise required to arrive at reasonable satisfaction to make an arrest." Pardhis are a denotified tribe in Maharashtra.
According to a report published in The Hindu, On September 1, 2022, Supreme Court Justice S. Ravindra Bhat said that creating a separate Schedule in the Constitution for denotified, nomadic, and semi-nomadic tribes and the extension of the Prevention of Atrocities Against SC/ST Act to them "requires urgent consideration and appropriate action".
The government initiated some steps to improve the situation of the denotified tribes through the following schemes and commissions:
1. The Scheme for Economic Empowerment of Denotified/Nomadic/SemiNomadic (SEED)
2. A National Commission for De-notified, Nomadic and Semi-Nomadic Tribes (NCDNT)
3. The National Commission was constituted in 2015 under the chairmanship of Shri Bhiku Ramji Idate.
4. Dr. Ambedkar Pre-Matric and Post-Matric Scholarship for DNTs
However, the benefits of these schemes and committees do not appear to have reached the targeted communities, as the state of the Bawari community shows.
Get the latest reports & analysis with people's perspective on Protests, movements & deep analytical videos, discussions of the current affairs in your Telegram app. Subscribe to NewsClick's Telegram channel & get Real-Time updates on stories, as they get published on our website.
Subscribe Newsclick On Telegram