Uneven Recovery From COVID-19 Jobs Crisis is Leaving Women Behind: ILO
The higher share of women workers in sectors with high risk of job cuts resulted in more job losses for women when the pandemic hit.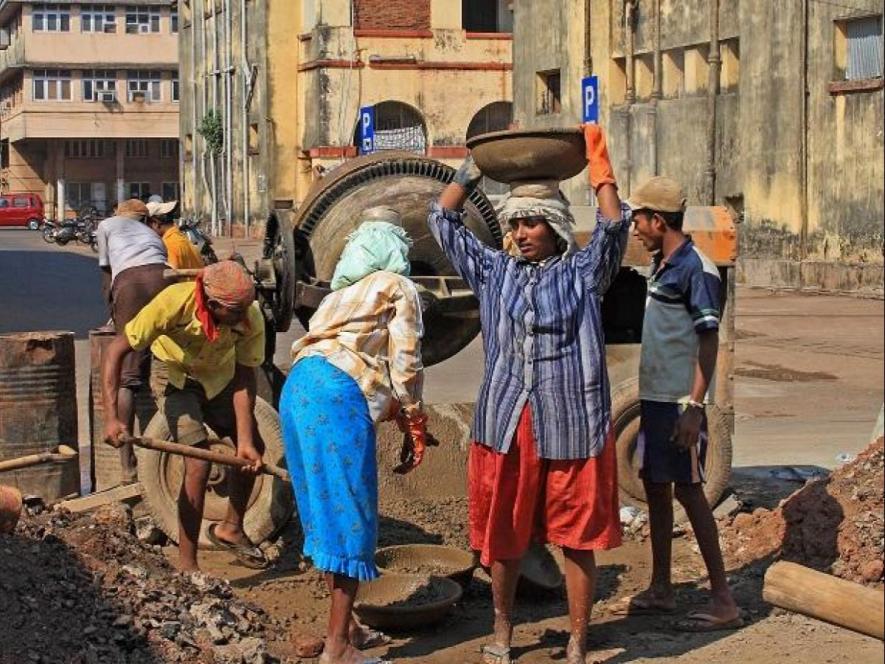 Representational image. Image Courtesy: Business Standard
The COVID-19 pandemic hit women workers hard as they lost more jobs than men, but as GDP recovery has begun, it is leaving women behind, according to the International Labour Organisation (ILO).
The fact that the share of women workers in sectors with high risk of job cuts was higher than men, resulted in more job losses for women when the pandemic hit. Nearly half of all women workers worked in high and medium-high risk sectors, as per ILO's 2020 estimates.In percentage terms, women's job losses were at 4.2% compared to 3% for men.
While men's employment is projected to return to its pre-pandemic 2019 level, employment for women is likely to remain around at its 2018 level. "This means that total jobs for women would be 13 million fewer in 2021 than in 2019," said Valeria Esquivel, Employment Policies and Gender specialist at the ILO's Employment Policy Department, in a latest podcast.
Esquivel further said that women seemed not to be benefiting from the positive GDP growth rates registered in some places in 2020. According to a policy brief of the ILO published in October, the current crisis created by the pandemic is in a contrast with the global financial crisis of 2008–09, in which men were hit harder than women and the magnitude of total job losses was lesser. Even then, women's employment took longer than men's to recover. Now, the ILO's latest projection shows that although both women and men's employment is likely to recover in 2021, it will be at a slower speed for women.
"We still need to see what happens in 2021, but if confirmed these trends mean that GDP recovery is leaving women behind, a pattern we have observed in previous crises," she said.
Moreover, the trends show that while population continues to grow, the employment-to-population ratio does not. According to ILO, The employment-to-population ratio for women globally declined in 2020 to 42.3% at the global level, down from 44.8% in 2019 and for men, it declined from 70.4% in 2019 to 67.5% in 2020. The ILO projects that the employment-to-population ratios for both women and men will stay below their pre-pandemic level by the end of 2021.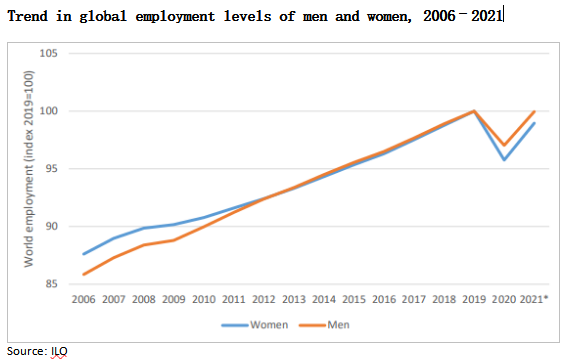 Esquivel underlined that the ILO has found that for both women and men, the job retention policies implemented by certain countries, notably in Europe, alleviated the pandemic's negative net impact on employment, which means there was comparatively fewer jobs lost in these countries than those without such policies. "This is very significant in the case of women, as we know from previous crises that when women lose employment and they detach from the labour market, it is harder for them to go back when the recovery kicks in," she said.
The crisis also disproportionately his young women workers. Roughly two times as many young women lost their jobs compared to young men. Young women's employment fell by 11.8% in 2020 in high-income countries and by 15.8% in middle-income ones, according to ILO's estimation.
According to Esquivel, ILO found that these massive increases in young and adult women's economic inactivity resulted from mainly two distinctive characteristics of the COVID-19 crisis. Firstly,it restricted job opportunities and also the ability to search for a job, which led to active workers without work not being counted among the unemployed. Secondly, the closure of schools and other care services, mobility restrictions, and caring for those infected by the virus, created an unprecedented demand for care within the home. "Available evidence shows that most of this demand fell to women to fulfil, who even prior to 'lockdowns' were already doing most of the unpaid care work,"Esquivel said.
The vaccination roll-out is associated to economic recovery because the countries with a significant proportion fully vaccinated population are able to remove restrictions to economic activities and avoid further COVID-19 infection waves. "Women's employment impacts have been associated to those activities that suffered most from lockdowns and restrictions to mobility: food and accommodation, entertainment, tourism, domestic work. We can therefore speculate that a 'back to the new normal' and the reopening of hard-hit sectors will have a positive effect on women's employment – or at least on these sectors' demand for workers,"Esquivel said.
However, some questions remain unanswered as the recovery process begins. "Will these jobs be in the numbers needed? Will working conditions improve to attract workers who are no longer ready to work for meagre wages? We don't know yet," said Esquivel, pointing out that the vaccination rollout still lagging in many low and middle-income countries.
She further said that while fiscal stimulus packages can somewhat kickstart the economy, slow vaccination, debt distress and fiscal constraints were hindering recovery in the low and middle-income countries. "Let me also mention that when thinking about fiscal stimulus packages, it is not only the amount of new expenditure – the size of the package – that matters, but also where the resources are channelled to that matters for gender equality," she pointed out.
In the UN Women-ILO Joint Programme --"Promoting decent employment for women through inclusive growth policies and investments in care" (we have a long name) -- the framework emphasised identification of areas in which public expenditure could help address the gendered impacts of the crisis. This includes expanding health coverage and income support measures, introducing gender-responsive industrial policy and investments in care economy. Sadly, none of these aspects were addressed by the Indian government's efforts to revive the economy.
Get the latest reports & analysis with people's perspective on Protests, movements & deep analytical videos, discussions of the current affairs in your Telegram app. Subscribe to NewsClick's Telegram channel & get Real-Time updates on stories, as they get published on our website.
Subscribe Newsclick On Telegram