Uproar in WB Over Paresh Rawal's Anti-Bengali Remarks, Call for Film Boycott Raised
West Bengal-based organisation 'Banglapokkho' warned film distributors of backlash if a film starring Paresh Rawal is shown in the state.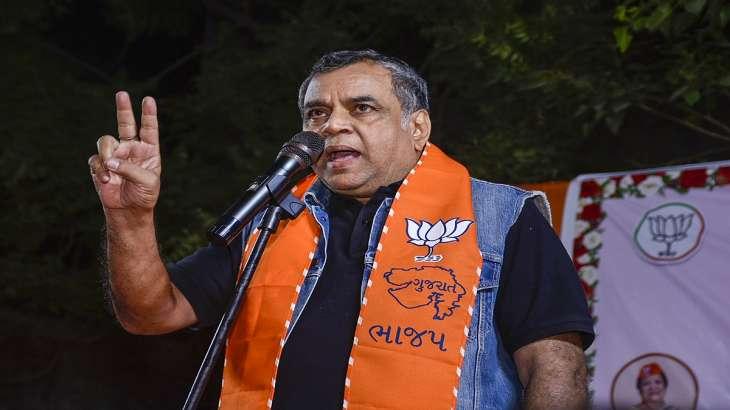 Bollywood actor and former BJP MP Paresh Rawal addresses an election campaign rally for the Gujarat Assembly elections, in Surat on Monday. Image Courtesy: PTI
Kolkata: Huge uproar has been marked in the state over a viral, controversial comment of actor Paresh Rawal over Bengali food habits while misrepresenting the community as Bangladeshis and Rohingyas. 
A West Bengal-based rights organisation called 'Banglapokkho' condemned Rawal's remarks, which went viral through a video, and called for a boycott of films done by the actor. They warned the film distributors of backlash if a film starring Paresh Rawal is shown in the state.
Speaking with NewsClick, a top member of 'Banglapokkho' and noted physician Dr Arindam Biswas said that the comment made by the actor, who is also an ex-MP of the BJP, showcases the Bengali diaspora in a bad light and equates Indian Bengalis with Bangladeshis and Rohingyas. He also said that the Bharatiya Janata Party (BJP) has been preparing for the last many years to hurt Bengali interests across India. He added that all motion picture distributors in West Bengal have been warned not to show any film of Paresh Rawal's in the state in the near future. "If anybody has any problem with Bengal's food habits, then he can leave Bengal," he said and asked from where Rawal got the audacity to insult Bengalis.
Earlier, based on CPI(M) State Secretary Md Salim's complaint at Taltola police station, an FIR was lodged against Rawal for his comments. In his complaint, Salim said, "I have come across a video on various social media sites featuring actor Paresh Rawal giving a speech wherein he is fomenting feelings of hatred against Bengalis by saying the following:
"If gas cylinders get expensive, they will become cheaper again," 
"If inflation goes up, it will come down. People will get employment too. But what if Rohingya migrants and Bangladeshis start living around you, like in Delhi?"
"What will you do with the gas cylinders? First cook fish for the Bengalis?""
"Such speech on the public domain has been made to provoke riots and destroy the harmony between the Bengali community and others across the country and cause public mischief. In fact the innuendo and/ or insinuation made in the said speech as regards all Bengalis being foreigners and / or illegal immigrants is bound to arouse feelings of hatred, ill will amongst other communities against Bengalis. In fact comments made on social media in regard to the said provocative post show that the said video is generating a lot of adverse opinion against Bengalis," Salim said in his complaint, which is available with NewsClick
He further wrote, "A large number of Bengalis reside outside the limits of the state. I apprehend that many of them will be prejudicially targeted and / affected because of the vicious remarks made by Paresh Rawal.
In view of the above, I request you to treat this complaint as FIR and prosecute the said Paresh Rawal under appropriate provisions of law including sections 153, 153A, 153B, 504 and 505 of the Indian Penal Code."
Hironmoy Ghoshal, President of the Indian Peoples' Theatre Association, said that Rawal might be a well-known actor, but the philosophy that he believes in is regressive and tries to divide the country with nationality, religion, caste and creed. He said there should be strong protests against such comments from every quarter. "To protect the country's diversified cultural ethos, there should be constant movements and IPTA will side with any protest and is willing to participate in movements over the same," he told NewsClick.
Commenting on behalf of the Centre of Indian Trade Unions, state CITU president Subhas Mukherjee said that these remarks are part of a "larger conspiracy" whereby the exploited people are not unified due to venomous campaigns over religion and caste are not unified, with the recent one affecting the Bengalis' nationality question. Bengalis, as expatriates, reside all over the country, and these comments are aimed at hurting them, he said.
SFI state secretary Srijan Bhattacharya condemned the comments and called for stringent protests against them. In his reactions to NewsClick, he said that "the comment is full of hatred and inherent apathy towards Bengalis and the cultural ethos of Bengal. This statement is a testimony to the fact that the forces of RSS-BJP do not represent the whole of India, and thus they cannot claim themselves to be the flagbearers of the Indian people. Bengalis are as much Indian as Gujratis and Paresh Rawal is less of an Indian and more of a hatemonger," he said. 
AIDWA State Secretary Koninika Ghosh Bose also slammed Rawal's comments as anti-Bengali rhetoric. She said, "What problem does Paresh Rawal have with the food habit of Bengalis? RSS-BJP always want to see things within the prisms of caste, creed and religion. The concept of unity amongst diversity is negated by them, and this fact is sanguined by this comment."
Minority rights organisation "Awaaz" also decried the comments and held them as an attempt to increase societal animosity and usher in hate politics in the country. Noted thespian Rudraprasad Sengupta also criticised the comment of Rawal and said that he should have a sense of limit.
Get the latest reports & analysis with people's perspective on Protests, movements & deep analytical videos, discussions of the current affairs in your Telegram app. Subscribe to NewsClick's Telegram channel & get Real-Time updates on stories, as they get published on our website.
Subscribe Newsclick On Telegram