Uranium Mining Set to Destroy India's 2nd Largest Tiger Reserve
"It's easier to do mining inside a tiger reserve because animals cannot voice their protests"- Imran Siddiqui.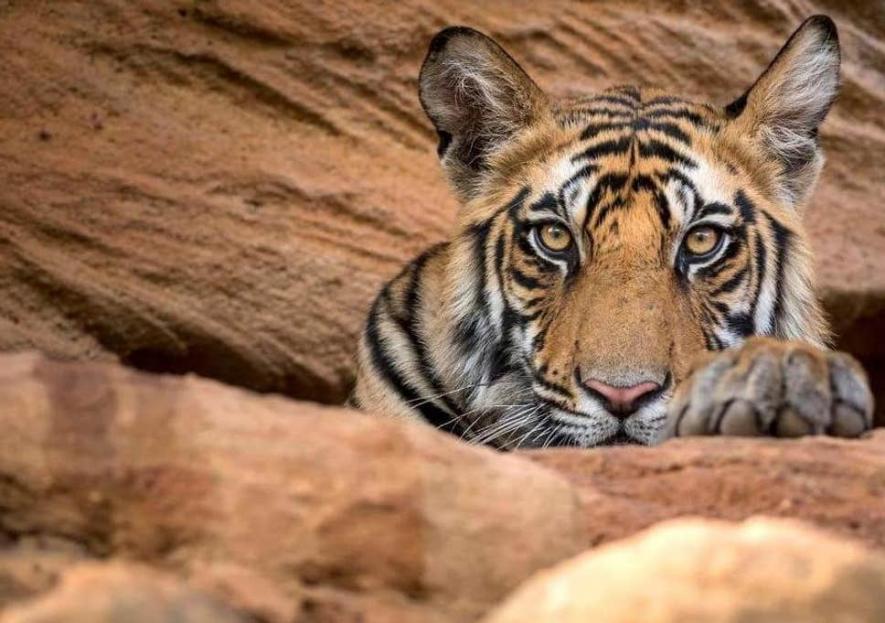 Image Courtesy: The Independent
India has a tiger population of 2,226 spread across 50 tiger reserves which occupy a measly 2% of India's land space. This increase in population came about only after the government agreed to earmark inviolate protected spaces for our national animal. Back in 2006, thanks to poaching, their population had plummeted to 1,411.
Many of these forest reserves have rich mineral deposits under them which are being eyed upon by both- government departments and corporates. The Department of Atomic Energy (DAE) has been scouting the length and breadth of the country in search of high- grade uranium, given the severe shortage of domestic uranium to feed our ambitious nuclear energy program. 
India has 22 nuclear power reactors and domestic uranium is used in nuclear plants which are not under the international nuclear energy watchdog- International Atomic Energy Agency (IAEA).
Without uranium fuel, these reactors are running at partial capacity, producing less electricity, while the starting of new plants have also been delayed.
The DAE officials informed a parliamentary panel in 2018 that India was facing a 'critical shortage' of uranium and was growing increasingly dependent on imports of uranium from Canada, Kazakhstan and Japan.
Currently, a major portion of domestic production of uranium was being extracted from the Jaduguda mines of Jharkhand. But, because the uranium is being dug at considerable depth, extraction costs have made the process unviable. Andhra Pradesh, and more recently Telangana, are the other states where uranium deposits have been found. The Cuddapah basin in Telangana has been found to have the potential for high grade and extensive uranium deposits.
Also Read: Jadugora Cries as India Capitalises its Nuclear Dreams
The Department of Minerals, a wing of the DAE, zeroed-in on the lush forest of the Amrabad Tiger Reserve, which, in undivided Andhra Pradesh was a part of India's largest tiger reserve- the Nagarjunasagar Srisailam Tiger Reserve. The latter continues to be the largest and the Amrabad Tiger Reserve carved from it, is the second largest tiger reserve in India.
Home to over 18 tigers and a large variety of wild animals, the Department of Minerals is convinced that the Amrabad reserve contains high grade uranium.
The Amrabad Tiger Reserve lies in the Nallamala hills and is home to the Chenchu tribe, which, in the past was primarily a hunter-forest produce gathering community who now eke out their livelihood by largely working under the Mahatma Gandhi National Rural Employment Guarantee Act (MGNREGA) program.
Imran Siddiqui, co-founder of the Hyderabad Tiger Conservation Society, who works in the area of wildlife preservation, recalls how he along with a group of activists had opposed the original proposal by the Department of Minerals to do mining at the Peddagattu-Lambapur mining site which was located just 1.6 kms from Nagarjunasagar reservoir as they were convinced that the noise and pollution would adversely impact its wildlife and its water bodies.
Siddiqui recalls that, "Despite the public protests, the mining project received all the requisite mandatory clearances." Fortunately, the Congress government in Andhra Pradesh at the time, headed by YS Rajshekar Reddy, refused to allow mining at the Peddagattu- Lambapur site. 
The Department of Mines began exploring alternative sites. The Amrabad Tiger Reserve was zeroed-on upon because it was adjacent to the Peddagattu-Lambapur site.
"My own hunch is that the Department of Minerals thought it was easier to do mining inside a reserve because animals cannot voice their protests," said Siddiqui.
Siddiqui believes that the current proposal is to start exploration on 83 sq km located in the core area of the reserve which falls on the banks of the Dindi River and the Nallavagu rivers running through the reservoir. Both these rivers flow into the Krishna River.
Way back in December 2015, a proposal had been made to do mining in the Amrabad Tiger Reserve claiming that it would be a non-invasive exploration which would not require the felling of trees or entry into the forests.
But even then, Forest Advisory Committee members had warned that there were several deficiencies and short-comings in the proposal. The key shortcoming was that the digging of 4,000 deep wells, would end up polluting both, the Krishna River and Nagarjunasagar Reservoir. Given that India is facing a drought situation across several districts, protecting fresh water sources should be a priority for both the state and the central government.
However, the drilling of 4,000 deep holes will, activists believe, end up destroying the Amrabad Tiger Reserve which is home to a vast variety of wildlife. The exploration will expose and pollute surface water, groundwater and leech minerals and dangerous chemicals into the Nagarjunasagar Dam. Activists further warn that the construction of  roads will fragment and degrade the dry forests, which may never recover after such a massive exercise.
Siddiqui expressed surprise at how former MP Kavita, daughter of Telangana Chief Minister K Chandrashekhar Rao and members of the Telangana Rashtra Samithi who had vehemently opposed this move to start uranium mining in 2014, are now no longer willing to speak up against this move.
Already, the ball is moving fast and the Ministry of Environment, Forest and Climate Change (MoEFCC) has given in principle approval to this exploration. The proposal had received consideration by the Forest Advisory Committee in its meeting on May 22, 2019, which had noted that they were granting 'in principle approval' as it was a project of critical importance from a national perspective.
They however, wanted the deficiencies in the proposal to be ironed out and the state government has been asked to submit all the required documents following which MoEFCC's Deputy Inspector General Naresh Kumar, wrote to the Telangana state government last month demanding that all relevant documents, which identified where the boreholes had to be dug, be submitted to the environment ministry.
But while the mandarins at the MoEFCC have caved in completely, it is the local forest officers who have cautioned against this move, noting that rare, endangered and unique species of flora and fauna will be destroyed. Listing out the number of animals in this habitat, they mention the names of tigers, panthers, sloth-bears, wild dogs, jungle cats, foxes, wolves, pangolins, peafowls, bonnet macaques, pythons, cobras, nilgais, spotted deers and sambars- all of whom have been living there for centuries.
The site inspection report of the field director of the Amrabad tiger reserve also highlights how in this period of climate change and intense heat waves, these reserves with their rich biodiversity, act as sinks which can absorb the heat.
Belinda Wright, tiger conservationist and executive director of Wildlife Conservation Society of India (WCSI) is emphatic on the need for tiger reserves to remain untouched. "We must conserve our wildlife sanctuaries and tiger reserves otherwise we will lose our rich natural heritage. These sanctuaries are sacrosanct space especially at a time when the only way to fight climate change is by conserving and growing more forests," Wright pointed out.
Tito Joseph, who is also a member of the WCSI, believes that the whole objective of setting up tiger reserves was to ensure that animals could live in a protected space. "If we start opening up our reserves, then we will lose our last few inviolate forest spaces," said Tito Joseph.
Dr Rajesh Gopal, who served as member secretary of the National Tiger Conservation Authority and is presently secretary general of the Global Tiger Forum, believes that these are special areas that need to be safeguarded because they provide ecosystem services apart from being a repository of the gene pool.
There is another problem with uranium mining. Radiation from these mines is known to cause havoc to the lives of people who live around them, as has been found in Jharkhand's Jaduguda. Around 50,000 villagers who live in this area suffer from serious radiation related health problems and the mines in East Singhbhum district have been found to be conducting their mining operations without adequate safety measures.
Also Read: Uranium Mining in Jharkhand: Radioactive Poisoning Ravaging Lives in Villages
Mining in Jaduguda is being done by the Uranium Corporation of India Ltd. and researchers who have studied the impact of mining, have found a large number of cases of villagers suffering from congenital deformities, sterility, cancer and spontaneous abortions. This could well be repeated in the case of the Chenchu tribe who are living in the Amrabad Tiger Reserve.
Wildlife conservationists also point out that despite large investment of money and resources, nuclear energy remains a small blip on India's energy horizon, providing barely 3% of the electricity produced in the country. Destroying scarce water bodies and entire ecosystems can hardly be compensated by uranium mining which can be excavated in other parts of the country. 
Despite its miniscule contribution, nuclear energy looms large in the minds of our political establishment- who are willing to sacrifice scarce forest and biological resources, which occupy a mere 2% of the landmass of India for the sake of nuclear energy.
Get the latest reports & analysis with people's perspective on Protests, movements & deep analytical videos, discussions of the current affairs in your Telegram app. Subscribe to NewsClick's Telegram channel & get Real-Time updates on stories, as they get published on our website.
Subscribe Newsclick On Telegram