US Compelled Iran to Fight in Syria, Says Tehran Varsity's Scholar
Since Iran has taken part in complex civil wars, it has been responsible for the deaths of innocents as well, he said.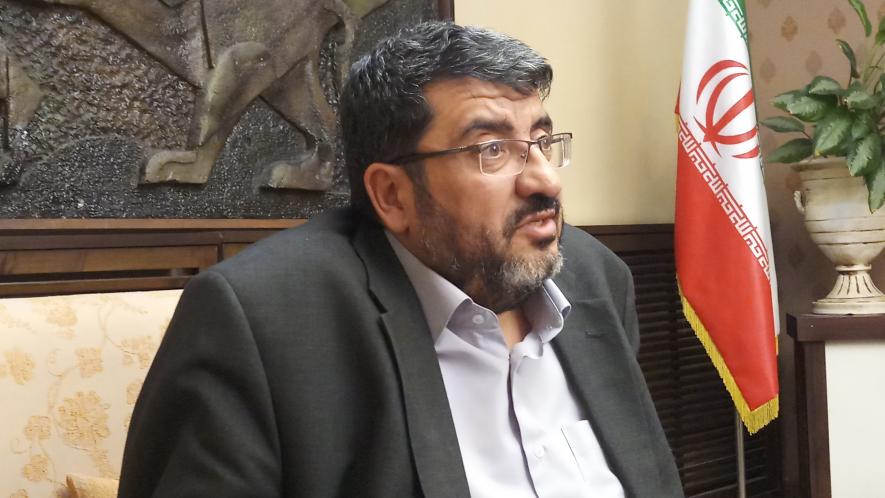 The intellectual circle of Iran recognises the country's involvement in the ongoing civil war in Syria but they are equally apprehensive about the United States capturing Syria. "Iran is a part of civil war and it is unfortunate", said Dr. Foad Izadi, associate professor in the Faculty of World Studies, University of Tehran, defending that, "it (the Islamic Republic) has to do it because of compulsion and in the larger interest of humanity".
He said Iran has faced multiple challenges because of the ISIS (Islamic State of Iraq and Syria – a militant group allegedly backed and aided by Saudi Arabia), which was at a time extremely close to Damascus and reportedly was on the verge of capturing the Syrian capital.
"Terrorism is a serious problem. Though we have so far been protected from direct military attacks, yet we have faced it a couple of times. If Syria had a puppet government of the US, it would have been a serious problem for us because if Syria had fallen (Iraq has already fallen), who would have been the next? It would have been us," the professor told NewsClick in an exclusive interview in Tehran.
"Though our ideology does not match with (Syrian President) Bashar al-Assad (also commander-in-chief of the Syrian Armed Forces) but handling him is nothing compared with dealing with Syria falling," he said.
"Unlike Saudi Arabia, the Syrian government led by Assad is not following the US. Iran knows that Assad's government is a democratic one. In fact, the Syrian conflict is actually a very complex one to explain simplistically. From Iran's point of view, one may argue that whichever government comes next in Damascus, it must be through the will of Syrians and Arabs, and not what the West or the US desires," he said.
Asked about the role of Iran in Yemen, he said Iran made an entry when the Saudis had already spilled enough blood of the poor Yemenis. They were thoroughly into Yemen, with weapons, money, and propaganda. The US was surprisingly providing intelligence and logistics to Saudis. This continues to this day, he said.
On Iraq, the academician said it was occupied by the US and then civil war broke out. "Since Iran sits next door, it could not act blind. Over all these years, Iranian policy has been to ensure that Iraq doesn't become a base for US and Israeli ambitions in West Asia. Iran has maintained good relations with the Iraqi government and people through trade, pilgrimage, etc. so as to keep Iraq free of outside influence," he added.
"But yes, Iran's hands are not free of the blood of innocents. Since it has taken part in complex civil wars, it has been responsible for the deaths of innocents as well," he admitted.
When questioned about Iran's strategic partner Turkey's support to the US-Saudi-led war in Syria against the Assad government, Izadi said, "Turkey supported Saudi and the ISIS, which is their major mistake as the fall of Assad would have led to a massacre in the region."
But at the same time, he said that "integrity is very important and we can't afford fight and civil war on the basis of ethnicity".
On being asked whether he thinks that Iran's diplomacy is not aggressive enough in capitalising the US President Trump's "unpopularity" across the globe, he rejected the narrative arguing, "There is significant difference between foreign policy of previous regime and the incumbent government. This regime (of President Hassan Rouhani) is far more reformist and liberal. We have a number of friends just because of our foreign policy. Iran's policy for the last 40 years has been to support the cause of the oppressed. This is part and parcel of the Iranian Constitution. Iran supports the cause of Palestinians. Iran's foreign policy has been to support organisations (regardless whether they are Shia or Sunnis) that are fighting against the colonial ambitions of the US and Israel in West Asia."
When reminded that there is a segment of people who are opposed to the incumbent government in Iran, he clarified, "Those who are opposing the government have economic reasons. Because of sanctions, we don't have jobs. There is unemployment on large scale and that is creating discontent among the people. Secondly, a group of people who are opposing the government are influenced by Western propaganda. They have linkages with the opposition groups such as MKO (Mojahedin-e-Khalq Organisation – People's Mujahedin of Iran), which is supported by Saudi Arabia."
When asked if he sees India-Iran relations taking shape in the future and what other avenues apart from existing ones can both the countries explore to cement an already existing friendship, he said, "Iran-India relations are very crucial to both the countries. They share a common heritage. Persian is learnt and spoken by a number of Indians. Culturally too, these two countries are very close. The cooperation between the two countries has been increasing in recent years. The joint development of Chabahar seaport is living testimony to a cementing partnership between both the countries. Officials in both the countries think that these relations should go beyond trade and morph into a regional alliance. Iran's relations with Pakistan are good (though not as good as with India) as well. In case of heightened tension between India and Pakistan, Iran might also mediate between the two countries. So, I see bright prospects of bilateral relations between these two countries."
Commenting on Iran's position on the Kashmir conflict in India, he said, "India is a sovereign country and it's not a good idea to poke one's nose into the affairs of a sovereign country. We don't want India's image to be portrayed like that of Israel, which has occupied Palestine and oppresses Palestinians on a daily basis. But what people in Iran hope is that a solution in Kashmir is agreed upon and that it should be acceptable to Kashmiris and the parties involved."
(The writer was in Iran on a visit hosted by the Iranian Cultural Centre in Delhi)
Get the latest reports & analysis with people's perspective on Protests, movements & deep analytical videos, discussions of the current affairs in your Telegram app. Subscribe to NewsClick's Telegram channel & get Real-Time updates on stories, as they get published on our website.
Subscribe Newsclick On Telegram