US Congress Deflects 'Giant Sword' of Catastrophic Default
Senate passes Bill to suspend the debt limit through January 1, 2025.
The US Congress averted a first-ever catastrophic default and ensured that the Joe Biden government doesn't run out of money to pay its bills with the Senate passing the Bill to suspend the nation's debt limit through January 1, 2025, by a 63-36 vote on Thursday. The House had passed the measure by a 314-117 vote on Wednesday.
The Bill, passed before the June 5 deadline, hasn't raised the debt limit to a certain level but suspended it until 2025 and ensured no interference with the 2024 presidential election.
Both the national debt and the debt ceiling were at $31.4 trillion in January, meaning the US government spent much more than it received in taxes and other revenue since 2001.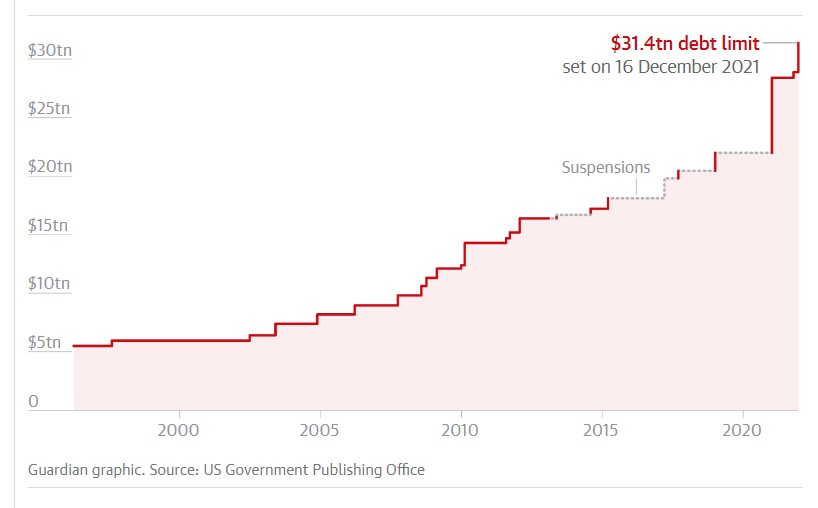 "I look forward to signing this bill into law as soon as possible," Biden said while praising the Congress for the quick decision after long days and nights of contentious and acrimonious negotiations between the Democrats and the Republicans.
Treasury secretary Janet L Yellen had warned that if the Congress didn't address the debt ceiling problem by June 5, the Treasury Department "will have insufficient resources to satisfy the government's obligations".
A debt default would have caused "severe hardship for families, loss of millions of jobs and trillions in household wealth, and higher financing costs for taxpayers for years to come", treasury secretary Yellen said after the Bill sailed through the Senate.
Senate majority leader Chuck Schumer said that "default was the giant sword hanging over America's head". Praising the House and Senate Democrats he said, "But because of the good work of President Biden, as well as Democrats in the House and Democrats in the Senate, we are not defaulting." Senate minority leader Mitch McConnell said that "an important step toward fiscal sanity will finally become law".
WHAT IS DEBT CEILING
The debt ceiling, created under the Second Liberty Bond Act during World War I in 1917 to make the federal government fiscally responsible, is the maximum amount of money the US can borrow cumulatively by issuing bonds.
If the debt hits the ceiling, the Treasury Department takes extraordinary measures to pay government obligations and expenditures until the ceiling is raised again.
The ceiling has been raised 78 times since 1960 with the most recent in 2021 to avoid a default. The debt ceiling could also be suspended, like this year, or temporarily allowed to supersede. The Congress has suspended the ceiling for the eighth time since 2013.
SCENARIO OF A DEFAULT
A US default could trigger chaos in the US and global stock markets, prompt credit rating agencies to downgrade the American economy, increase borrowing costs for businesses and homeowners, and hit consumer confidence.
"I think it's pretty safe to say that if we were to default, it makes the odds of a recession almost certain," former treasury secretary Jacob Lew said at a CFR event in April.
According to Goldman Sachs economists, such a frightening scenario would reduce US economic activity by 50%.
According to centre-left think tank Third Way, it could result in the loss of three million jobs, add $130,000 to the cost of an average 30-year mortgage and raise interest rates to increase the debt by $850 billion.
Moody's Analytics predicted that a four-month default would shave around 4% from US GDP, a third from stock prices and force companies to slash about six million jobs. Besides, could lead to a 2007-09-like recession.
A default could also reduce the dollar's value and force foreign investors to flee.
CONTENTS OF THE BILL
The Bill would ensure that federal employees get salaries, military, Social Security and Medicare continue and interest on debt and tax refunds are paid.
Around $886 billion will be spent on defence. Non-defence spending has been capped in fiscal 2024 at about $704 billion—$121 billion for veterans' medical care and $583 billion for other areas—by rolling it back to the 2022 level. It would be limited to 1% annual growth for the next six years.
To boost non-defence discretionary spending, $11 billion in rescinded unobligated COVID-19 relief funds and $10 billion in money shifted from the Internal Revenue Service will be used. Besides, $10 billion repurposed from mandatory programmes and $23 billion designated as emergency funding will be shifted.
The Bill will fully fund veterans' healthcare and will increase support for the PACT Act's toxic exposure fund by nearly $15 billion for fiscal 2024, a White House source told CNN.
The measure also increases the upper limit of childless, able-bodied adults aged 18-49 getting food stamps (Supplemental Nutrition Assistance Program) for three months out of every three years unless they are employed, at least, 20 hours a week or meet other criteria to age 55 in phases. Exemptions for veterans, the homeless and former foster youth availing of food stamps have also been expanded.
The Bill claws back some pandemic relief funds by rescinding around $28 billion in unobligated funds from relief packages—$4.6 trillion since early 2020—passed by the Congress but retains $5 billion to boost the development of vaccines and treatments.
The package restarts student loan repayment with borrowers required to repay loans by the summer-end. Though it will maintain Biden's plan to provide around $20,000 in debt relief for qualifying borrowers and an income-driven repayment plan.
CRITICISM OF THE BILL
Despite the much-needed respite from a nearing default, the Bill was criticised by several prominent politicians.
Vermont senator (independent) Bernie Sanders, who voted against the deal, said, "You don't do deficit reduction in any moral sense on the backs of some of the people in this country who are barely making it right now."
Several 2024 presidential contenders criticised the bill as well. Former South Carolina Republican governor Nikki Haley said, "The best way to fix Washington's spending addiction is to elect people who have not been part of the problem. Adding, at least, $4 trillion to America's $31 trillion national debt over two years without substantially cutting spending is no way to run our country's fiscal affairs. Business as usual won't get the job done."
Before the deal was passed, Florida governor Ron DeSantis indicated that political leaders in Washington had failed and the US "is still careening towards bankruptcy". He also blamed Trump's spending Bill partly for the fiscal challenges.
Get the latest reports & analysis with people's perspective on Protests, movements & deep analytical videos, discussions of the current affairs in your Telegram app. Subscribe to NewsClick's Telegram channel & get Real-Time updates on stories, as they get published on our website.
Subscribe Newsclick On Telegram