US Defence Firms Don't Want to Transfer Technology to India
Modi's strategy of relying on foreign companies and Indian private corporates for defence production while excluding Defence PSUs runs into another roadblock.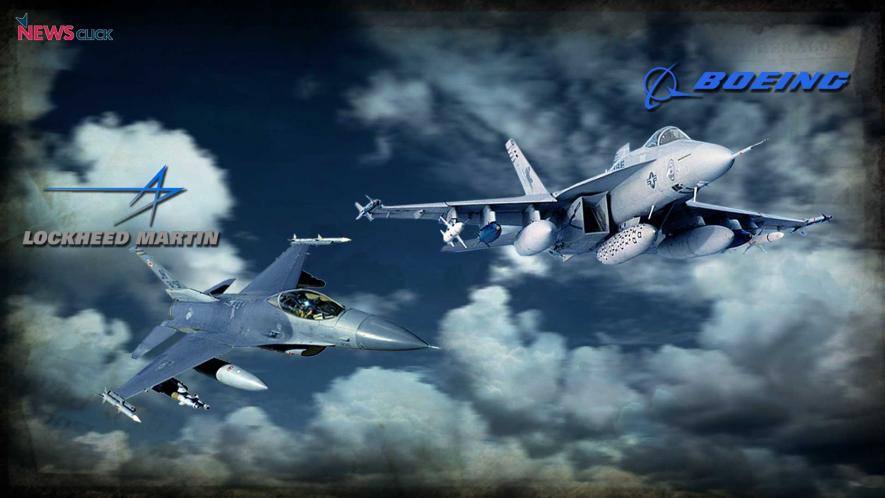 Newsclick Image by Nitesh Kumar
US companies offering to produce defence equipment in India want stronger assurances that they won't have to part with proprietary technology, according to a letter from the business lobby group US-India Business Council (USIBC) addressed to India's defence minister.
The American companies which are bidding to supply equipment to India's armed forces are also demanding that should not be held liable for defects in the products they manufacture in collaboration with Indian strategic partners.
The contents of the August 3 letter were made public in a report published by Reuters.
Getting foreign defence companies to manufacture equipment such as fighter jets in India so as to "reduce dependence on imports" is a major component of Narendra Modi's much-trumpeted Make in India programme.
The USIBC's letter, however, seeks a guarantee that US firms would retain control over sensitive technology. "Control of proprietary technologies is a major consideration for all companies exploring public and private defense partnerships", said the letter by the business lobby, which represents 400 firms.
"To allow foreign OEMs [Original Equipment Manufacturers] to provide the most advanced technologies, the partnership arrangement between an Indian owned 'strategic partner' company and a foreign OEM needs to provide an opportunity for the foreign OEM to retain control over its proprietary technology," the letter said.
As reported by Newsclick earlier, steps to privatise defence production in India have been proceeding at an accelerated pace. The BJP government has identified four segments for "strategic partners" for joint military production by Indian and foreign companies – submarines, fighter jets, helicopters, and armoured vehicles & tanks. As per the strategic partnership model, a foreign Original Equipment Manufacturer (OEM) may hold up to 49 per cent stake in a joint venture, while an Indian private company would hold the majority of shares.
When it came to acquisition of military hardware, India's Defence Public Sector Undertakings (DPSUs) were barred from bidding for fighter jets and helicopters.
US defence contractors Lockheed Martin and Boeing are both bidding to supply combat jets to India's armed forces. Lockheed Martin with its F-16 Block 70/72 fighter jets is in the running for the deal for India's acquisition of single-engined fighter aircrafts, while Boeing is bidding for a separate contract to sell its F/A-18 Super Hornets for India's aircraft carrier fleet.
As things stand now, Lockheed – in partnership with Tata Advanced Systems – is one of the two competitors in the race for the country's impending acquisition of single-engined fighter aircraft. The other firm is Saab of Sweden (with its JAS-39 Gripen E aircraft) in partnership with the Adani Group.
Lockheed has expressed its willingness to shift the production of its soon-to-close F-16 production line from Fort Worth, Texas to India if India orders at least 100 fighter jets. The company has sought to assuage concerns about US President Trump's push for manufacturing within the US by claiming that it will still support several thousand jobs in the US due to manufacture of components and sub-assemblies.
As defence expert D Raghunandan pointed out in an earlier article published by Newsclick, F-16 is the world's most widely used fighter jet, tested and proven in a variety of environments, but it is an almost 40 year-old platform that is virtually at the end of its upgrade potential.
"A Lockheed representative described the possible process of technology transfer for F-16s in India as "crawl, walk, run," with the "run" phase being a short sprint before the targeted production is completed. The "strategic partnership" could then end up just a shade better than an India-based assembly plant. Lockheed had set up such a facility for the F-16 in Turkey in earlier times, where the aircraft were made for the Turkish and Egyptian airlines. But this will not lead to Indian firms acquiring sufficient know-how to design subsequent upgrades or new platforms.", Raghunandan wrote.
Technological know-how being critical to ensure robust domestic defence production, the reluctance expressed by the US business lobby might be a setback to the Modi government's strategy of relying on foreign companies and Indian private companies (which are marginal players compared to foreign OEMs) for the purpose.
The USIBC's letter also expressed opposition to a clause in the new rules that held foreign firms jointly responsible for the quality of the platforms provided to the military. Legal liability is a significant factor in business decisions, said the lobby group. "We recommend the MoD (Ministry of Defence) affirm that foreign OEMs will not be liable for defects outside their company's control."
The US firms wanting to avoid liabilities is strikingly similar to the case where US nuclear suppliers demanding exemption from liabilities arising out of any nuclear accident. Nuclear suppliers in India enjoy a virtual free pass ever since the Modi government ratified the global Convention on Supplementary Compensation for Nuclear Damage in February 2016.
Get the latest reports & analysis with people's perspective on Protests, movements & deep analytical videos, discussions of the current affairs in your Telegram app. Subscribe to NewsClick's Telegram channel & get Real-Time updates on stories, as they get published on our website.
Subscribe Newsclick On Telegram