US: Fresh Charges of Deletion of Video Footage tie Donald Trump More Closely to Cover-up
The former US President's legal woes are set to worsen after more allegations of 'obstructing' Justice Department's investigation into his handling of classified documents.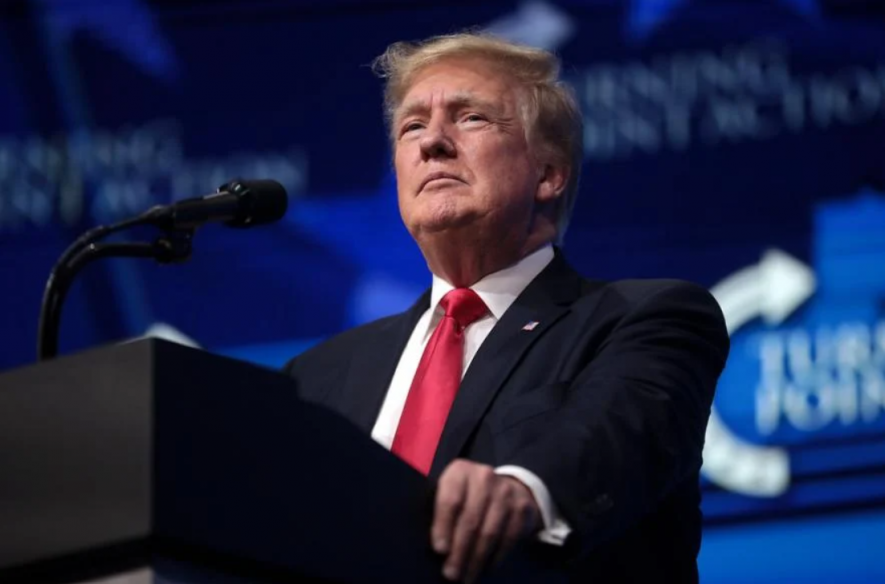 Donald Trump. Image Courtesy:Flickr
Washington: It's a stunning new allegation in an already serious case: Former President Donald Trump sought to delete Mar-a-Lago surveillance footage to obstruct the Justice Department's investigation into his handling of classified documents.
The latest criminal charges unsealed on Thursday deepen Trump's legal jeopardy, alleging a more central role for the former President than previously known in a cover-up that prosecutors say was meant to prevent them from recovering top-secret documents he took with him after he left the White House. Coming as Trump braces for possible additional indictments related to efforts to overturn the 2020 election, the new allegations strengthen special counsel Jack Smith's already powerful case against Trump while undercutting potential defences floated by the former president, experts say.
"Before these new charges, you could maybe try some sort of defence that this was all a mistake, it was my staff' or confusion about what documents he actually had," said former federal prosecutor Randall Eliason, a George Washington University law professor.
"But especially now, when you're trying to destroy video footage," he added, "that's kind of the final nail in the coffin. I don't see much in the way of a defence, not a real defence. All he can do is claim he's being persecuted and hope for a holdout juror or something."
Trump resorted to that familiar playbook on Friday, writing in a post on his Truth Social platform that "this is textbook Third World intimidation by rabid, lawless prosecutors." He insisted during an interview with radio host John Fredericks that he did nothing wrong and accused prosecutors of trying to intimidate his staff into making up lies about him.
Later Friday, Trump posted on Truth Social that Mar-a-Lago security tapes were voluntarily handed over to prosecutors. Trump said he was told they were not "deleted in any way, shape or form."
The new Florida charges came as a surprise given that Trump and his legal team have been focused on the prospect of an additional indictment in Washington — possibly within days — related to his efforts to cling to power after he lost to President Joe Biden. Trump received a letter this month informing him that he's a target in that probe, and his lawyers met Thursday with special counsel Jack Smith's office.
Hours after that meeting, Smith revealed the new classified documents case charges on top of a 38-count indictment issued last month against Trump and his valet, Walt Nauta. The updated indictment includes a detailed chronology of phone conversations and other interactions between Trump, Nauta and Mar-a-Lago property manager, Carlos De Oliveira, in the days after the Justice Department last June drafted a subpoena for security camera footage at Mar-a-Lago.
Video from the home would ultimately become vital to the government's case because, prosecutors said, it shows Nauta moving boxes in and out of a storage room — an act alleged to have been done at Trump's direction and in an effort to hide records not only only from investigators but Trump's own lawyers.
The day after a draft subpoena was sent to the Trump Organization, the indictment says, Trump called De Oliveira and spoke with him for about 24 minutes. Though the details of that conversation are not included in the indictment, De Oliveira is described by prosecutors as asking a Mar-a-Lago information technology staffer several days later how long the server retained footage for and is quoted as telling the employee that "the boss" wanted it deleted.
Lawyers for Nauta, who has pleaded not guilty, and De Oliveira declined to comment on the allegations. De Oliveira is expected to make his first court appearance in Miami on Monday.
To the extent that evidence of Trump's involvement in trying to delete video is circumstantial rather than direct, it might present a challenge for prosecutors, said David Aaron, a former Justice Department national security prosecutor who has worked on cases involving the mishandling of classified documents.
But if they can tie the effort to Trump, he added, "it's devastating in its own right, because it doesn't matter at that point what he thought he had the right to do, or whatever other defence he's going to have about the classified documents. That's in and of itself very bad."
It could also help prosecutors establish that Trump knew what he was doing was wrong because "you only delete video of what you've done if you think it's going to get you in trouble," Aaron said. And Trump's own accusations against others, like his claims against Hillary Clinton, his opponent in the 2016 presidential race, could boomerang against him.
Trump has claimed that Clinton deleted emails from her private server for the purpose of obstructing a criminal investigation into her own handling of classified information — something the FBI and Justice Department never alleged — but now stands himself accused of scheming to delete evidence he feared would be incriminating.
 "He has specifically criticized other public figures for deleting data when he says they thought they were going to be in trouble," Aaron said. "So, if you needed to prove his consciousness of guilt, it's not just an obvious thing that you would ask the jury to rely on common sense for — he's actually made statements about what it means when someone does this."
Trump and Nauta are set for trial next May, though it's not clear if that date will hold.
Smith's team also added a new count of wilful retention of national defence information related to a classified document about a Pentagon plan of attack on a foreign country prosecutors say Trump showed off during a July 2021 meeting at his Bedminster, New Jersey resort.
That charge comes after Trump repeatedly claimed he didn't have any secret documents when he spoke, only magazine and newspaper clippings, even though an audio recording captured him saying "this is secret information." The document was returned to the government in January 2022, months before the subpoena for classified records.
It's not clear why prosecutors moved now to indict another one of Trump's underlings, though bringing charges against De Oliveira that could carry significant prison time adds serious pressure on him, potentially increasing the odds that he could decide to cut a plea deal and cooperate.
 "But, you know, Trump seems to inspire a lot of loyalty, at least in some people," Eliason said. "Maybe they are holding out for the idea that he is re-elected and he can pardon them."
Get the latest reports & analysis with people's perspective on Protests, movements & deep analytical videos, discussions of the current affairs in your Telegram app. Subscribe to NewsClick's Telegram channel & get Real-Time updates on stories, as they get published on our website.
Subscribe Newsclick On Telegram