US-Mexico Border: Painful Search For Missing Migrants
Thousands of undocumented migrants cross the US-Mexico border every day, but many get lost in the vast Texas ranchlands and perish. Several NGOs are helping to look for them, trying to give families a sense of closure.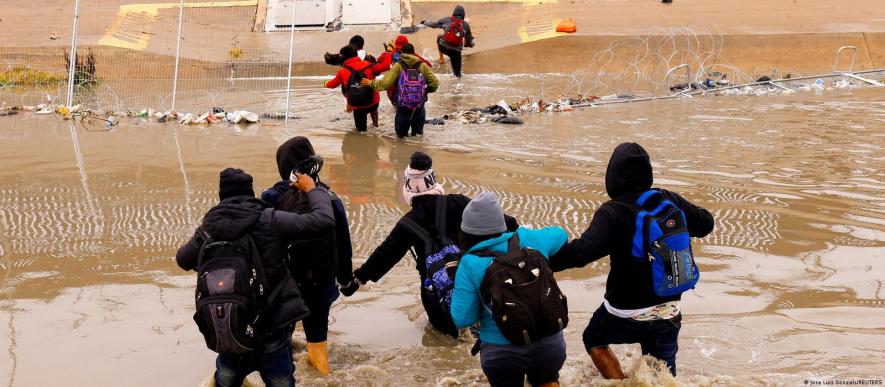 It has been six months and eight days since Jose Anton went missing. The last time his family spoke with him was August 2022, just before he attempted to cross the US-Mexico border.
Witnesses said the 27-year-old tried to enter US territory through the Mexican border city of Reynosa. He wasn't carrying his Venezuelan ID with him, nor did he have any tattoos or body marks that could help authorities or local groups identify his remains.
Anton's case isn't isolated, but rather a tiny part of a continental tragedy. The International Organization for Migration estimates that the border with Mexico has seen over 4,000 deaths since 2014, but this figure is likely higher because many, like Anton, are still missing. 
In January alone, the South Texas Human Rights Center documented 65 missing people. Every day, they receive calls from relatives based in other US cities or in Latin America asking for a loved one that crossed the border with the help of a smuggler and went missing.
Based in Brooks County, this small NGO fights for the rights of the undocumented migrants in Texas, whether they're dead or alive, and the families desperately looking for them. 
"South Texas is a burial ground for many migrants," said Eduardo "Eddie'' Canales, the NGO's founder. This is especially true for Brooks, the county with one of the highest death tolls for migrants in all of Texas. Since 2009, it has recovered the bodies of more than 920 people.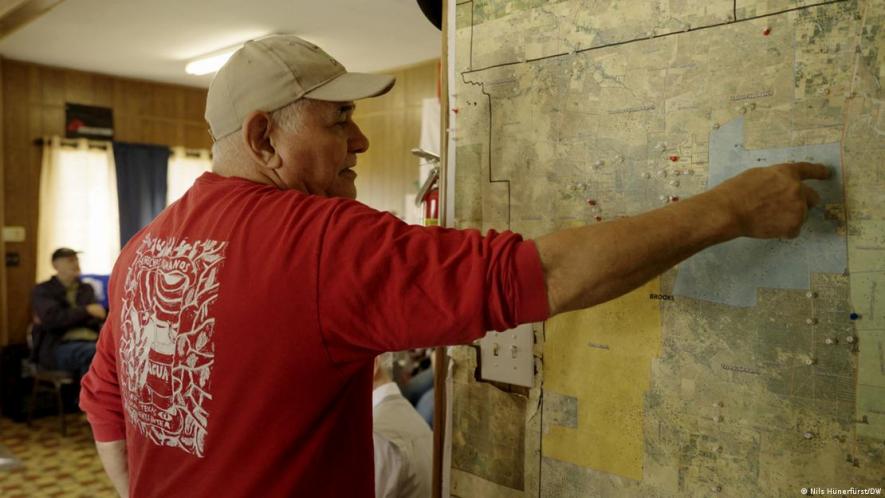 The center's hotline receives calls from across the US and Latin America
A Border Patrol checkpoint located less than 90 miles (about 140 kilometers) away from the Mexican border has to do with this deadly record, Canales explained. The checkpoint is a crossroads for those entering via the Texas border as it connects with larger cities, such as San Antonio and Houston. But the presence of law enforcement in the area pushes undocumented migrants to isolated and dangerous paths.
Many get lost in the ranchlands as they attempt to circumvent these controls, and often die of dehydration, snake bites or from drinking contaminated water. In South Texas, rescuing migrants in critical conditions or recovering bodies of those who didn't make it turns into a more difficult task compared to other border crossings in the United States because land here is privately owned. 
In the borderlands, the US approach is based on prevention through deterrence, discouraging migrants from entering the US by making it more difficult or dangerous to cross the border. For Canales, this dated policy is the cause of many migrant deaths.
"There's no deterrence in reality. Human migration is natural and should be received in a manner that aids the process," he said. "A policy that expects deaths as collateral damage is the wrong policy."
Remains buried in the ranchlands
Families of the missing visit the sheriff's office every month. Binders identified with the words "human remains" on the spine contain dozens of images with bones or corpses along with brief descriptions, a date and location of discovery.
Contrary to Canales, Brooks County sheriff Urbino "Benny" Martinez believes the solution to preventing these deaths is to stop migrants at the border. 
"We have to draw back and secure the border first. We're in the top five in the state of Texas for missing persons behind Dallas, Houston, San Antonio — the biggest cities," he said. 
Families look at hundreds of photos of human remains in an attempt to identify their missing loved ones
The conditions of the local terrain hinders the search for the missing. The soil in the ranches is sandy and strong winds blow across the plains in the region, sometimes keeping bodies hidden under the sand for days.
But even when found, bodies aren't always sent to a medical examiner's office to determine cause of death or identity. Overwhelmed by the high volume of deaths and the lack of resources, some counties illegally bury migrants without prior identification, prolonging the search and pain of the families for years.
Volunteer exhume nameless graves
Operation Identification, a local initiative based at Texas State University, works closely with Canales, other NGOs on the ground and government agencies to identify these remains and bring families a sense of closure. 
With the help of undergraduate and graduate students, Kate Spradley exhumes remains in cemeteries across the south Texas border, where locals have spotted unidentified graves. In January, Operation Identification exhumed about 40 graves in a cemetery in Maverick County.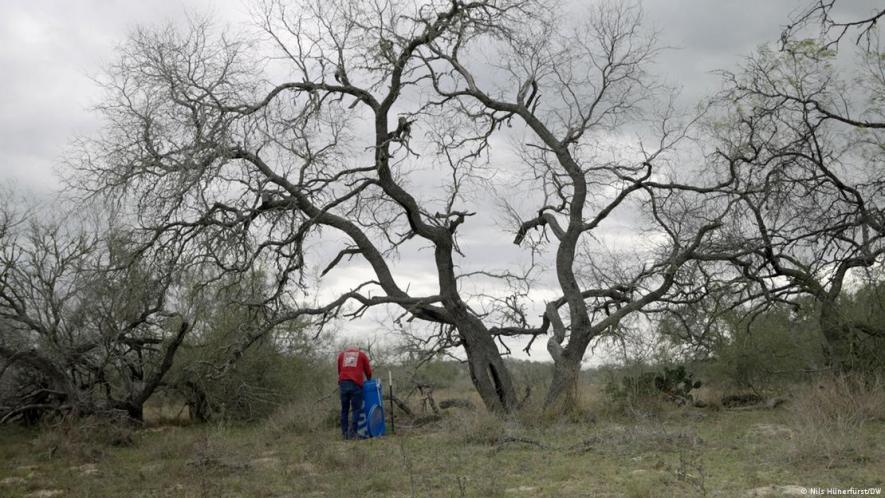 Since the foundation of the South Texas Human Rights Center in 2013, Canales has installed more than 100 stations with safe water across the ranchlands
Volunteers later carry out skeletal analysis in the laboratory and take DNA samples, reporting the cases to the US National Missing and Unidentified Persons System and uploading results to a DNA database. 
If the family of the missing person submits a DNA sample to the database, then the system shows a match. However, many relatives don't submit samples because they either live outside the US or fear to do so in the presence of law enforcement due to their immigration status. 
Finding resources and political will
For Spradley, the need for a comprehensive and articulated system is key in dealing with the death of migrants. "We're always going to have deaths but, in places like Texas, we don't have an adequate medical legal death system. We need to fix that. We need a centralized identification center," she said.
Both Operation Identification and the South Texas Human Rights Center need more resources to continue doing their work in Brooks County, and to further expand it to other counties across Texas. But civil society and local government agencies can't tackle the problem on their own.
Canales believes a policy change that doesn't "criminalize or dehumanize migrants" is long overdue.
"We don't feel stakeholders in the US Congress are listening enough or are aware enough [of the situation on the border]," he said. "We need a fair and humane policy that deals with the reality of a continued migration."
Edited by: Andreas Illmer
Get the latest reports & analysis with people's perspective on Protests, movements & deep analytical videos, discussions of the current affairs in your Telegram app. Subscribe to NewsClick's Telegram channel & get Real-Time updates on stories, as they get published on our website.
Subscribe Newsclick On Telegram