Uthukuli Butter: The Case of Missing Buffaloes and a Small Town's Identity
Flourishing job work units, low availability of local fodder, and lack of a GI tag sound the death knell for buffalo rearing in this town in Tamil Nadu.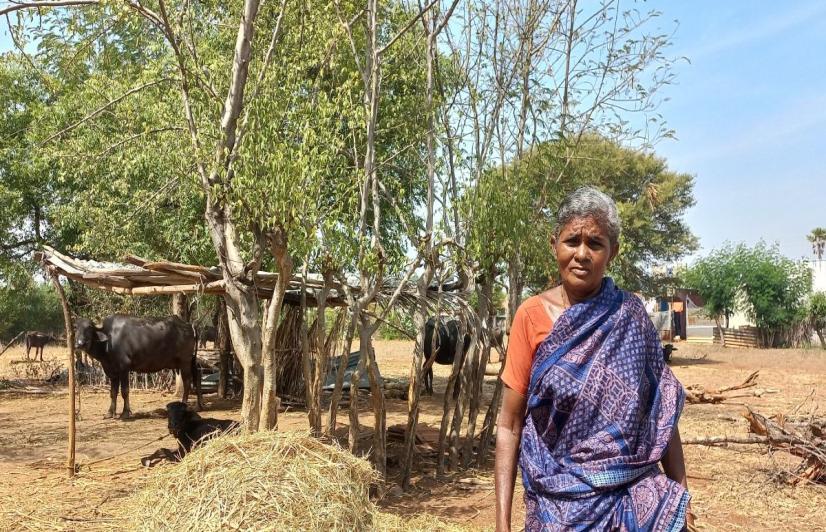 Chandramani, a woman farmer with her buffaloes (Photo - Vignesh A, 101Reporters).
Tiruppur, Tamil Nadu: Packets of snacks and a small heap of onions await customers in front of a road-facing house in Mettukadai village, located six km south of Uthukuli — a town in Tamil Nadu famed for its butter. Not more than nine of the 100 households here rear buffaloes, in stark contrast to the four or five bovines in each dwelling almost 15 years ago.
Shopkeeper Chandramani is one of the few buffalo rearers of Mettukadai, but she regrets not knowing how to work at a garment factory in Tiruppur, unlike most women here. Besides the shop, the family has an acre of land where Chandramani's husband cultivates sorghum (broomcorn millet) once a year to get dry fodder for the four buffaloes.
Chandramani and her husband cannot depend entirely on the income generated from milk. 
"The amount I spend buying hay, husk and cattle feed every month is between Rs 15,000 and 20,000. My income, on the other hand, is just enough to repay what I have borrowed to feed the bovines," says Chandramani, who guesses her age to be around 60. She makes Rs 100-200/day from the shop.
Chandramani's situation is typical of the buffalo rearers in and around Uthukuli. All of them are into it either because they do not know any other job or it is the only option to put their small landholdings to use.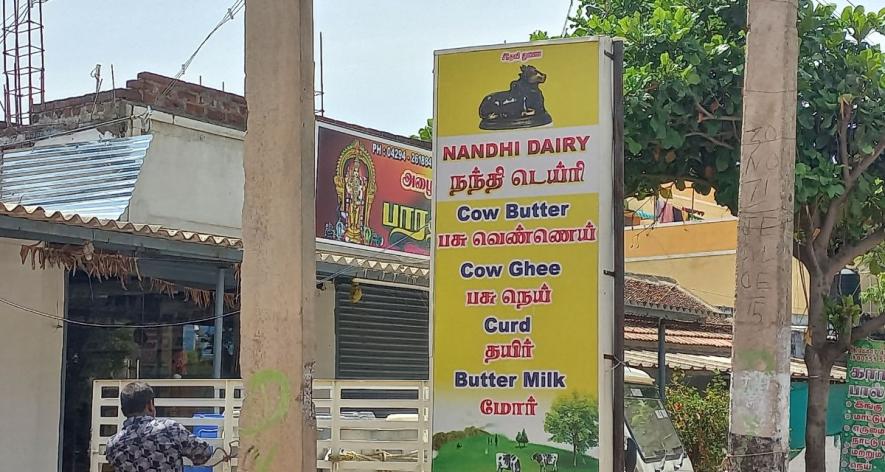 Butter and ghee from cow's milk are sold widely in Uthukuli as the buffalo population is dwindling (Photo - Vignesh A, 101Reporters).
Chugging Towards Popularity
Located about 15 km east of the district capital Tiruppur — the knitwear export hub of India — Uthukuli's rise to fame was driven by the establishment of a railway junction in the 1930s. The villagers saw an opportunity to sell curd and buttermilk to the passengers of trains passing through this parched land.
Much to their surprise, the taste of their buttermilk enthralled the Malayalam-speaking traders, who began to make a stopover in Uthukuli to buy butter. When the product got a good reception in the erstwhile princely states of Travancore, Cochin and Malabar, the frequency of their visits increased.
"The following decades saw butter and ghee traders from other parts of South India, including the Telugu speakers from the erstwhile Madras Presidency and those from the erstwhile Mysore Kingdom, frequenting Uthukuli to procure butter," R Kumar, Uthukuli native and district president of Tamil Nadu Farmers' Association affiliated to the Communist Party of India (Marxist), tells 101Reporters.
"For the villagers of Uthukuli, their curd and buttermilk were trivial things as they had not tasted the same produced outside. Only the traders from Kerala let them know that their glossy white butter remained intact for over three months at room temperature, which was not the case with the butter produced elsewhere," he adds.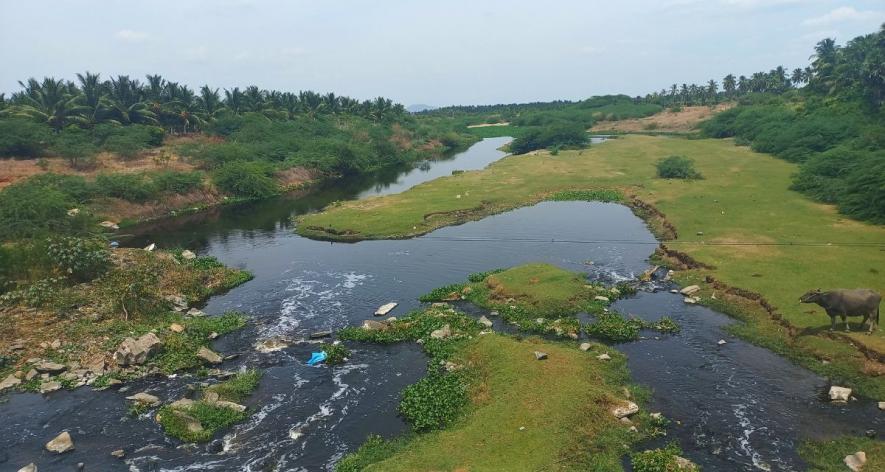 River Noyyal, polluted by knitwear dyeing effluents, passing through Uthukuli region (Photo - Vignesh A, 101Reporters).
A Slow Death
Noyyal, a tributary of River Cauvery, flows six km south of Uthukuli, which has a population of a little over 10,000. The water flow is not perennial, so rain-fed agriculture is the only way out.
"Since there was no cultivation of paddy and other millets, the sorghum straw became the main feed for buffaloes. Drought-resistant grass species such as kolukattai pul (Anjan grass) were also fed. As a result, the milk of Uthukuli's buffaloes was thicker than the milk of buffaloes and cows from other parts of the state. Since the milk was creamier than the normal buffalo milk, the butter was thicker with less proportion of water in it," says Kumar.
However, the rise of the knitwear industry in Tiruppur in the 1980s opened up many employment opportunities, especially for unskilled and semi-skilled labourers with little or no education. This, along with irregular rainfall, sounded a death knell for the dairy industry. 
"About 20 years ago, the population of buffaloes in my village outnumbered that of humans. Nowadays, so much money goes into feeding them as sorghum cultivation is not as common as it was three decades ago," says Karattupalayam native Kumara Rangasamy (59). True to his words, many farmers say they are buying hay, coming mostly from the Cauvery Delta districts. 
"To work in a garment factory, all I needed were two hands and legs," adds Rangasamy, who quit that job to launch a second-hand automobile spare shop in Uthukuli over a decade ago. His family's five acres of land have not been cultivated since then, except for a few sorghum to sustain his only cow.
Uthukuli now has more than 200 job work units supporting Tiruppur's knitwear industry. 
"This has increased the demand for land. Even if one does not cultivate, the land's market value keeps rising," says Kumar.
The shift away from agriculture and cattle rearing reflects on the number of buffaloes in Tiruppur district. From 47,740 in 2012, it has dropped by 43.17% to 27,129 in 2017. The decline rate for the entire state during the same period is 33.52%, according to the Tamil Nadu government's Statistical Handbook 2020-21.
Can Butter be a Buffer?
On the surface, moving on from buffaloes and butter to make a decent income at knitwear factories may look all right. But a few more things should be considered before reaching that conclusion.
The total knitwear export of India in the 2022-23 fiscal is worth Rs 63,239 crore. The contribution of Tiruppur is Rs 34,350 crore (54.3%), according to Tiruppur Exporters' Association. Tiruppur has witnessed growth in export orders for the last two years after three dull years due to COVID-19. But the numbers look attractive due to the weak position of the rupee against the US dollar.
Otherwise, there is not much growth. It is evident in the news reports of recent years, in which the factory owners lament receiving only 20% or 40% of their usual export orders. Tiruppur, also known as 'Dollar City', easily feels the repercussions of global events.
"Factory owners started employing migrant workers in large numbers around 2010, which gradually reduced the proportion of local employees. Even the migrants who worked for low wages do not find regular jobs now and are switching to other menial jobs at construction sites and restaurants," says a supervisor at a private garment factory in Tiruppur on condition of anonymity.
"Even if there is a positive trend in exports, the stiff competition from countries such as Bangladesh and Vietnam and the gradual adoption of automation, incentivised through Technology Upgradation Funds, will further reduce the number of workers," he estimates.
A few knitwear workers this reporter spoke to get only three to four days of work per week. It was six days before the pandemic. They were employed for one-and-a-half shifts (12 hours) per day, earning Rs 500 to 1,000, depending on their department. Now, they get just one shift (eight hours) with Rs 300-700 as wages, even though they are willing to work as they did in the past. 
In such a scenario, butter can be a buffer for Uthukuli's local economy.
 The Long Wait for GI Tag
"Butter from other parts of Tamil Nadu are labelled as Uthukuli butter and sold in neighbouring states. Even the produce made from cow's milk has that label. Such practices affect the reputation of Uthukuli butter," P Rasu, the manager of a butter-manufacturing unit affiliated with the Khadi Industries Commission, tells 101Reporters.
"Providing a Geographical Indication [GI] tag will help curb the misappropriation of Uthukuli butter's legacy," says Kumar. The Geographic Indications of Goods (Registration and Protection) Act, 1999, criminalises the misuse of GI tags, with a jail term of up to three years and a fine of up to Rs 2 lakh. 
With the pandemic proving that the knitwear industry is not unassailable, strengthening Uthukuli's butter industry is paramount. The butter-manufacturing units had active trade unions before, but not anymore. Thanks to this lack of organised representation and lacklustre administration, the GI tag has remained elusive so far.
"The GI tag is much talked about, but nothing happens on the ground. Many small units could not sustain and have already shut," Duraisamy, a private dairy unit owner in Uthukuli, tells 101Reporters.
Another dairy manufacturer, on condition of anonymity, informs that Tiruppur Sub-Collector Sruthan Jai Narayanan is coordinating the administration's efforts to get the GI tag. Meetings were held, and a WhatsApp group was created to communicate with all stakeholders.
However, attempts to reach the Sub-Collector over the phone and through messages did not solicit any response.
Way forward
A buffalo can provide around five litres of milk for four to five months since calving. Generally, buffalo farmers rear two to four animals so that milk from at least one or two can be obtained at a time.
According to the butter manufacturers, milk cream extracted from seven to eight litres of buffalo milk will yield one kg of butter that is sold for Rs 450-500. This means the market price of one kg of butter is almost equal to the wage of one shift at a knitwear factory.
Even when fake brands dominate the market, the buffalo owners can break even despite all the money they spend on cattle feed.
After receiving the GI tag, it will be a criminal offence to pass off the butter produced elsewhere or made from cow's milk as Uthukuli butter. This will prevent others from hijacking brand identity, besides increasing the demand for GI-tagged butter. This, in turn, will make farmers raise more buffaloes.
In terms of exports, Tiruppur district ranks third in the state, with Chennai and Kancheepuram claiming the first two slots. If the butter industry in Uthukuli gets enough thrust, it will be another jewel in the crown for the district.
(Vignesh A is a Tamil Nadu-based freelance journalist and a member of 101Reporters, a pan-India network of grassroots reporters.) 
Get the latest reports & analysis with people's perspective on Protests, movements & deep analytical videos, discussions of the current affairs in your Telegram app. Subscribe to NewsClick's Telegram channel & get Real-Time updates on stories, as they get published on our website.
Subscribe Newsclick On Telegram