Utilisation of Controversial CAMPA Funds Is Old Scheme Not COVID-19 Package: Tribal Rights Experts
Several tribal groups and tribal rights activists have been demanding that the government transfer the CAMPA funds to the Gram Sabhas for democratic utilisation of the funds.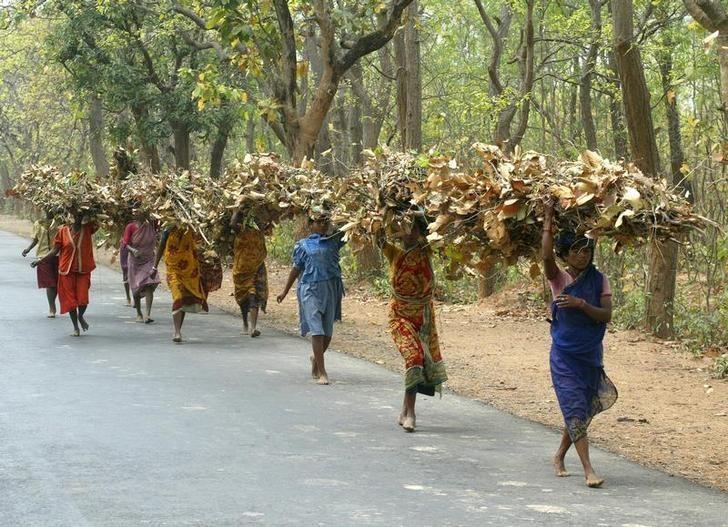 Image Courtesy: Counterview.Org
The economic relief package announced by the Union government utterly fails to address the economic distress of tribal and other forest communities due to the COVID-19 outbreak and the unplanned lockdown measures, according to a group of experts and activists working on tribal and forest rights. Furthermore, a set of demands put forward by tribal and forest rights groups detailing the concerns of tribal and other forest dweller communities during the pandemic and lockdown have remained neglected. 
On May 14, Finance Minister Nirmala Sitharaman said that plans worth Rs 6,000 crore would be approved shortly under the Compensatory Afforestation Fund Management and Planning Authority (CAMPA). These funds, she claimed, would help "generate employment for tribals and adivasis in the areas of afforestation and regeneration activities in urban, semi-urban and rural areas." This amount was counted as part of the special COVID-19 package worth Rs 20 lakh crore as previously announced by Prime Minister Narendra Modi termed as Atmanirbhar Bharat Package.
This announcement for releasing CAMPA (CA) funds to the states for 'employment generation' ignores "the concerns raised by tribal groups on continual violations of land and forest rights by CAMPA plantations on the one hand and large-scale denudation of natural forests on the other," stated a press release issued by Madhu Sarin of Campaign for Survival and Dignity, Soumitra Ghosh (All India Forum for Forest Movement (AIFFM)), Neema Pathak Broome (Kalpavriksh, Pune), Shomona Khanna, advocate, Shankar Gopalakrishnan (forest rights campaign), CR Bijoy (forest rights campaign), Tushar Dash (Independent Researcher) and several others. 
The experts reiterated that compensatory afforestation is not tribal-friendly, which instead, causes double deprivation of the communities by allowing organised deforestation by diverting forest land for non-forest purposes without forest dwellers' consent and dilutes the provisions under Forest Rights Act, 2006 (FRA).
Also read: How Much is Govt Really Spending on 'Economic Package'
Prominent economists and several state governments including Kerala and Telangana have expressed disappointment over the Atmanirbhar Bharat Package by pointing out that majority of the package included old schemes and liquidity measures which fail to address the present concerns due to COVID-19 pandemic. 
Opposition to the Compensatory Afforestation Fund (CAF) Act and Rules
Tribal and forest rights groups have earlier opposed the Compensatory Afforestation Fund (CAF) Act and rules which allow for unjust as well as illegal transfer of CA funds to the forest departments. 
"Since the CAF Bill was tabled in 2015, the tribal and forest rights groups have consistently demanded for democratic management of CA funds by transferring such funds to the Gram Sabhas and ensuring that the CA activities are taken up with free prior consent of Gram Sabhas as mandated by FRA and the provisions of the Panchayats (Extension to the Scheduled Areas) Act, 1996 (PESA). This demand has been further reiterated in the light of COVID-19 outbreak, so that the Gram Sabhas can utilise the already collected CA funds standing at a massive Rs 57,000 crore today, to implement FRA and respond to the diverse geo-specific and community-specific local needs of India's tribal and other forest dwelling communities," stated the group of experts.
In the joint statement, the experts noted that the CA funds are being used to illegally evict tribals and other forest communities from the Protected Areas such as the Tiger Reserves, National Parks and Wildlife Sanctuaries. "Not only that, massive corruption and irregularities have been reported in administration of CA funds by the forest department, with serious charges of ghost plantations, replacement of natural forests with monocultures being reported from across the states. Even the tribal affairs ministry has earlier raised concerns about violation of tribal rights due to CAMPA," it added.
Earlier, on May 4, a group of civil society organisations, activists, researchers and experts working with tribals and forest dwelling communities submitted a report to the Ministry of Tribal Affairs (MoTA). The report titled 'Impact of COVID-19 outbreak and lockdown measures on tribal and other forest dwellers' highlights the socio-economic distress situation in tribal areas arising out of COVID-19 outbreak and lockdown measures was also submitted to Ministry of Environment, Forest and Climate Change (MoEFCC), Ministry of Rural Development (MoRD), Ministry of Panchayati Raj (MoPR), Ministry of Home Affairs (MoHA), NCST, Prime Minister's Office and Niti Ayog, and to National Disaster Mitigation Authority. 
The report highlighted the concerns of the tribal communities such as a crippling lack of public healthcare that severely limits the capacities to curb the spread of the disease, tens of thousands of tribal migrants stranded in cities, lack of institutional mechanisms and access for procurement and distribution of minor forest produce (MFP), rampant deforestation in the name of forest land diversion without the consent of the communities, violations and non-implementation of progressive legislations like Forest Rights Act, 2006 and PESA .
Also read: COVID-19 and Lockdown Threatening Livelihoods of Tribal Communities and Other Forest Dwellers: Report
Get the latest reports & analysis with people's perspective on Protests, movements & deep analytical videos, discussions of the current affairs in your Telegram app. Subscribe to NewsClick's Telegram channel & get Real-Time updates on stories, as they get published on our website.
Subscribe Newsclick On Telegram