Uttar Pradesh Govt Employees and Farmers Launch Separate Movements Against Privatisation
Employees are demanding the restoration of the Old Pension Scheme (OPS), while farmers have expressed concerns about increased electricity bills, among several other issues.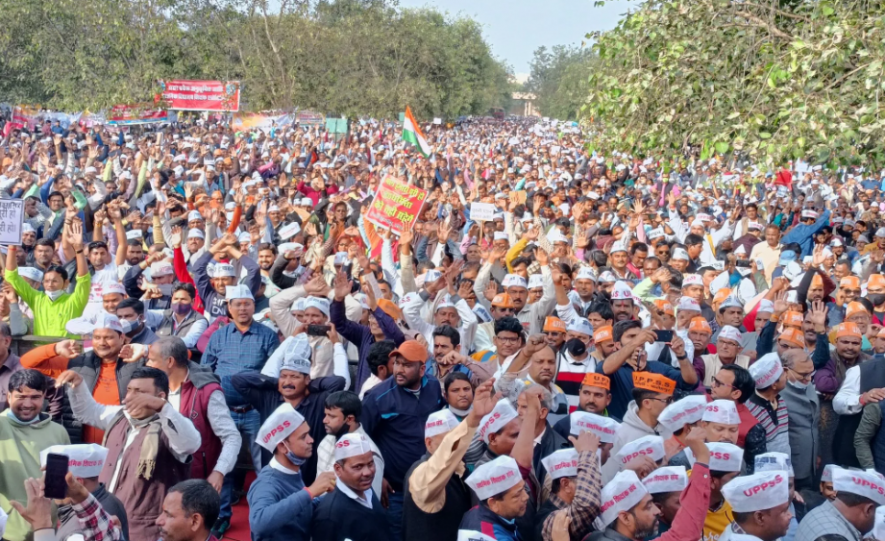 In Uttar Pradesh, two significant sections of society—state government employees and farmers—will launch separate movements against privatisation, said trade union and farmer leaders during their visit to Lucknow on Thursday.
OPS and MSP
To mobilise support for their demands, including the restoration of the Old Pension Scheme (OPS) and Minimum Support Price (MSP), rallies and protests will be organised across Uttar Pradesh and in the national capital in the coming months.
The primary objective behind these movements is to mount pressure on the Bharatiya Janata Party-led governments to stop the privatisation of government departments and Public Sector Undertakings (PSUs).
60 Lakh Vacancies
According to the employee union leaders, there are nearly 60 lakh government job vacancies nationwide. But despite the high unemployment rate in the country, the government is seen as reluctant to recruit unemployed youths for these posts. It is to be mentioned here that India's current average unemployment rate for the past 30 days is 7.5%. (Source: Centre for Monitoring the Indian Economy)
While the farmers' leaders are apprehensive about the privatisation of the electricity sector, they believe that their electricity bills will increase manyfold after privatisation, and the financial burden on farmers will subsequently increase.
Local Issues
Besides MSP and OPS, farmers and state employees will also focus on local issues in their movements. These issues include the problem of stray animals destroying crops and the suspension of power employees. As many as 121 power employees were suspended during the recent strike. 
According to Shailendra Dubey of the All India Power Federation, suspended power employees are yet to be reinstated. "This is a gross violation of the agreement held between the government and power employees, following which employees called off their strike," he said. 
OPS: A Game Changer
The state employee unions believe that the OPS is a political game changer and one of the significant factors behind the debacle of the BJP is the Assembly elections in Karnataka and Himachal Pradesh.
Subhash Lamba, the national president of the All India State Employees' Confederation, says the BJP lost the Assembly elections in HP by a slim margin of 0.9 %. He believes that this was a result of not restoring the OPS during their regime. According to him, the persistent protests and agitations by the employees have made OPS a significant political issue.
If OPS is not restored, Lamba says, the saffron party will face the same fate in the coming state Assembly and general elections. Besides this, the steady privatisation of government-sector enterprises and PSUs is also a matter of concern.
Lamba announced that the state government employees would start their protest on the anniversary of the 'Quit India Movement' on August 9 with the objective of 'Reach to Each'. During the movement, state employees will participate in car and bike rallies and hold protest meetings against the unemployment surge in the country. 
Government Employees in UP
On being asked about their other grievances, Afeef Siddiqi, UP president of the employees' confederation, said, "We want to mount pressure on the central government for constituting the 8th pay commission and withdrawing the new education policy (NEP-2020)."
According to Siddiqi, in UP, as many as 5 lakh people work in various government departments at various posts, including officers and teachers. He also added that nearly 10 lakh people are employed either on an outsourcing or contractual basis. Besides this, nearly 18 lakh retired employees are getting pensions.
An employee union leader, Kamal Agarwal, said that the employees will hold a massive protest rally in the national capital on November 3. The state employees are approaching bank, insurance, and railway employees' unions to join the protest to be held in November. Agarwal said, "Nothing would be more deplorable than this: 60 lakh government posts are vacant in various central and state government departments across India, and employees are working on a temporary and contractual basis."
Against Privatisation of Electricity Sector
Farmers plan to launch a movement against the privatisation of electricity distribution. According to Badal Saroj of the All India Kisan Sabha (AIKS), the government wants to privatise the crucial electricity sector, which would increase the financial burden on farmers. "For a long time, farmers have been hardly getting a nominal price for their crops; how could they pay hefty electricity bills?" Saroj questioned. 
Agrarian Crisis
"The central and UP governments will ruin farmers economically," said Badal while talking about the prices of crops. According to him, in UP, farmers have not been getting a reasonable price for crops like mustard, potatoes, wheat, rice, etc., for a long time. Moreover, the UP government has kept the state-advised price for sugarcane unchanged for the last four years. It is noteworthy that farmers claim that UP is one of India's largest sugar-producing states, with about 4.5 million farmers directly growing the crop.
"Currently, electricity is available to farmers on a nominal fixed tariff, but in some places, the power department fixed metres in tube wells, which hiked their electricity bills," said farmer leader Mukut Singh. Aggrieved by the installation of metres, on July 5, the farmers' union AIKS held protests at district electricity offices across the 75 districts of UP. "Where metres have been installed, farmers are paying up to Rs 3000–4000 per month; earlier, they only paid a maximum of Rs 1100–2000."
Farmers' Movement
Farmers' leader P. Krishnaprasad announced that farmers would hold protests in three phases. In the first phase, in May, farmers' leaders will meet members of parliament and give them memoranda of their demands. In the second leg in August, they will protest against land acquisition, etc., and its theme would be "Corporate Bharat Chhodo" (Corporates, Leave India). In the third and last phase, farmers will gather at the border of Delhi for 72 hours between November 26 and 28.
Krishnaprasad also said that the BJP government promised that privatisation would increase efficiency, competition, and employment, but it still needs to be proven correct. He claimed that manufacturing is slowing down nowadays; healthcare and education have become more expensive, and unemployment is at an all-time high.
Support to Wrestlers 
Meanwhile, the farmers have also extended support to protesting women wrestlers. They said it is condemnable that Prime Minister Narendra Modi will inaugurate the new Parliament building on May 28 in Delhi, where, a short distance away, sportswomen have been protesting for justice.
P. Krishnaprasad said that the BJP earlier shielded its minister, Ajay Kumar Mishra, whose son Ashish Mishra "mowed down" farmers in Lakhimpur Kheri. Now they are protecting its lawmaker, Brij Bhushan Sharan Singh, who is accused of sexual harassment of women wrestlers.
(The writer is a freelance journalist based in Uttar Pradesh.)
Get the latest reports & analysis with people's perspective on Protests, movements & deep analytical videos, discussions of the current affairs in your Telegram app. Subscribe to NewsClick's Telegram channel & get Real-Time updates on stories, as they get published on our website.
Subscribe Newsclick On Telegram