Uttar Pradesh Verdict: Hatred of Muslims was the Only Plank
Gone are the days when an accomplished Muslim was displayed as India's pride. Now, it is taken as Hindu shame.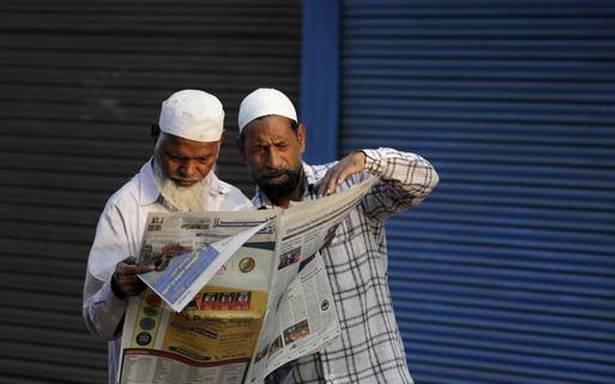 The loudest message of the Uttar Pradesh verdict is that only two groups of electorates exist: the Muslims and those who harbour hatred for them. This was evident when I visited Hindu localities in rural and urban Uttar Pradesh, where impoverished vegetable and fruit sellers, cart and rickshaw-pullers, carpenters, blacksmiths, live. It turns out that reports of how the stray cattle menace was upsetting voters were incorrect, too. Let us face it—voters have become more cunning than the media. They misled reporters with their complaints about this problem and some others.
Training in social science research revolves around understanding class concerns. Perhaps that explains why many election observers felt unorganised sector workers and the jobless educated were angry with the regime, given inflation, joblessness, poor healthcare, the bodies that floated in the Ganga and the public sector sell-off. But it was not the case either. Members of these groups do not have too many grievances with the regime, for they repose faith in Hindutva and distrust the forces that oppose it. Put another way, even if the ruling party had prepared no pro-poor populist schemes, say for free rations, the poor would not have voted against Hindutva. They want Hindu supremacy and subjugated Muslims.
In speech after speech, the incumbent regime sought re-election only in terms of the religious divide. When they spoke about "law and order" or crackdown against gangsters, the unsaid or explicit message was clearly anti-Muslim, especially in their speeches delivered in Muslim-majority constituencies such as Rampur.
As a result, the proportion of liberal and secular people is declining and people are rationalising Hindutva. Some groups that represent the dominant backward classes are challenging the Bharatiya Janata Party (BJP), but only in electoral terms, not in the everyday politics of comprehensive resistance. As we know, these political formations disappear when elections are far in the future. Let us not ignore the Muslim elites who throng the RSS-run Rashtriya Muslim Manch. A segment of these elites—and its admittedly feeble right-wing—also pretend to be resisting majoritarianism. However, the opportunism of this section is blinding ordinary co-religionists to the unabashed Muslim hatred on the ground. And these elites are being allowed to get away with their regressive politics even by the critics of Hindutva. Consider the newly-elected Muslim legislators of Uttar Pradesh. While the worst fears of Muslims came true on 11 March, they celebrated their victory. Surely they will face no criticism. Such events unfolded during 1940-47, too, when Muslim League leaders used the Muslims of Uttar Pradesh and Bihar—then left them stranded and helpless for their new "homeland". Even then, the Muslim leaders from Muslim-concentrated districts had celebrated their victory, disregarding the helplessness of fellow Muslims elsewhere.
Further, by fighting the BJP only on the eve of elections, the regional political forces mislead their core base—especially by raking up EVM fraud after the election. For the rest of the time, they are silent on EVMs and avoid mobilising people against the regime between election cycles. Indeed autocratic regimes that crush institutional credibility can manipulate EVMs, but this is not why the BJP won Uttar Pradesh. In the Assembly segments of Varanasi and Gorakhpur, the ruling regime thrives on personality cults. Sure, considering its more significant stakes in such regions, the ruling party may wish to tamper with the counting process. However, as against this possibility is the widespread support for majoritarianism on the ground, which is easily visible.
The urge among voters to set Muslims right for "centuries of Hindu trauma inflicted by Muslim rulers" is barely hidden in this verdict. Uttar Pradesh fits the bill for anti-minority propaganda for it has "living instances" of this trauma in the form of Ayodhya, Kashi, Mathura, etc. In any case, the "historically traumatised" Hindus do not expect the BJP to resolve the problems of the economy and employment. They want cultural gratification from renaming Allahabad Prayagraj, the temple in Ayodhya, from persecuting, subjugating, marginalising and invisibilising the Muslims. Gone are the days when an accomplished Muslim was displayed as India's pride. Now, it is taken as Hindu shame.
Only a Gujarat will not do. A combination of populous Uttar Pradesh—the "heartland"—and wealthy Gujarat can convincingly fulfil the BJP agenda of Hindu cultural gratification. This agenda thrives on the growing number of people for whom Hindutva is indistinguishable from Hinduism. Those Hindus who resist cultural nationalism are samaj drohi or rebels against Hindu samaj—though being Hindus, they are not declared desh drohi or anti-nationals quite as easily.
In the 1920s and 1930s, too, Uttar Pradesh had experienced majoritarianism. Nandini Gooptu's 2001 book, The Politics of the Urban Poor in Early Twentieth-Century India, demonstrates the growing communalisation of subaltern communities in the period through her examination of selected cities of Uttar Pradesh. She finds the elites—of both religions—used the ordinary person as a tool against members of the other faith. Charu Gupta's 2001 book, Sexuality, Obscenity, Community: Women, Muslims and the Hindu Public in Colonial India, is another critical study of how innovative propaganda propagated 'otherisation' and hate, such as through the mythical cults of Raja Suheldev versus Ghazi Miyan, ghar wapsi campaigns, etc. Vernacular periodicals, pamphlets and handbills aided this communal polarisation despite limited literacy in Uttar Pradesh.
The colonial state played its part, including backing the Muslim separatists, as Venkat Dhulipala's 2015 book, Creating a New Medina: State Power, Islam and the Quest for Pakistan in Late Colonial North India, demonstrated, after Francis Robinson's 1974 book, Separatism among Indian Muslims. Historian William Gould's Hindu Nationalism and the Language of Politics (2005), demonstrates how Congress stalwarts of Uttar Pradesh such as PD Tandon, GB Pant and Sampurnanand were more majoritarian—hardly pluralists. This troubled Jawaharlal Nehru even after independence. Piyush Babele's recent book in Hindi, which has had several reprints, lucidly demonstrates his helplessness and a range of other forces and developments that have proved irreversible.
Pakistan came into existence based on a communal exclusionary ideology. Between 1977 and 1988, it became even more majoritarian and reactionary. India is increasingly going down that road. Maybe the legacy of the national movement, the assassination of Mahatma Gandhi by bigots, and the presence of Nehru may have helped India today, considering how long the project has taken in India. Still, perhaps, the transition was inevitable—a question of when, not if.
In South Asia, we rarely see expressions of repentance and remorse for wrongs committed. So, pogrom by pogrom, lynching after lynching, hate gains strength and power, and we keep framing Muslim youth under false charges and with the harshest laws that have them languish in jails for years. Victims will be told to forget and move on. If their collective memories refuse to allow this, even well-meaning people will blame them for their dogged refusal to "forget".
Can we hope that India's proud civilisational characteristic, plurality, will stage a comeback to reclaim India for all Indians? Or at least a more diluted majoritarian, where Muslims will be allowed to work on capacity-building? It is hard to say right now.
The author teaches modern and contemporary Indian History at Aligarh Muslim University. He wrote Muslim Politics in Bihar: Changing Contours (Routledge). The views are personal.
Get the latest reports & analysis with people's perspective on Protests, movements & deep analytical videos, discussions of the current affairs in your Telegram app. Subscribe to NewsClick's Telegram channel & get Real-Time updates on stories, as they get published on our website.
Subscribe Newsclick On Telegram