Uttarakhand: After New Cracks, Joshimath Residents Want Subsidence Report to be Made Public
People stage one-day dharna under the banner of 'Joshimath Bachao Sangharsh Samiti'. Newsclick speaks with Atul Sati, convenor, JBSS.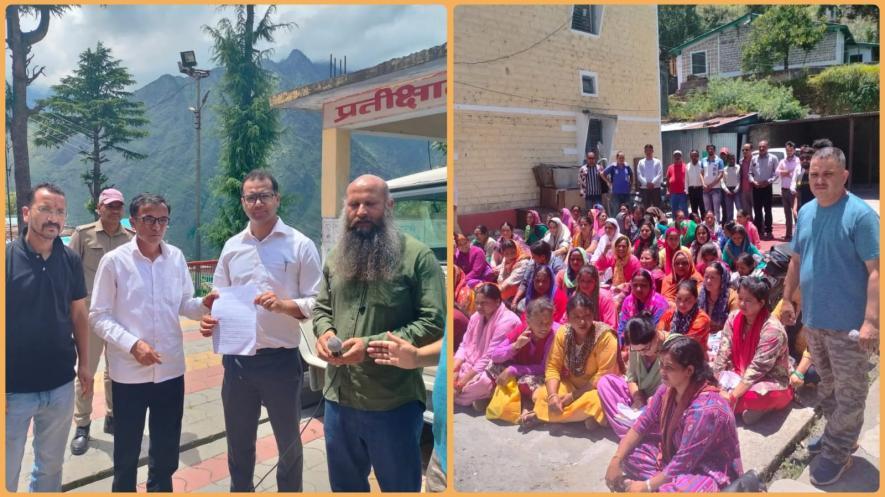 New Delhi: In January this year, Joshimath in Uttarakhand attracted the attention of not only the country but the whole world. The reason was the appearance and widening of cracks in people's homes. Such was the panic that people had to leave their ancestral homes and settle elsewhere. But, due to the "indifference" of the government and the administration, some of the displaced families reportedly returned to their dilapidated homes.
The news of the widening cracks in January may still been buried under the files, but come July, and along with it the rains, people are living in fear and once again tried to draw the attention of the government by holding a dharna. What has added to their worries are rising incidents of landslides in the region, especially the recent ones in Badarinath and Chamoli.
The latest trigger for the panic is a huge pit appearing in Sunil Ward of Joshimath.
Raising the concerns of the local residents, the Joshimath Bachao Sangharsh Samiti (JBSS) called a one-day dharna on Monday, July 3, to once again remind the government of its promises. It re-submitted its 11-point charter of demands to the Chief Minister, the key demand being fulfillment of the compensation announced by the government, proper rehabilitation for the displaced and the report of the survey/study on subsidence of Joshimath, conducted by the top eight institutions of the country, should be made public.
Recall that the protests, which started in January, had lasted for almost three months, and were called off for 20 days on April 20, on the assurance of Chief Minister Pushkar Singh Dhami. The JBSS had then submitted a memorandum of 11-point demands to the government. It has said if their demands were not heeded, they would re-start the agitation. In this connection, a torchlight procession was also taken out on May 11.
But in the wake of the recent incidents of breaches and landslides during the rainy season, is there a need to intensify the movement? What is the condition in Joshimath situated in very fragile mountains? Newsclick spoke to Atul Sati, convenor of JBSS, over the phone.
Nazma Khan: What is the present situation in Joshimath?
Atul Sati: On the surface, the conditions look fine but if we see in the context of rains, the situation is somewhat serious. There is fear among people whose houses have cracks. When is rains, they come out of the house in fear. A few days ago, there was heavy downpour at night, people came out of their houses in panic. Some took a shovel and started trying to change the direction of the rain water to prevent waterlogging.
There is a state of confusion in the villages, as people do not know what the condition of their area is. This because the report of the scientists has not been made public. No one is clear about the situation and which areas are more vulnerable. People are just taking guesses. Cracks have appeared at many places, these are new cracks. So, people are fearful about what is in store. Also, they cannot see or hear any kind of assurance from the government's side.
When we met the DM and other officials, they said: "We are also waiting for the rains to see how much damage it causes, after that we will also be able to do something". But, we told them that it is possible that nothing may happen in this year's rain, but in places where the ground has shifted from three feet to five feet, there are cracks in so many houses, the water will fill up and there will be damage.
Last July-August also, there was no damage during the rains, but there was a lot of damage in the October rains. Now, when it is raining, incidents are being reported from nearby areas, of broken roads and bridges a little away from Joshimath. But if that kind of rains happen here, there will be more damage. But they (officials) are not ready to hear anything, or they fear that if they send alerts than that may spread panic.
NK: How many families are still living in relief camps or other places?
AS: There are very few people left in the relief camps, hardly 10%, or even less. Most of the people have returned to their cracked houses or rented houses. You can consider the relief camps almost closed.
NK: Doesn't the return of people in houses with cracks reflect negligence on the part of the government?
AS: This is criminal negligence. At that time you (the government) drove those people out, saying "leave them (houses), they are in danger", set up relief camps to show the media, and now when the situation is more critical and worse, the people have returned to the same places which the government had said were dangerous. These places were first called Red Zones, then called Danger Zones, now it is being said that these are 'sensitive' zones. So whether it is Red Zone or Danger Zone or 'sensitive' place, they are dangerous in every sense. What difference does a change in terminology make?
NK: Recently, there were reports of a huge hole in Sunil Ward. What about other places?
AS: In Sunil Ward, there is a huge pit now, earlier such a pit appeared in Gandhinagar. Every 15-20 days, such holes are appearing somewhere or the other, and the depth of these, according to people, is up to 10 feet or so. From this, it can be inferred that a cavity (big pit) must have formed somewhere under the ground.
NK: Why do you think the report on submersion is not being released?
AS: It is not being released intentionally, otherwise why is there no government response after we asked them so many times, held press conferences, created much hue and cry, even staged a dharna on Monday? Three days ago, a government press note (issued by the Secretary of Disaster Management) said: "On the basis of the report, we have prepared the blueprint of what is to be built in Joshimath". It is clear from this that they have the report, but they are not making it public.
If scientific institutions have done a study, then people should be told about it. This is a democratic country, people have the right to know what is being decided about them, and on what basis is it being decided. And this is a question related to the safety of the people, it should be told anyway. Even if the government does nothing, people have the right to know that where they are living is safe, and if not, they will find an alternative.
NK: Are you planning to restart the agitation?
AS: In April, the Chief Minister spoke to us and assured us that "we agree to your 11-point demands" and appealed to us to end our agitation. We ended our protest on April 20, gave 20 days' time, then a torchlight procession was taken out. After 10-15 days, a huge protest was held in which Medha Patkar also participated.
We felt that some action would be taken, but that did not happen. Then, to draw the attention of the government that all is not well in Joshimath, awe staged a dharna on Monday and submitted our memorandum again to remind them of the assurances. We have now decided that after every 10-15 days, we will hold programmes so that pressure on the government is kept up maintained. It is the 'yatra' season now, so we understand that the government is busy. But, even after this season is over and the government does nothing, we will have to start our agitation again.
(Translated from Hindi)
Get the latest reports & analysis with people's perspective on Protests, movements & deep analytical videos, discussions of the current affairs in your Telegram app. Subscribe to NewsClick's Telegram channel & get Real-Time updates on stories, as they get published on our website.
Subscribe Newsclick On Telegram