Uttarakhand: Anganwadi Workers Protest for Wage Hike Outside CM Residence in Dehradun
Hundreds gathered from Across Uttarakhand under the banner of Uttrakhand Rajya Anganwadi Workers Union; collectively made their demands to the government in the presence of the media.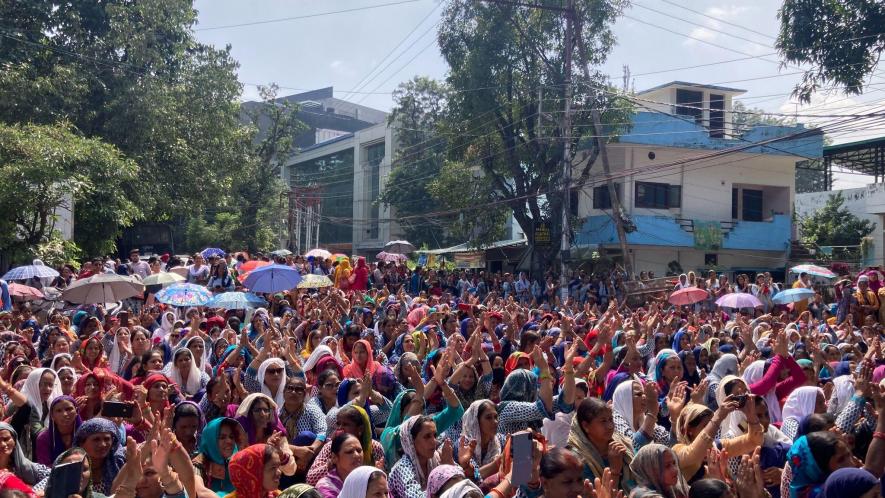 Anganwadi workers staging a protest at Hathibarkala, Dehradun
Hundreds of Anganwadi workers and helpers, under the banner of Uttrakhand Rajya Anganwadi Workers Union, gathered near the Chief Minister's (CM's) residence in Dehradun. On September 25, the workers arrived from various regions of the state, including the districts of Haridwar, Rudraprayag, Devprayag, Champawat, Uddham Singh Nagar, Tehri, Uttarkashi, Yamunotri, and Gangotri. Their march to the CM's residence was halted in Hathibarkala by Uttrakhand Police using force and barricades. Rekha Negi, the state head of the Anganwadi workers union, spoke to the media. "We have been demanding Rs. 18,000 (600 per day) as monthly salary for the workers for a long time, but the government has not been responding. We want the mini Anganwadi workers to be paid the same pay for the same work!" she said. 
Anganwadi workers, helpers, and mini-Anganwadi workers collectively made their demands to the government in the presence of the media. Negi also mentioned, "There is an urgent need to promote Anganwadi helpers to the post of workers, as many posts have been left empty after the retirement of workers. We also want a sum of Rs 5,00,000 as a post-retirement fund/pension; all Anganwadi workers retire from their jobs empty-handed after years of service." 
Streets of Dehradun leading to the CM's residence were swamped with Anganwadi workers moving towards the CM's residence. The protest started at 10 am. Pinala Devi and Parvati Devi are an Anganwadi worker and mini-Anganwadi worker from Uttarkashi and Yamunotri respectively. They said, "We have left our kids alone at home, our crops unattended, our cattle neglected for this protest. We won't leave until our demands are met. We want to be recognised as government employees". Furthermore, they mentioned that the pay for a regular worker is Rs 9,300, while a mini-worker receives Rs 5,300 for the same work.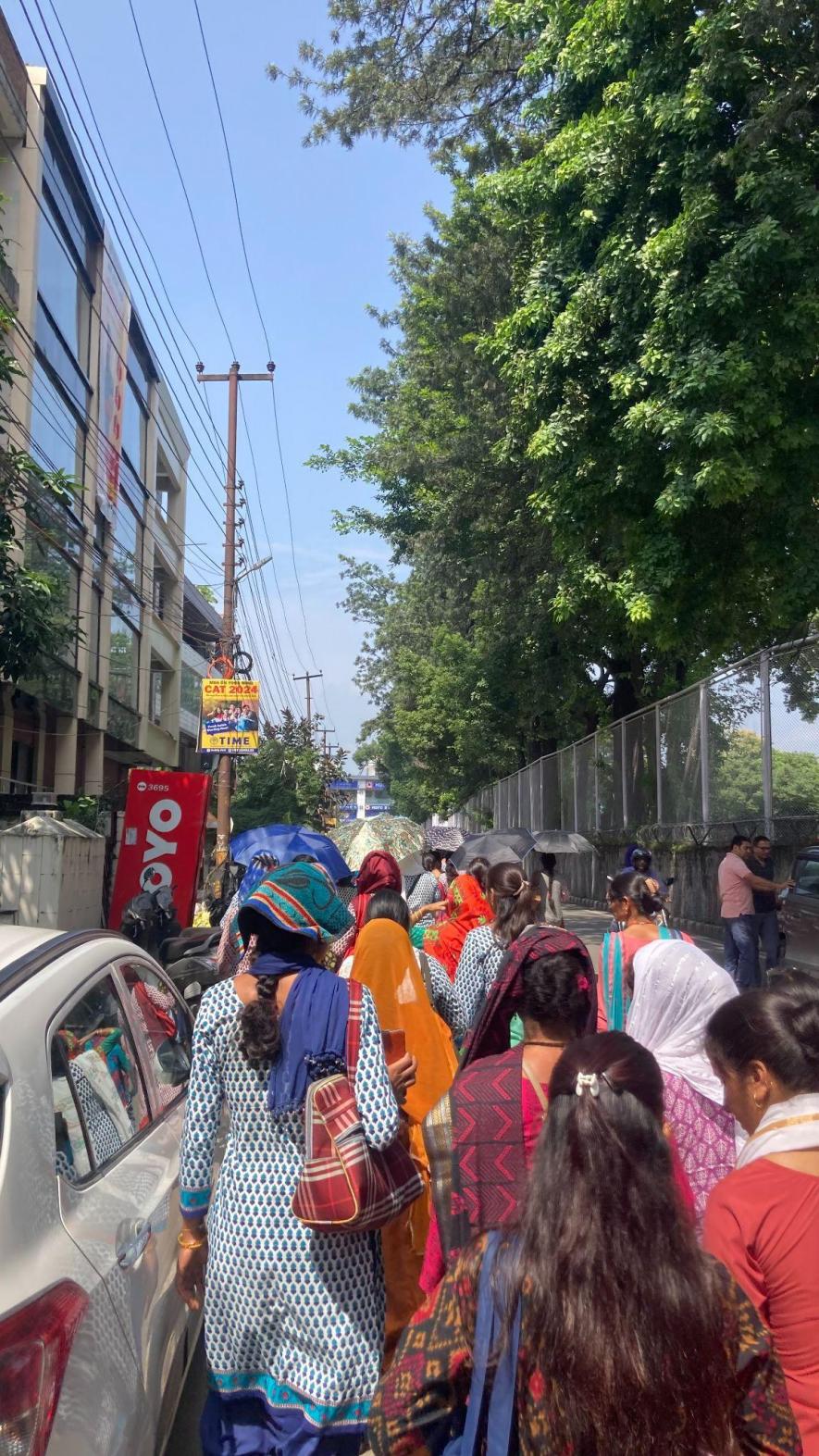 (Anganwadi workers marching through the streets of Dehradun)
This is not the first time Anganwadi workers protested or marched to the CM's house. In 2022, they staged a protest outside the Women Empowerment & Child Development (WECD) office, demanding a hike in their wages. They had locked themselves up in the building with officers of WECD. In 2021, Anganwadi workers in Dehradun performed a "Buddha shuddhi yajna" to purify state government officials' minds after failing to meet their pay hike demand. In 2020, several Anganwadi workers conducted a candlelight march in Dehradun, while in 2019, their march was halted in Hathibarkala, just like this year.
Shahida, an Anganwadi worker from Uddham Singh Nagar, complained, " We have a lot of work, from day to night, it goes on for 24 hours. We get calls from our supervisors to submit reports, even at midnight. It is impossible for us to feed our kids from the low wages we receive. We don't get salaries, we get wages."
The WECD pays rent for Anganwadi centres at Rs 750 for rural areas and Rs  1500 for urban areas. "The workers have not received the payment for rent since March this year, as a result of this, Anganwadi workers were removed from their offices by the landlords and were forced to start these centres at their homes, and now the government has strictly asked us not to use our homes for centres. We can't keep paying the rent from our wages," said Shakuntala Pal. Shushila, another worker from Uttarkashi, added, "A lot of villages don't have Panchayat Bhawan or Anganwadi centres for conducting our work. Hence, we had to rent rooms to start the centres. We haven't received rent in the last six months, and now the government wants us to stop using our homes for running them. How do we keep paying the rent, how do we take care of the kids and educate them?"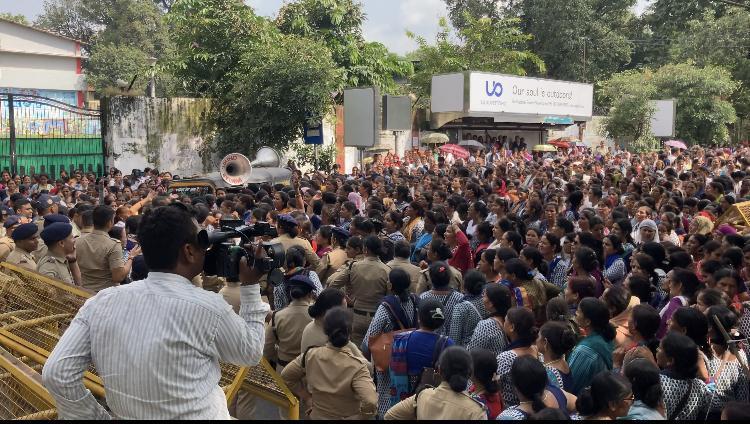 (Anganwadi workers and the police force at the protest site)
Shakuntala also mentioned that they have been severely overworked and exploited by several government departments like the Election Commission's Booth Level Office, Department of Food, Civil Supplies & Consumer Affairs for work around Ration cards, UIDAI for Aadhar cards, Health Departments, and other government departments for census and surveys.  She stated, "We have been working round the clock for a lot of government departments, and we don't get paid extra for this. We are unable to work for the kids, which is the job we were hired for."
In May 2023, WECD came out with a statement, mentioning that kids in Uttrakhand will now receive cooked food with a variety of dishes provided, which will include pulao, snacks, fruits, eggs, stuffed parathas, rajma, millet biscuits, rice pudding, ladoos and more. However, the Anganwadi workers are facing a hard time making it possible. 
Lack of cooking infrastructure, issues with transportation ration, and the poor quality of government rations make this new scheme impossible. Sahista, another worker, stated, "The rate of food per child has been reduced from Rs 8 to Rs 7, at this rate, how are we supposed to feed the children?" Rekha Negi addressed the same issue in the protest: "The price of a plate for rice and dal comes at a cost of Rs 60 in the market, and the government expects us to provide five-star restaurant food for Rs 7. The Ration they provide us is so poor that if people keep consuming it they are bound to contract kidney stones." The WECD has mandated that the Anganwadi workers provide children with cooked food for breakfast and lunch.   
Sahida, who was representing Ranjita Arora, the district president of the Anganwadi Union from Uddham Singh Nagar, said, "We receive poor quality rations from ration shops, there is no checking of quality of rations at source, the wheat and eggs received for cooking food for kids is inedible."
An NGO worker who wanted to remain anonymous said, "I have been working with Anganwadi workers in Dehradun. One of the biggest reasons women from high-altitude regions came together to protest is because they have a very hard time executing the work compared to workers in the plains." They said that these workers from the hilly regions of the city live in remote villages with no cellular network, and they have to work alone with no help from the government. They have to carry rations, grains, egg trays, and kits up the mountain by themselves and at their own expense, and the government provides no additional remuneration. "Many NGOs speak to the supervisors of the Anganwadi workers and impose a lot of work on them, including taking surveys, making reports, and attending physical and online meetings. They get threats from their supervisor if they don't prioritise the NGO work and deadlines," they said
The NGOs don't visit these remote locations and impose all the work on the Anganwadi workers. Apart from that, they have to attend early morning meetings in Dehradun, from which there is little to no transport, if the meeting is delayed, they have to arrange for their own transportation to go back. Adding to the problem, the Panchayat Bhawan and Anganwadi centres have no infrastructure facilities. There are no lights, fans, or toilets for the kids and the workers. "Recently, Anganwadi workers in Dehradun were given the task of identifying mosquito larvae for dengue in different parts of the city, after which many of them contracted Dengue and were made to work while their physical health was deteriorating," they said.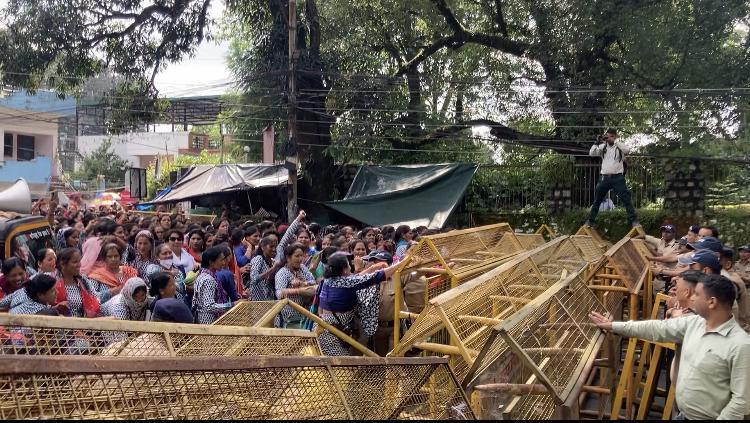 (Protestors trying to bring down the barricade in a confrontation with the police force)
The workers were frustrated that there had been no change in their condition after years of protest, and the government had not tried to sit down and listen to their demands. After a couple of speeches and addresses by different regional leaders of the union, the protesters stood up and started to pull and bring down the barricades. After some tussle and minor physical altercation between the police and the protesters, the Anganwadi workers sat down. They raised their slogans, "Us desh ka alam kya hoga, jis desh ki naari sakdon pe." (What will be the condition of this country whose women are on the streets?)
Laxmi Nautiyal, district president of the Anganwadi union from Uttarkashi, said, "Anganwadi is the only force stopping the migration of people from the hills, given the treacherous terrains, we have been providing services to kids and families with meagre wages and under immense pressure from the government."
Bhavna Pandey, associated with Janta Cabinet Party, Uttrakhand, an independent Lok Sabha candidate from Haridwar, came to the protest and addressed the workers. She said, "I am standing with Anganwadi workers, I am here for the protesters and will stand beside you until the demands are met. Why did the CM have to be away from the city when he knew we were coming to meet him and put forth our demands? If need be, we'll go to the Prime Minister with our demands."
Many of the Anganwadi workers show great resolve to continue protesting for days and weeks until their demands are unmet. The workers, who have travelled hundreds of kilometres to the capital, will continue to protest. Whether their demands will be met remains to be seen.
(The authors are independent journalists.)
Get the latest reports & analysis with people's perspective on Protests, movements & deep analytical videos, discussions of the current affairs in your Telegram app. Subscribe to NewsClick's Telegram channel & get Real-Time updates on stories, as they get published on our website.
Subscribe Newsclick On Telegram