Uttarakhand: Displaced for Dam, Lohari Residents Left Astray
Uttarakhand government has failed to resettle Lohari villagers despite their displacement for a hydropower project; 64 families were forcefully evicted from their houses on 11 April following a 48-hour notice.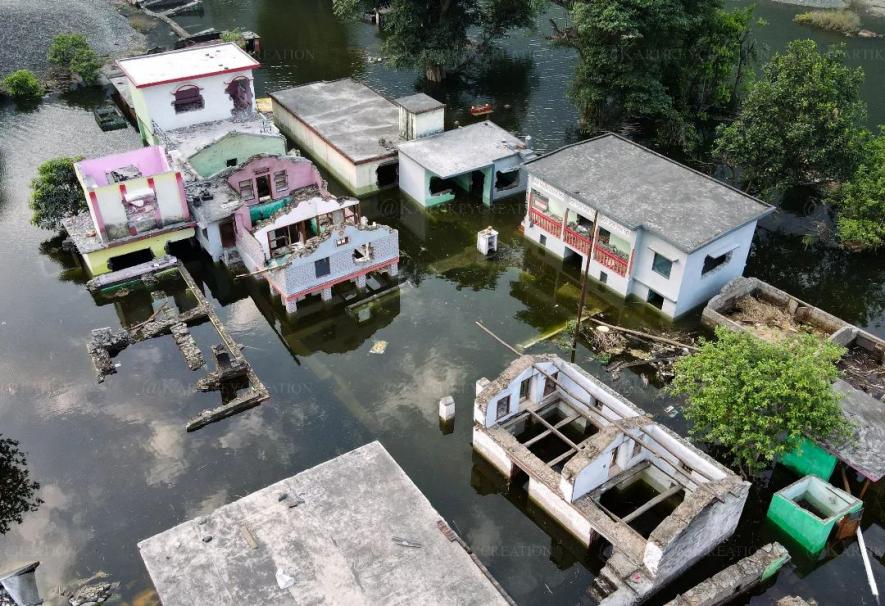 An ariel view of the submerged Lohari village in Dehradun district of Uttarakhand. 
New Delhi: More than a month after an entire village was submerged in the reservoir of an under-construction hydroelectric project in Uttarakhand, nearly 64 displaced families are living in temporary accommodations waiting for resettlement. A number of these families have been crammed into a government school building near the submerged village, even as a final decision on their resettlement has turned elusive because of a face-off between the displaced people and the administration.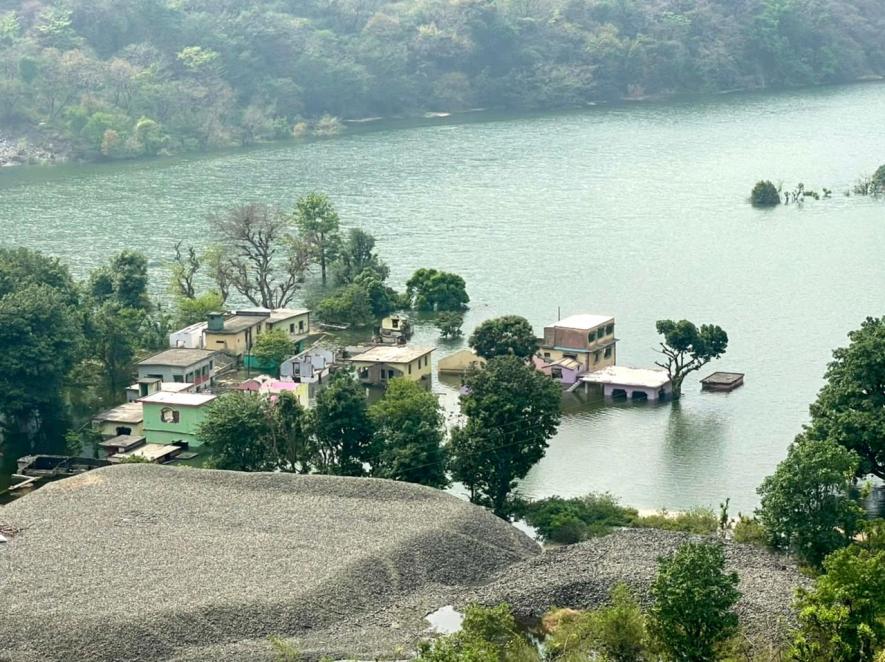 Another ariel view of the submerged Lohari village in Dehradun district of Uttarakhand.
On April 11, the entire population of Lohari in Dehradun district was evicted from their houses by the police and administration hours before the release of water into the inhabited area of the village which falls within the reservoir of the Vyasi Hydroelectric Project. Though the 120 Mega Watt (MW) project across River Yamuna has been in the pipeline for more than 50 years, the people of Lohari village were evicted with a notice of just 48 hours.
The only permanent alternate resettlement option provided to them has been met with strong opposition. Displaced people have rejected the offer on the grounds that not only would the proposed living quarters be extremely small but also because of the fact that the area is located a long distance away from Lohari where a section of the population still continues to own farmlands. Besides, the displaced people have also accused successive state governments of reneging on their promise to provide them equivalent land in lieu of the land they have lost to the hydropower project.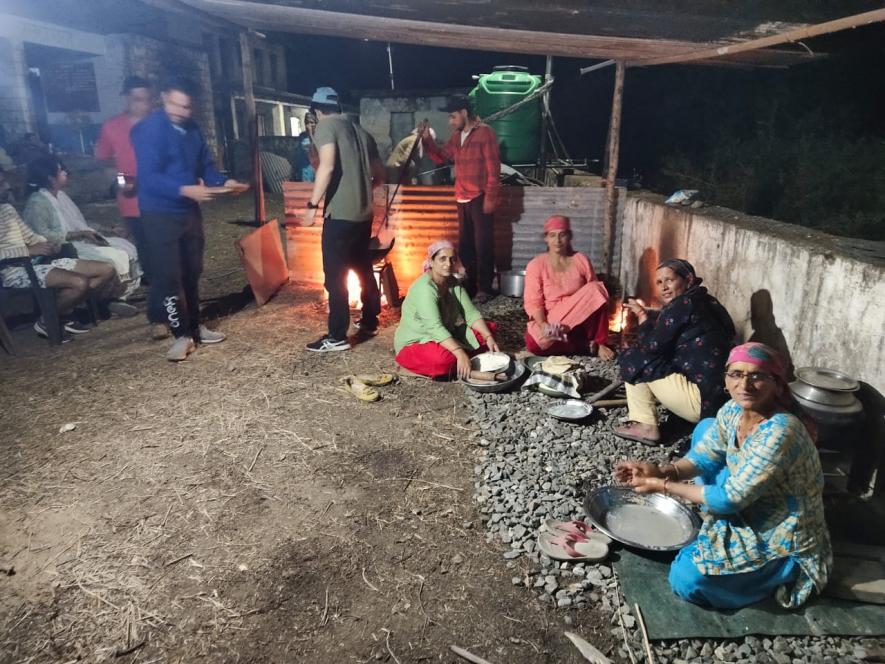 Men and women displaced from Lohari cooking and sharing household work under sheds where they have been temporarily accommodated.
"Our joint family consists of 28 members. We own livestock too since we are a farming community. How can the administration expect us to get accommodated in houses built over 25 square metres of area?" asked Ramesh Chauhan (50), whose family has been living in the government school since April 11.
As part of its resettlement package, the administration has identified 7.4 hectares of land in Dhoira Khadar, a low-lying area in the floodplains of the Yamuna River, approximately 42 kilometres away from Lohari village. A sum of Rs 1.61 lakh has been proposed for each of the families for the construction of 25 square metre dwelling units in Dhoira Khadar under the provisions of Indira Awas Yojana.
"Our ancestral house, including the courtyard and the shed for our livestock, which has been submerged now, was spread over more than 6,000 square metres of area. Even if we shift to the houses that have been promised to us under Indira Awas Yojana, where will we accommodate our livestock? Besides, how does the administration expect us to take care of our agricultural land when we are thrown away at a distance of over 40 km?" he added.
To each of the displaced families, the district administration has already made an advance one-time payment of Rs 36,000 each towards expenses incurred on house rent for a one-year period calculated at the rate of Rs 3,000 per month because they are yet to find permanent accommodation.
"In this age, where do you expect to find rental accommodation at the rate of Rs 3,000 per month? We have therefore been forced to live in temporary government accommodations. These include abandoned shanties built for labourers in the past apart from the government school. Families have placed tin covers and tarpaulins over old toilets at these accommodations. Even women, elderly persons, and kids have to use these toilets. Besides, it is not safe for us at these places at night. Since the administration had arrived with a large police force on April 11, we had no option but to leave our houses," said 53-year-old Yashpal Tomar, a farmer from Lohari.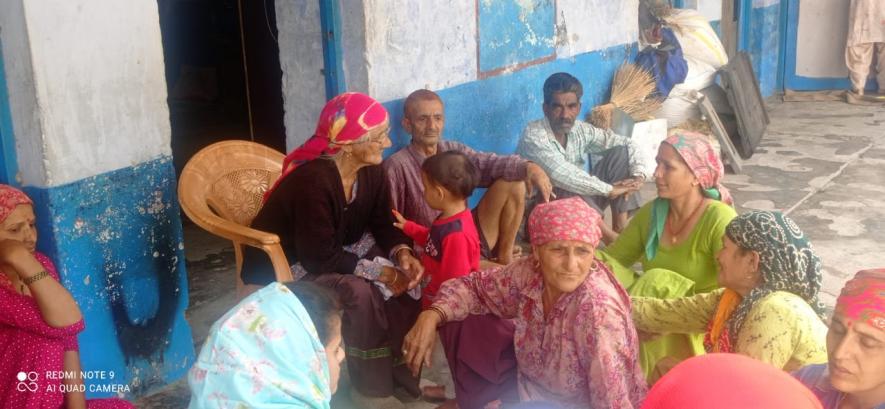 A number of families displaced from Lohari village have been crammed into a government school building.
The project was earlier part of the 420-MW Lakhwar-Vyasi Hydropower Project for which proceedings for acquisition of land had commenced in the year 1972. The project itself has been controversial in the past with conservationists raising various environmental and ecological concerns over it from time to time.
As per claims of local people, in the year 1972, the then Congress-led government of undivided Uttar Pradesh had entered into a formal agreement with displaced families to provide land in lieu of the land that they would lose for the project. Following this agreement, land acquisition proceedings took place at a very slow rate between the years 1972 and 1989. Locals claim that a uniform rate for land acquired was not fixed by the government and often a pittance was awarded in terms of monetary compensation for all acquisitions that took place during this phase. 
However, after 1989, the project remained in limbo for the next few decades until it was revived by the state government again in 2013-14. Nearly 8.761 hectares of land have been acquired in Lohari following the revival. A compensation was fixed by the government at the rate of Rs 75 lakh per hectare in accordance with provisions of the Right to Fair Compensation and Transparency in Land Acquisition, Rehabilitation and Resettlement Act, 2013 (known popularly as the LARR Act, 2013). This land has been handed over to state-owned Uttarakhand Jal Vidyut Nigam Limited (UJVNL) which is the project proponent.
Members of the Yamunaghati Dam (Lakhwar-Vyasi) Project Displaced Peoples' Committee, an association of local communities affected by the project, said that families who have lost their farmlands only in the acquisition process have accepted the compensation amount. But those families that have been totally displaced, that is, those who have lost their houses too along with their farmland, have refused the compensation. On September 4, 2021, government officials reportedly conducted a survey of the houses in order to determine the rates of compensation that the owners would be entitled to. But locals allege that the survey was conducted in a forceful manner and did not have the consent of the owners of the houses. The committee members further alleged that around 0.5 hectares of additional agricultural land was taken over through a hastily conducted land acquisition process in March-April 2022 in which landowners were compensated at a measly rate of Rs 23.56 lakh per hectare.
"We do not have any idea about the rate that has been fixed for our houses. Neither do we have any idea as to when the government will pay compensation against our houses. The project is at least 50 years old. Why couldn't the government and administration zero down upon a suitable alternate accommodation for us in all these years before we were evicted to dilapidated temporary government dwellings at 48-hours' notice? It is not our fault that the priorities of the government have kept on changing several times over the years with regard to the project," the committee's secretary Dinesh Singh Tomar said.
On January 3, 2017, a Congress-led government of Uttarakhand headed by Chief Minister Harish Rawat passed a Cabinet resolution to allot 11 hectares of land belonging to the Department of Sericulture in Jeevangarh, around 45 kilometres from the state capital of Dehradun, for the purpose of resettling project-displaced families of Lohari village. Incidentally, workers' unions thereafter opposed the diversion of any land belonging to the sericulture department on the grounds that it will lead to loss of employment and livelihoods for people employed in silk farms.
Nevertheless, before a formal order could be issued for relocating the project-displaced families to Jeevangarh, the Congress government was voted out of power in Uttarakhand following the Assembly elections that were held in the state in February 2017. The new BJP-led government, headed by Chief Minister Trivendra Singh Rawat, kept the earlier government's Cabinet resolution on hold in a meeting on June 24, 2017.
In yet another meeting of top officials of Uttarakhand on April 29, 2021, it was resolved that allotting 11 hectares of land to the sericulture department in Jeevangarh for the purpose of resettling project-displaced families of Lohari was not a viable proposition because it would result in loss of livelihood of 227 families employed in the silk farm. Besides, as per the minutes of this meeting, the officials also found the proposition of providing land in lieu of land "unviable" because it would set a negative precedent in future for land-stressed Uttarakhand.
After keeping the project-displaced families waiting for more than four years, the BJP government of Uttarakhand quashed the resolution of the earlier Congress government to provide 11 hectares of land in Jeevangarh for resettlement. The decision was taken in a Cabinet meeting of the state government, which was now being headed by Chief Minister Pushkar Singh Dhami, on July 21, 2021. It was acknowledged in this Cabinet meeting too that the proposal, if put into place, would result in loss of livelihood for several families, including those belonging to Scheduled Tribes and Scheduled Castes, who are dependent on the silk farm in Jeevangarh for their livelihood.
"A sum of Rs 1.68 lakh each has further been assured to all 71 families against employment for 750 days under a separate scheme for the benefit of farm labourers. The administration does not have adequate vacant land at its disposal. The displaced families want to be relocated at a place that is near to the submerged village. But geological experts are against this site on grounds of safety of the villagers," said a senior official of the Dehradun district administration.
A survey of households conducted by the district administration in Lohari in the year 2013 had identified 71 project-displaced families. The senior administration official claimed that this number has now reduced to 64 following deaths and relocation of some families. Locals, on the other hand, claim that the number of families has grown beyond 71 over the past nine years. "A process is simultaneously underway to extend compensation and other benefits to additional families too following a fresh survey of the population displaced by the project. This is being undertaken at the district level. But it will also have to be cleared by the government for the compensation to be disbursed," said the official.
However, the local people of Dhoira Khadar, where the administration wants to provide the displaced population with permanent accommodations under the Indira Awas Yojana, have also submitted a written representation with the administration expressing their displeasure over the proposed influx of a large population from Lohari into their village. 
"Our proposed resettlement in Dhoira Khadar will naturally result in social conflicts. Given the fact that monsoon is also due in a month, it will no longer be safe for us to live in the school building or other temporary settlements. We have asked the administration to help us resettle temporarily in a colony that has been built by the UJVNL for its employees. But there has been no response on this front either," added Tomar.
The writer is an independent journalist.
Get the latest reports & analysis with people's perspective on Protests, movements & deep analytical videos, discussions of the current affairs in your Telegram app. Subscribe to NewsClick's Telegram channel & get Real-Time updates on stories, as they get published on our website.
Subscribe Newsclick On Telegram