Uttarakhand Elections: From Hills to Plains, Farmers are Distressed
In hills, there is a shift away from farming as too many problems, such as government neglect, wild animal menace, lack of market and low returns plague agriculture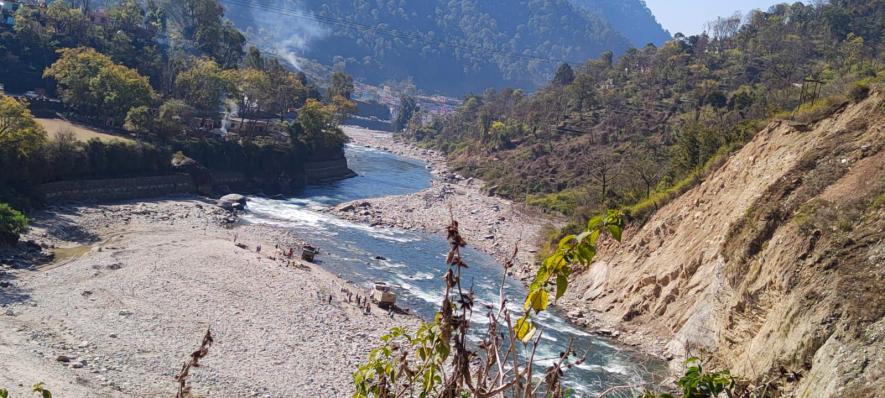 Amidst elections in Uttarakhand, farmers across the state -- from the hills to the plains -- are a distressed lot. But, they are vocal about their demands and are questioning their elected representatives, but there is hardly any representative who can give them the right answers. Both the Central and the state government had promised the farmers that their income would be doubled by 2022. Both the places are ruled by the Bharatiya Janata Party but the 'double engine' leaders are not even mentioning farmers in their election meetings or campaign.
Issues like minimum support price for farmers across the entire state, setting up of a market, the rising cost of cultivation, wild animal menace in the hills and farm lands becoming barren are issues of serious concern to farmers, which this government has not tried to address.
The NewsClick team visited many areas of the state, including Udham Singh Nagar, Haldwani, Almora, Chamoli, Rudraprayag Pauri, Tehri as well as Dehradun, and saw that farmers in all the areas were a troubled lot. Although the plight of farmers in the plains was different from those in the hills, but both are badly affected by flawed government policies.
Wild Animal Scare
Farmers in the hills depend on nature for irrigation of their fields and other facilities. In recent days, aggressive wild animals have been wreaking havoc, not only damaging their crops but also threatening their livestock.
Hemant Singh Rawat, 45, of Dangwal village in Jakholi area of Rudraprayag Assembly, was grazing his goats with a sharp-edged sickle in his hand. When we asked him why, he told us that every villager nowadays keeps this for his safety and that of his cattle, as they know when there will be an attack by leopards, wild boars or any other animal.  
Pradeep Singh, 22, who was also grazing goats, said his family had to leave farming for some time due to fear of monkeys and bears damaging their crop, but now it seems "we will have to give up animal husbandry, too". He said that in the past four-five years, there has been a huge increase in the number of wild animals and the government has not done anything to control them.
In Malla Appu village of Tehri district, which has also been affected by the Tehri Dam, 80-year-old Hema Devi told NewsClick that she had sown eight kilos of potatoes a few days ago, which the monkeys dug up completely. As we were talking, we saw monkeys destroying the crops.
She said monkeys had ruined our life, as they had now started attacking their homes, too. "We can't keep anything edible in our house, as they run away with that too," she added.
Similarly, farmers of Tharali Vidhan Sabha of Chamoli district said that wild bears had been destroying their crops.
The farmers said the government was not doing anything to stop this menace, and instead accused it of letting loose monkeys caught in the cities in forests near their village.
Hemant said: "Earlier there were no leopards in our area, but in the past few years their numbers have suddenly increased." He said they rear goats and sell them later, which is their source of income, but once in two months, their goats are taken away by leopards. "Losing a goat means loss of many months of income," he added.
No Fair Market to Sell Produce
Jagbir Singh, a farmer of Ming village in Chamoli district, complained that the district has good produce of oranges and malta, but due to lack of a proper market, these rot and get wasted. "The governments have never made any meaningful policy regarding farmers," he said.  
Similarly, there are several farmers who grow vegetables and pulses in the hills. They, too, wander for fair prices, as the entire area lacks a proper marketing system. No government has tried to address this problem.
Yogesh Bhatt, a farmer of Nagla village in Garhwal region, said another big problem for farmers in the hills is water. "Because we do not have any artificial means of irrigation, we have to depend on rainfall. If it rains, we can grow some crops, otherwise our land remains deserted," he said.
It is ironic that in a state from where many rivers originate, the farmers face water scarcity for irrigation. This clearly shows that no government has given priority to farmers and their problems in Uttarakhand.
Criticising the BJP-led state government, Mahipal Singh Rawat of Chamoli district said: "This government is fooling the people by giving Rs 2,000, while they are charging farmers manifold by making fertilisers and diesel expensive."
Moving Away from Farming
The new generation of farmers in the hills is moving away from farming. There is constant migration to the cities. "Why won't they leave?" said Hema Devi, adding that "if they don't leave, they will die of hunger, because farming is no longer profitable. It can't even help run our homes."
The other problem in the hills is that farmers have very little agricultural land. That's why many of them are not able to take advantage of government schemes. In comparison, the cultivable land owned by farmers in the plains is quite large. They also get benefits of government schemes. In the hills, the maximum agricultural land owned by a farmer is two hectares, which is very low compared with farmers of Uttar Pradesh or Maharashtra.
This is one reason for a large number of farmers migrating since the formation of the state in 2001.
Since the formation of the state, the area of agricultural land has decreased by about 15%. At the time of its formation as a state, the area under agriculture in Uttarakhand was 7.70 lakh hectares, which has now reduced to 6.98 lakh hectares. That is, in the past 18 years, 72,000 hectares of agricultural land has turned barren. All these reasons are driving farmers away from farming.
Widespread Impact of Peasant Movement in the Plains
National farmer leader Vijoo Krishnan, who has been a part of the farmers' struggles in Uttarakhand for a long time, told NewsClick that there is a need for a policy for development of farmers in Uttarakhand and the entire country. "There is a need to pay them fair prices for their crops, like the Left government in Kerala gives remunerative prices on vegetables," he added.
Harpreet Singh, a young farmer from Sitarganj, who was also a part of the farmers' movement on the Delhi borders, said that MSP was a big issue in this entire area. "We fought for a year on the borders of Delhi, after which the government ensured its guarantee. It promised to form a committee for this but nothing has happened so far. Second, there is no proper arrangement of a grain market in this area. Farmers have to sell their crops outside the market," he added.
Another problem, he said, was that a large number of farmers sow sugarcane in the Terai belt, but mill owners do not pay them for years together.
On the voting for Assembly elections on February 14, Krishnan said that since the farmers' agitation in the entire state, "there is a lot of anger against the BJP running the present government. While voting, farmers will not forget that 700 of them died due to the stubborn attitude of the government."
Wherever we travelled in Uttarakhand, there was palpable rage among farmers against the government. The question is: will this anger transform into votes?
(Translated from Hindi by Aditi)
Get the latest reports & analysis with people's perspective on Protests, movements & deep analytical videos, discussions of the current affairs in your Telegram app. Subscribe to NewsClick's Telegram channel & get Real-Time updates on stories, as they get published on our website.
Subscribe Newsclick On Telegram