Uttarakhand Elections: Hospitals in Miserable State, Patients Left in Lurch
The hill state is among the poorest spenders on public health among Himalayan states, with some villages lacking infra for treatment.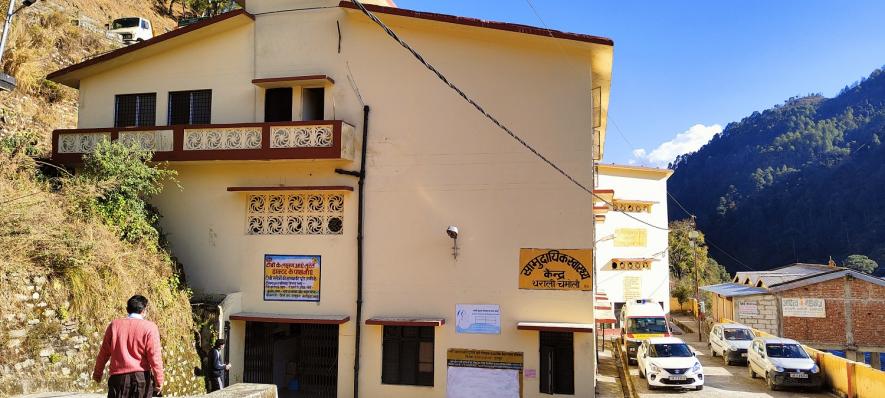 Chamoli: The problems of Uttarakhand have been there since its birth in 2001. In fact, it is ironic that the demand for state formation was raised precisely to get rid of these problems. But no solution seems in sight. In fact, the problems of this hill state have been mounting. 
As the election campaign nears its last phase (polling is on February 10), one problem that most worrisome in Uttarakhand is pathetic condition of public health services and government hospitals, especially in hill areas.
We can get a glimpse of the poor state of health services by looking into the example of the Community Health Centre (CHC) of Tharali Vidhan Sabha of Chamoli district, which is still yearning for basic facilities. Here, the government has built a building a little above the Tharali market, but there is neither a proper number of doctors nor the rest of the staff.
That the situation is so miserable can be gauged from the fact that even during the pandemic, there is no sanitation worker in the CHC. Everything from the bathroom to washbasin is non-functional. There are only four doctors here, of which one is on leave. The government claims that there are 24-hour emergency services, but no services are available to examine a patient inside the hospital.
Local people told NewsClick that no treatment was available in this CHC. Only medicines for cough and fever are available, for any other disease, patients are referred to some big hospital. Health services remain a serious issue in the entire region, as residents of several adjoining blocks depend on this CHC for the medical needs.
Poor State of Tharali Community Health Centre
During the election tour, Newsclick's team was going around the Tharali Assembly constituency and happened to reached the Tharali CHC. The building was beautiful from outside but as soon as we entered inside, we realised how difficult it would be to treat patients there. In fact, leave alone treatment, a patient could end up feeling more sick there.
When we went to the maternity department, the ceiling and the walls were damp. There was only one drinking water facility in the entire hospital, and that too was closed. Although the water purifier looked new, it seemed as if it had not been used since its inauguration.
Alongside, there was a washbasin that was filled with dirt and water. When we went down to the toilet, it was difficult to even stand there. It was completely filled with urine. There was a toilet for the disabled, which was built by some institution, in which a lock was hanging.
We reached there around 2 p.m in the afternoon. The OPD was closed at that time. However, emergency services were running. But the people present there told us that neither proper treatment nor medicine was available in this hospital. People were also angry about cleanliness. They said that the government was promoting 'Swachh Bharat' everywhere "but see the condition here."
Gopal Singh Rawat, an ex-serviceman and supporter of the ruling Bharatiya Janata Party (BJP), who is in his 70s, told NewsClick : "If we fall ill, we do not get treatment in the village. We have to go to Dehradun. Because of this, many people die on the way."
Sunita, pradhan (head) of Ming village, said: "It is very difficult to get treatment in the entire area. Our village does not even have a primary health centre. There are dispensaries in some villages, where there are no doctors, but only compounders, who prescribe medicines."
Medical Officer Admits that Situation is Bad
NewsClick spoke to Dr. Navneet Choudhary, Medical In-charge of CHC Tharali, who was present in the hospital, who admitted that the condition of the facility was not good. "We have only four doctors, out of which one is still on leave," he said.
"There is no specialist here. All doctors are physicians. There is no ultrasound facility. The condition is that hospitals are yearning for specialists like pediatricians, radiologists, including orthopaedics. Apart from this, if the doctors present here do not understand or due to lack of facilities, they refer patients to Dehradun" he added.
Dr Choudhary said the X-ray machine was not working for three years now. And although there was a pathology lab there, when we went inside, we saw pamphlets pasted at many places on which the X-ray fee was Rs 214.
When asked about cleanliness, he said:  "We do not have any permanent staff for cleaning. Whenever we needed, we called a local sweeper to get the premises cleaned. But just last week, he also passed away. So no cleaning is taking place now."
It is shocking that there is no sanitation worker in the hospital. But Dr Choudhary and the rest of the staff present there said that was the bitter reality. Dr Choudhary admitted there was a huge shortage of staff here.
A large number of patients from the CHC are referred to the district hospital or Dehradun and for that too, only one ambulance is available.
Health Services a Grave Problem in the Hills
Poor health services is not a problem of just one district or a community health centre in Uttarakhand, but in the entire hilly region.
Another Assembly segment adjoining Tharali is Karnprayag. There, too, only buildings have been constructed in the name of health facilities in the past two decades. A trauma centre was constructed in Prayag city many years ago, but till date treatment has not started in it.
People are compelled to visit the big hospitals in Srinagar (Garwhal), Dehradun and Rishikesh for treatment. Both Congress and BJP governments have failed to improve things during 10 years each of their rule. In fact, the situation has worsened.
As a result, there are many instances of patients losing their lives due to non-availability of ambulances on time, lack of proper treatment, limited availability of doctors and so forth. But even in this situation, public health does not seem to be in the priority list of governments because if it was so, then even after 21 years of the establishment of Uttarakhand, the expenditure on health would not be a measly 1.1% of the State Gross Domestic Product (GSDP).
According to Reserve Bank of India's State Finance and Study of Budget 2020-21 report, among the Himalayan states, Uttarakhand spends the least on public health. According to the data, Uttarakhand spent only 1.1% of GSDP on public health, while Jammu and Kashmir spent 2.9%, Himachal Pradesh 1.8% and North Eastern states 2.9%.
According to a study by Social Development for Communities Foundation, Uttarakhand also spent the least among the Himalayan states on per capita health services from 2017 to 2019. Arunachal Pradesh has the highest expenditure of Rs 28,417 per person in three years on health services among the Himalayan states, whereas Uttarakhand spent only Rs 5,887 per capita. Even the neighbouring state of Himachal Pradesh spent 72% more on this head than Uttarakhand.
Huge Cuts in Budget Allocation for Health
Dehradun-based freelance journalist Satyam, who has been writing on the health problems of Uttarakhand and other public issues, said that when the health services in the state are in bad shape and the corona pandemic is on, there is need to increase the health budget. Instead, the BJP government has cut the health budget.
Satyam said that RBI's annual report based on the state budgets and the analysis of budget documents presented in the Uttarakhand Legislative Assembly shows that the budget estimates on state government health services in Uttarakhand from 2001-02 to 2020-21 are Rs.22,982 crore. Promised to spend but only Rs 18,697 crore was spent on actual expenditure till 2019-20 and Revised Estimates of 2020-21, Rs 4,285 crore which was not spent by the government at all.
In a hilly state like Uttarakhand, while there is a need for more budgetary expenditure on health services, this reduction in actual expenditure by the state government is having a significant impact on the quality of health services.
In a hilly state like Uttarakhand, while there is a need for more budgetary expenditure on health services, this reduction in actual expenditure by the state government is having a significant impact on the quality of health services.
On the one hand, the condition of hospitals is bad, on the other, many villages are still inaccessible as roads have not been built, due to which even ambulances are not able to reach there. For this reason, there have been reports that many a times in Uttarakhand when a pregnant woman has delivered on the way.
According to the Rural Health Statistics Report 2019-20 released by the Ministry of Health and Family Welfare, the infant mortality rate (deaths among 1,000 new born children within a year) in Uttarakhand is 31 in rural areas and 29 in urban areas. Whereas in neighbouring Himachal Pradesh, the total infant mortality rate is 19, which is 20 in rural areas and 14 in urban areas.
Till now, Uttarakhand has had governments led by two parties -- BJP and Congress have not paid any attention to public health. Lack of health and education facilities has, therefore, become the main reason for out migration from the hills.
Now the state is choosing a new government, one expects it to pay attention to public health and spend more and more to strengthen health facilities.
(Translated from Hindi by Aditi.)
Get the latest reports & analysis with people's perspective on Protests, movements & deep analytical videos, discussions of the current affairs in your Telegram app. Subscribe to NewsClick's Telegram channel & get Real-Time updates on stories, as they get published on our website.
Subscribe Newsclick On Telegram