Uttarakhand: Environment Concerns Over New Helipad Near Shri Hemkund Shrine
Activists say that one helipad is already there which was built in the name of conducting emergency operations, the reason given for the ongoing project.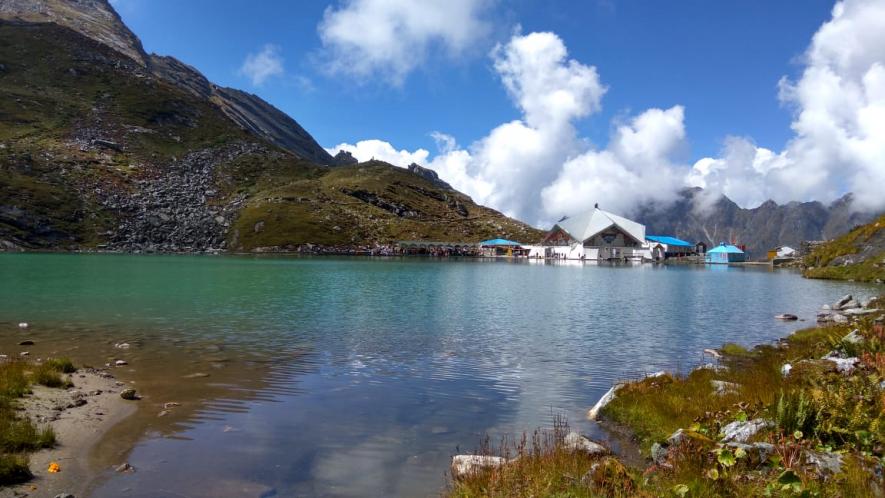 Environment advocates are deeply concerned about the ongoing construction of a helipad near Sri Hemkund Sahib Gurudwara at Joshimath tehsil of Chamoli district in Uttarakhand state. This is a famous Sikh shrine which is visited by lakhs of pilgrims every year.
Concerns are being raised over the environmental damage the helipad project is likely to cause in this highly vulnerable area. Surrounded by seven mountain peaks and glacial lakes, the shrine at 13,650 feet is surrounded by many glaciers. Not far from it is the Valley of Flowers, the UNESCO world heritage site where the rarest of rare flower species grow at high altitudes.
Divisional forest official Nanda Vallabh said, "The helipad is being constructed to conduct emergency operations to rescue pilgrims stranded in any eventuality or those developing health complications."
Atul Sati, an environment activist, gave a different perspective. He told NewsClick, "There is already one helipad at Gobind Ghat for Sri Hemkund Sahib and Valley of Flowers (VOF), some 16 km from the shrine. This helipad was also built in the name of conducting emergency rescue operations. Still, over the years, private aviation companies started operating from here to fly the pilgrims to both destinations for tourism purposes. Seeing that, this new will also end up meeting the same fate."
He said that when already one helipad was situated not far away, there was no need to create another one amid an ecologically sensitive region.
"It is anybody's guess how tourism traffic will increase exponentially in the region with this additional infrastructure. To earn the revenue, many flights will carry out daily, causing a lot of noise and air pollution, badly affecting flora and fauna of the region."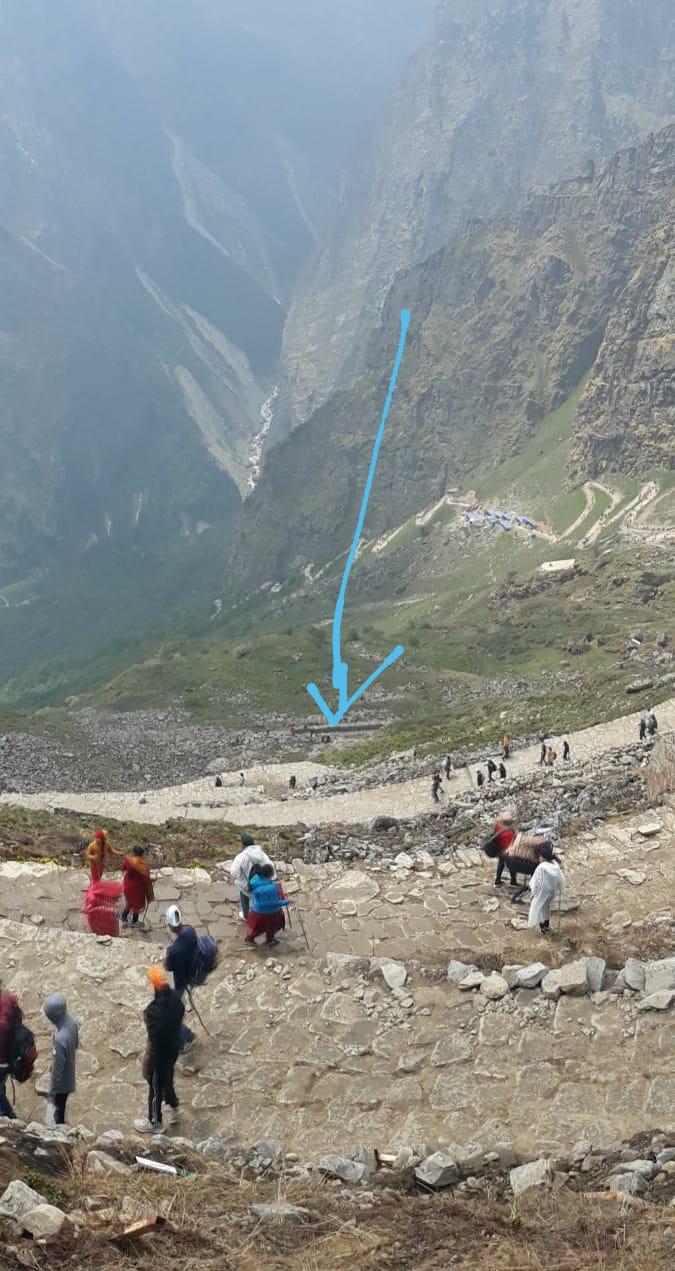 It is to be noted here that a report was prepared by Indian Forest Officer Akash Verma to the then chief wildlife warden of Uttarakhand almost a decade ago on the severe impact of choppers on wildlife in Kedarnath Sanctuary.
The aviation services had been started in the Kedarnath valley to give impetus to tourism. Verma, who was DFO in Kedarnath Wildlife Sanctuary, explained in his report how the disturbance caused by choppers had disturbed the wildlife, owing to which many wild animals, including those belonging to the endangered category such as musk deer, blue sheep, black beer, snow leopard, etc., have begun deserting the area.
Though his report got buried under the files as all the attention focused on relief operations post-Kedarnath flash flood disaster, which happened around that time, a few years later, the report got leaked and was published by a local Hindi daily which stirred the hornet's nest.
The matter reached the National Green Tribunal, which directed the Wildlife Institute of India to conduct a study. WII, too in its report, corroborated that the noise caused by the choppers flying low was causing stress in wildlife, impacting their behaviour and breeding.
The noise level by choppers was found to be 70 decibels (DB). WII recommended notifying areas above wildlife sanctuaries as Silent zone where noise levels of choppers should be kept within the limit of 50 DB.
NGT directed the companies to fly above 600 meters and comply with the noise limit. Time and again, it has been reported that these aviation companies have been flouting rules by flying low to 250 to 350 meters to save their fuel.
Chander Shekhar, head of the local Eco-Development Committee (EDC) and an ace photographer, told NewsClick, "The place where a new helipad is coming up is also the specific site for the rare Blue Poppy flower, which blooms for a very short period at this altitude. This flower is a major attraction for tourists. Brahm Kamal, which also grows in the area and is known for its religious significance, may wither due to tempering with the pristine environs of the region."
EDC was formed with selected representatives of Bhyunder village situated close to VOF by the divisional forest department to clear these tourist places of garbage and traffic menace.
"There is one big lose hillock which may get destabilised and roll down due to construction activity and can cause damage," he said.
Both the landscapes of Nanda Devi National Park and VOF, which are closer to each other, contain high diversity and density of flora and fauna of the west Himalayan zone, with significant populations of globally threatened species mentioned earlier.
Nainital high court has already imposed restrictions on erecting camping sites, grazing by animals, etc., in the buffer zone of Nanda Devi National Park. At the same time, all sorts of tourism activities are banned in the core zone of this park to prevent further degradation of this eco-sensitive area.
Local people are also not happy with the project. One villager pointed out that the tourists who would land just close to the destination would prefer to fly back and not stay further to explore the other locations and cultures. He complained local people would be deprived of revenues.
"The complete Bhyunder village was once swept away in a flash flood disaster in 2013, showcasing how eco-sensitive this steep Himalayan region is. Therefore, tempering such ecology with the tourist influx and pollution would be ruining it. The state government must shelve the new helipad construction," said Sati.
The writer is a freelance journalist.
Get the latest reports & analysis with people's perspective on Protests, movements & deep analytical videos, discussions of the current affairs in your Telegram app. Subscribe to NewsClick's Telegram channel & get Real-Time updates on stories, as they get published on our website.
Subscribe Newsclick On Telegram