Uttarakhand: Rath Yatra Demanding Reinstatement of Old Pension Scheme Reaches Dehradun
Spearheaded by the All India Primary Teachers Federation (AIPTF), the yatra saw participation from primary school teachers and retired pensioners drastically affected by the National Pension Scheme (NPS), among others.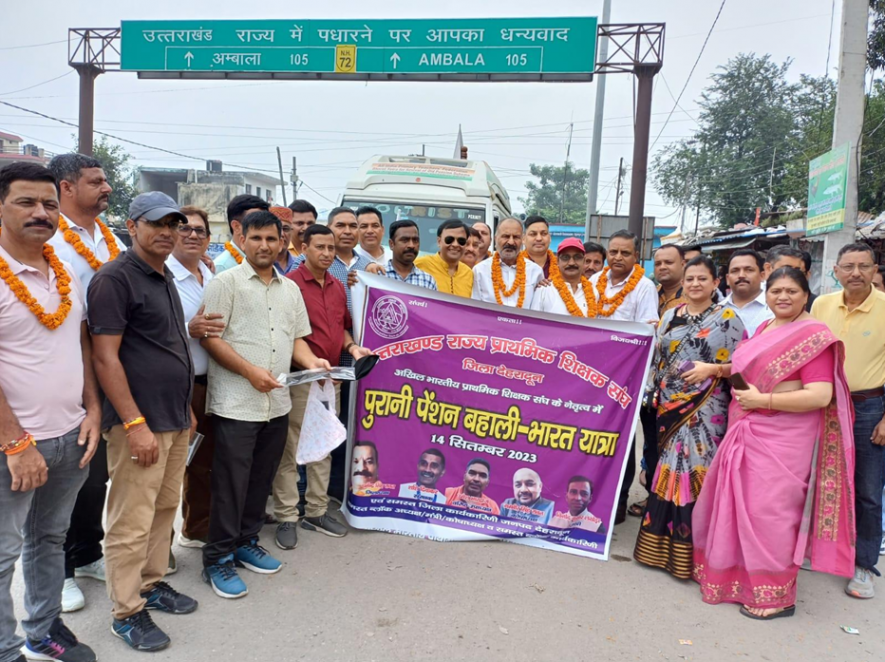 The Rath Yatra demanding the reinstatement of the Old Pension Scheme (OPS) reached Dehradun on September 14. Spearheaded by the All India Primary Teachers Federation (AIPTF), the yatra saw participation from primary school teachers and retired pensioners drastically affected by the National Pension Scheme (NPS), among others. 
Sudhir Arya is one such retired teacher.
"I retired as a primary school teacher in 2020; I am under the NPS scheme and get around Rs 3000/month," Arya said. Arya made more than Rs 35,000 when he was working.
"What can I do with a meagre monthly pension of Rs 3,000?" he asks.
The then NDA (National Democratic Alliance) government implemented the NPS in 2004. After coming to power in the same year, the Congress led UPA (United Progressive Alliance) implemented it across departments and urged the states to do the same. Both Central and state governments' employees have been angry over this transition to NPS from OPS
"We had accepted the NPS when it came, as we were lured into it with many benefits," says Dr Ramchandra Dabaas, who is leading a rath yatra of AIPTF from Attari border, Punjab.
"We realised its negatives in 2007 and vehemently protested it. Now, there is popular support from various sections of government employees," he said.
The Rath Yatra set its route from all four corners of the country- one from Kanyakumari, the second from Somnath, the third from Guwahati and the fourth from Attari border, Punjab.
"We will cover 26 provinces in these yatras. On October 5, we will reach Delhi," Dabaas said.
The movement has the support of 30 lakh primary school teachers from 26 states. It has also been backed by the Railway Federation, CPWD, Health Services, Postal Services, etc.
"Around 36 more organisations related to various government departments support the movement. We also did a successful rally at Ramlila Maidan, Delhi, on August 10, where we demanded that the OPS be reinstated, or we would agitate further," Dabaas said.
He adds that many employees he knows get meagre pensions ranging from a dismal Rs 800/month to Rs 2500.
The OPS was fairly simple. NewsClick journalist Aunindyo Chakravarty explains:
"Government employees get half their last drawn salary as pension for the rest of their lives. So, if someone earned Rs 1 lakh just before retiring, they would get Rs 50,000 as pension after retirement every month."
"We know that government servants get paid less than private-sector employees. Still, they are protected against inflation through a system of dearness allowance or DA, based on the current inflation rate and revised twice a year. For example, if the government announced 5% DA for the year, a government employee would get 5% of his Rs 1 lakh salary or Rs 5,000 as DA." 
None of these aspects remain in the NPS. Instead, the employees are mandated to pay a pension fund from their regular salary, which the government uses as investments in the stock market, with which they have no stakes. The whole process is notoriously obscure.
When the NPS was brought out to the public, it was heavily suggested that this scheme would support the people with greater pensions. The economics simply didn't work out, and over the years, employees have received abysmal pensions and no adjustment for the ever-increasing inflation.
"I am an OPS pensioner, but I'm here protesting for my fellow teachers as we want the best for our teachers," said Neelima Negi, a primary school teacher.
For many other women, uncertainty looms as their future seems to be a sellout, and they feel betrayed by such regressive policies.
On being asked about the times ahead, NPS pensioner Subhashini Dimri, also a teacher at Shastri Nagar Dehradun, comments on how their future seems to be in complete darkness due to NPS.
"Post retirement, pension is the most crucial thing one looks forward to. We see how people who are retiring now are receiving a mere sum of Rs 2000-3000 as pension with no DA or economic benefits. Since this amount won't be increasing with inflation rates unlike OPS, would we be able to sustain ourselves in the coming decades? Many of us also carry our own share of personal struggles in this demand for OPS. For example, I am from the batch of 2004, but the recruitment process was so delayed that we also came under the ambit of NPS, which came into effect in 2005," Dimri said.
AIPTF activists addressing a gathering at MKP College Dehradun)
Addressing the gathering at MKP College, Dabaas talked about the rally's agenda.
"We are here to express our dissatisfaction and demand the state and Central government to repeal the new pension scheme. Today, we see a massive privatisation of education. Teachers are hired on a contractual basis, and no sense of security remains. The contractual teachers cannot have either NPS or OPS. In a country which is seeing massive development throughout, with the construction of smart cities and other massive projects, our government still tells us that bringing back OPS will bankrupt the states," Dabaas said.
"They say that reviving OPS will be a mistake and create unemployment. The officials sitting in the government take not one but many pensions from different government departments," Dabaas said.
Despite being OPS pensioners, many people who showed up for the gathering voiced their concerns and fears regarding the country's declining state of education. The fact that many younger generations of teachers under NPS who have many years of service left do not find this a pressing issue was also discussed. A unique camaraderie can be seen as the older teachers who have nothing to lose have started their crusade against NPS. They believe that such policies are one of the greatest threats to the upcoming generations of teachers.
The protestors are also clear that they will not hesitate to vote against the present dispensation if their demands are not met. Dabaas says that the OPS/NPS debate is one of the crucial factors in bringing change in the state governments of Himachal Pradesh and Karnataka.
"In Karnataka, we saw that Congress has made it clear in their manifesto that they will bring back OPS, so we mobilised to vote for them," Dabaas said.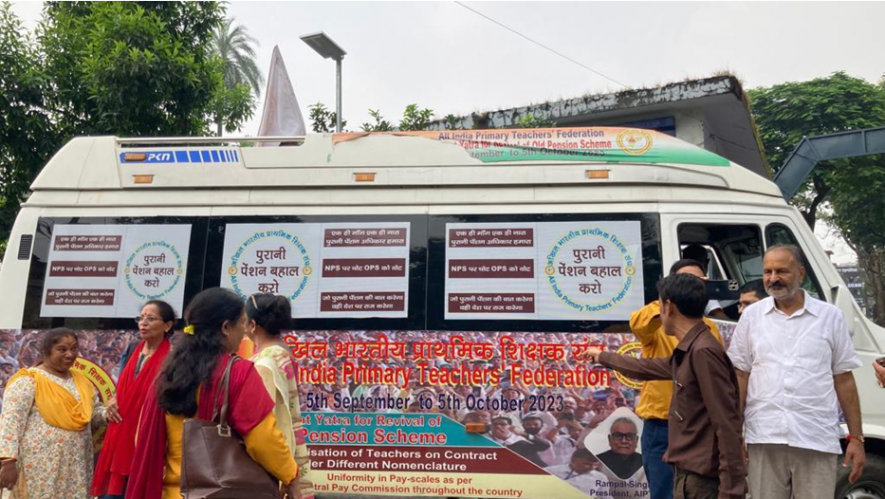 "We've been against this scheme ever since we realised its harm. Earlier, many people were lured by the benefits it promised to carry. Still, over time, as people retired with abysmally low pensions, they could see how disastrous it would be," says Dharmendra Rawat, district president of Uttarakhand State Primary Teachers Federation. He says they have always demanded to revive OPS in front of the Uttarakhand state government.
The team has given the ultimatum of October 27 for the Centre to agree to their demands. If not agreed to, they are committed to organise more protests.
The writers are independent journalists. All views are personal. 
Get the latest reports & analysis with people's perspective on Protests, movements & deep analytical videos, discussions of the current affairs in your Telegram app. Subscribe to NewsClick's Telegram channel & get Real-Time updates on stories, as they get published on our website.
Subscribe Newsclick On Telegram