Uttarakhand Wildlife Reserves: Here Today, Gone Tomorrow?
Uttarakhand's Shivalik Reserve is not the only threatened habitat. Rajaji and parts of Corbett are under attack from "development" too.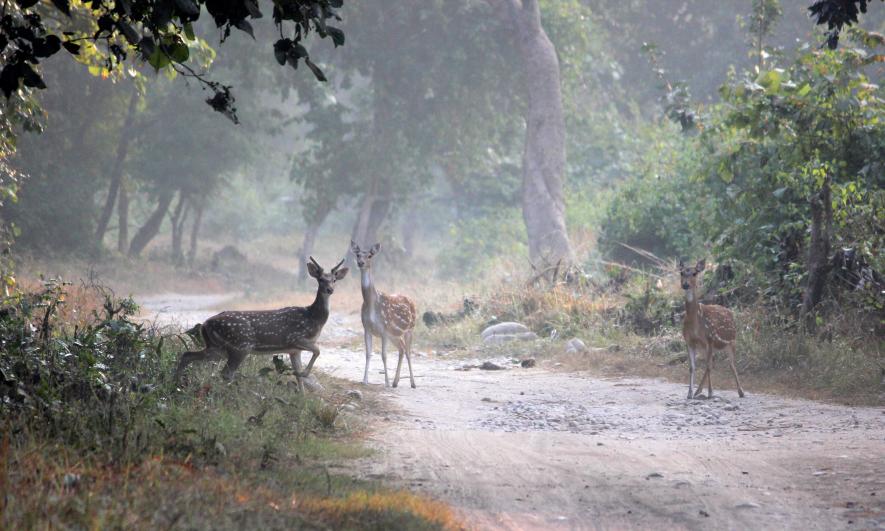 Deers in Jim Corbett National Park. Representational Image
In a strange move, the Uttarakhand state government denotified its only elephant reserve last week, hours after the Nainital High Court asked it to refrain from doing so. The Shivalik Elephant Reserve (SER) was denotified "coincidentally", state Forest Minister Harak Singh Rawat said after the fact. He claimed he simply did not know the High Court had stayed the procedure. 
Rawat has still not explained why he and his department have pushed through a project in which thousands of trees in a pristine forest will have to be felled. This is the project to expand Jolly Grant Airport, which will require almost 100 hectares of land. Its runway is 2,140 metres and it is proposed to be expanded to 2,765 metres. 
The SER encompasses the forest divisions of Dehradun, Haridwar, Lansdowne, Haldwani, Tanakpur and Ramnagar. It also includes parts of the Corbett Tiger Reserve and the Rajaji National Park. It was notified as an elephant reserve in 2002 by the central government under Project Elephant to protect the natural habitat of elephants and minimise human-animal conflicts in the zone.
The land being diverted to the airport is only three kilometres from the crucial Kansaro-Barkot elephant corridor, which has one of the highest densities of elephants in India. Yet it seems the Chief Wildlife Warden of Uttarakhand, Jaber Singh Suhag, believes the destruction of this forest is of little consequence. He says, "Today it is in the name of elephant reserve, tomorrow some butterfly reserve will come up. This way, no work will get done in Uttarakhand. Elephants can pass from anywhere, that does not mean the area will be declared a corridor."
JOLLY GRANT IS NOT ALONE
In the state government's view, elephants and butterflies can pass from anywhere, but roads and airfields cannot. Therefore, it is laying its hands on vital slices of forest land. Need one even mention that state Chief Minister Trivendra Singh Rawat was elected a legislator from Doiwala, a town adjacent to the Jolly Grant Airport?
Vinod Bagliyal, an advocate practicing in the Dehradun High Court who is a Doiwala resident, says, "The majority of people in Doiwala are farmers dependent on forests for fuel and other needs. They do not want to lose these forests, but their objections have been neutralised because, as I understand, local government functionaries have assured them that one member from each family in this mahapalika will get a government job." This assurance, Bagliyal believes, is why saving the SER could not become a mass movement akin to the Chipko movement in the seventies or later mobilisations to protect the delicate Himalayan ecology.
Besides, the Uttarakhand government constantly dons the cloak of national security to side-track any criticism of its plans. It has taken the plea that the IAF wants to operate two Sukhoi jets from this airport. Lt. Gen. JS Negi (retd.), the security adviser to Rawat's government, refused comment, saying the civil aviation authorities are the ones to take this call, but Dehradun-based Brig. Virender Sehgal (retd.) says the government must proceed with caution. "The expansion should increase the runaway length towards the east by making the airport longer and not wider," says Sehgal, because making the airport wider will eat up a vast forested tract to the north without being of much utility.
Capt. SS Pangtey (retd.), a former IAS official who was commissioner of the Garhwal region, believes such a large infrastructure project is absolutely unnecessary. "It is well known that jet aircraft are already landing at Jolly Grant. Besides, Sarsawa Air Force Station outside Saharanpur is close by as are Ambala and Bareilly," says he. Uttarakhand's main source of income is tourism, which is seasonal, he points out. "The existing airport is well equipped to cope with traffic during the tourist season," he says.
Indeed, Uttarakhand already has four airports at Pantnagar, Chinyalisaur and Pithoragarh, but the attitude of this government is summed up in how it has pushed for two airports inside the GB Pant University, a premier agricultural university in Pantnagar. 
A UNIVERSITY SURROUNDED BY AIRPORTS
In a recent PIL filed in the Nainital High Court against the denotification of SER, the petitioners have argued that there is already a proposal to build a new airport inside the university, which will come up three kilometres south of the existing Pantnagar airport (also located inside the university). "The existing airport will be to the north of the university and the proposed new airport will be to the south of the university. All activities of the university will take place between these two airports: Have you heard of a crazier idea?" says PC Thapliyal, a retired engineer with the Navy. "Sadly, jumbo elephants cannot file a PIL to highlight their plight," he says. 
Abhijay Negi, the lawyer who filed the PIL says the state seems hell-bent to squander its natural riches by executing wasteful infrastructure projects. "Elephants play a vital role in the ecosystem. Their migrations open up dense forest canopies, which helps regenerate flora and fauna. Their movement helps animals and insects including honey bees. Once denotified, it will be the end of the life-cycles in this forest," says Negi.
Negi filed the petition on behalf of Renu Paul, an environmentalist from Doon Valley. He thinks it is time a peoples' movement came up to stop the takeover of the forests and land in Uttarakhand by land speculators, especially from the Capital, who are buying up large chunks to build hotels, malls and residential complexes. He says this is happening even though the existing constructions are lying idle because of the COVID-19 pandemic.
TO KOTDWAR VIA CORBETT, MINUS TIGERS
Paul says the Rawat government has revived the Kandi Road Project too, and that will cut through the core region of the Corbett Tiger Reserve.
"The government says this [road] will shorten the distance between Kotdwar in Garhwal and Ramnagar in Kumaon from 166 km to 88 km and so it will shorten travel-time by two hours. But what is two hours if it brings destruction to one of the world's premiere tiger reserves? The ecological cost is being given short shrift in the face of populist measures," said Paul. 
Another example is of the Thano jungle within the Rajaji National Park, a "mini" eco-system with elephant, leopard, wild boar, mongoose, hyena and pangolin populations. It also has 2,500 each of sal and sheesham trees other than kher, sagon and 25 other varieties of trees that are over a century old. Leading environment lawyer Ritwick Dutta says state wildlife boards are in no position to overturn orders issued by the Centre. So, the SER is protected under the Forest Conservation Act, 1980, as are tiger reserves. The FCA also clearly says reserved forests are areas with high diversity value and need to be protected and not have their land diverted for "development" activities.
Dutta says the state should have conducted an Environmental Impact Assessment (EIA) given these are pristine forests. It ought to have sought prior approval under the Biological Diversity Act, 2002, and approval of the National Board for Wildlife.
The growing population and exponential rise in vehicular traffic has had pollution sharply increase in Dehradun. Tourists visit Uttarakhand chiefly for forests and wildlife, which have already been disrupted by deforestation to construct the Char Dham highway. Yet the Uttarakhand government is moving in a direction opposite to the world, as far as possible from sustainability and nature. Scientists at Dehradun-based Wadia Institute of Himalayan Geology have repeatedly warned that this region is fragile and needs a forest cover to prevent landslides and floods. Unfortunately, this message seems to be lost on the Rawat government.
The author is a freelance journalist. The views are personal.
Get the latest reports & analysis with people's perspective on Protests, movements & deep analytical videos, discussions of the current affairs in your Telegram app. Subscribe to NewsClick's Telegram channel & get Real-Time updates on stories, as they get published on our website.
Subscribe Newsclick On Telegram