Vaccine Rollout Battle: First Past the Post May Win Major Market Share
India's mass vaccination plans may fail if it does not hold open discussions on its plans with health professionals and the people.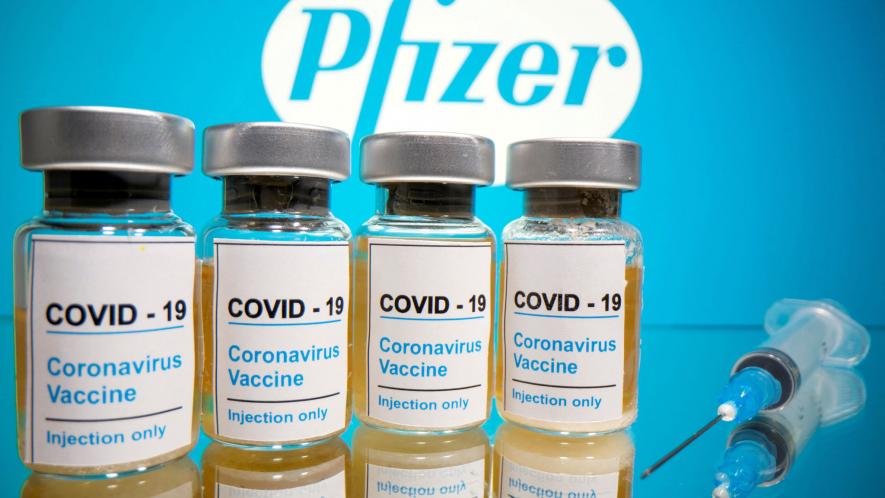 Image Courtesy: Financial Times
Six vaccines for Covid-19 have either released or are likely to release within a few weeks their figures of vaccine efficacy, or how effective their vaccines are. Those who get the initial green signal from the regulators to roll out the vaccine will get a huge market advantage. That is why there is intense media focus on the US and the UK approval processes of the Pfizer-BioNTech and Moderna vaccines. In India, three vaccine manufacturers, Pfizer-BioNTech, Serum Institute for the Oxford-AstraZeneca, and Bharat Biotech have also applied for emergency use.
As a public health issue, it should matter little who gets the nod first, as efficacy, cost and supply chain should determine the vaccination strategy of any country. But under capitalism, public health takes a back-seat. Companies jockey for being the first past the post, so that they can capture a much bigger share of the eyeballs, translating into a bigger share of the market. This market is not just provided by public health systems, but also the private market where people will pay large sums for immediate vaccination, and not wait for the state to deliver. That is why the hurry of the companies to get their results in quickly, secure emergency use authorisation, and with big airtime, pump up their share price in the stock market.
The application for emergency use approval in India by Pfizer-BioNTech using data from other countries has led to Serum Institute of India, Pune, also asking for emergency use approval (in India's regulatory language accelerated approval) using phase 1 and 2 data from Indian trials and phase 3 data from trials in other countries. Interestingly, AstraZeneca-Oxford, whose vaccine Serum Institute is using in its trials, have not yet made such an application in the UK's regulator, MHPRA.
What is surprising is that Bharat Biotech, which is producing the ICMR-Pune Institute of Virology vaccine, has also asked for emergency use approval. This is based on phase 1 and 2 trial data, without any substantive phase 3 results. Unlike regulators like the US FDA and MHPRA, the Indian regulator, DCGI, has not notified details of what data and efficacy need to be submitted for approval of a vaccine for emergency use. The Subject Expert Committee (SEC), which reports to the DCGI, has sought more data from vaccine manufacturers.
In each of these cases, using the need for a vaccine under the current pandemic, the regulatory envelope is sought to be stretched. Even while accepting that we need a quick vaccine to address the pandemic, this cannot be done without a proper appraisal of safety and efficacy of the vaccine. A failed vaccine will play into the hands of the anti-science and anti-vaccine groups. Under current regulatory guidelines, Bharat Biotech's lack of Phase 3 efficacy data from its trials, as pointed out by the Subject Expert Committee, is a significant lacuna for public use of such a vaccine.
The preliminary results of Phase 3 trials from BioNTech-Pfizer, Moderna and Gamaleya are now available, showing higher than 90% efficacy. These are excellent figures, even though the actual numbers from which these figures are derived are in a few hundreds, or even less. The two Chinese vaccines—from Sinopharm and Sinovac—are in an advanced stage of phase 3 trials and should release their efficacy figures soon. The UAE officials have said that the Sinopharm vaccine has shown an efficacy of 86% in clinical trials in UAE. The Chinese companies are conducting phase 3 trials in a large number of countries, and are expected to make their efficacy data public soon.
The two Chinese vaccines are important for India as they are based on the older technology of inactivated virus, which is what Bharat Biotech is using. That by itself does not mean Bharat Biotech's vaccine will succeed, but it is at least a proof that this approach does lead to successful vaccines for Covid-19. Not that there is a question on this count, as this is what we have been using for more than 100 years!
The Oxford-AstraZeneca vaccine, in which Serum Institute has made a big bet has shown more modest figures of 62% efficacy in their phase 3 trial. A second arm that got accidentally a smaller first dose, fared much better, with 90% efficacy. The problem with this figure is that the numbers in the second arm are much too small, and without a larger trial with this dosage, will not count for regulatory approval. Oxford-AstraZeneca is still a few weeks away from submitting its emergency use approval to the UK authorities.
For large parts of the world, the two vaccines—Pfizer-BioNtech and Moderna—are not feasible options as they demand ultra-cold chain of minus 70-80 Deg C. Even advanced countries will find it tough to do mass vaccination quickly with such a demanding cold-chain. All the other 4 vaccines require a cold-chain of 2-8 Deg C and can be managed by most countries.
With the submissions for emergency use approval (EUA) by Pfizer-BioNTech to the US Federal Drug Authority, we now have more data on Pfizer-BioNtech vaccine. The results look positive though the number is still not very large, and we do not know how long the immunity from the virus will last. It also seemed to have protected those who did get infected to progressing to a serious stage of the disease and provided some protection even after the first dose. Moderna's figures may be similar if their press releases translate to similar submissions. The flip side is that there were some reactions to the vaccine, though not any that would be considered a serious event. The UK regulator has warned that individuals who have a history of allergic reactions should not take the Pfizer-BioNTech vaccine after allergy reactions in the first batch of people being vaccinated.
The rush for capturing markets, or the logic of capitalism, also shows in the way the news media in the west, responds to Russian and Chinese vaccines. Most western news agencies, commenting on the Chinese vaccines, mention one person who died during clinical trials in Brazil. What they do not mention is that the person died of a drug overdose, which had nothing to do with the vaccine trial. Similar coverage of possible adverse events—and such events have happened as do happen in any large-scale vaccine trial—are far more low-key when it comes to US or European pharma companies. The cold war against Russia and China has spilled over into a vaccine war as well.
In the global media, repeated in India as well, there has been a talk of India having booked 1.6 billion doses for 2021, one of the highest bookings of vaccines in the world. It is based on possibly 0.5 billion doses from Serum Institute-AstraZeneca vaccine, another 0.1 billion from Gamaleya, and a whopping 1 billion from Serum Institute-Novavax tie-up. The Novavax vaccine has yet to start its phase 3 trial and it is too early to bank on a billion doses from a successful Novavax vaccine.
For India, we have Serum Institute-AstraZeneca-Oxford vaccine if it clears the regulatory hurdle, with a modest efficacy of little more than 60%, and the Gamaleya vaccine, which has yet to apply for approval in India. It appears that Serum Institute has been in talks with Indian health authorities to provide vaccines for a public program at a reduced price, and also reserving a part of its production for open market sales. Press reports indicate that Hetero Biopharma, an Indian biologic manufacturer, has also tied up with Gamaleya for producing its vaccine in India. This is in addition to the 100 million vaccines that Dr Reddy's Lab is providing for the Indian market. So yes, India has a better access to vaccines than others, but nowhere near 1.6 billion as claimed in the media.
As we have written earlier, a handful of rich countries—US, UK, EU, Japan, Canada, Australia—have cornered more than half the world's supply of vaccines. Due to its generic vaccine manufacturers, India may be better placed than most countries except the handful of rich countries. This is result of the long battle that India fought with global multinationals, the Intellectual Property Rights Regime and WTO, for building a self-reliant pharmaceutical sector. It is this base that has led to India emerging as the largest generic drug and vaccine manufacturer of the world. That is why India has a chance to provide vaccines to its people, provided it addresses the problem of delivery.
The Indian health authorities are yet to release any document on how the delivery of the vaccine, or the mass vaccination program is going to unfold. What we urgently need is an open discussion involving at least the major public health organisations on how India proposes to vaccinate people. Without transparency and involvement of the health professionals and the people, a mass vaccination campaign in a top-down fashion may lead to a repeat of India's unsuccessful lockdown. People and health workers have to be partners in the fight against the pandemic, not passive recipients, nor enemies to be subjugated.
Get the latest reports & analysis with people's perspective on Protests, movements & deep analytical videos, discussions of the current affairs in your Telegram app. Subscribe to NewsClick's Telegram channel & get Real-Time updates on stories, as they get published on our website.
Subscribe Newsclick On Telegram