Vanishing PF Funds, Deplorable Conditions: Plight of Sanitation Workers in Jamshedpur
Bhagat Singh's 'Satyagraha aur Hadtaalein' highlights the workers'rebellion in the steel city; 95 years later, the condition of safai karamcharis
remains appalling.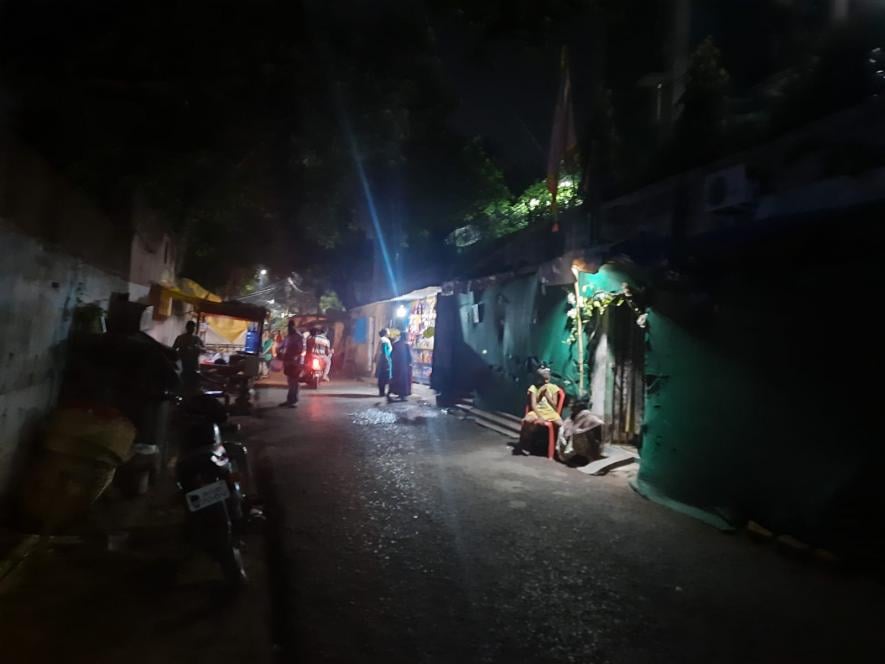 The entrance of one of the Mukhi bastis shows narrow lanes, often painted blue, and many pictures of B R Ambedkar, more than anywhere else in Steel City.
Jamshedpur: "Low wages, overwork, and oppressive behaviour," says the piece by Bhagat Singh, as it depicted the problems faced by the workers of Steel City. It also highlighted how caste-based exploitation had driven lower caste groups to rebel against the State and emphasised that the rebellion was inevitable due to the kind of behaviour meted out to them. "Given the treatment we subject our brothers and sisters, who contribute the most to society, they were bound to stand up for themselves," he says.
Ramesh, a middle-aged man from Jamshedpur who works as a safai karamchari in a private bank, narrates the conditions of workers who toil under the same roof as the officers. "I have been receiving the same salary for the past eight years. Without me, the bank wouldn't be able to function even for a day; yet, my conditions are the worst," he laments. While he observes other employees receiving annual raises, he is forced to settle for the same income. Ramesh belongs to the Mukhi community, which has a long history in the industrial town.
Back in the early 1900s, private companies hired workers from the UP and Bihar belt. Everyone who came was hired without any background check; they were all promised permanent jobs, medical facilities, and quarters for their families to live in. However, these benefits were restricted to the workers and officers. Sagar Mukhi works as the cleaning staff at the town office. He says, "As a community, we did not traditionally engage in sanitation and cleaning work. Our historical occupation was that of musicians. However, it was only in the early 1900s when the Tatas couldn't find people who were willing to take up these menial jobs involving waste disposal, that they started seeking out our people from different areas of Jharkhand and brought us here."
Mukhi narrates that ever since the community has been restricted to the same cleaning jobs, their financial state has not improved at all. Despite two or three members working in each household, the income falls short of providing their children with a better education and a better life. This generational pattern has persisted, now spanning the fourth generation in many households. There are a total of 24 Mukhi bastis in Jamshedpur, and according to the workers NewsClick spoke to, almost all the cleaning staff comes from these areas.
"In every possible way, the authorities, locals, and even the government make it clear that we have a designated place. It doesn't matter who comes to power, as we are equally insignificant to all of them," says Ramesh.
Despite their varied backgrounds and stories, there is one constant shared by all: an invisible boss. "Upar se order hai (A diktat from above)" is the response they receive for all the exploitation they endure.
All the workers that NewsClick spoke with exclusively interact with their supervisors. Due to illiteracy, many of them are unaware of the identity of their employer. When questioned, they usually mention a name like Rajesh or Suraj, who serves as their supervising officer at the site.
The contractor is nowhere to be seen. The workers never interact with the contractor directly or receive solutions to their problems from them. Instead, the contractors communicate through the supervisors, maintaining their status as invisible bosses.
Terminated without notice, subjected to workplace harassment
Suman Devi, a woman who worked under a contractor until six months ago, talks about the relentless exploitation she faced in the workplace. Her hands have become pale and swollen over several areas. She worked as a cleaner for over 25 years, witnessing the contractors change while she remained in the same position.
Suman lives with her two sons, a daughter, and three grandchildren. Both of her sons also work as sweepers in societies. However, due to delayed payments and household expenses, she was compelled to continue working as well.
One fateful day, as she arrived at her workplace and began her duties, the supervisor unexpectedly called her over and informed her that she should no longer come to work. She was deeply concerned as she knew the precarious state of her household and could not afford to lose her job at that moment. She begged, pleaded, and did everything in her power to convince the supervisor, who turned a deaf ear to her pleas.
A similar situation unfolded with another worker, Poma Mukhi, whose circumstances were even more challenging. When asked about her age by the reporter, she stated that she was 50. However, according to her supervisor, she was repeatedly told that she was over 60 and should cease working. Despite Poma's insistence that this was untrue, the supervisor refused to listen and claimed to have evidence supporting their stance. Poma's Aadhar card indicates her current age as 62. However, this is not the whole story.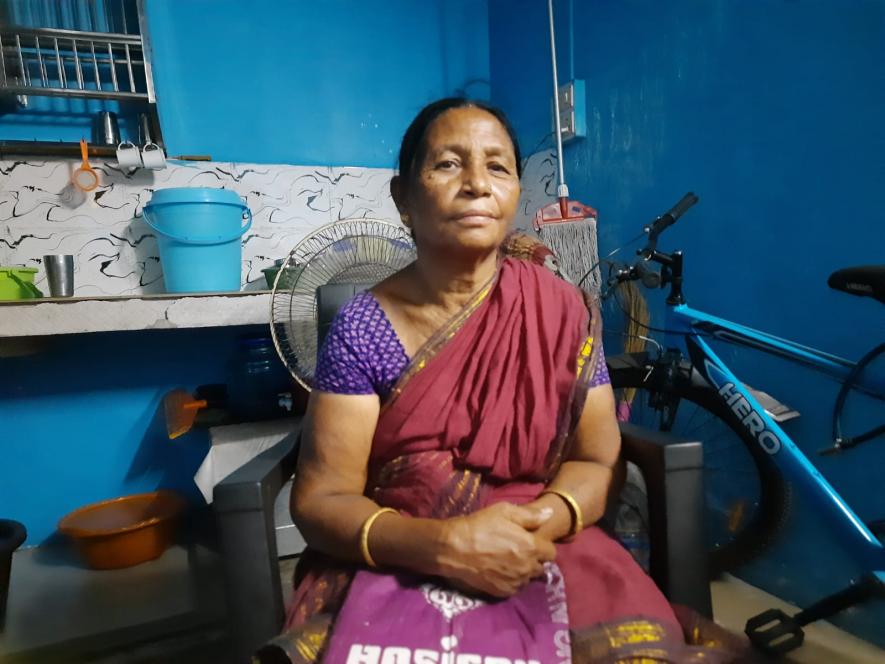 Poma carries a bag with all her documents wherever she goes, hoping to get help from someone.
"When I applied for my Aadhar card, the lady in charge assigned an age for me based on her own perception. She did not ask me and simply assigned an age based on how she thought I looked. I kept informing her that I was around 45 years old at that time, but she remained stubborn and said it didn't matter," narrates Poma.
But their problems did not end there. Frequently, their supervisors deduct money from their wages, claiming that they were absent on specific dates. The exact date remains unclear to the workers, which leaves them with no choice but to comply in order to receive payment for the remaining days. These workers are employed under the Jamshedpur Notified Area Committee (JNAC), a local urban body governed by the state government under the Urban Development and Housing Department.
The workers receive wages significantly below the prescribed minimum wage rate. Suman and Poma state that they are paid only Rs 180 per day. In addition, from this amount, Rs 60 per day is deducted as a contribution towards Provident Fund (PF). However, when they approached their supervisor to inquire about the PF sum, they were informed that it would be given to them within a few days.
"In total, I have pending payments for two years, amounting to Rs 60 for each day. You can be the judge. I could really use that money, but it has been six months now, and there is no sign of it," says Poma. The workers allege that their supervisors later informed them that the amount would be credited to their accounts within a period of 90 days. However, six months have passed and they have not yet received the promised amount.
Recently, Poma and Suman visited a cyber cafe to check online if their PF amount was secure in their accounts. To their dismay, upon entering their Unique ID numbers on the website, they found out that both their PF accounts were empty. There was no money to be found. Since then, they have been making rounds between the JNAC office and their supervisor's site, but all their efforts have been in vain. Each officer they approach redirects them to another, and the cycle of frustration continues.
In another distressing case, Sushila Mukhi has been trapped in a laborious battle with the labour court for the past two years, awaiting her pending PF money. The PF money for five years has gone missing from her account, and not just her own, but also her deceased husband's PF funds. Her husband had worked for approximately a year and a half, and the money owed to him remains pending. Sushila continues to fight her case, determined to seek justice.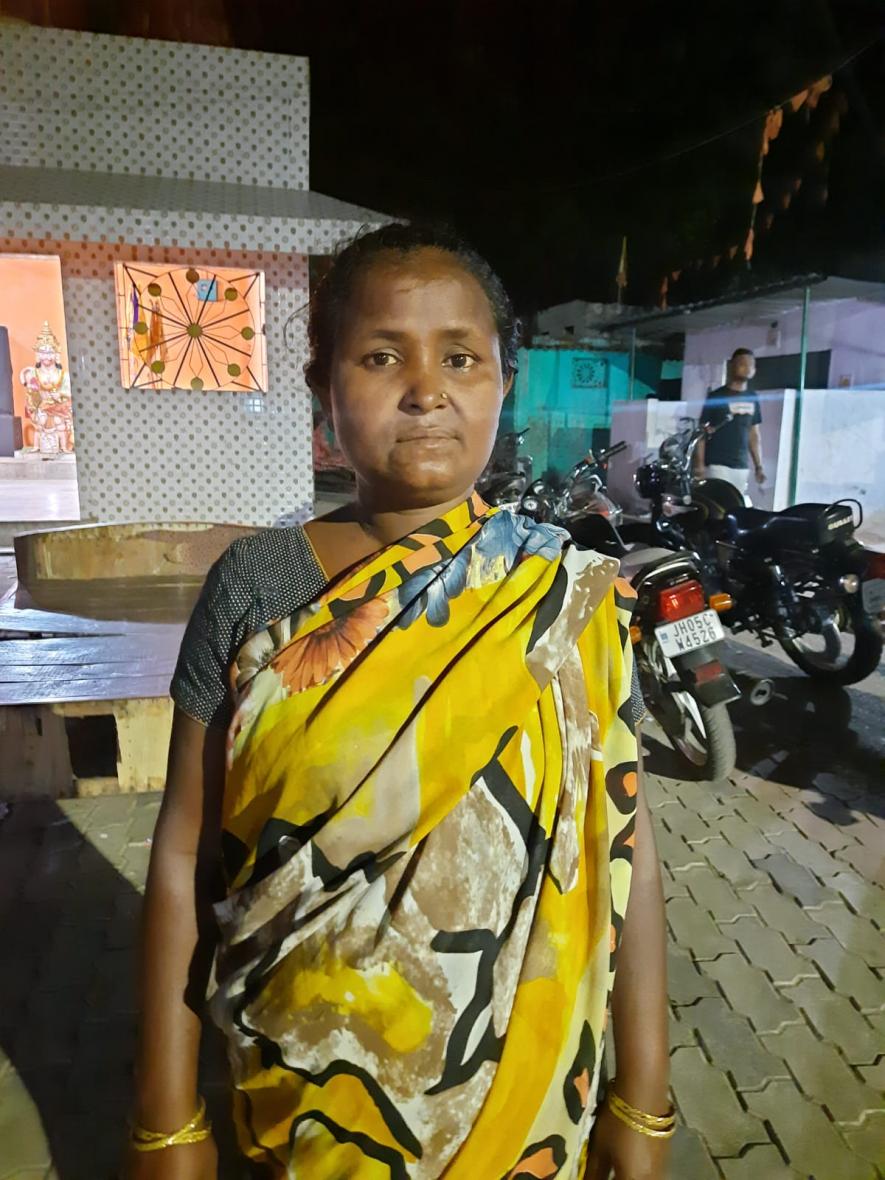 Sushila has been fighting alone against the State and contractors for over two years, and her skin has become pale, and her body weak, but she keeps fighting.
Shiva, aged 28, used to work as a drain cleaner. He would venture deep into the drains and clean them from within. Unfortunately, he had no other option but to take up this job. His father passed away when he was quite young, leaving his mother with no other means to support the family. Shiva started working at an early age, and cleaning drains was the only employment opportunity he could find in the sanitation field.
"In 2019, before the Covid pandemic struck, it became mandatory for workers to use safety shoes and equipment. However, luck was not on my side. On that particular day, I was not provided with any safety gear as I entered the drain to carry out my duties. After a while, I felt an intense pain as if something had deeply pierced my ankle. I managed to crawl out, only to discover that a large, slender, and sharp stone had lodged itself into my ankle," narrates Shiva. He immediately contacted his supervisor to inform him about the incident while he was in immense pain.
"I will come there soon and give you some money," his supervisor assured him. When the supervisor arrived, Shiva recalls, he took out a Rs 50 note from his pocket and handed it to him, instructing him to seek treatment at a government hospital. However, upon examination, the doctors noted that Shiva's condition was more severe than a simple dressing could address. When Shiva conveyed this to his superior, the latter did not pay any heed to it, and as a result, he lost his job.
Since then, it has been four years, and Shiva continues to limp and struggles with walking. The plaster on his left leg has never been removed. As he was employed on a contract basis, he was not entitled to receive medical benefits. The only possibility for treatment was through an Employee's State Insurance Corporation (ESI) card, but Shiva was not even provided with that. Nowadays, he spends his days idle, while his mother faces challenges in making ends meet.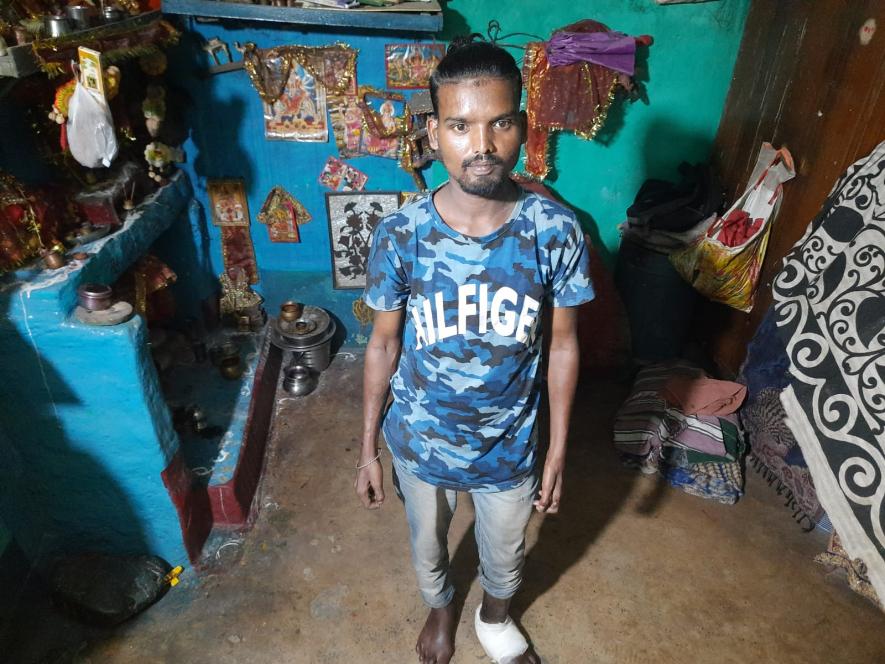 Shiva stays at home all day due to his long-lasting injury and lack of work.
In the area, many workers, including those working inside hospital wards, do not have access to an ESI Card, preventing them from seeking medical assistance in case of problems or minor accidents.
The sanitation workers, including the safai karamcharis, continue to work without basic rights such as bonuses, paid leaves, maternity leaves, and even the minimum wage. Occasionally, strikes have resulted in small victories for them. In 2021, led by AITUC Jamshedpur, the workers went on strike, leading to the introduction of attendance tickets. While this improved the accuracy of attendance records, it still fell short of satisfaction.
Amidst exploitation, historical suppression, and a lack of essential facilities, workers in Steel City persistently protest and fight against corporate and state-sponsored oppression.
Get the latest reports & analysis with people's perspective on Protests, movements & deep analytical videos, discussions of the current affairs in your Telegram app. Subscribe to NewsClick's Telegram channel & get Real-Time updates on stories, as they get published on our website.
Subscribe Newsclick On Telegram