Vedanta 'Covertly Lobbied' Centre to Weaken Environmental Laws
OCCRP has alleged that the Narendra Modi government amended key laws 'without public consultation' during the pandemic.
After accusing the Adani Group of routing investment in its stocks through "opaque" Mauritius funds, the billionaire-philanthropist George Soros-backed Organised Crime and Corruption Reporting Project (OCCRP) has alleged that oil and mining major Vedanta Group covertly lobbied the government to weaken important environmental laws regulating the two industries during the pandemic in 2021.
In a report titled 'Inside Indian Energy and Mining Giant Vedanta's Campaign to Weaken Key Environmental Regulations' published on Thursday, the global network of investigative journalists—nominated for the Nobel Peace Prize this year—alleged that the Narendra Modi government "approved the changes [in environmental laws] without public consultation and implemented them using what experts say are illegal methods".
Vedanta, which reported more than $18 billion in revenues last year, is also "an important supporter of the Bharatiya Janata Party (BJP)", and two Trusts linked to the Group "donated $6.16 million to the party between 2016 and 2020", the report claimed.
According to the report, Vedanta launched a campaign to ensure that mining companies could "produce up to 50% more without new environmental approvals".
Vedanta's oil business Cairn India got public hearings "scrapped for exploratory drilling in oil blocks it won in government auctions".
"Since then, six of Cairn's controversial oil projects in Rajasthan have been approved despite local opposition," said OCCRP, which along with the International Consortium of Investigative Journalists and others, was awarded the Pulitzer Prize in journalism in 2017 for the Panama Papers Series.
When COVID-19 ravaged the country in 2021, Vedanta Resources chairman Anil Agarwal requested then-environment minister Prakash Javadekar on 15 January to "allow" mining companies to boost production by up to 50% "without environmental clearance" to add "impetus" to India's "rapid" economic recovery".
In a letter addressed to Javadekar, Agarwal wrote: "Apart from immediately boosting production and economic growth, this will generate huge revenue for the Government and create massive jobs.
On Agarwal's recommendation that the change could be made with "a simple notification", Javadekar scribbled on the letter: "VIMP [Very Important]." The minister directed the environment secretary and the director general of forestry to "discuss [the] policy issue".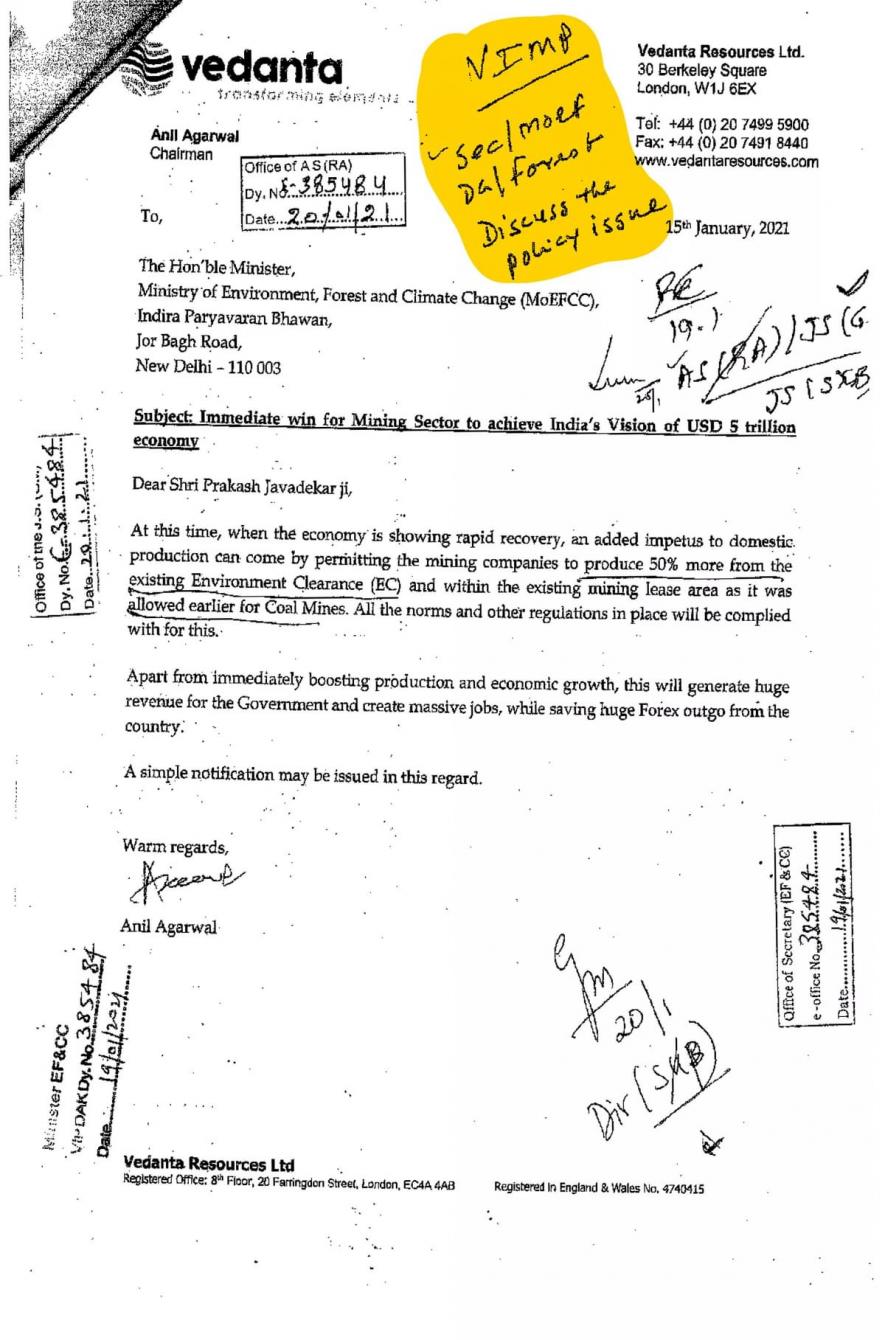 After a "series of closed-door meetings", the environment ministry "loosened regulations to allow mining companies to increase production by up to 50% without holding public hearings" in early 2022.
Subsequently, the ministry changed the regulations "by publishing an office memo—meant to be used for inter-office communication—on its website".
According to a study of pandemic-era regulatory changes by the Vidhi Centre for Legal Policy, the "government may also have skirted the law" by "modifying important regulations using instruments like office memos without any public debate", the report reads.
Debadityo Sinha, the head of the think tank's climate and ecosystems team which conducted the study, said that these changes raised "concerns about their compatibility with the principles of inclusivity and democratic decision-making."
A minute study of thousands of government documents obtained via the Right to Information Act, showed that "government officials tailored the rules in line with requests made by the industry, particularly Vedanta".
In 2020, Cairn Oil & Gas, started lobbying to scrap public hearings for oil exploration projects. In this case too, the government "quietly amended the law with no public consultation". "Since then, at least, six of Cairn's oil projects … in Rajasthan have been greenlit for development," the report found. 
Though Modi has pledged to reduce India's carbon emissions by a billion tonnes by 2030 and reach net zero emissions within 40 years after that, experts who reviewed OCCRP's findings alleged that the Centre "has prioritised the interests of oil and mining companies over the fight against climate change".
"It is a clear case of corporate capture of environmental governance," said environmental lawyer Ritwick Dutta.
"Over the last few years, it is clear that most changes in environmental laws and policies have been largely guided in terms of the economic benefit it would bring to certain corporate entities or sectors," he added.
In an email response, a Vedanta spokesperson told OCCRP that as "one of the leading natural resources organisations in India" the company operated "with an objective of import substitution by enhancing domestic production in a sustainable manner".
"In view of the same, continuous representations are submitted for consideration to the government in the best interest of national development and India's march towards self-reliance in natural resources," the spokesperson wrote.
Neither the Prime Minister's Office (PMO) nor environment minister Bhupender Yadav nor his predecessor Javadekar responded to OCCRP questions.
Loosening Mining Regulations
The mining industry has always sought for scrapping the requirement to hold public consultations, in which local people raise concerns about how a project or its expansion would impact their lives and livelihood. When the idea was again raised in 2018, the Centre had said it wasn't in their purview industry, according to government sources.
"Internal documents show it was only discussed seriously again when Vedanta's chairman wrote to the environment minister in January 2021," the report further reads.
The Federation of Indian Chambers of Commerce & Industry also wrote to Javadekar making a similar request two weeks after Agarwal's letter.
Subsequently, the then-secretary of mining asked his counterpart in the environment ministry to consider a "similar relaxation as that of coal".
In June 2021, Vedanta chief executive officer Sunil Duggal wrote to Modi arguing that the prime minister could "boost the economic engine immediately" by scrapping the method of granting environmental approvals and promised jobs.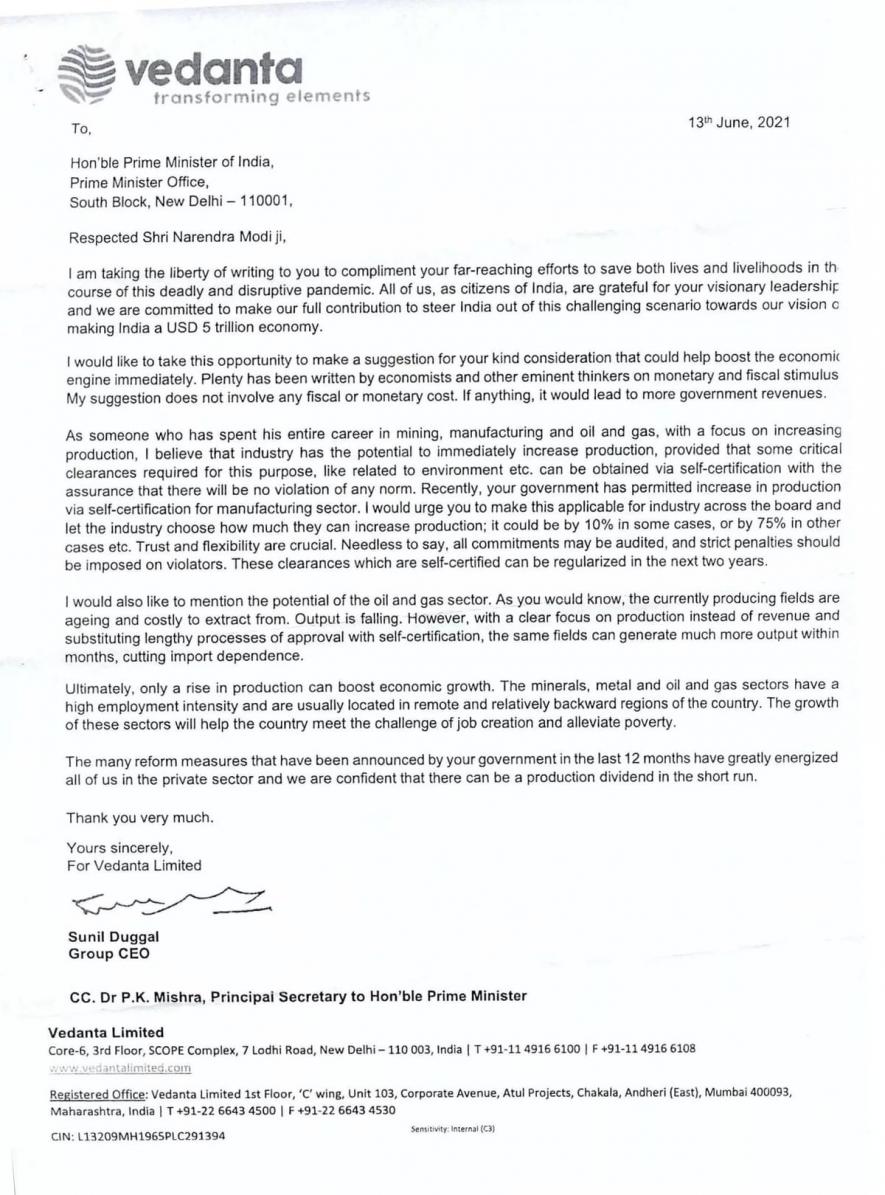 The PMO "forwarded the letter to the environment secretary, who was already trying to set up meetings and committees to discuss the issue. But even then the idea faced internal opposition", according to OCCRP.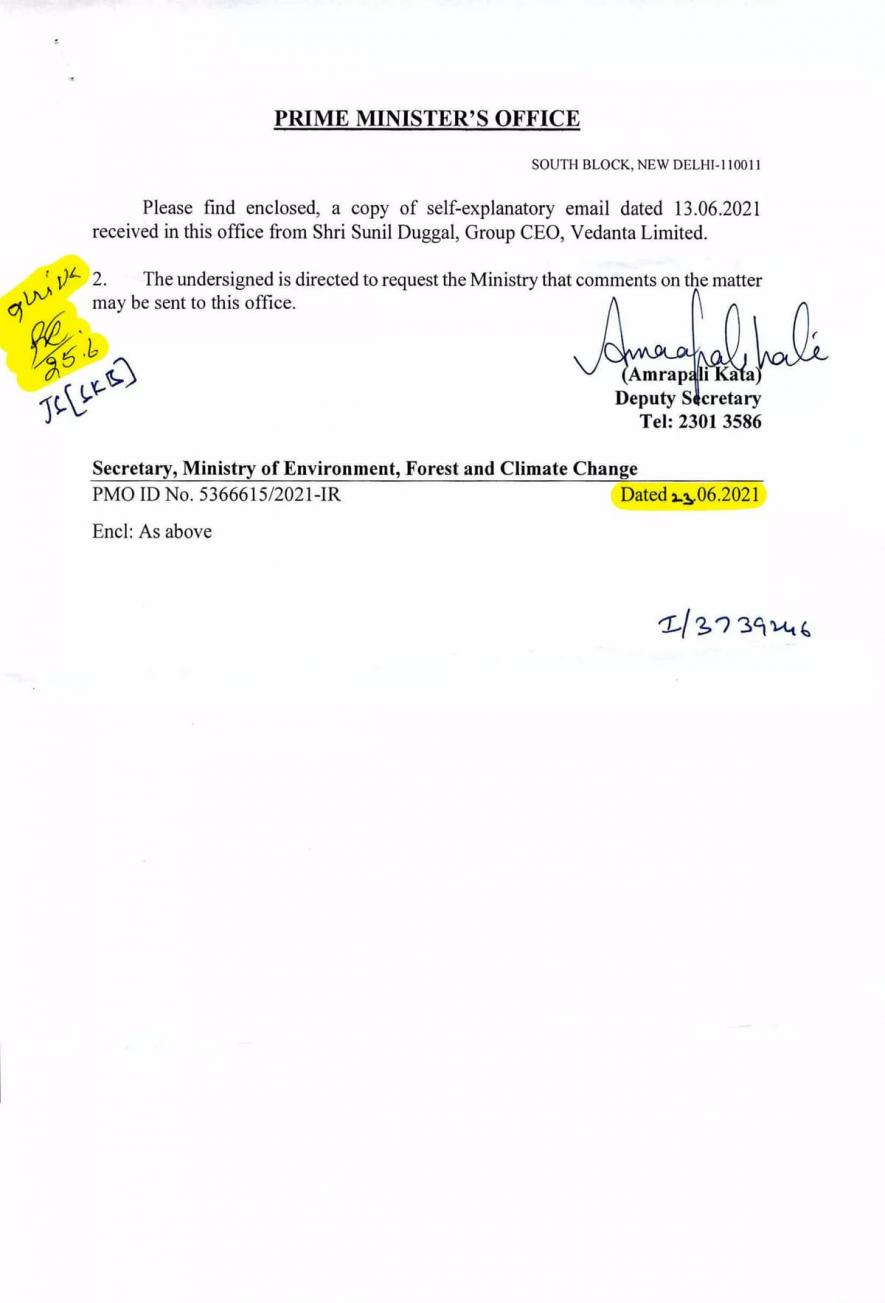 As per the report, minutes from one meeting in July show "officials feared loosening the rules would break the law and give a free pass to unrestrained mining in ecologically sensitive areas".
"A summary of an internal meeting by the Joint Expert Appraisal Committee—made up of ministry officials and mining experts—noted similar concerns, and said any increase in mining production should require some form of public consultation."
The environment ministry too realised the concerns. In October, it "published a memo that allowed mines to expand production by only 20% without public hearings".
"But the issue was revived when Cabinet secretary Rajiv Gauba, who reports directly to Modi, spearheaded an internal push to cut government red tape."
Minutes from a meeting on December 9, 2021, show that Gauba "instructed the environment ministry to review" its process for approving projects to determine if it had "achieved the desired objective".
"An official with knowledge of what happened" at the meeting told OCCRP that Gauba's instruction was "understood as an order to alter" several regulations, "including for the mining sector".
"The Cabinet secretary had asked us to make changes to the EC [environmental clearance] and FC [forest clearance] processes so it had to be done," the official, requesting anonymity, told OCCRP.
In April 2022, the environment ministry "published a memo scrapping the requirement for miners to hold public consultations when expanding production by up to 40%and requiring only written feedback up to 50%".
According to experts, this "excluded a large section of the Indian public who cannot read or write or who struggle to negotiate government bureaucracy".
Dutta said, "An office memorandum is not a law and cannot be treated as a law."
OCCRP could not verify if any specific Vedanta project benefited from the new mining guidelines.
When veteran environment activist Rajeev Suri challenged the changes at the National Green Tribunal arguing that public hearings are "one of the most important safeguards for the general public", the tribunal agreed "with the government's argument that the changes were only procedural".
However, Suri's lawyer, Vanshdeep Dalmia, said that some of the details in the documents obtained by OCCRP could be appealed—specifically, "minutes from one meeting that show the government's own Joint Expert Appraisal Committee recommended that mining companies consult with anyone affected in writing at every stage of ramping up production".
Dalmia alleged that not disclosing this information to the court was "tantamount to suppression and concealment" of facts that could have had "a material bearing on the merits of the case,", as per the OCCRP report.
Suri alleged that OCCRP's investigation "brings to light the complicity between big business houses," which use their money and "power to access the decision-making authorities."
OIL AND GAS
The six blocks in Rajasthan are among dozens where Vedanta bought extraction rights in government auctions, the report states. "OCCRP's analysis of official data shows Vedanta was the top benefactor of a recent government push to boost domestic oil exploration, scooping up 62 of the 220 blocks put up for sale across the country between 2018 and 2022."
When locals opposed several of the projects, Cairn wrote to the environment ministry in March 2019 "saying that no public hearings should be needed because the exploration projects were only temporary and short-term".
A few months later, the Gauba-led Empowered Co-ordination Committee was formed "with the mandate to resolve regulatory issues faced by oil and gas companies that won blocks in the auctions".
In a July 2019 meeting, that the then-director general of hydrocarbons VP Joy "first proposed exempting oil exploration from public hearings. Though not all his proposals were in line with Cairn's specific requests, his reasoning on the exemptions—that the projects involved were only short term—echoed the company's arguments".
Joy wrote a letter to the environment secretary in September the same year. "His successor sent another in early January 2020. Just a few days later, the environment ministry published an amendment to the country's Environmental Impact Assessment (EIA) law that exempted oil and gas exploration projects from having to hold public hearings".
As per the amendment, the risk ratings of these projects was "downgraded", "meaning they only had to be greenlit by state authorities rather than experts in the environment ministry. Despite widespread opposition, internal letters show all of Cairn's projects in Rajasthan were approved in 2021".
A senior government official with knowledge of what happened and requesting anonymity alleged that "the combined influence of the director general and Cairn led to the law being changed".
"In addition to the requests made by the DGH [director general of hydrocarbons], another reason why the EIA law was amended for encouraging oil and gas exploration projects is the repeated requests sent by Cairn India to the environment ministry," said the official.
"Normally the ministry puts any proposed amendments to the law out for public feedback before implementing them. But in this case, it bypassed further consultations using a rule that is only supposed to be used to streamline activities of public interest that protect the environment," the report reads.
"The [ministry's] mandate is to protect the environment, but increasingly they are promoting business interests," lawyer and researcher Kritika Dinesh said adding it "prefers to listen to the voices of industries more than people displaced and impacted by pollution from development projects".
As per the report, work on Cairn's oil projects is "getting under way. Compliance reports show that three of the planned 29 wells had been dug in one of them searching for oil or gas as of March this year".
A Cairn spokesperson claimed that the company had received approvals for its oil and gas projects, "including convening public hearings and engaging with local stakeholders in line with the advice of the state government".
Political Support
Though OCCRP did find evidence that Vedanta has been an important donor to the BJP, "it's hard to say whether Modi's government was acting specifically to benefit the company as other companies also stood to benefit.
One of the two Vedanta-linked Trusts, Bhadram Janhit Shalika, was among the top 10 donors to the BJP between 2016-2017 and 2021-22, according to the Association for Democratic Reforms.
"The true amount could be far more because Vedanta has also made political donations through electoral bonds. Between 2021 and 2023, Vedanta's annual reports show it bought more than $35 million of these bonds though it's unclear how much, if any, of this may have gone to Modi's party."
Activist Disha Ravi, who was arrested for campaigning on behalf of farmers, said, "Allowing big corporations to influence environmental policy is like allowing tobacco manufactures to influence policy on health and well-being— their interests lie in increasing their bottom line. There is a strong need to remove them from places of power to achieve solutions."
Get the latest reports & analysis with people's perspective on Protests, movements & deep analytical videos, discussions of the current affairs in your Telegram app. Subscribe to NewsClick's Telegram channel & get Real-Time updates on stories, as they get published on our website.
Subscribe Newsclick On Telegram