Was PM Narendra Modi's Easter Church Visit More Than Optics?
The big question is whether the Prime Minister can turn the searchlight inwards and eschew majoritarianism.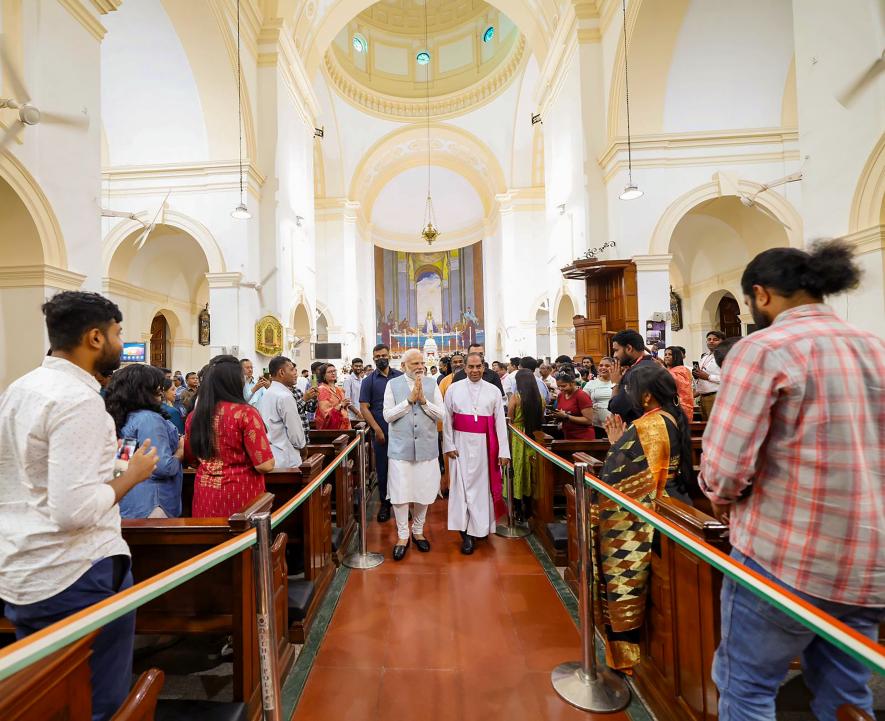 Prime Minister Narendra Modi during his visit to Sacred Heart Cathedral Catholic Church, in New Delhi, Sunday, April 9, 2023. Image Courtesy: PTI
In a surprising turn of events, Prime Minister Narendra Modi—often projected as the Hindu Hriday Samrat or King of Hindu Hearts—visited the prominent Sacred Heart Church in Delhi on Easter Sunday. It was as unexpected as it was unusual and poignantly reminded of Modi's remarks from August 2002, when he was the chief minister of Gujarat, on then-chief election commissioner James Michael Lyngdoh and the Christian faith. Modi had a year prematurely dissolved the State Assembly on 19 July 2002 and requested the Election Commission of India to hold fresh elections by 2 October, even as the gory after-effects of the horrific communal conflagration still plagued people and fear was writ large among the survivors.
Modi presumably believed that he would lead the Bharatiya Janata Party (BJP) to a electoral victory if elections were held in those circumstances of marked religious consolidation and polarisation.
How CEC Lyngdoh was Targeted
Lyngdoh visited Gujarat with his official team and found that the law and order situation was problematic. "…The law and order situation was far from normal… and the riot victims would be extremely wary of going to the polling stations," the commission declared. Even the electoral rolls had not been prepared. They realised the scars from the communal inferno—in which thousands, mostly Muslims, had died—had not yet faded. The Election Commission said on 16 August 2002 it would be impossible to hold elections by October, and more time is required for the preparations. The Atal Bihari Vajpayee government at the Centre approached President APJ Abdul Kalam and requested him to make a reference to the Supreme Court under the relevant provisions of the Constitution. The Supreme Court refused to interfere in the decision of the Election Commission.
In August 2002, Modi said, "Some journalists asked me recently if Lyngdoh came from Italy. I don't have his janam patri [birth chart]. I will have to ask [late former prime minister] Rajiv Gandhi." When a journalist asked, "Do they [Lyngdoh and Sonia Gandhi] meet in church?" Modi replied, "Maybe they do."
Journalist Lakshmi Iyer wrote in India Today magazine on 9 September 2002 about how Lyngdoh had angered the BJP government in Gujarat. She reported, "Modi had accused Lyngdoh of postponing elections in Gujarat to help fellow Christian Sonia Gandhi, the Congress president." Prime Minister Vajpayee, who had criticised Modi in the context of the Gujarat riots of 2002 for having discriminated on the basis of caste or religion, also commented on his public war of words with Lyngdoh. Vajpayee said, "I may have differences over the decision [to delay elections] or the attendant observations of the Election Commission... There are constitutional means to deal with such matters, and no one should use improper language or make indecorous insinuations in expressing their views...."
Senior BJP leader Murali Manohar Joshi, the Human Resource Development Minister at the Centre in those days, also said, "No one, not even a chief minister, should make such remarks against a constitutional authority."
When Modi's visit to a church on Easter is juxtaposed with his disdainful remarks on Lyngdoh and other such actions, it is easy to speculate about his intentions for being present in a sacred space with devout Christians.
Churches Vandalised and Christians Attacked
There is a history of Sangh Parivar outfits targeting the Christian community and making unfair allegations against them. Numerous times in recent decades, their propaganda has been found to spark violence against members of the minority community. Churches were vandalised in a long run-up to the Gujarat riots of 2002, and such attacks continued when Modi became chief minister. Attacks on Christians have been sharply criticised at the national and international levels.
When Modi became the Prime Minister of India in 2014, his government declared that Christmas would be celebrated as Good Governance Day, as 25 December was also the day Vajpayee was born. Besides, Christians celebrate Christmas on 25 December, a gazetted holiday in India when institutions remain closed. This decision, too, drew widespread criticism. The Christian hymn 'Abide With Me', traditionally played to conclude the Beating Retreat ceremony after Republic Day, was also dropped in 2022. There was plenty of shock and sadness when it was decided not to play this favourite hymn of Mahatma Gandhi. And the trend in Gujarat of religious polarisation and discrimination of Christians seems to have continued unabated.
Can PM Counter Majoritarianism?
Kerala Chief Minister Pinarayi Vijayan, commenting on Modi's church visit, said, "It is a good thing if it was done as an atonement for the past deeds of the Sangh Parivar." Addressing the Communist Party of India (Marxist) program at Angamaly, he asked, "Will the tiger take a different stance after knowing that taste? Will it travel any other way?"
"Christian hunting is happening outside Kerala. The fact that you [BJP] could not take that position [in Kerala] is not because the Sangh Parivar has any special minority affection here. If you take a communal stand and try to create communal conflict here, the government will take a firm stand. It is a no-compromise position."
After visiting the church, Modi should turn the searchlight inwards and take a bold stand against the majoritarianism that is wreaking havoc on the constitutional vision of India. Mahatma Gandhi developed the idea of Satyagraha from several religions, including Christianity. This syncretic approach is another reason his approach greatly influenced India and the world. India needs such an approach to counter sectarianism and majoritarianism. Let us hope the Prime Minister's visit to a church will guide him to eschew majoritarianism.
The author was Officer on Special Duty to President of India K R Narayanan. The views are personal.
Get the latest reports & analysis with people's perspective on Protests, movements & deep analytical videos, discussions of the current affairs in your Telegram app. Subscribe to NewsClick's Telegram channel & get Real-Time updates on stories, as they get published on our website.
Subscribe Newsclick On Telegram