Water Stress in Agriculture Deepening due to Climate Change in Uttarakhand
Farmers say that over and above difficulties of farming in the hill region, change in climate patterns has forced them to shift the farming area altogether.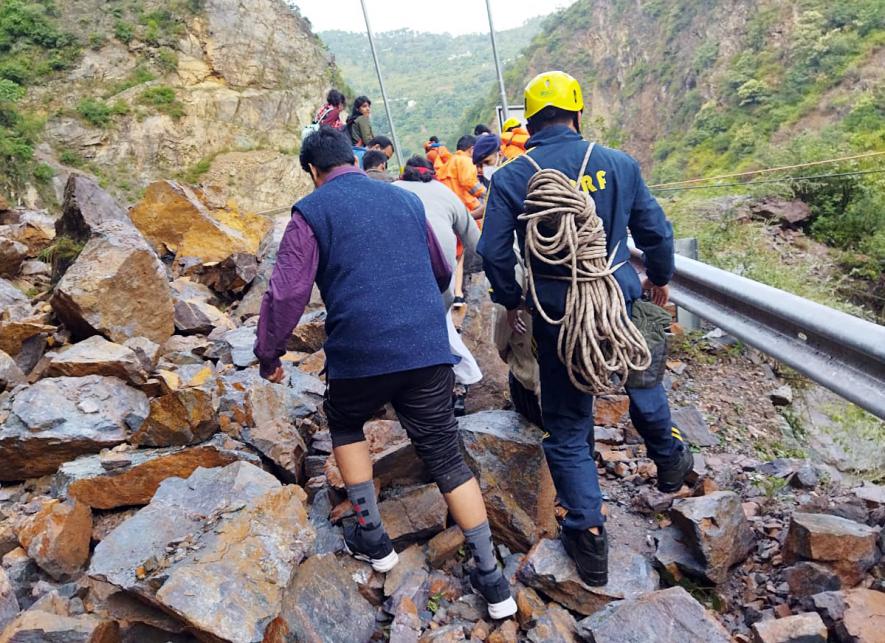 SDRF and NDRF personnel carry out a rescue operation of the tourist stranded due to the floods
Sanju Kaparwan is a farmer hailing from Joshimath village located in the Chamoli district of Uttarakhand. His wife, who works in a nearby community centre, financially supports him. Till 2017, he and his family, including his wife, parents, and two children, had survived on an average income of Rs 30,000. However, the last few years were difficult for the family, as they tried to make both ends meet. Nevertheless, it is not the decline in income that has been the sole concern, but day to day challenges limiting them from looking for more opportunities.
According to Kaparwan, it is already challenging to do farming in the hilly terrain and change in climate patterns has forced them to shift the farming area altogether. This has, in turn, increased the investment cost manifold; earlier, the cost of investment for one crop was around Rs 5,000-6,000, which has now doubled on account of transportation, fertilisers, and irrigation. He also complained that the quality of fruits has also deteriorated dramatically due to rising temperatures, ultimately resulting in a decline in prices. 
"There has been a clear shift in farming practices in the recent years. The persistent rise in temperatures has altered both the crop and the place for cultivation. For example, we used to do apple cultivation at an altitude of 6,000 ft in the 1980s, but it has now shifted to an altitude of 6,500 ft - 7,000 ft. Similarly, Orange and Apricot cultivation too has seen a shift from 4,500 ft to 6,000 ft now. This shift not only reduced the profit, but many cultivators were not able to accommodate or afford the changes. It has definitely had a bearing on our pockets," he said.
He further explained that rise in temperatures, erratic rainfall patterns, and warm winters have altered the season of flowering and fruit-bearing for plants, decreasing both productivity and quality of crop yield. In addition to this, increasing water stress due to improper rainfall distribution has made plants more vulnerable to pests and diseases. Earlier, farmers were not in dire need of irrigation, but now the villagers require it, which is an additional input cost. 
Changes in weather patterns have forced farmers to look for alternate crops to adapt to the increasing temperatures. State authorities have already highlighted that several districts of Almora, Champawat, Pauri, Tehri Garhwal may witness higher agricultural water stress. 
Mahesh Palawat, vice president, Meteorology and Climate Change, Skymet Weather, said, "Rains have become intense and erratic, and simultaneously, dry spells have also elongated. Also, precipitation is now more in the form of heavy rains instead of snow in the higher reaches of Uttarakhand. With fewer and shorter spells of snowfall, it does not stay for long and thus, disturbs the mass balance of glaciers and fuells their fast recession. Sometimes, this fast melting also leads to drop flash flooding."
He further said, "We would reach 1.5 degrees Celsius. Even the slightest change in climate will have a long-lasting impact on the Himalayan region due to its fragile ecology. There would be a rapid increase in incidents like the Chamoli disaster and extreme weather events like heavy precipitation that we saw in Himachal and Uttarakhand last year."
Vinod Rana, a resident of Jugju village, also complained about a shorter spell of winter conditions leading to an adverse impact on crop yield. "The period of intense winters had now become mostly limited to January, unlike before when it used to stretch till March. In fact, Joshimath used to experience snowfall during December, but we seldom saw this happening in the last many years, barring a few occasions. Snow has also started melting early due to increasing temperatures and a longer summer season. The rainfall pattern has undergone significant changes, particularly in the monsoon season. We now witness either less amount of rain or extremely heavy rainfall, with a higher probability for the latter," he said.
Snowfall is mainly confined to the higher reaches of the mountains. This has directly impacted water availability in the region, and people have already started facing water scarcity. Looking at this, they are very much concerned for their children and their survival for basic needs.
Dr Anjal Prakash, Research Director, Bharti Institute of Public Policy, Indian School of Business and lead author of the chapter on cities, settlement and key infrastructure and cross chapter paper on mountains in IPCC WGII, told NewsClick: "Another major risk is the melting of glaciers that would be changing the water regimes of ten major rivers which are feeding billions of people in Asia. Elevation-dependent global warming is much higher in the Himalayas. If it is 1.1 degrees in the plains, it would be much more in the mountains, leading to the rapid melting of glaciers." 
He continued, "This will impact the base flow of the river and its ecology, which would change the river regime at a much faster pace. Rivers would be dry for a longer period. Also, variability in climate has impacted monsoon rains, resulting in extremely heavy rains in Himachal which were never seen in the history of the region."
According to a research paper published by the American Journal of Environmental Protection, land productivity in Uttarakhand has decreased, and pest infestation has increased due to changes in the climate. This change is attributed to increased temperature, shorter and less harsh winters, and the early onset of summer. Snow is an essential source of soil moisture in the area and necessary for agriculture and the growth of pastures. The optimal productivity of most horticultural crops of the area depends on the persistence of relatively low temperatures for appreciably long duration. 
Climate change is known to affect agricultural productivity in two broad classes of climate-induced effects: (i) direct effects from changes in temperature, precipitation, and carbon dioxide concentrations, and (ii) indirect effects through changes in soil moisture and the distribution and frequency of infestation by pests and diseases. 
Climate change has also amended people's way of living. Incessant rains for days bring mass destruction to the state in the forms of flash flooding, landslides, mudslides, and even earthquakes, considering the fragile ecology of the Himalayas. 
Kaparwan's wife Parvati travels to a nearby village to work at a community centre to stitch clothes. However, landslides and heavy rains often do not let her regularly take up the work. She used to earn close to Rs 8,000 per month, which has now come down to Rs 5,000 per month. The couple is also terrified of sending their children to a faraway school, even at the cost of missing out on good education. She said that good schools and tuition centres were at a distance, but they were ready to compromise on education rather than compromising on their children's lives.
On February 7, 2021, flash floods rocked Raini village, following a glacier coming apart and an avalanche on the Alaknanda river. The vast mass of snow, water, boulders, and silt slithered down Rishiganga, first damaging a 13 MW private hydroelectric project and then flowing down to Dhauliganga river to swamp NTPC owned 520 MW Tapovan-Vishnugad hydropower project. 
Argha Banerjee, Glaciologist, Earth and Climate Science, Indian Institute of Science Education and Research, Pune, said, "Rise in temperatures have increased the risk of snowmelt and Glacial Lake Outburst Floods (GLOFs), which further exacerbates floods, soil erosion and landslides. February 2021 was the latest example of this. Glacial recession and frequent landslides and flooding have been causing fluctuations in the discharge of the streams and springs." 
Atul Satti, a local environmental activist, told NewsClick, "These disasters increase the vulnerability of local communities, and this calls for proper risk analysis. Changing climatic conditions coupled with urbanisation and developmental projects have put the state in a helpless and alarming situation. While climate change impacts have been increasing their presence more than ever before, it is noted that climate risks are yet to be included in disaster management policies. We are afraid that if proper and timely intervention is not made, the future is dark for the Himalayas."
The writer is a freelance journalist.
Get the latest reports & analysis with people's perspective on Protests, movements & deep analytical videos, discussions of the current affairs in your Telegram app. Subscribe to NewsClick's Telegram channel & get Real-Time updates on stories, as they get published on our website.
Subscribe Newsclick On Telegram