'We are Living in Darkness', Allege Pensioners of Paramilitary Forces in West Bengal
Pensioners' organisation alleges harassment in disbursal and medical allowance, even as banks and the authorities concerned indulge in a blame game.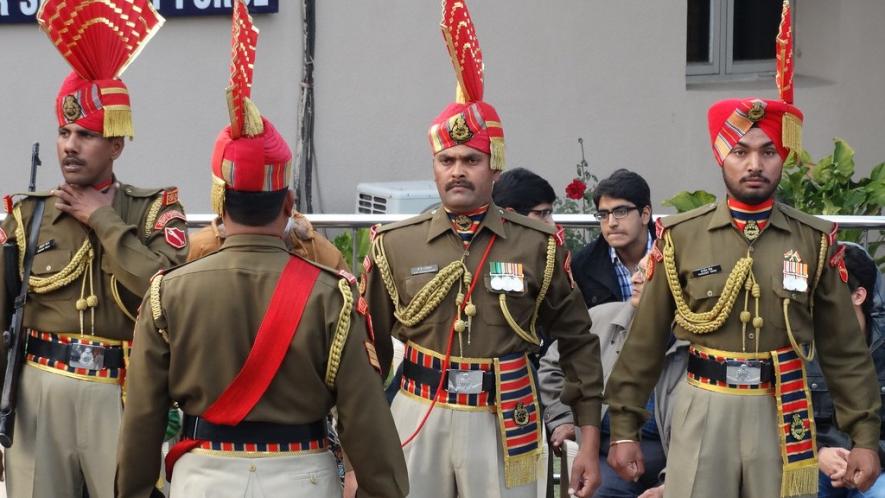 Representational image. | Image courtesy: flickr
Kolkata: Meena Pathak (73), a widow, lives alone in Durgapur in West Bengal. Her only son lives in Bangalore and is among the few survivors of liver transplantation in the country. However, the family received a jolt when the elderly lady's family pension was stopped by the disbursing authorities citing some lapses.     
Pathak, who gets a widow pension, under the government's family pension scheme, as her late husband belonged to the paramilitary forces, said she had not received pension for the past eight months (since July 2022). Her husband died in 2007.
In fact, she alleged that a fraud of Rs. 2,26,537 had taken place in the women's pension account from 2016-2019. Both CPPC (Central Pension Processing Cell), Kolkata and CPAO (Central Pension Accounting Office) have been playing a  blame game since the matter came to light, creating more pain, anxiety and health issues for the already ailing pensioner.
 When NewsClick spoke with Manoj Rajak, the State Bank of India (SBI) branch manager concerned, he said that the CPCC in Kolkata had stopped Pathak's pension, and there was nothing much that the Durgapur branch could do. Phone calls by NewsClick to the CPCC on their dedicated mobile number went unanswered.
 It may be noted that under no circumstances can the basic pension and medical allowance of a pensioner be stopped, according to the law in this regard, which has also been given credence by a Supreme Court judgement on the issue. 
 Sudip Pathak, the pensioner's son, said he had also tried to get in touch with the ministry concerned, but they put the onus on SBI with regard to disbursal of pension. Turned down by all the quarters concerned, the aggrieved pensioner is now considering seeking legal recourse for her grievances. But that will be a costly affair and the pensioner said she could ill afford it.
 NewsClick also spoke with Mrinal Mukherjee, general secretary, former Central Armed Police Forces Welfare Association, West Bengal, who claimed that several retired paramilitary service personnel and their family pensioners had been facing huge problems in getting pension. Many, like Meena Pathak, were also being harassed by the pension disbursal authorities, he alleged, adding that family pensioners with little or no formal education, in particular, were at the receiving end.
 Rajinder Kumar (52) had been a soldier with the Border Security Force (BSF).  On August 7, 2001, he stepped on an IED (improvised explosive device) in Baramulla of Jammu and Kashmir, while taking part in an operation against terrorists. The blast resulted in his lower limb getting amputated. Till 2012, he was employed with BSF, after which he was asked to take retirement. Kumar entered into a legal fight with BSF and, as per court orders, his son was supposed to get a job with BSF on compassionate grounds. However,  though Kumar has been getting his pension, his son is yet to land a BSF job, despite the court order .
 The soldier of the 84 battalion of BSF is now involved in a legal fight as persons with over 100% disabilities, such as  complete blindness are doing jobs in BSF, while with 50% disability, he has been declared unfit for duty citing that as the sole reason, he said.
 "Life has been difficult after the amputation of my limb. I use an artificial limb to walk. The way BSF has treated me is unpardonable, and hence I knocked on the door of the court" Kumar told NewsClick. The valiant soldier said he did not receive any extra pay or incentive upon his injury nor was he allowed to continue in BSF after a certain time in spite of he getting injured on the line of duty .
 Another BSF personnel, Tapas Guha Roy (62), who served the nation for over 35 years, said he is not getting medical allowance under the Central Government Health Scheme (CGHS).
 The State of Retired Paramilitary Personnel
 Retired employees of paramilitary forces, such as  Assam Rifles, BSF,  Central Reserve Police Force, Indo-Tibetan Border Police, Shasashtra Seem Bal, Central Industrial Security Force etc have been valiant soldiers of the nation . These forces were raised and declared the same as the Indian defence forces, with their entry as number 2 of the Union list, Seventh Schedule, Article 246 of the Constitution.
 Their duties are, in fact, more difficult than others. They man approximately 10,000 kilometres of the country's border with Bangladesh, Myanmar, Bhutan, Nepal, China, Pakistan as well as the Line of Control. They perform their duty in hazardous weather conditions, from -50 degree Celsius to 50+ degree Celsius.
 Apart from this, these forces also engaged in anti-insurgency and internal security operations against terrorists, Left extremists, among others. In addition, they are also engaged in rescue operations during natural calamities, elections, VIP security and safety of all large institutions in the country.
 A large section of these forces, especially from the lower ranks, take voluntary retirement after 20 years of service due to physical and moral challenges considering their age.
There are no less than 20 lakh people, including serving employees and retirees.
 Paradoxically, after performing all the hard duties and being governed by the CCS rules as well as the service rules of different forces, they get no facilities like the armed forces give to their serving or retired employees.
"The government has not provided us any grievance redressal association. The lower ranks have no mouthpiece to raise their problems. There is no government mechanism at all to address our problems," said one retired personnel refusing to be named. Hence,  a retired employees association, namely Ex-Central Armed Police Forces Welfare Association, West Bengal, came into being to look after the concerns of 80,000 to 1,00,000 retirees in the state.
 They have a  12- point charter of demand  that mentions that according to a  verdict of Supreme Court as well as Department of Personnel and Training rules, if any bank by their own faults, paid an excess amount to group C and D pensioners, it is not recoverable because of their monetary hardship. But, all banks are frequently violating that order and even stopping pension of elderly and weak pensioners without providing any prior information (which has happened in Meena Pathak's case).
 The charter of demands also mentions that the  Centralised Pension Processing Centre (CPPC) of many banks was not implementing pension revisions well in time.
 "Our young retirees, who are performing the duties of security guards in various institutions, are also facing gross injustice. Pension-related problems, such as rectification of misspelled name of spouse, change of address, arrears or fixed medical allowance and other allowance/miscalculated increment, transfer of pension account is very difficult for us because our headquarters are too far away", Mrinal Mukherjee, general secretary  of the association, said, adding that "after giving our whole life for this nation, we are being treated undemocratically."
 He rued that citizens, media, leaders, scholars and authors, were unaware of the grievousness of our problems ….Actually we are living in darkness, "he told NewsClick.
Get the latest reports & analysis with people's perspective on Protests, movements & deep analytical videos, discussions of the current affairs in your Telegram app. Subscribe to NewsClick's Telegram channel & get Real-Time updates on stories, as they get published on our website.
Subscribe Newsclick On Telegram