We Lost a Great One
At least we have your films. Om Puri 1950–2017.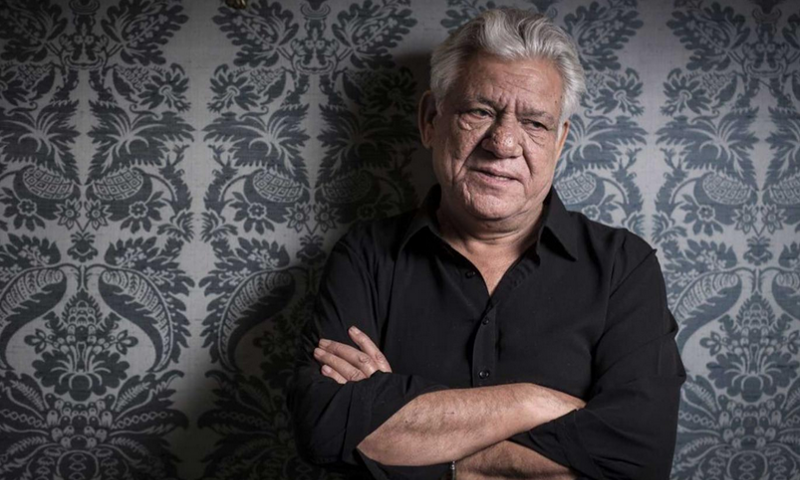 Image of Om Puri courtesy of the BBC
At least we have your films. Om Puri 1950–2017.
Editors note: You know it when you see it. Talent on screen that takes your breath away, transforming a story on celluloid to an experience that changes the way you see the world, and yourself. Very few actors possess the ability to create cinematic moments with this impact. This week we lost one who could. Om Puri was one of Indian cinema's finest actors. Incredibly gifted and versatile, he appeared in almost 300 films in his 40 year career.
He leaves behind a legion of global fans, a timeless body of work and his imprint on young brown actors who looked to him as a gleaming light of possibility.
Om Puri was the opposite of a bureaucrat, although in my favorite film — Ardh Satya (1983) — he played a police officer, and in many films he played policemen and IAS officers. He had the capacity to be stern on screen, the hat under his arm, the baton parallel to the ground. But behind that studied poise were his eyes — gentle and revealing. Ardh Satya — directed by Govind Nihalani — reveals the corruption of the system and the impossibility of being good inside the system. Om Puri plays an honest police officer whose every move runs into the entanglement between the mafia and local politicians. Matters are so bad that in the end the officer has to throw himself at the mercy of the local political kingpin, who humiliates him to the point that Om Puri kills him. There is no idealism of the bureaucrat, the sense that good people can heal a corrupt system. It is a wretched world, made worse by the difficulty of changing it.
Dark and gloomy films do not exhaust Om Puri's work. He was an actor of considerable range. One of his early films — Jaane Bhi Do Yaaro (1983) — once more focused on corruption, but this time with satire as its mood. Om Puri's Ahuja, finding the coffin with the corpse of the Municipal Commissioner on the road, is a master-class in comedy. There he is, drunk, thinking that the coffin is a car, chatting with the corpse, trying to change the nonexistent tire on the coffin. Even in some of the more forgettable films over the last decade (such as Mumbai Xpress), Om Puri's comedic timing is apparent. He was sincere in making you laugh and cry.
Mainstream ideas of beauty scoffed at both Om Puri and his co-star of those early years Smita Patil (1955–1986). She was considered too dark skinned, he too ugly. Neither cared. Both threw themselves into 'socials', the cinema that raised important themes of social change, did not always earn commercial success, but won many national awards and the hearts of fans. Aakrosh (1980), Sadgati (1982), Ardh Satya — this was my trilogy for Om Puri-Smita Patil. The cycle of 'social' films begins with Shyam Benegal's Nishant (1975), tracing class violence in the countryside with the specificity of a social historian and the emotional intensity of writers such as Premchand and Daya Pawar. These are difficult films to watch for their subject matter — the ingrained violence, the cynicism of the bureaucrats, the impossibility of substantive change. Burning down the house of the landlord is emotive, but it does not go anywhere. Chances are the villagers will be rounded up and jailed.
In Sholay (1975), the overly melodramatic blockbuster, the gangster is beaten by the police officer, who bears the Brahmanical name Thakur. Old feudal authority reasserts itself through the modern state. Sholay continues to be celebrated as a great film, but its politics is conservative (no wonder that later the director — Ramesh Sippy — would make the syrupy partition story Buniyaad). Melodrama was not the sense of the films that launched Om Puri and Smita Patil. There was something authentic about their 'small cinema movement' — its attempt to tell stories surely, but also stories that revealed the limits of history and the urges of ordinary people. These were actors who could deliver that range of emotion — frustration and hope, anger and longing.
Om Puri was not an unadulterated hero. He would occasionally make progressive political statements — against jingoism, against nuclear weapons, against communalism. But then his life seemed to replicate the social crises of his films. Family problems are never private for actors. They spill into the public domain. He lived like many of the characters he played on screen — hemmed in by circumstances. In Arvind Desai Ki Ajeeb Dastaan (1978), Om Puri plays a Marxist activist. He befriends the son of a rich industrialist, with whom he often talks about politics. One evening he bemoans his situation, 'to live in such a world where my thoughts and my actions are so different from each other'. Om Puri struggled to set his life to his moral compass. It was not easy, as it is not for many of us.
In Ardh Satya, Om Puri and Smita Patil, who plays a college teacher, are sitting together. He reads out her favorite poem, written by Dilip Chitre, which goes,
When a man begins to walk, woken from his sleep,
then he cannot again see the world of dreams.
As he reads this poem, the camera goes between him and Smita Patil. Their eyes are luminous. Both welcome us to trust them. They are young, believers in a better world, but hesitant before the weight of the past. Om Puri's face captures the essence of the dilemma of social change and the individual, the price paid, the price that has to be paid. These were actors, mirrors of social reality, provokers of new kinds of wakefulness, even dreams.
Disclaimer: The views expressed here are the author's personal views, and do not necessarily represent the views of Newsclick.
Get the latest reports & analysis with people's perspective on Protests, movements & deep analytical videos, discussions of the current affairs in your Telegram app. Subscribe to NewsClick's Telegram channel & get Real-Time updates on stories, as they get published on our website.
Subscribe Newsclick On Telegram