"We Will Colour the Soil Red"
Continuing repression by security forces has not dented the spirit of protesters in the Democratic Republic of Congo, who are demanding the resignation of President Joseph Kabila.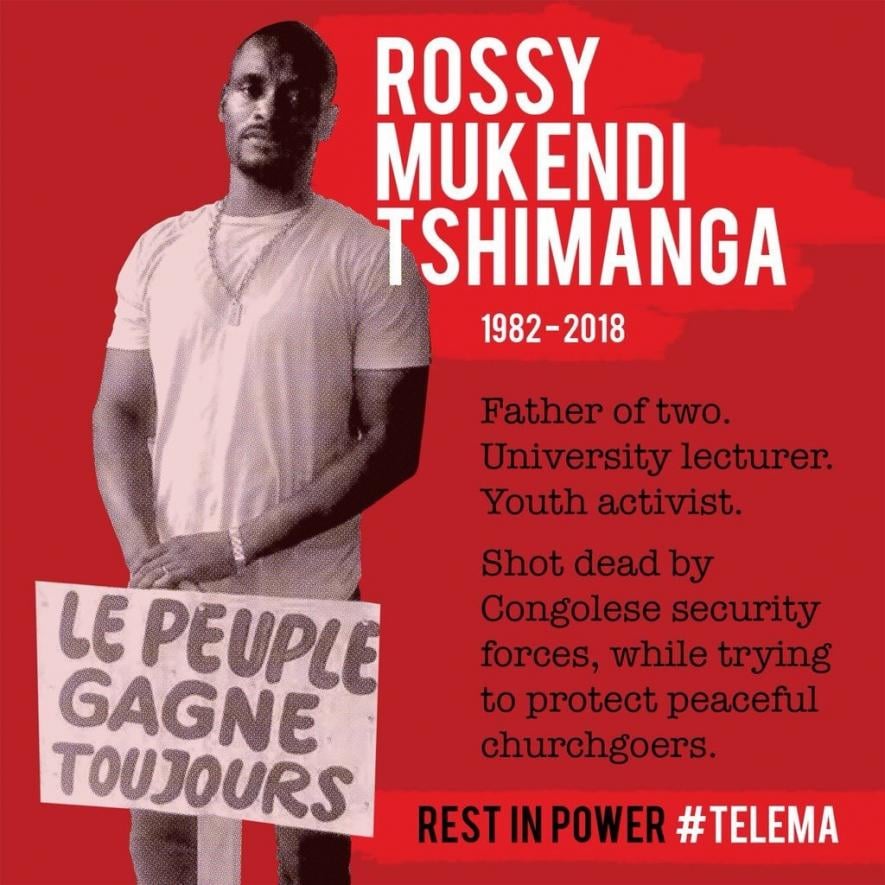 The rising wave of repression in the Democratic Republic of Congo (DRC) claimed yet another young protester's life on Sunday, February 25, when Rossy Mukendi Tshimanga (35) was shot dead by security forces at the St Benoit Church in Kinshasa's Lemba commune. Even as authorities attempted convoluted denials of the incident, the determination of Tshimanga's comrades to ensure the resignation of President Joseph Kabila has only strengthened.
Protests have been on the rise in the DRC demanding that Kabila, whose term in office ended in 2016, step down. February 25 was the third call by Catholic lay leaders for nationwide protests. Two other people, including a high school student, Erik Boloko, fell victim to bullets on the same day. Leila Zerrougui, the head of Congo's UN mission, said that 47 people were injured and more than 100 arrested in the DRC on Sunday.
On January 21, six protesters were killed outside a church when security forces opened fire at a gathering. On New Year's eve, over 10 persons were killed in a similar incident.
The repression, however, has not dented protesters' spirits. Hours after Sunday's march, a photograph of Rossy began circulating on social media. The placard in Tshimanga's hand reads: "Le peuple gagne toujours" (the people will always triumph).
Two messages are being circulated alongside a photograph of Tshimanga. One reads, "Father of two. University lecturer. Youth activist. Shot dead by Congolese security forces, while trying to protect peaceful churchgoers. Rest in power #Telema." Another message, quoting Tshimanga, breathes his defiance, "We will colour the soil red with our blood so that our children do not live as slaves tomorrow…when death comes, I will leave proud to have defended an ideal." Tshimanga was a key member of Collectif 2016, a citizens' action group.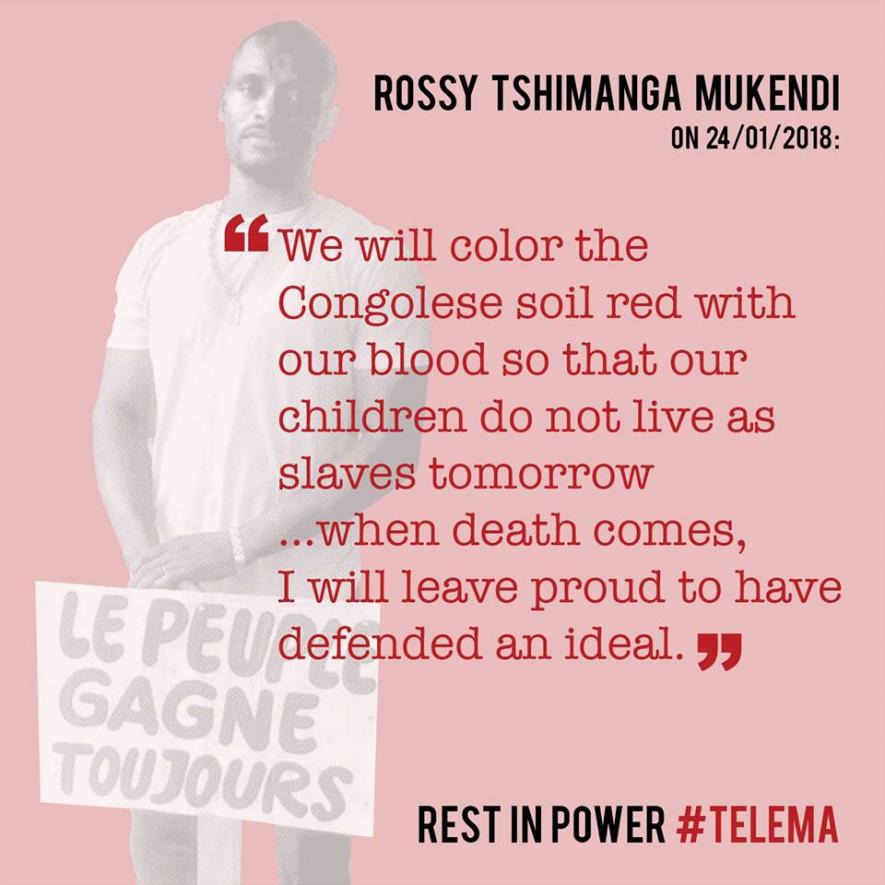 Meanwhile, Congolese authorities have been desperately trying to deny the extent of violence. Reuters reported national police spokesman Colonel Pierrot Mwanamputu as telling the state broadcaster RTNC that "there were no deaths and only three people were wounded in Sunday's violence." In an article by Eye Witness News, Kinshasa police commissioner General Sylvano Kasongo was quoted as saying, "I told the policemen not to fire on the population, which is a civilian population that isn't armed." After the January 21 protests, Congolese Minister of Communications, Lambert Mende told Al-Jazeera that nobody was killed during the demonstrations.
Friends of the Congo released a statement noting that, "During the previous two marches, the government shut down the internet in an effort to block images of security forces' violence against the people from reaching the global media."
African heads of state from Congo-Brazzaville, Gabon, Angola and Zimbabwe visited Kabila over the past couple weeks. The visits acquire significance at a time when the Congolese people have made it clear that they will not stop until Kabila steps down. From the more traditional structure of the Catholic Church to popular youth movements such as Quatrième Voie, a range of platforms and avenues of resistance have emerged. It would behoove our African leaders to be on the side of the people and on the right side of history at this critical juncture.
Persevering through the brute force that continues to be meted against them, the Congolese people have openly declared, 'Telema', meaning 'Stand Up' in Lingala, a local language. This is an open call to the global community, which has propped up Kabila in exchange for access to the DRC's rich mineral wealth, as well as all of us, to take a stand on the side of those fighting for justice.
Disclaimer: The views expressed here are the author's personal views, and do not necessarily represent the views of Newsclick.
Get the latest reports & analysis with people's perspective on Protests, movements & deep analytical videos, discussions of the current affairs in your Telegram app. Subscribe to NewsClick's Telegram channel & get Real-Time updates on stories, as they get published on our website.
Subscribe Newsclick On Telegram