Welfare of Vulnerable Children Neglected in Difficult Times
Children cannot be expected to lead India into a bright future with a tiny fraction of the country's resources.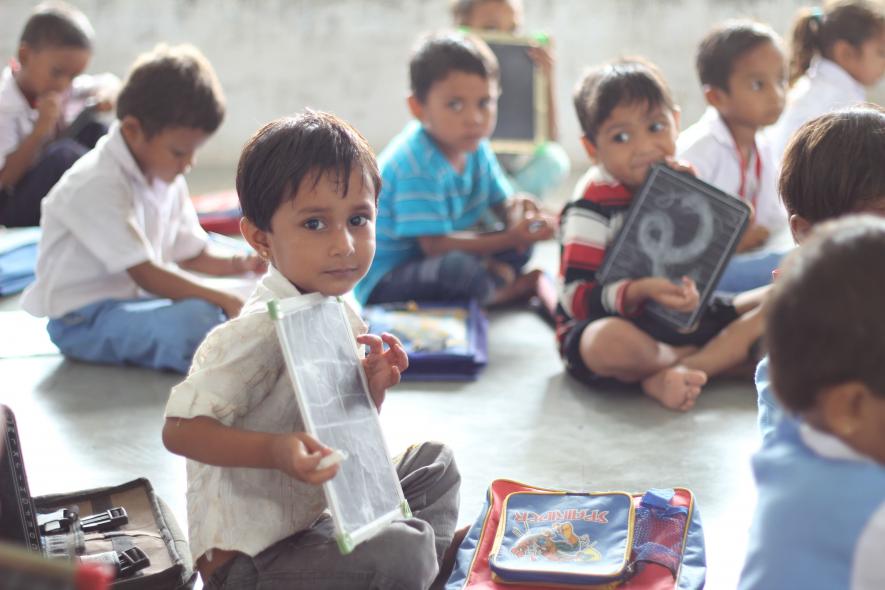 Even more than the COVID-19 pandemic, its aftermath is proving exceptionally difficult for children. Figures released on Monday by the Gyan Vigyan Samiti Jharkhand revealed the depth of the post-Covid crisis in the State. The report says that of 138 primary schools in 16 districts surveyed in September-October 2022, none met the norms prescribed by the Right to Education (RTE) Act. Teachers reported that "most" children in classes 1-5 had forgotten how to read and write when schools reopened earlier this year.
It is well known that during the prolonged school closures, children from low-income families struggled with the insistence on online learning. According to UNICEF, 15 lakh schools across India were closed for an entire year, impacting 24.7 crore children by March 2021. However, only one in four students had access to digital devices that have internet connections in India.
After schools reopened, the available state-wise figures show that many children from weaker sections had dropped out. For example, in Haryana, government schools saw a 25% rise in enrolments, the highest in 5 years, in the 2021-22 academic session. In the Nuh district, student enrolments climbed 31% over the pre-lockdown period, signalling that the poorest regions are where children felt the burden of the Covid lockdown most. Similar problems were recorded in Maharashtra, where there was a difference of 2 lakh in enrolments between 2020 and 2021 for class 9 and class 10 students, as NewsClick had reported.
Substantial funds are needed to help children return to school and compensate for their learning losses. Efforts are also required to assist them in accessing digital learning tools. Since many students who dropped out of private education joined government schools once the lockdown was lifted, the public school system is where the most money transfers are needed.
Those who drop out end up in difficult circumstances, of which the worst is being forced into labour. Therefore, it is shocking that funds meant to protect children are being cut in successive Indian budgets. For example, the government cut the National Child Labour Project's funding from the Rs 120 crore initially allocated in the Union Budget to just Rs 30 crore in the Revised Estimate for 2021-22. The following year, Budget 2022-23 retained the amount allocated at just Rs 30 crore. In 2021-22 the allocation for Vatsalya, the government's leading child protection program, was also underfunded, although not to the same extent.
The Eklavya Model Residential School program is essential for students from Scheduled Tribes. During 2021-22, its budget was reduced from a BE or budget estimate of Rs 1,418 crore to Rs 1,057 crore in the Revised Estimate or RE. The Gyan Vigyan Samiti Jharkhand report, which finds severe gaps in the State's education system, notes that 87% of the students enrolled in the 138 primary and upper-primary schools it examined are Dalit or Adivasi.
Scheduled Caste students are supposed to benefit from the Shreshtra residential education scheme for high-schoolers. But the government cut its budget in 2021-22 from Rs 200 crore to Rs 63 crore. In 2022-23, the BE was just Rs 89 crore, much below the previous year's Rs 200 crore. These cuts are a primary reason why students from weaker sections suffered during the pandemic and continue to face privations.
In 2021-22, there was a cut from Rs 450 crore in the BE to Rs 260 crore in the RE for the Shreyas scheme for higher education scholarships for young achievers among Scheduled Castes. This year's allocation is Rs 364 crore, so even lower. The Shreyas scheme, meant for students from socially and educationally backward classes and Extremely Backward Classes, saw a cut last year from Rs 130 crore to Rs 90 crore, and in 2022-23, the budget was further reduced to Rs 80 crore.
The much-touted Beti Bachao Beti Padhao scheme for girl children was allocated Rs. 220 crore in 2020-21, but only Rs 61 crore was used, as the Centre for Budget and Governance Accountability has noted in its report. Be it textbooks, uniforms, stipends for disabled girl students, or identification of out-of-school children and main-streaming them, the Samagra Shiksha Abhiyan got Rs 37,383 crore, lower than the pre-pandemic allocation of Rs 38,860 crore. This does not even account for the loss of value of the funds due to inflation.
While the pre-matric scholarship for Scheduled Caste students has reduced from Rs 725 crore last year to Rs 500 crore this year, the government has discontinued the Maulana Azad National Scholarship Scheme from 2022-23, which was set up as part of implementing the Sachar Committee recommendations. State governments are legally bound to provide education to all children until the elementary level under the RTE Act—but is it possible with schemes progressively de-funded or underfunded in Budgets? True, the post-matric scholarship scheme got more funds in the last two years, but it only partially makes up for the massive decline that created a crisis in 2020.
Besides, some scholarships are inadequate, considering how rapidly prices are rising. Yet, student financial aid was cut last year from Rs 2,482 crore to Rs 2,089 crore. And this year, it was marginally reduced to Rs 2,078 crore. In keeping with earlier announcements that preschool learning is crucial to the learning process for the youngest students, the finance minister said in the 2022 budget speech that the government would upgrade 2,00,000 Anganwadi centres under the Saksham Anganwadi scheme. Only 0.8 % has been allocated in the budget for Saksham Anganwadi and Poshan 2.0 over the previous year's BE. This means the mismatch between announcements and the actual funding of schemes and programmes persists in India. We saw a similar mismatch in the mid-day meal scheme, where the Centre announced significant improvements while curtailing the budget.
The actual expenditure on child-related schemes under various ministries and departments was 2.99% of the budget in 2019-20, 2.46% in 2021-22, and 2.35% in 2022-23 (all figures BE). Around 26% of India's population is under 18. Not only does India spend very inadequate sums of money—the allocations have a declining trend. How are children expected to lead India into the future with a tiny fraction of the country's resources?
The writer is honorary convener, Campaign to Save Earth Now. His recent books include Planet in Peril, Man over Machine and A Day in 2071. The views are personal.
Get the latest reports & analysis with people's perspective on Protests, movements & deep analytical videos, discussions of the current affairs in your Telegram app. Subscribe to NewsClick's Telegram channel & get Real-Time updates on stories, as they get published on our website.
Subscribe Newsclick On Telegram