West Bengal Initiatives Aim to Revolutionise Climate Resilience and Disaster Preparedness
Under one of the initiatives, a comprehensive plan will be customised to match West Bengal's distinctive climatic and geographical attributes. It will incorporate both short and long-term strategies, policies, technological interventions, and community engagement initiatives.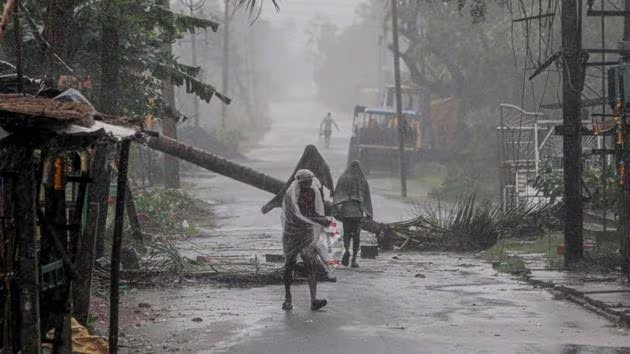 Image for representational purpose. Credit: PTI
Kolkata: Mapping the heat island effect in West Bengal during the hot summer months, identifying the vulnerability points for disasters in the Sundarbans, and creating climate glossaries in vernacular languages—these are just a few of the projects currently under consideration by the West Bengal Government. These initiatives aim to revolutionise science for everyday use within West Bengal.
All three projects are being handled by Climate Trends, a Delhi-based think tank. They will collaborate with various organisations to achieve their objectives.
West Bengal has the opportunity to emerge as a leading state by developing its own Comprehensive Long-term Heat Wave Action Plan. This comprehensive plan will be customised to match West Bengal's distinctive climatic and geographical attributes. It will incorporate both short and long-term strategies, policies, technological interventions, and community engagement initiatives. Such an approach will enable the state to respond efficiently to extreme heat events and bolster resilience against their consequences. We can draw inspiration from noteworthy efforts in creating specific Heat Action Plans (HAP) like those in Jodhpur, Ahmedabad, and Telangana.
NewsClick spoke to Sourav Chakraborty, a prominent activist with the All India People's Science Network in West Bengal and Assistant Secretary of Paschim Banga Vigyan Manch, the country's largest people's science organisation. Chakraborty expressed his views on the proposed initiatives, emphasising that if adopted promptly, they have the potential to revolutionise the field of people's science in the state.
As an organisation, Climate Trends is well-positioned, in collaboration with partners like the World Meteorological Organisation (WMO), the National Disaster Management Authority (NDMA), and the Natural Resources Defense Council (NRDC), to initiate such a project for the state.
The entire cost of executing the project will be borne by Climate Trends with various logistical and data support from the Department of Oceanographic Studies at Jadavpur University.
Within the project's scope, a comprehensive approach encompasses several components. This includes utilising historical meteorological data to tailor strategies for West Bengal's five distinct zones. Additionally, stakeholder engagement will involve collaboration with local communities, government agencies, health institutions, and industries to gather insights and ensure holistic planning. To address immediate heat wave events, the project will develop short-term strategies encompassing early warning systems, health facilities preparedness, and community awareness. Furthermore, long-term strategies will be devised, focusing on policies, infrastructure improvements, and technological interventions to mitigate the impacts of rising temperatures on health, the economy, and the environment. Worker protection measures will be proposed for sectors exposed to extreme heat, including agriculture, mining, and construction. Capacity building efforts will enhance local resilience through training and awareness programs targeting vulnerable populations. Finally, the project will establish an implementation pathway with a clear roadmap, specifying responsible agencies, timelines, and monitoring mechanisms for the Heat Action Plan (HAP).
It can be recalled that in the state of West Bengal, more than 70 persons had died during the hot summer months due to extreme heat weather effects. With a focus on the vulnerable population, all stakeholders will be hand-held to face eventualities.
Vulnerability of the Sundarbans
The Intergovernmental Panel on Climate Change's (IPCC) Sixth Assessment reports warn that unprecedented and potentially irreversible levels of warming could have devastating impacts, particularly on our delta regions like the Sundarbans, which have low elevation and high population density. This underlines the possibility of worsening disaster trends in the future unless counteractions are taken. Already, the region has suffered significantly on both individual and institutional levels due to a series of disasters. According to data from the Government of West Bengal, the total financial losses during Cyclones Bulbul in 2019, Amphan in 2020, and Yaas in 2021 were Rs 23,813 crore, Rs 1,02,442 crore, and Rs 21,535 crore, respectively.
The Sundarbans landscape is highly susceptible to both long-term and short-term climate change effects, including natural disasters such as high-intensity cyclones and significant sea-level rise, which trigger accelerated erosion. It is already experiencing substantial climatic and ecological impacts, such as the depletion of mangrove forests, the submergence of islands due to rising sea levels, erratic rainfall patterns, and frequent cyclones. However, it is widely acknowledged through various discussions that Long-Term Disaster Risk Reduction and Resilience Enhancement in the Sundarbans is a complex and multi-faceted agenda, closely connected to several issues affecting the region. Much of this agenda will depend on our capacity to anticipate, prepare for, and respond to climate-related hazards. This entails improving our ability to assess climate-related risks and understanding the steps that can be taken to better manage and adapt to these risks.
To achieve this goal, there is a proposal to create a Climate Vulnerability Index (CVI) for the Sundarbans Delta region, which will be founded on a comprehensive assessment of hazards, risks, and vulnerabilities. This approach is intended to facilitate the development of strategies that can strengthen resilience and climate-proof communities, economies, and infrastructure. Rather than examining climate extremes in isolation, our objective is to map the collective risk posed by disasters and their interconnected impacts on vulnerability. This approach aims to provide valuable insights for shaping policy objectives, particularly within the context of limited resources.
Chakraborty noted that there has been a persistent demand for a comprehensive master plan for the Sundarbans region, which has long been neglected by the Union government. "The proposal to identify vulnerability points in the region is seen as a crucial step in reducing losses during disasters in the Sundarbans. Additionally, the development of a long-term master plan to address heatwave conditions will better prepare the state's population to cope with the impending heat island effect in the years to come," he said.
This project will be supported and guided by the Department of Oceanographic Studies at Jadavpur University and Climate Trends.
Climate glossary
Climate Trends is also currently engaged in a Climate Glossary Project in the Bengali language. Notably, Climate Trends had previously conducted a similar successful project in collaboration with the Government of Tamil Nadu in May 2023. The work on the Bengali Glossary project commenced a month ago and is now in its final stages. It facilitates improved communication on climate change-related issues, experiences, and solutions.
This project is particularly significant as it addresses the language barrier that often surrounds technical English terminology related to climate change, making it accessible to a wider audience. West Bengal has been recognised as a leader in India's efforts to combat climate change, demonstrating foresight and taking proactive steps to enhance climate resilience, expertise, and mitigation. Therefore, the proposed Bengali Glossary project is a timely and unique contribution toward this goal.
Chakraborty highlighted the significance of a climate glossary in the vernacular language, stating that it will raise awareness among the state's population about the challenges faced in the realm of climate. This, in turn, will facilitate more informed discussions and engagement with a broader audience. Ultimately, he believes these initiatives hold the potential to create positive change and enhance understanding of critical climate-related issues within the state
Get the latest reports & analysis with people's perspective on Protests, movements & deep analytical videos, discussions of the current affairs in your Telegram app. Subscribe to NewsClick's Telegram channel & get Real-Time updates on stories, as they get published on our website.
Subscribe Newsclick On Telegram