West Bengal: Jury is Still out on INDIA, State Congress Wants a Tie-up With Left
Some leaders of the ruling Trinamool Congress pushed their demand that chief minister Mamata Banerjee be the Opposition's Prime minister face for the 2024 Lok Sabha elections.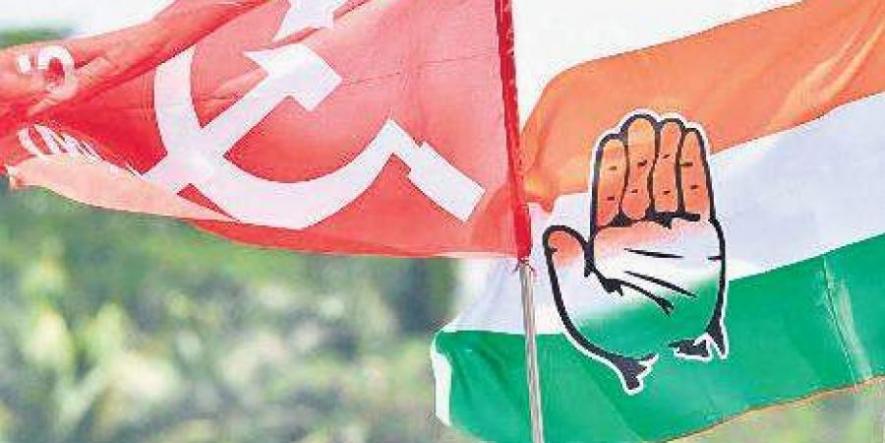 Representational Image. Image Courtesy: New Indian Express
Kolkata: Post-panchayat poll result violence is now more than a month old, and the rage over the heart-wrenching death of a first-year student at the Jadavpur University (JU) about two weeks back is yet to subside. That did not bar some leaders of the ruling Trinamool Congress from using a party gathering in the city on Sunday, August 13, to push their demand that chief minister Mamata Banerjee be the Opposition's Prime minister face for the 2024 Lok Sabha elections, due some eight months hence. 
The post-panchayat result violence, which has caused several deaths this time round, is mainly due to intra-party feuds over getting posts as the board formation exercise began. The huge majority and the leadership's occasional appeals to maintain peace have had no impact on the victorious candidates. 
The tragedy at JU, which was a case of death by suicide, has been traced to the alleged ragging and torture of the teenage student at the hostel on the night of Wednesday, August 9, by seniors, who reportedly included some graduated individuals. 
The 17-year-old student, Swapnodeep Kundu, hailed from Bagula town in Ranagat sub-division of Nadia district. The chief minister did condole the death but also indulged in the blame game, saying the plan to install CCTV could not be executed because of opposition by left-oriented student outfits. 
The demand for Mamata Banerjee as PM face was raised at the Facebook AITC Members' conclave (FAM). Banners put up read what in English translates into: "Suggesting Bengal's Janata, Let PM's post go to Mamata." 
Minister Firhad Hakim, Mamata Banerjee's confidante, said there could not be a better suggestion as the chief minister was suitable in all respects. 
Between the Patna meeting on June 23 and Bengaluru meeting on July 17-18, when I.N.D.I.A. (Indian National Developmental Inclusive Alliance) took a tentative shape, Mamata Banerjee's statements have been considered self-contradictory. First, she said she fully supports the alliance idea and is sure of its success. Then, she repeatedly said, "She does not care for the chair." It was followed by the August 13 one-point wish list of her sworn loyalists. 
The latest is her exhortation to the electorate to cast all anti-BJP votes in favour of TMC. 
Political observers say the August 13 suggestion could not have been made without her knowledge. She got her loyalists to set the ball rolling. 
A small development deserves mention. For the impending Dhupguri Assembly by-poll, the Congress and the Left have moved together, with the former agreeing to support the Communist Party of India (Marxist) candidate. BJP has also fielded a nominee but faces a delicate situation as an ex-party leader has also filed papers. TMC is also in the fray.  
The timing of select TMC leaders making public their one-point wish list appears to have been decided keeping in view the two-day third coordination exercise of I.N.D.I.A. in Mumbai starting from August 31. The intention seems to be to know the reaction of constituents, if any.
For the state Congress, the key issue is whether the high command will allow it to have its way and partner with the Left Front, which is the preferred course of PCC chief Andhir Chowdhury and the majority of district presidents, with whom Chowdhury held a stock-taking session on Saturday, August 19. 
In the past 10 years, PCC leaders were divided on tie-up with TMC, but this time, the anti-Mamata Banerjee voice is more pronounced. For the compact Left Front, there is no hitch in partnering the Congress. If the tie-up is formally approved, the issues for discussion will be seat-sharing and accommodating any new entity, if at all. 
NDA's (National Democratic Alliance) pivot BJP has lined up visits of its high command leaders; party president Jagat Prakash Nadda was here last week for a pep-talk to its state leaders to set the house in order. BJP's exercise will gather steam as the visits of Narendra Modi and Amit Shah are firmed up. 
Shah has given the state unit a target of 35 seats out of 42 the state has. Interestingly, Anirban Ganguly, director of Shyama Prasad Mukherjee Research Foundation, is already active here. Plans are afoot for the party being part of the upcoming festivals and taking out rath yatras.
NewsClick sought the views of political leaders on how they are assessing the prevailing situation and how they see it evolving. 
Senior CPI(M) leader and Rajya Sabha member Bikash Ranjan Bhattacharya said, "Large sections of the electorate are becoming wary of rampant corruption, administrative autocracy, increasing incidence of violence involving TMC activists and lack of employment opportunities. People are looking for a change, and large sections of them are inclined to consider the Left as an option available to them. Opportunities seem to be coming the Left's way for a bounce-back. In 2019, people noted our organisational weakness and sought other options. But, hard work by Left activists is a must." 
Bhattacharya is leading the legal battle against the education institution recruitment scam, in which the complicity of erstwhile education minister Partha Chattopadhyaya is under the scanner.
Asked whether he sees the Left Front and Congress fighting the election jointly under the INDIA banner, he said, "I am optimistic; it's a better option." 
The CPI(M) leader discounts the prospects of the BJP as Modi has annoyed large sections of voters with his anti-parliamentary democracy style of functioning and his mishandling of the economy. 
Also optimistic about Left-Congress jointly fighting is Congress spokesperson Soumya Aich Roy, who believes people will vote against the aggressive ways of the Modi-Shah pair and BJP's systematic weakening of democratic institutions. 
Roy also adds there is a lot of discontent against the TMC regime as corruption and extortions have made people in rural areas angry against local leaders. 
"Signs of administrative slackness are visible. Despite assurances of peaceful panchayat elections by second-in-command Abhishek Banerjee, violence was rampant, and now intra-party feuds over panchayat posts are causing law and order problems." 
He shared the CPI(M) leader's assessment that hard work by the two sides is a must.  
A different assessment was given to NewsClick by senior RSP (Revolutionary Socialist Party) leader Ashok Ghosh, who thinks I.N.D.I.A. will be there in West Bengal. 
If BJP is NDA's pivot, Congress will be I.N.D.I.A.'s pivot, and the Congress high command may consider Mamata Banerjee's ability to deliver a bulk number. Therefore, the top brass may be ready to sacrifice the interest of the state Congress. Ghosh said his information is that recently Shah has told state BJP leaders to tone down their aggressive posture against Mamata Banerjee, for whom RSS has a soft corner and should results warrant, BJP may have to seek her help. After all, the TMC chief is more anti-Congress than anti-BJP, the RSP leader contended. 
The Tragedy at Jadavpur University, an Insider's Lament
Prof Omprakash Mishra, a very senior faculty member of JU in the department of international relations, who some time back had an innings as vice-chancellor at the North Bengal University, said a small percentage of students for whom mischief-making has a higher priority than learning, continue to bring bad name to JU. 
"Unfortunately, the university administration has been lax in dealing with them. Over 70% of JU's students are serious learners who may not even be aware of the misdeeds of others. Please remember – and it may appear to be an irony -- that JU is at no. 4 on the Government of India's National Institute Ranking Framework 2023. It is a glaring example of an administrative failure that JU, and several other universities, do not have full-time vice-chancellors for quite some time."
"In the last few years, the casualty of lax management has been executive council meetings which are supposed to be held at regular intervals to discuss important agenda. JU urgently needs to deploy substantial funds to augment the hostel facility, the paucity of which forces" our students to opt for rented accommodation in the adjoining areas. I hope the tragedy will be an eye-opener and the authorities will chalk out a time-bound programme to improve matters at JU," he observed. 
An informed source told this correspondent that the state higher education department's role too should come under the scanner. 
The writer is a Kolkata-based freelance journalist.
Get the latest reports & analysis with people's perspective on Protests, movements & deep analytical videos, discussions of the current affairs in your Telegram app. Subscribe to NewsClick's Telegram channel & get Real-Time updates on stories, as they get published on our website.
Subscribe Newsclick On Telegram