West Bengal: Left, Congress See TMC-RSS' Role in Attempts to Unsettle Their Tie-up
This comes amid reports of TMC's desperation at the possibility of losing its Muslim voter base due to the latter's growing dissatisfaction with the party.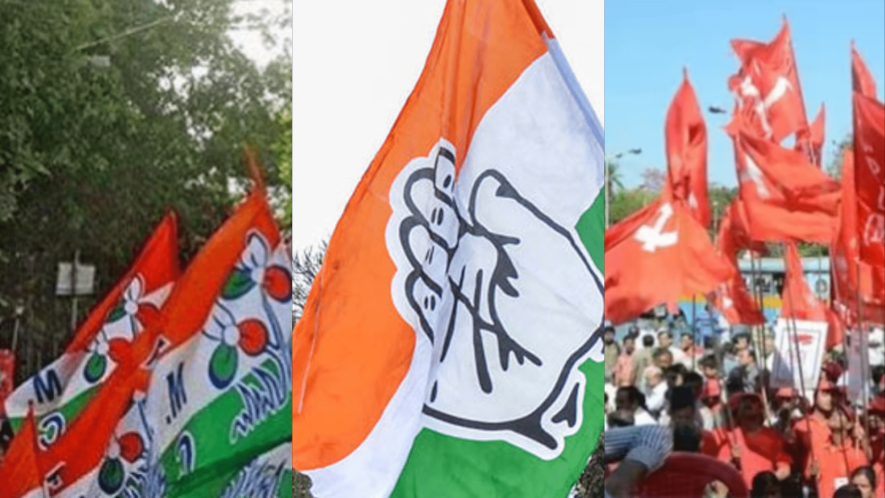 Representational Image. Image Courtesy: PTI
Kolkata: Opposition leaders and political observers cite four examples from the Trinamool Congress-Mamata Banerjee brand of politics in the last 15 months, which they contend, indicate how TMC and its supremo are no longer as dominating as people have seen them being since capturing the secretariat in May 2011.
The third term of the TMC regime, which began in early May 2021, is seeing chief minister Mamata Banerjee contending with deteriorating law & order, her party leaders, including ministers, getting embroiled in major corruption cases leading to their being probed by enforcement agencies and dissensions in TMC ranks coming to the fore as never before.
Significantly, the situation is looking up for the Opposition.
Of the four examples leaders and political observers mentioned, the first relates to the scathing remarks of the party's former Goa unit chief Kiron Kandolkar. While resigning from post after the party's debacle in the February 2022 Assembly election, Kandolkar said the party's main aim, as evident from TMC's consultant Prashant Kishore's manoeuvrings, was to defeat the Congress and facilitate the return of the Bharatiya Janata Party. He left TMC along with several leaders who had defected to it from other parties.
The second example relates to Mamata Banerjee's address at the Red Road Eid congregation on April 22. She repeatedly sought their support for the 2024 Lok Sabha elections and even pleaded with them to see their relatives living outside the state come back to support TMC nominees.
She reminded them that her ministry has two Muslim cabinet ministers – Firhad Hakim and Javed Khan. Further, a Muslim IPS officer Javed Shamim holds the additional director-general (law & order) post.
The third instance is about how she targeted AIMIM (All India Majlis-e-Ittehadul Muslimeen) chief Assauddin Owaisi for his fielding some candidates in the 2021 Assembly election in areas with a concentration of Muslims. She alleged BJP funds Owaisi in pursuance of its divide-and-rule policy – in this case, dividing TMC's Muslim vote bank.
Mamata Banerjee even urged the huge crowd to promise her that they would not be cowed down by forces that would aggressively seek votes.
The fourth example relates to the recent Karnataka outcome. She saluted the victor without mentioning the Congress and any of the three Gandhis who participated in the campaigning. Still, she went out of the way to congratulate HD Kumaraswamy for doing well, although Janata Dal (Secular) got 18 seats, losing 19 from its 2018 tally.
In the rest of her reaction, she sounded philosophical on Opposition unity. She argued greater accommodation of regional parties and sacrifice by the Congress by restricting its fight to 200 out of the total of 543 Lok Sabha seats can prevent BJP's third term at the Centre. What stood out was her "allergy" to Congress and Rahul Gandhi, in particular.
A climbdown on her part was discernible after the Karnataka CM and deputy CM-designate spoke to her, requesting her presence at the swearing-in on May 20. She excused herself on the ground of pre-occupation and told them she would depute Lok Sabha member Kakali Ghosh Dastidar for the occasion.
Wise counsel prevailed, contrary to her usual temperament and past record. As railway minister, she did not invite Left Front chief minister Buddhadev Bhattacharjee to a Metro Railway project function at which then-President Pratibha Patil was the chief guest.
CPI(M)'s (Communist Party of India (Marxist)) Rajya Sabha member and eminent lawyer Bikash Ranjan Bhattacharya believes that several factors seem to be disturbing her calculations – the Left and the Congress have overcome their past reservations and have already begun working together. The understanding is gaining acceptance in rural areas; there is reverse migration - though not in large numbers right now - to CPI(M) and the Congress from TMC, and those accepting their old party flags include Muslims.
The recent Left-Congress public meeting at Suri in the politically important Birbhum district attracted large crowds. Her repeated appeals at the Eid prayer congregation show she fears a dent in her monopoly Muslim support base. Muslims account for 28-29% of the state's total electorate. Several murders and unnatural deaths, indicative of the failure of law enforcement and intelligence-gathering machinery, have caused resentment among the minority community members. Finally, her importance in national politics has diminished. Even her party leaders have, of late, stopped projecting her as a "natural face for PM" in the non-BJP/non-NDA Opposition.
Asked if he sees Mamata Banerjee trying to scuttle, with the help of the Sangh Parivar, the Left-Congress tie-up by enticing the Congress with a few Lok Sabha seats, Bhattacharya said, "We firmly believe the TMC chief has a channel of communication with Nagpur; it is widely known that the Rashtriya Swayamsevak Sangh hates the Left – a strong reason for Mamata Banerjee to nurture her links with Nagpur.
He added, "In mid-Sptember 2003, on the occasion of a book release function at New Delhi, Mamata said, "......... I know you [RSS members] you love the country, you care for even small, remote areas of the country [reference to RSS shakhas]"—a flattered RSS leadership reciprocated by describing her as "Bengal's Durga. On August 31, 2022, at a Nabanna function, she targeted BJP on several counts but took care to say that RSS is not that bad; it also has good people, and there are people in RSS who are anti-BJP. But, the CPI(M) leader is certain that Mamata Banerjee can't succeed in unsettling the Left-Congress understanding even if she succeeds in enlisting RSS support. A change in people's mood is taking place."
State Congress vice-president Hafiz Alam Sairan told NewsClick that it was a fact in 2021, Muslims had almost en masse voted in favour of TMC, but that was because BJP's aggressive bid to form its maiden ministry had "frightened" Muslims, who did take the "loose Left-Congress tie-up" seriously.
"But, three years later, the scene is changing; people who had left the Left and the Congress are "returning as they are seeing us as an alternative."
No, doubt this trend has to catch up. People are fed up with extortion by TMC activists and the glaring involvement of TMC leaders in corrupt practices and misgovernance. The projection of the nephew is being resented. On the Left, we see some promising student and youth leaders. But, the Left is short of middle-aged, energetic leaders. They must address this issue, Sairani observed.
Asked if he sees the cash offer scheme for women (Lakshmi's Bhandar) may tilt the scales in Mamata Banerjee's favour, the senior politician said yearning for change, and the influence of change-preferring male members may neutralise the apparent benefit from Lakshmi Bhandar.
CPI state secretary Swapan Banerjee said, "Mamata Banerjee is "doing what she is adept at, but we also have to take into account the assertion of Congress leader Adhir Ranjan Chowdhury, who said the invitation to her to attend the Karnataka swearing-in was out of courtesy, nothing more. He had further said that the tie-up with the Left is foolproof, and "that's the need of the hour"."
Asked about reports of possible BJP efforts to win over Muslim voters to compensate for the likely loss in the Hindu vote share because of a potential shift to the Left and the Congress and citizenship issues, Swapan Banerjee told NewsClick, "Muslims will never vote in large numbers for BJP; there may be stray cases which may not impact the outcome."
Novelist Debanjan Mukherjee, who has 11 titles to his credit and is a keen observer of political developments, agrees that sections of the electorate "already are irritated" over what is happening.
"Deterioration in how politics is practised generally and by the ruling party is visible. The education sector recruitment scam remains in the news, but it has affected people largely in urban and semi-urban areas. The Sharada scam was much more widespread and had impacted the livelihood of lakhs of people in rural areas. Many lost their entire savings. But what is the end result? Mukherjee asked. It is difficult to say right away which party or combination will gain. There has to be more clarity."
The writer is a Kolkata-based senior freelance journalist. Views are personal.
Get the latest reports & analysis with people's perspective on Protests, movements & deep analytical videos, discussions of the current affairs in your Telegram app. Subscribe to NewsClick's Telegram channel & get Real-Time updates on stories, as they get published on our website.
Subscribe Newsclick On Telegram