West Bengal: Lone Congress MLA's Defection to TMC Casts a Shadow on State's Politics
Bayron Biswas, who recently won a by-election on the Left-Congress plank, defected to TMC on May 29.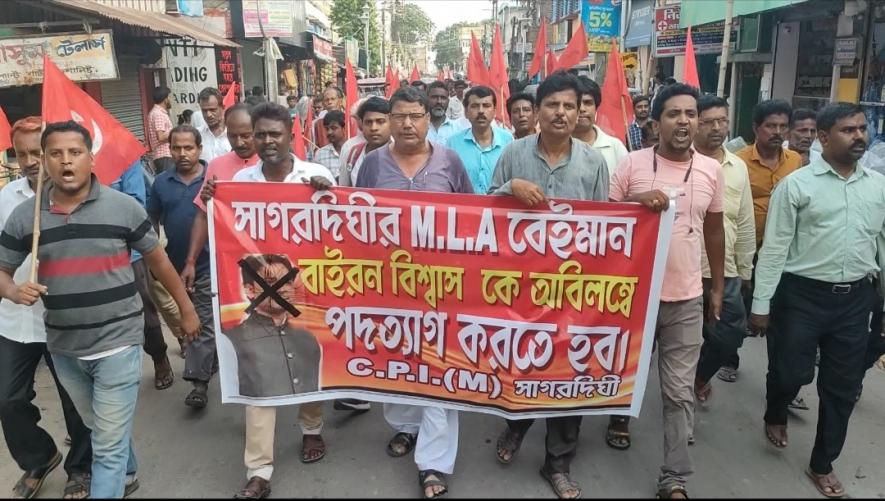 Photo of rally taken out by CPIM against defection of Congress MLA Bayron Biswas to ruling TMC s stable . Photo By Anirban Dey 
Sagardighi: Just days ago, Congress MLA Bayron Biswas declared that he was not for sale. That did not turn out to be true as he joined the Trinamool Congress (TMC) in Ghatal on May 29 after meeting with Abhishek Banerjee, the number two in the party and chief minister Mamata Banerjee's nephew. 
Defections in Bengal politics have set in after 2011 with the change of the governing party in the state, and the TMC has been the gaining party in most cases. 
However, Biswas switching sides has raised many eyebrows as he was the lone MLA of the Congress in the Assembly entrusted with the duty of taking forward his party's claims. He had only won months before on a common Left-Congress plank. 
The Sagardighi by-election was a prestige fight for TMC. TMC MLA and minister Subrata Saha had been winning the seat since 2011. After Saha's death, a by-election was called in which Biswas defeated TMC Candidate Debasish Banerjee. 
Left and Congress workers on the ground hailed his epic win as the Sagardighi model, whereby the alliance between the Congress and Left was seen as a strong opposition to the current regime. 
After changing parties, Biswas declared that his decision to join TMC was to develop the Sagardighi region. 
"I am the sole MLA who won from Congress ticket, so anti-defection law does not apply to me. I joined TMC to work for the people." 
Mansur Mila, a tea shop owner from Sekhdighi, disagrees with Biswas.
"We voted for Biswas knowing that we were voting against TMC. As MLA, he should have respected the people's mandate."
Selina Bibi of Barala campaigned for Biswas in the by-election. She is also unhappy with the MLA's step. 
"As Beedi workers, we voted against TMC to register our minimum wage demand. We wanted our MLA to speak in the Assembly about us. But Biswas changed sides; this is unfortunate."
Ripan Hossian of Barala was a first-time voter this year. 
"I also participated in the campaign to express my position against TMC and BJP (Bharatiya Janata Party). The election result was also positive, but MLA Biswas' decision lacks any serious political ground. He changed party just for his interest."
Local Congress and CPI(M) leaders started protests against the MLA. 
Congress workers removed Biswas' photos from the local party offices. On May 30, the Communist Party of India (Marxist) hit the street with a rally demanding Biswas' resignation. 
Biswas hails from a business family.
West Bengal Pradesh Congress Committee President Adhir Ranjan Chowdhury claimed Biswas switched parties to save his family's business. 
He explained how the move would benefit BJP. 
"Mamata Banerjee can deal with BJP MLAs but cannot accept a single Congress MLA in the house. During her regime, BJP and RSS are getting strong in West Bengal."
Sagardighi Block Congress President Saidur Rahaman refuses to accept Biswas' claim that he got votes due to his charisma. 
"Left and Congress workers worked hard together to secure the Congress candidate's win. In the upcoming Panchayat election, we are ready to show him the real picture of his charisma. Left and Congress workers plan to fight against TMC and BJP."
CPI(M) Murshidabad District Secretary Zamir Molla said, "Earlier, TMC tried to force ISF MLA Nawsad Siddiqie to join TMC but failed. In Biswas' case, TMC achieved success in poaching. This shows TMC's outlook on people's mandate. People are already protesting against this."
The writer covers the Murshidabad region for the 'Ganashakti' newspaper in West Bengal. The views are personal.
Get the latest reports & analysis with people's perspective on Protests, movements & deep analytical videos, discussions of the current affairs in your Telegram app. Subscribe to NewsClick's Telegram channel & get Real-Time updates on stories, as they get published on our website.
Subscribe Newsclick On Telegram